Andy Dalton Heartwarmingly Pays Bills Mafia Back a Half-Decade Later
Years ago, Bills Mafia made big donations to Andy Dalton and his wife's foundation. In 2022, the NFL QB payed it forward for Damar Hamlin.
The Bills Mafia may seem like it has been around forever. But, in reality, this term for diehard Buffalo Bills fans didn't come into existence until 2010. For the first few years, the group was more famous for jumping through folding tables than anything else. That all changed in 2017 when then-Cincinnati Bengals quarterback Andy Dalton pulled off a late-season upset to get the Bills back in the postseason. Bills Mafia responded with charity, and after the Damar Hamlin near-tragedy five years later, Dalton finally got the chance to repay the Buffalo community.
Bills Mafia and Andy Dalton have a special connection
In Week 17 of the 2017 season, the Buffalo Bills beat the Miami Dolphins 22-16 in the late Sunday afternoon window to finish the season 9-7. At the same time, the 6-9 Cincinnati Bengals were playing the 9-6 Baltimore Ravens.
The Bills game ended at 7:40 pm ET. At that time, there were still 18 minutes of real time left in Bengals-Ravens.
That is right about when Dalton started a 14-play, 1:59 drive that won the game for the Bengals, 31-27. The win got the Bills into the playoffs for the first time in the 2000s, ending the longest drought in the NFL at the time.
Bills Mafia was so thankful for Dalton winning this relatively meaningless (for Cincinnati) game that they started flooding his Andy & Jordan Dalton Foundation with donations. The gifts mainly came in $14 increments, honoring Dalton's jersey number.
When it was all said and done, Bills Mafia gave over $400,000 to the foundation, and Dalton took to social media on several occasions to share his gratitude with Bills fans.
Five years later, Dalton saw an opportunity to put his money where his mouth is and repay the kindness of Bills Mafia in a generous way.
Andy Dalton made a major donation to Damar Hamlin
In the interceding years, Bills Mafia has become as much a charitable organization than anything else.
And when Bill safety Damar Hamlin suffered cardiac arrest on the field during a Week 17 game vs. the Cincinnati Bengals, football fans around the country flocked to Hamlin's charity, donating over $8.7 million.
One $3,000 donation came in from a special donor.
Many of the names on the Go Fund Me page are familiar to football fans. Tom Brady, Robert Kraft, Matthew Stafford, Russell Wilson (and his wife, Ciara), Shannon Sharpe, and Trey Lance are just a few of the names you recognize on the list.
AEW pro wrestler Chris Jericho misspelled his first name (Chrus) on his first $5,000 gift, so he made another $5,000 donation with "Chris" spelled properly.
The names that made this whole thing come full circle, though, were "Andy Dalton and JJ Dalton."
"Years ago the amazing (Bills) mafia came together and donated funds to the (Andy & JJ Dalton Foundation)," JJ Dalton said in a social media post, per NOLA.com. "Hundreds of children were impacted due to their kindness and generosity. Football is so much bigger than the game. Damar is a son, a brother, a friend, a teammate."
And while the Daltons' donation wasn't the biggest on the list, that fact also made an inspiring point, which Andy Dalton pointed out.
"When it happened to us, it started off in small increments, and the next thing you know it was thousands of dollars, then it got into tens of thousands of dollars, into hundreds of thousands of dollars," Andy Dalton told NOLA.com. "That was for us. To see this thing get into the millions and continue to grow, I think it's something that shows that there's so many people that want to support and love on him and his family and everything they're doing."
Bills Mafia charitable donation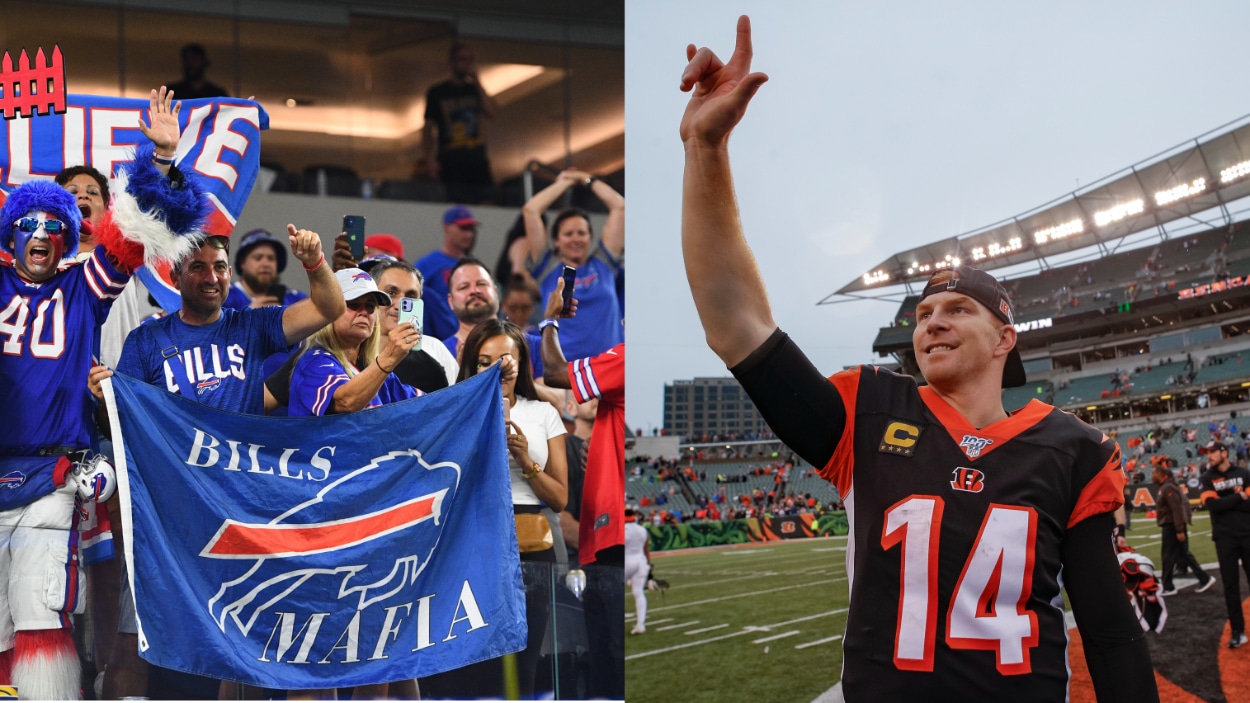 Bills Mafia still jumps through tables, throw snowballs at the Dolphins, and throw even worse things in the end zone when the Patriots score. However, the group is much more famous nowadays for its charitable efforts.
Here is a list of the biggest Bills Mafia charitable donations over the years with the approximate amount donated:
To the AJD Foundation after Andy Dalton helped beat the Ravens to get the Bills into the playoffs after a 17-year absence: $415,000
To Oishei Children's Hospital in Buffalo after Josh Allen's grandmother, Patricia Allen, died: $1.14 million
To Food Bank of Northwest Louisiana after Bills cornerback Tre'Davious White tore his ACL: $108,000
To Blessings in a Backpack after the Bills knocked Lamar Jackson out of a playoff game with a concussion: $360,000
To the P.U.N.T. Pediatric Cancer Collaborative in honor of Bills tight end Dawson Knox's brother, Luke, who suddenly died in 2022: $230,000
To the Tua Foundation after Dolphins QB Tua Tagovailoa's second concussion: over 1,800 donations (money figures not available)
To Von's Vision after Bills pass-rusher, Von Miller went out for the season: (figures unavailable)
From jumping through tables to Andy Dalton to Damar Hamiln's charity receiving over $8.7 million, the Bills Mafia has come a long way in a short time, and the charitable donations from the best fans in sports will continue in the future.