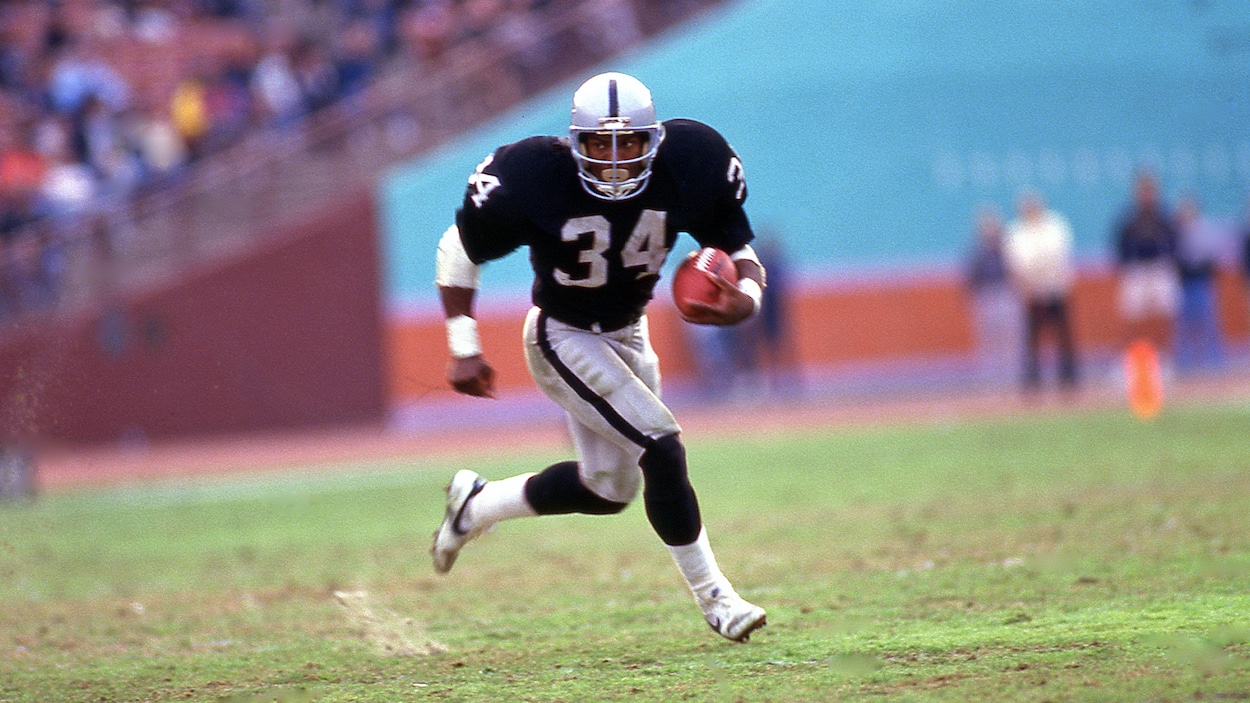 Bo Jackson Makes a Shocking Tecmo Bowl Confession
Bo Jackson is the most dominant video game athlete of all time but he's waiting to play the game he made famous for a special reason.
If you are a child of the 80s and 90s and an NFL fan, you are likely intimately familiar with Tecmo Bowl. The first video game to use actual NFL players became a major hit in the late 1980s and early 1990s on the first Nintendo gaming systems. And the one thing all Tecmo Bowl players remember about the game is Bo Jackson.
The Raiders running back was the most unstoppable force in football video game history in Tecmo Bowl. Whether it was you using Jackson against your siblings or getting the "Bo Knows" treatment from a friend, anyone who remembers this phenomenon can close their eyes and picture 16-bit Bo flattening the opposition on the way to the end zone.
In a recent interview with the NFL Network's Andrew Siciliano, Jackson admitted that, while he owns the game, he's never played it. However, he will someday for a special reason.
Bo Jackson has never played Tecmo Bowl
As the most dominant video game athlete of all time, you'd think Bo Jackson spent plenty of downtime in the 90s beating up his friends in Tecmo Bowl using his character. If not, surely, he played with his kids at some point and had a little fun with them.
However, you'd be wrong.
In a conversation between Jackson and Andrew Siciliano on the NFL Network, the host got Jackson to admit on TV what the Pro Bowl RB once told him on stage at a Super Bowl event.
"You told me a story — correct me if I'm wrong — that you have an old-school Nintendo and the Tecmo Bowl cartridge somewhere in your house," Sicilian shared. "You've never opened them nor played them. Is that true?"
Jackson responded that it was "100% true" and that the game and system were "still in the box" they came in.
While this might sound like blasphemy to every 40-something who ever hit up, up, down, down, left, right, left, right, B, A, select, start, Jackson has a sweet reason that many of his Tecmo Bowl-loving fans can now relate to.
"Actually, I'm saving it for my grandson, who is 18 months old," Jackson told Siciliano. "I'm going to teach him how to play."
And, as Siciliano said when he heard this, we agree, "That is pretty, pretty cool."
What is Tecmo Bowl?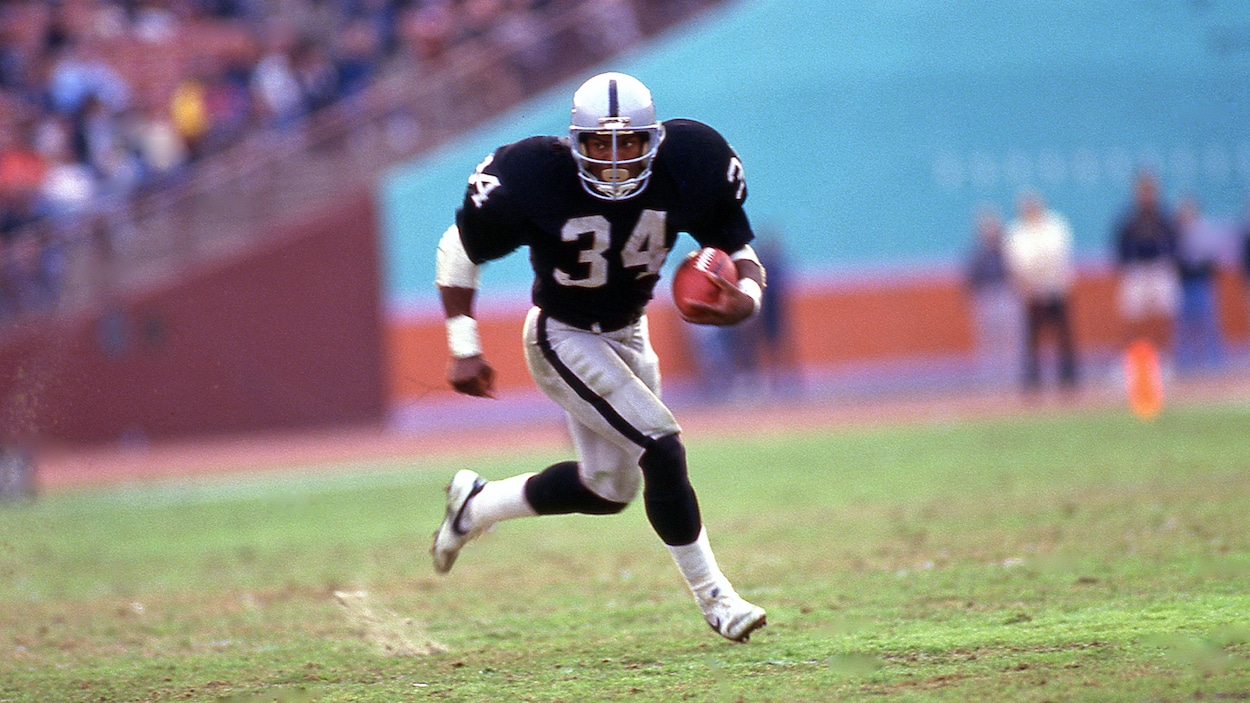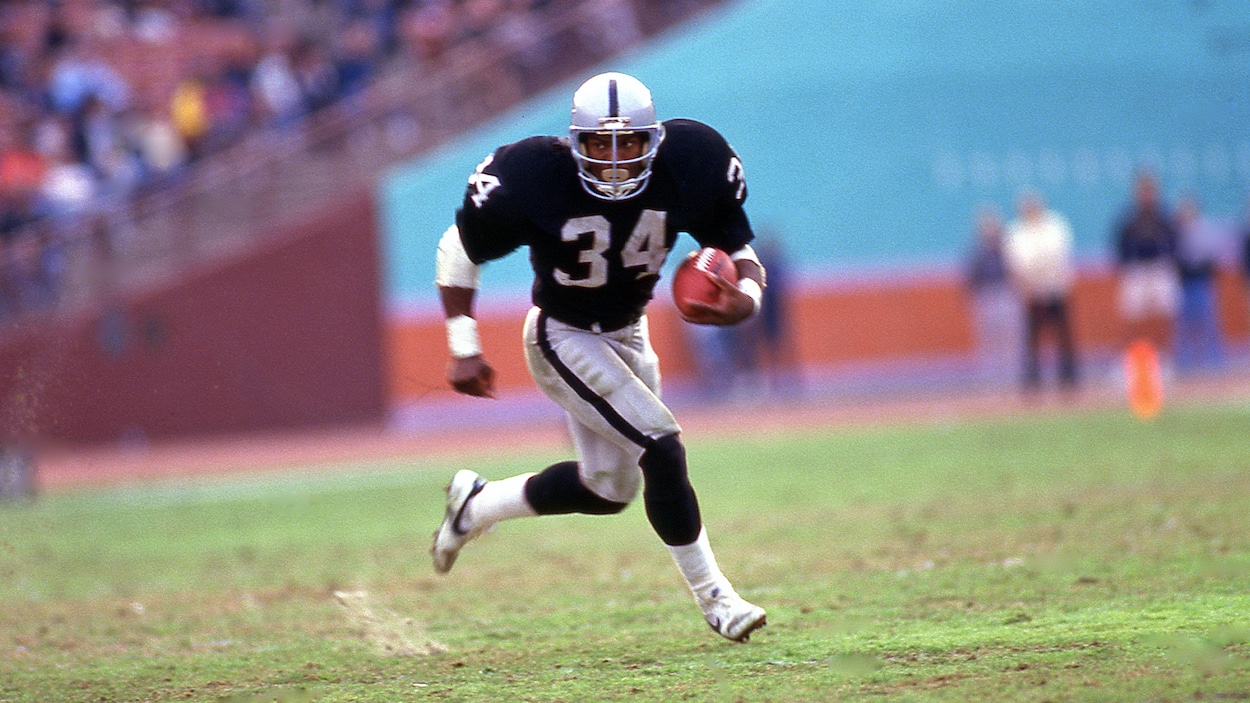 For the uninitiated (aka young), Tecmo Bowl is an early football video game. The Japanese video game company Tecmo released it in 1987 as a stand-up arcade console.
The game didn't draw much attention in its original arcade game form but did make waves in 1989 when it came out for the Nintendo Entertainment System.
It featured 12 teams — Los Angeles (Raiders), Indianapolis, Miami, Cleveland, Denver, and Seattle in the AFC and Washington, San Francisco, Dallas, New York (Giants), Chicago, and Minnesota in the NFC — four plays (two running, two passing), 9-on-9 gameplay, and real players from the actual 1987 and 1988 rosters.
Oh yeah, and an absolutely unstoppable Bo Jackson.
The game was a massive hit after its release on Nintendo. It spawned subsequent versions on NES, Game Boy, Sega Genesis, and even Xbox and PlayStation. The pinnacle of the franchise came in December 1991 when the company released Tecmo Super Bowl.
In the early 90s, Madden came out with 11-on-11 football with better graphics and more robust playbooks to become the premier football video game in America. But for those who played (not Bo Jackson!), Tecmo Bowl will always hold a special place in video game and football history.
Have thoughts on this topic? Keep the conversation rolling in our comments section below.