Bo Jackson's 1st Day of Practice With the Raiders Changed Everything for Marcus Allen
Bo Jackson's short careers in the NFL and MLB enraptured the nation. Today, stories of his heroics elevate him beyond the mantle of one-time sports stardom. His feats read more like folk tales.
That's what the then-Los Angeles Raiders' other 1980s star running back had to deal with when the team snapped up Jackson. From the moment he first laid eyes on the multi-sport phenom, Marcus Allen knew he was looking at the future of his own position. The way he handled that confrontation is a surprising and powerful piece of NFL lore.
The Raiders landed Bo Jackson due to a huge mistake by the Tampa Bay Buccaneers
Jackson was ambivalent about playing in the NFL. According to Raiders.com, he pulled away from the idea of playing football professionally despite clear signals that he'd be the first overall pick in the 1986 NFL draft. The Tampa Bay Buccaneers' owner sent a plane that Jackson never asked for, saying it was to pick him up for a physical.
It violated Jackson's NCAA eligibility, destroying his final season playing baseball in college. He felt this move was intentional, to divert him away from basketball to focus on the NFL full-time. When the Buccaneers offered him a five year, $5 million offer, Jackson walked away from the table.
That's how the Raiders came to have an opportunity to get their hands on Jackson. Owner Al Davis laid his cards down face up. Unlike the situation in Tampa Bay, Jackson would be allowed to miss NFL games for time in MLB with the Kansas City Royals.
Davis was looking for depth at running back, and couldn't think of a better option than the borderline superhuman speed and size ratio Jackson offered. The only problem: Marcus Allen was already putting in Hall of Fame-level work at the same position, and had consistently done so since 1982, SF Gate reports.
Marcus Allen's issues with the Raiders did not affect his admiration for Bo Jackson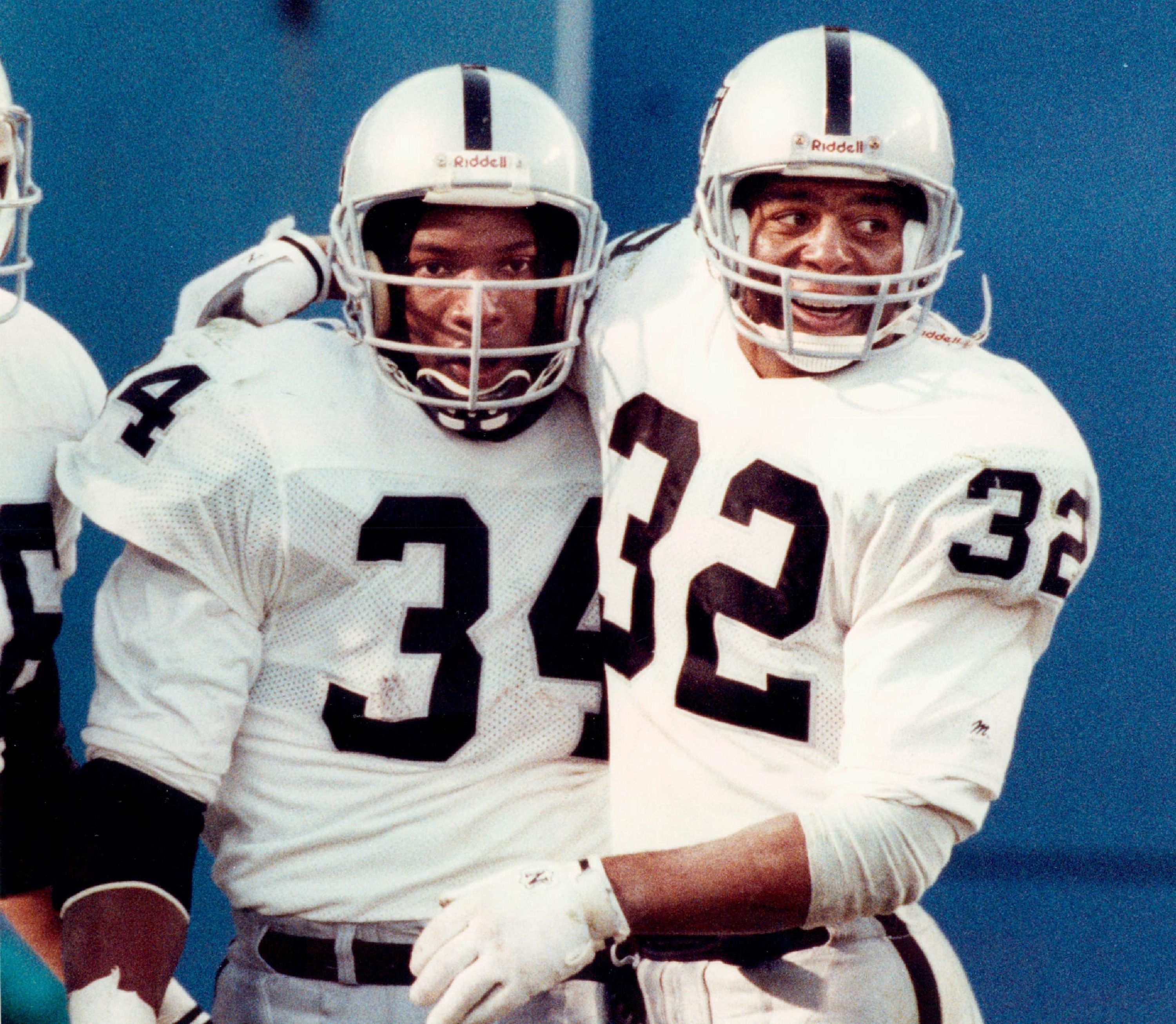 The acrimony between Allen and Davis was entirely related to business. Allen knew he was underpaid, given his NFL MVP, and Super Bowl MVP status.
As players agitated collectively for fair free agency terms, Allen saw it as his responsibility to use his status as one of the best active RBs to demand a contract commensurate to his worth. The Raiders owner insisted on sticking to the terms of previous contracts as written.
Davis reacted by dropping Jackson onto the roster. On the Great Dane Nation podcast, Davis' teammate James Lofton described that legendary initial practice with Jackson. The pair watched in awe as the bulky Jackson ran with a combination of finesse and speed unseen at the position.
Lofton turned to Davis and said, "there goes your job." But Allen, always with his locker room despite his struggles with Davis, wasn't phased.
The contract disputes never affected his dedication to playing the actual game. He went straight to Davis and offered to play at fullback, a position where he had ample experience in college.
Publicly and privately, Allen was a major booster of Jackson's talent, even as he fell behind the nascent superstar in the depth chart.
NFL careers diverged heavily after Allen left the Raiders
Jackson was a once-in-a-generation athlete, capable of superhuman feats in two professional sports. But Allen's career, a Hall of Fame run, was the better of the two in the end. Jackson's four years in the NFL ended unceremoniously with a brutal hip injury.
The Royals were happy for Jackson to focus entirely on baseball, but a full hip replacement diminished his abilities greatly. He was cut in spring training, and would only make sporadic appearances over one year with the Chicago White Sox before leaving professional sports for good.
Allen cut ties with the Raiders after the 1992 season, frustrated by Davis' insistence on keeping him in backup roles despite Jackson's absence. Enjoying new free agency rules, he signed with the Kansas City Chiefs for his final five years in the league.
According to Pro Football Reference, he led the team in rushing yards in every season except his last, cementing his Hall of Fame status once and for all.