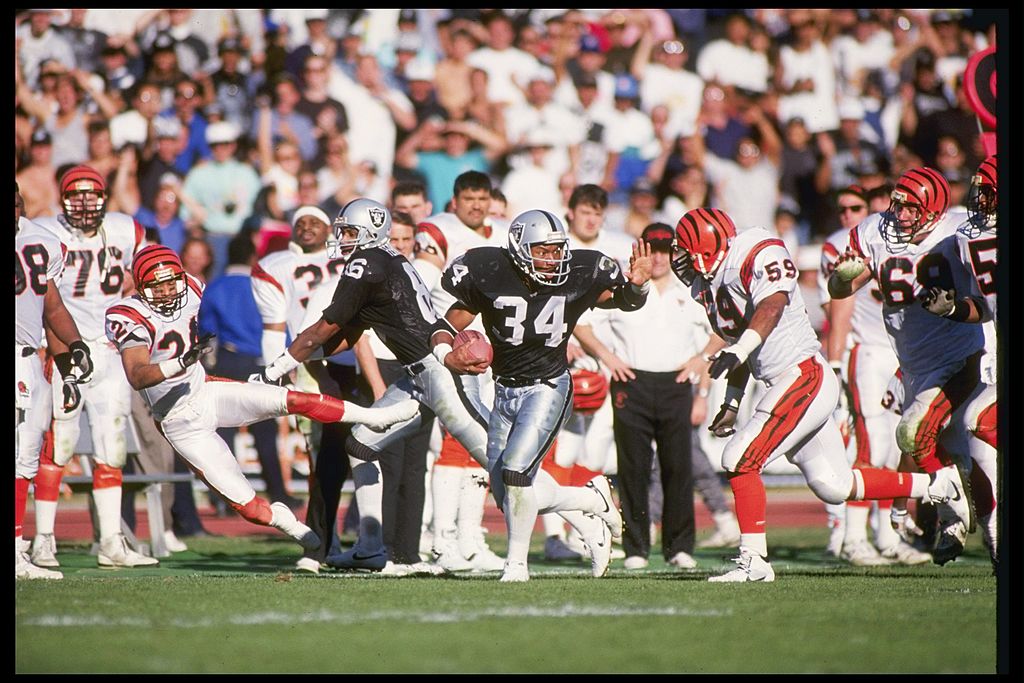 Bo Jackson Said His Hip Injury Prevented Raiders Fans From Hating Him
Former two-sport professional athlete Bo Jackson said his hip injury prevented Raiders fans from hating him for life.
Bo Jackson is arguably the best athlete on the planet. Jackson excelled in both the NFL and Major League Baseball and is the only player to make the Pro Bowl and be an MLB All-Star. A Heisman Trophy winner at Auburn, Jackson went on play four seasons with the Los Angeles Raiders of the NFL, while playing baseball for the Kansas City Royals. A hip injury while with the Raiders derailed his football career and he said it also kept Raiders fans from hating him for life.
The greatest athlete ever?
Bo Jackson could do everything. He was big and strong, but he was also very fast. He was talented on the baseball diamond and just as dominant on the football field. Jackson was drafted by the New York Yankees in the second round of the MLB draft back in 1982, but decided to fulfill a promise to his mother that he would attend college.
In 1986, he was drafted with the first overall pick in the NFL draft by the Tampa Bay Buccaneers. He refused to play for the Bucs, however, after he felt team owner Hugh Culverhouse sabotaged his college baseball career at Auburn. Culverhouse sent a plane to pick up Jackson for a physical, an NCAA violation that prevented him from continuing his college baseball career.
Jackson played four years with the Raiders and spend the first five seasons of his eight-year MLB career with the Kansas City Royals. He was an MLB All-Star in 1989 when he hit 32 home runs and drove in 105 runs. He made the Pro Bowl with the Raiders during the 1990 season.
Bo Jackson's football-ending injury
On Jan. 13, 1991, the Los Angeles Raiders were playing the Cincinnati Bengals in the AFC Divisional playoffs. In the third quarter, Bengals linebacker Kevin Walker made a routine tackle of Jackson that fractured and dislocated his hip during the third quarter. Jackson never played professional football again.
Instead, Jackson was diagnosed with avascular necrosis and it was determined he lost all the cartilage surround his left hip. Jackson had hip-replacement surgery in April of 1992.
The Kansas City Royals cut Jackson after the injury, but the Chicago White Sox immediately offered him a deal. Jackson actually appeared in 23 games for the White Sox in 1991 before sitting out the entire 1992 season for rehabilitation. He returned in 1993, playing in 85 games and hitting 16 home runs.
Jackson offers a little secret
In a 2017 article in USA Today, Bo Jackson admitted he was planning to retire after that 1990 season and devote all of his time to baseball. He kept it a secret and wasn't going to announce anything until the season was finished. "That week, three or four days before the playoff game,'' Jackson said, "I sat down with Linda (his wife) and told her that I was going to announce my retirement.
"When the season was over, we had made my mind up that I was going to do that. That was the plan. Well, the man upstairs changed that plan. I'm not a very religious guy, but I believe in God, and I believe God works things out for a reason. If I had retired before my contract was over, I would have probably been hated by Raiders fans forever.''