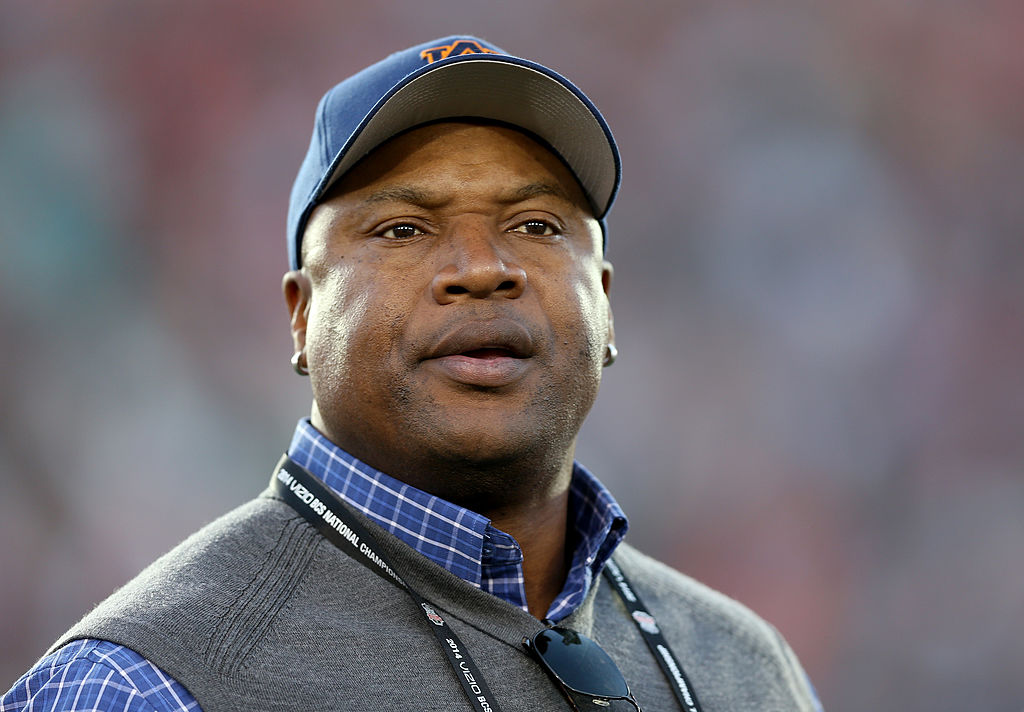 Why Bo Jackson Believes There May Never Be Another Two-Sport Pro Athlete
Here's why the former MLB and NFL star believes that no player aside from Deion Sanders has been able to follow his footsteps.
Over the last couple of decades, Bo Jackson has been highly regarded as being arguably the greatest athlete ever. Jackson had tremendous success professionally in two sports, which is a feat that, namely only NFL Hall of Famer Deion Sanders, found success in attempting in the time since then. There hasn't been talk about that being tried by any current star or player rising the ranks at the collegiate level. With that in mind, Jackson had stated a couple of years back why he believes that feat won't be reached again.
Bo Jackson's professional career

Growing up, Jackson had been a highly-talented and gifted athlete that excelled in football, baseball, and track and field. That is something he continued on through high school and into college.
He had participated in track and field for his first two years in college but stopped as he viewed that wouldn't provide him the financial security that either the MLB or NFL would provide him. Jackson had found great success at Auburn playing both sports as he was touted as a promising prospect in both sports. He had won the Heisman award as a running back while he was a tremendous outfielder that had proven to be a strong asset at the plate and field.
Jackson began his professional career with the Kansas City Royals after the Tampa Bay Buccaneers' purposely made him ineligible to play at the collegiate level for his senior year after a private jet ride to visit the team. Jackson was selected in the 1987 draft by the Oakland Raiders, where he played simultaneously with his MLB career.
His NFL career was cut short after four years due to a hip-replacement surgery. Jackson continued to play baseball after he recovered from his operation in 1991 as he returned to the baseball field late in the 1991 season for the Chicago White Sox. He racked up 2,782 rushing yards and 16 rushing touchdowns along with 40 receptions for 352 receiving yards and two touchdowns while earning one Pro Bowl selection.
Jackson wound up playing eight seasons until age 32 where he batted .250 with 141 home runs, 415 RBI, 82 stolen bases and 341 runs scored in 694 games played. That saw him earn an All-Star selection, 1989 All-Star Game MVP, an AL Comeback Player of the Year award, and had four 20-home run campaigns.
Why Bo Jackson thinks there is no two-sport athletes
Since Deion Sanders last played for Cincinnati Reds in 2001, there hasn't been a player play in two professional sports.
It's a feat that is rarely talked about, and there hasn't been a building momentum toward it at any level beyond college. With that in mind, Jackson voiced back in 2016 that he doesn't believe there are two-sport professional athletes because the talent level is too high.
"Because the talent pool is too deep right. Kids are more advanced. Kids are stronger. They are bigger. They are faster. They are more intense. If you try to delegate your time between playing two sports you are going to end up riding the bench in two sports. Plain and simple."

The generation of youth compared to when Jackson played with growing up has much more advantages to them to succeed at sports. There is more knowledge at that level with the various leagues, coaches, and trainers that were not as available back during Jackson's time. It's a different time that has bred more talented young players than ever before.
Will there be another pro two-sport athlete?
It's the open-ended question that doesn't have a squared away answer, but many players grow up playing multiple sports.
However, that has seen the likes of Patrick Mahomes, Kyler Murray, and Russell Wilson have had to shift their attention over to one sport at some point before their professional career. It's not a feat that can't be done but would take a tremendous amount of commitment on both ends to succeed at each sport.
Ultimately, it's a rare feat that speaks to how much of an athletic phenom that Jackson was during his time.