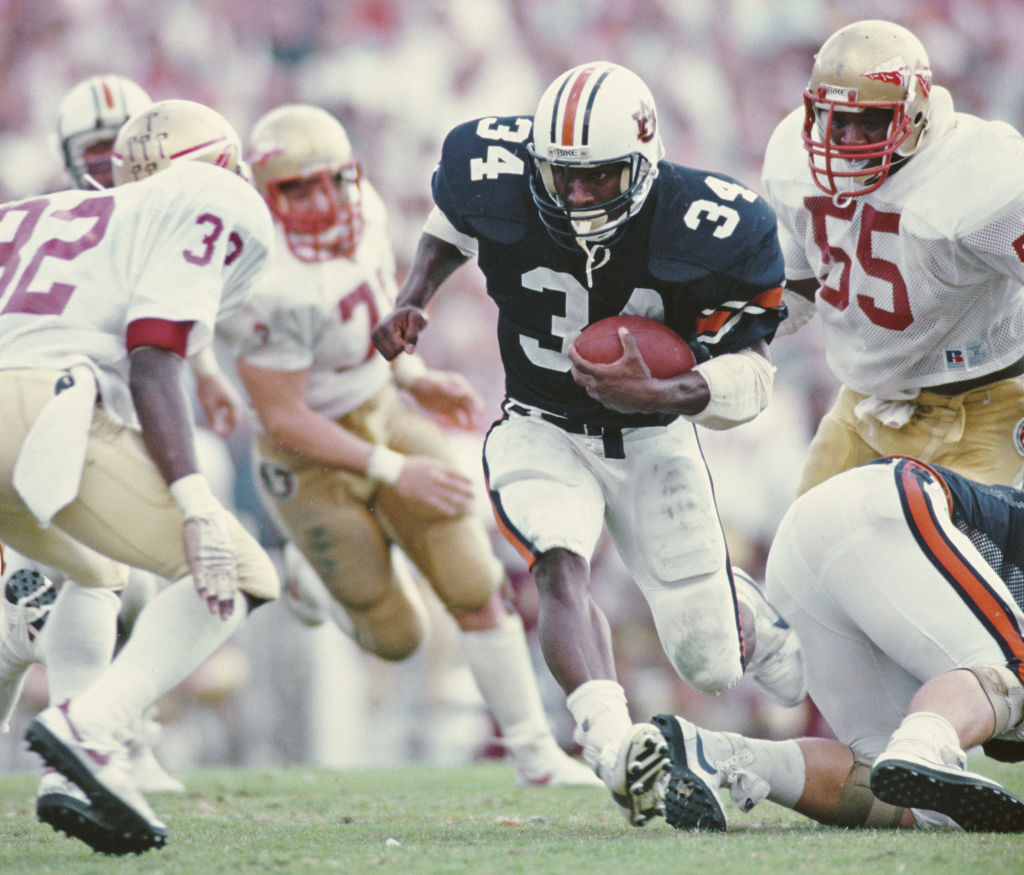 If Bo Jackson Was a Young Athlete Today, Football Wouldn't Be in His Plans
If former two-sport professional star Bo Jackson was a young athlete today, football would not be in his plans.
It's hard to imagine Bo Jackson not wearing a football uniform. The 1985 Heisman Trophy winner and former NFL All-Pro with the Los Angeles Raiders was dominant as a running back. He was also a Major League Baseball All-Star with the Kansas City Royals. If Jackson's professional athletic career was taking place, there would be no talk of Bo Jackson, the two-spot star.
Bo Jackson's football career
Bo Jackson was a monster of a running back at Auburn. His senior year was about as good as it gets. Jackson ran for 1,786 yards and 17 touchdowns en route to winning the 1985 Heisman Trophy Award. Jackson averaged 6.4 yards per carry. In his sophomore year, Jackson was almost as impressive as he scored 14 touchdowns (12 rushing) and rushed for 1m213 yeards. He averaged a whopping 7.7 yards per carry.
Jackson was the first player selected in the 1986 NFL draft as he was taken by the Tampa Bay Buccaneers. Despite repeated warnings that he wouldn't sign with Tampa, the Bucs still took him and Jackson stayed true to his word by not signing with the team. Jackson felt Tampa Bay owner Hugh Culverhouse sabotaged his baseball career at Auburn by sending a plane to pick him up for a workout. That violated NCAA rules and he was not allowed to finish his baseball college baseball career.
The Los Angeles Raiders took a shot with him with a seventh-round pick in the 1987 NFL draft, knowing he was already playing professional baseball with the Kansas City Royals. He wound up playing four years with the Raiders, making the Pro Bowl in the 1990 season.
Jackson said he loved football when he was playing
Even though it was a fluke injury on a routine tackle in the 1991 AFC Divisional playoff game that ended his career, Bo Jackson said he loved playing football. He loved the competition. Money was never his motivation. He said he always played for the love of the sport.
I sure loved playing the game," Jackson said in a 2017 USA Today article. "I loved the competition. I loved being better than the next guy. I enjoyed watching people's eyes jump out of their heads watching me do something that was normal to me." Jackson said that although it was a hip injury against the Cincinnati Bengals that ended his football career, he doesn't want people feeling sorry for him.
"So there's no reason for anyone to feel sorry for what happened to me, or what might have been," Jackson said. "I didn't play sports to make it to the Hall of Fame. I just played for the love of sport. I still don't know what my stats were, but I know I'm still reaping the benefits, enjoying the accolades, and all of the awards that still come to me. I'm blessed. Things turned out all right.''
Jackson wouldn't play today and won't let his kids play
Bo Jackson said if he knew during his playing days what he knowns now about football, he never would have played. He wouldn't take any chances with the head injuries that are all too common today. He said he also would not allow his children to play.
"If I knew back then what I know now,'' Jackson told USA Today, "I would have never played football. Never. I wish I had known about all of those head injuries, but no one knew that. And the people that did know that, they wouldn't tell anybody.
"The game has gotten so violent, so rough. We're so much more educated on this CTE stuff (chronic traumatic encephalopathy), there's no way I would ever allow my kids to play football today. Even though I love the sport, I'd smack them in the mouth if they said they wanted to play football. I'd tell them, 'Play baseball, basketball, soccer, golf, just anything but football.'''