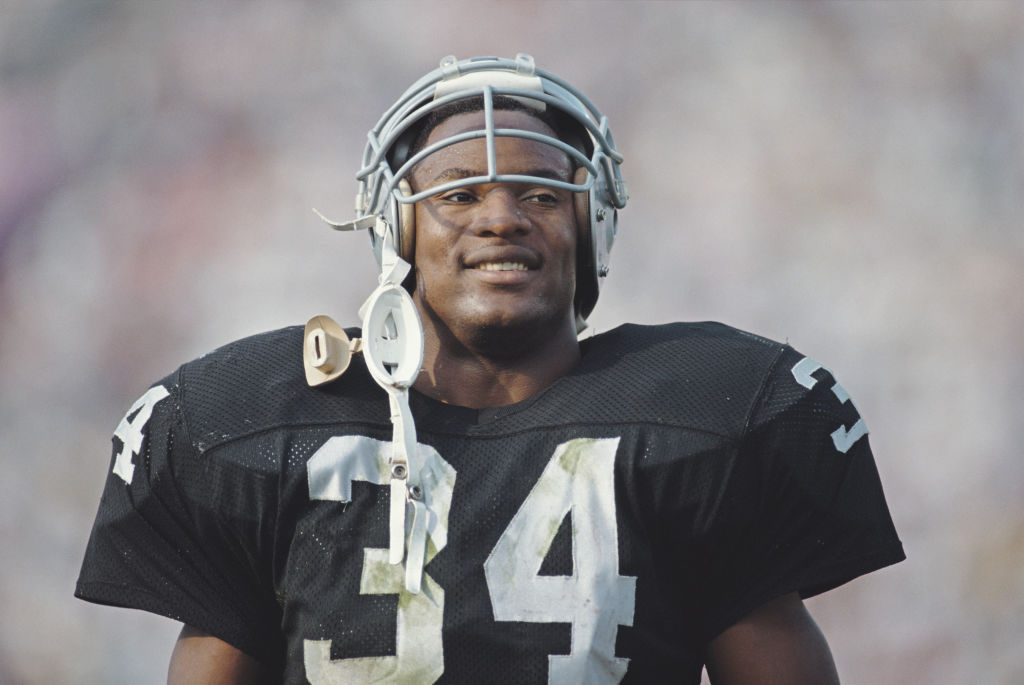 Bo Jackson May Have Been a Tampa Bay Buccaneer If Not for a Plane Ride
Bo Jackson, the two-sport, all-star athlete, may have been a member of the Tampa Bay Buccaneers if not for a plane ride.
There may never be a better athlete in professional sports than Bo Jackson. Jackson excelled at both baseball and football at the highest level, becoming the first athlete to be an all-star in both Major League Baseball and the National Football League. Jackson made his baseball mark while playing for the Kansas City Royals, while he tore things up on the football field with the Los Angeles Raiders. Things, however, may have been a little different in the NFL if it weren't for a plane ride Jackson took while at Auburn University.
Bo Jackson's college career
Bo Jackson was a two-sport star at Auburn University, making a name for himself on the football field. A strong and fast running back, Jackson played four seasons with the Tigers and rushed for 4,303 yards and 43 touchdowns in his career. He averaged 6.6 yards per carry in his four seasons at Auburn.
Jackson capped his college career with a dominant senior year. In 11 games, he rushed for 1,786 yards and racked up 17 touchdowns. He was named the Heisman Trophy winner for the top college football player in the country. He was widely expected to be the top player selected in the NFL draft.
Jackson also was a top-notch baseball player for the Tigers. In the summer before he attended college, Jackson was drafted by the New York Yankees in 1982, but elected to attend Auburn. In three years of college baseball (he was injured his sophomore year), he hit .338 with 28 home runs. He also stole 19 bases.
Jackson's feud with the Tampa Bay Buccaneers
The Tampa Bay Buccaneers had the No. 1 pick in the 1986 NFL draft and had their sights on Bo Jackson. During his senior baseball season at Auburn, Bucs owner Hugh Culverhouse sent his jet to pick up Jackson for a visit and a physical.
Team officials said they had checked with the NCAA and SEC, but the conference didn't let athletes be professionals in one sport and amateurs in another. Because of the flight, Jackson was ruled ineligible halfway through his baseball season at Auburn. Jackson felt it was all a ploy by the Bucs to have him miss his baseball season so his stock would drop in that sport and he would solely focus on football.
"I think it was all a plot now, just to get me ineligible from baseball because they saw the season I was having and they thought they were going to lose me to baseball," Jackson said in an ESPN documentary. "(Like) If we declare him ineligible, then we've got him."
Pat Dye, Jackson's football coach at Auburn said that move by the Buccaneers crushed any hopes of Jackson playing professional football in Tampa. "That did more damage than anything. That killed any chance Tampa had of signing him," Dye said.
Despite warning, the Bucs selected Bo Jackson with the No. 1 pick
Even though Bo Jackson repeatedly said he would not sign with the Tampa Bay Buccaneers if they selected him, the Bucs did just that. They took him with the first pick in the 1986 NFL draft.
"(Bucs owner Hugh Culverhouse) probably was arrogant enough to think that if they drafted him No. 1, he'd get him to sign," said former Auburn football coach Pat Dye. "What he didn't know is you don't force Bo to do anything. You've got to make it his idea."
Instead, the Kansas City Royals selected Jackson in the fifth round of the MLB draft and signed him to a deal worth far less money than the Buccaneers would've paid. Jackson's deal with the Royals was for $1.066 million over three years, while the Bucs' offer was five years at $7.6 million. Jackson went on to enjoy an eight-year career in Major League Baseball, playing five seasons with the Royals. He was an MLB All-Star in 1989.
As for the NFL, the Buccaneers forfeited the rights to Bo Jackson right before the 1987 NFL draft. Jackson re-entered the NFL draft and was selected by the Los Angeles Raiders in the seventh round. Jackson eventually worked out a deal where he would be allowed to play the full baseball season and report to the Raiders when it was over.