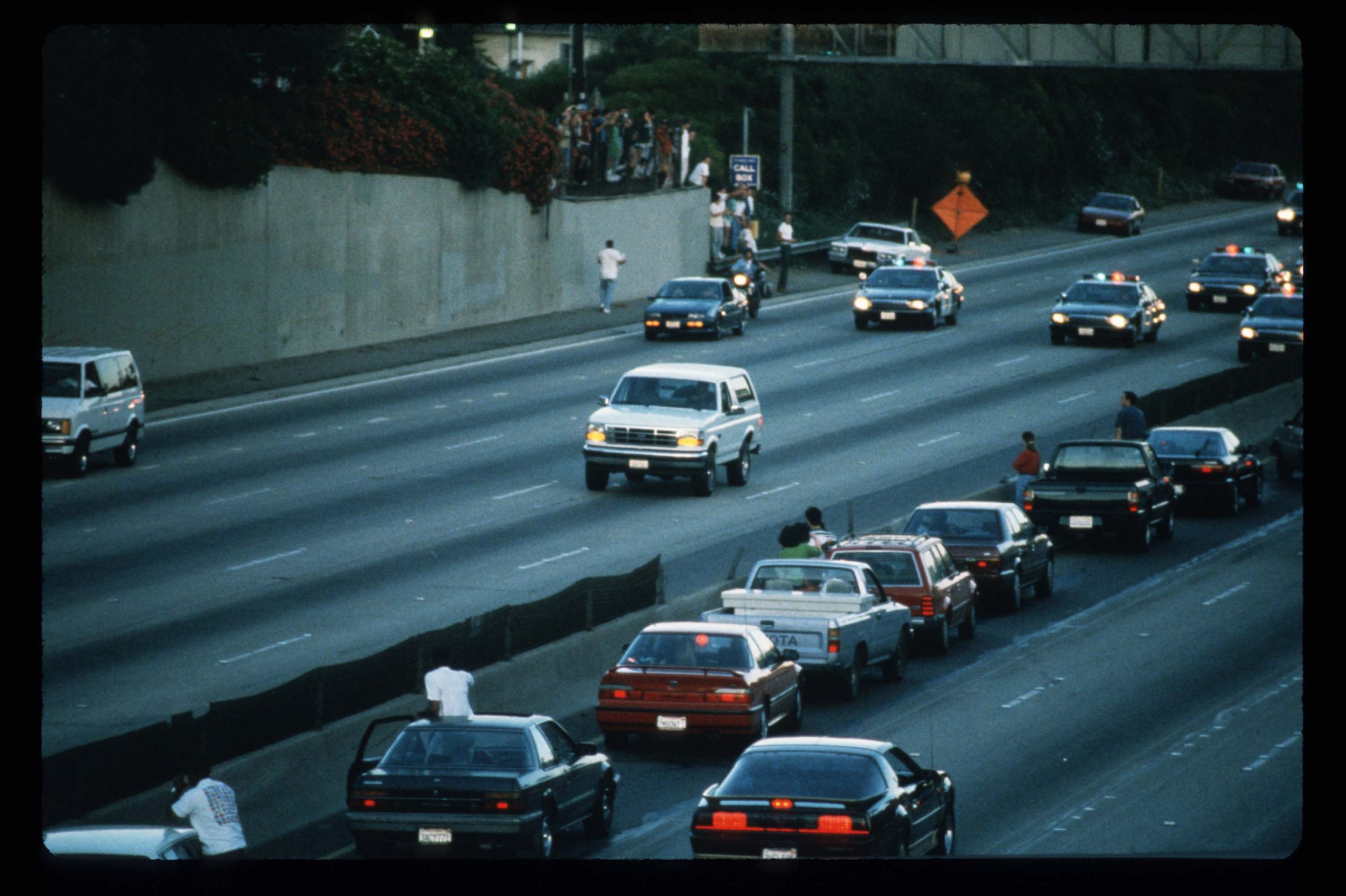 Bob Costas Reveals OJ Simpson Tried to Call Him From the White Bronco
During the infamous OJ Simpson police chase, Simpson tried to call legendary sports broadcaster Bob Costas.
It's one of those where-were-you-when moments. On June 17, 1994, most of the sports world was engrossed in the NBA Finals between the New York Knicks and the Houston Rockets. Then the pursuit of OJ Simpson took over. Longtime sportscaster Bob Costas remembers it well.
Costas was at Madison Square Garden for Game 5 of the series that was tied 2-2. While the basketball game went on, reports broke that Simpson, a Pro Football Hall of Famer charged earlier in the day in the murders of his wife Nicole Brown Simpson and her friend Ronald Goldman, was on the run. He got in his friend Al Cowlings' white Ford Bronco and infamously led a police chase down the Los Angeles freeways.
Costas recently disclosed that during that intense, slow-speed chase, Simpson tried to call him. He revealed the details in an interview this week.
Bob Costas and OJ Simpson had been co-workers, friends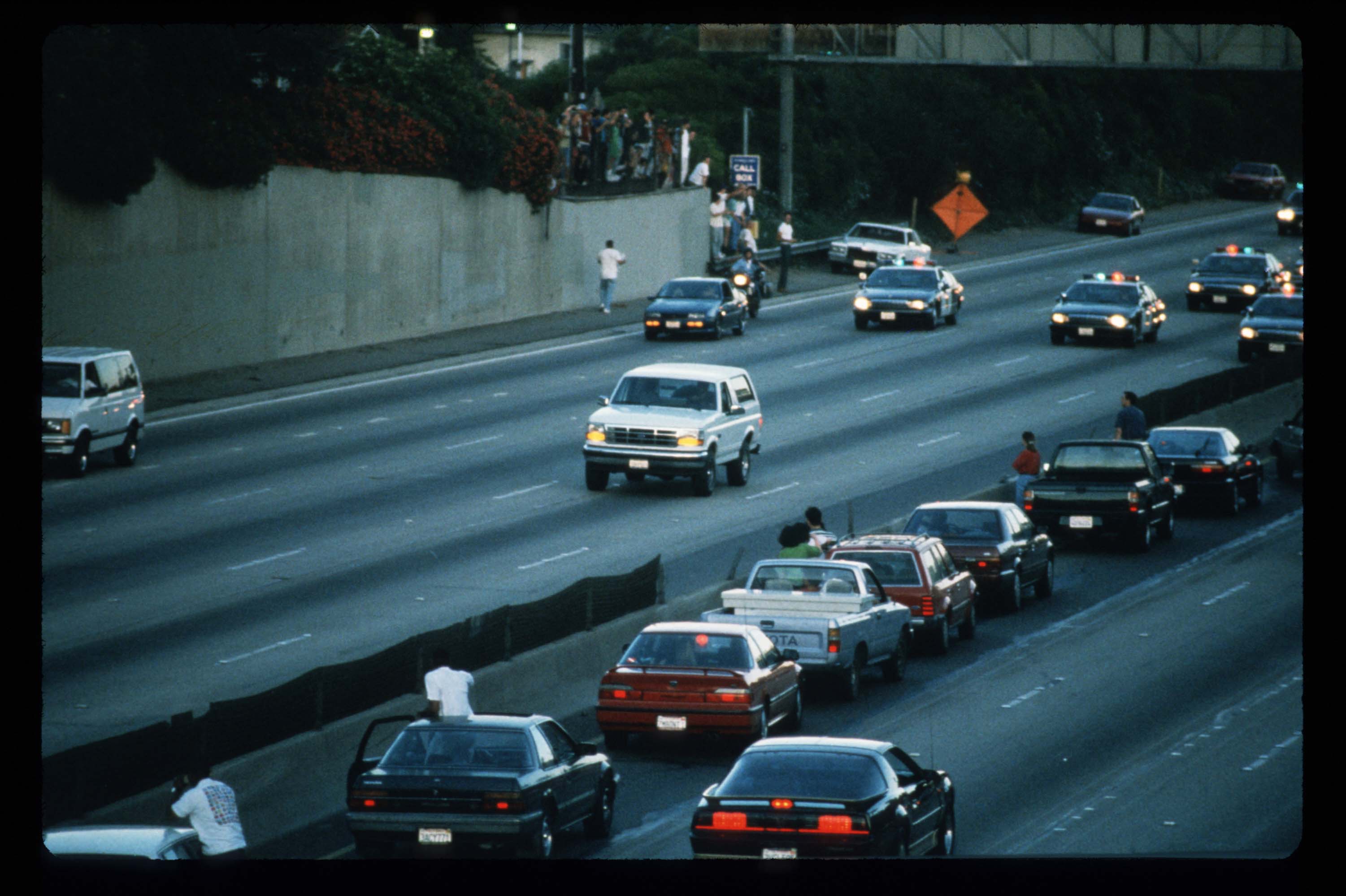 Costas and Simpson used to work together during football season at NBC and became good friends. Simpson was a football star running back at USC and then had a Hall of Fame career in the NFL with the Buffalo Bills. Simpson went on to become a football commentator, pairing with Costas at NBC.
In an interview with Graham Bensinger posted this week, Costas recalls hearing about the murders and how Simpson took off as a fugitive the same night Costas was at Madison Square Garden for the NBA Finals.
"OJ and I had been very friendly," Costas said. "We worked on the football show together for a number of years on NBC. OJ was a very affable man. I had no real understanding of some of the domestic violence that took place in his relationship with Nicole. All of us were stunned when we heard about the murders on a Sunday night. Our first thought was oh what a tragedy for OJ and his family.
"As 48, 72 hours went by, the realization set in that he's a suspect here. Friday is when they announced that they're seeking his arrest, but he's disappeared. They announced he's a fugitive, and you can hear all the reporters gasping. This is something out of a 'B' movie."
Bob Costas reveals OJ Simpson tried to call him during the police chase
Costas told Bensinger he found out that Simpson tried to reach out to him during the intense police chase. He was first made aware of it at the hotel after the basketball game.
"I'm sitting around the hotel and a woman, whose name I forget, from Time Magazine calls and says we hear that OJ tried to call you from the Bronco," he recalled. "I say no, that never happened. The conversation lasts a minute.
"Now, fast-forward several months. It's November of '94, the trial doesn't start until January, and he's in the LA County Jail. He had sent word through intermediaries that when I was in Los Angeles, he would like to see me. Robert Kardashian, who's part of his defense team, picks me up.
"It's me, A.C. Cowlings, and Kardashian on one side of the glass. OJ, in a blue prison outfit, looked to me like he lost about 20 pounds, he comes walking in, sits on a stool opposite us. The way you shake hands is you put your hand against his up against the glass. I had cut my finger and I had a bandage — this is no joke — I had a bandage on my finger and this little bit of blood. He goes, 'Wait a minute. Wait a minute. You did it.' Like it's a joke.
"At one point, A.C. Cowlings pipes up and he says, 'You know, we tried to call you from the back of the Bronco. Now I'm thinking about the lady from Time Magazine. He called my house in St. Louis. I wasn't there. And he had the number of the studio, but since it was the Finals, we were at the site. We were at Madison Square Garden. So he calls. The phone rings and rings. Finally, someone picks it up and it's a tech guy, an engineer.
"'Is Bob Costas there?'"
"'No. He's not there.'"
"'I gotta speak to Bob Costas.'"
"'Well, he's not here.'"
"'I have to speak with Bob Costas right now.'"
"'He's at Madison Square Garden. Who's calling?'"
"'OJ Simpson.'"
"'Yeah, right.'"
"Click. The guy hangs up the phone because what would you think? It's a prank."
Costas reveals what would've happened had he and Simpson connected
Simpson never got through to Costas, but the Hall of Fame broadcaster explained to Bensinger what would've happened had he been around to pick up the phone that night.
"If somehow we had actually connected — it's already one of the most memorable moments in television history," he said. "It's like the moon landing, everyone's watching it.
"I would've had to have asked him some rather pointed questions, regardless of what his answers would have been. OJ, did you do it? If you didn't do it, what are you doing running? What are you doing with a gun to your head in the back of the car?
"But it never came to pass. That was the last time I saw or spoke to OJ."