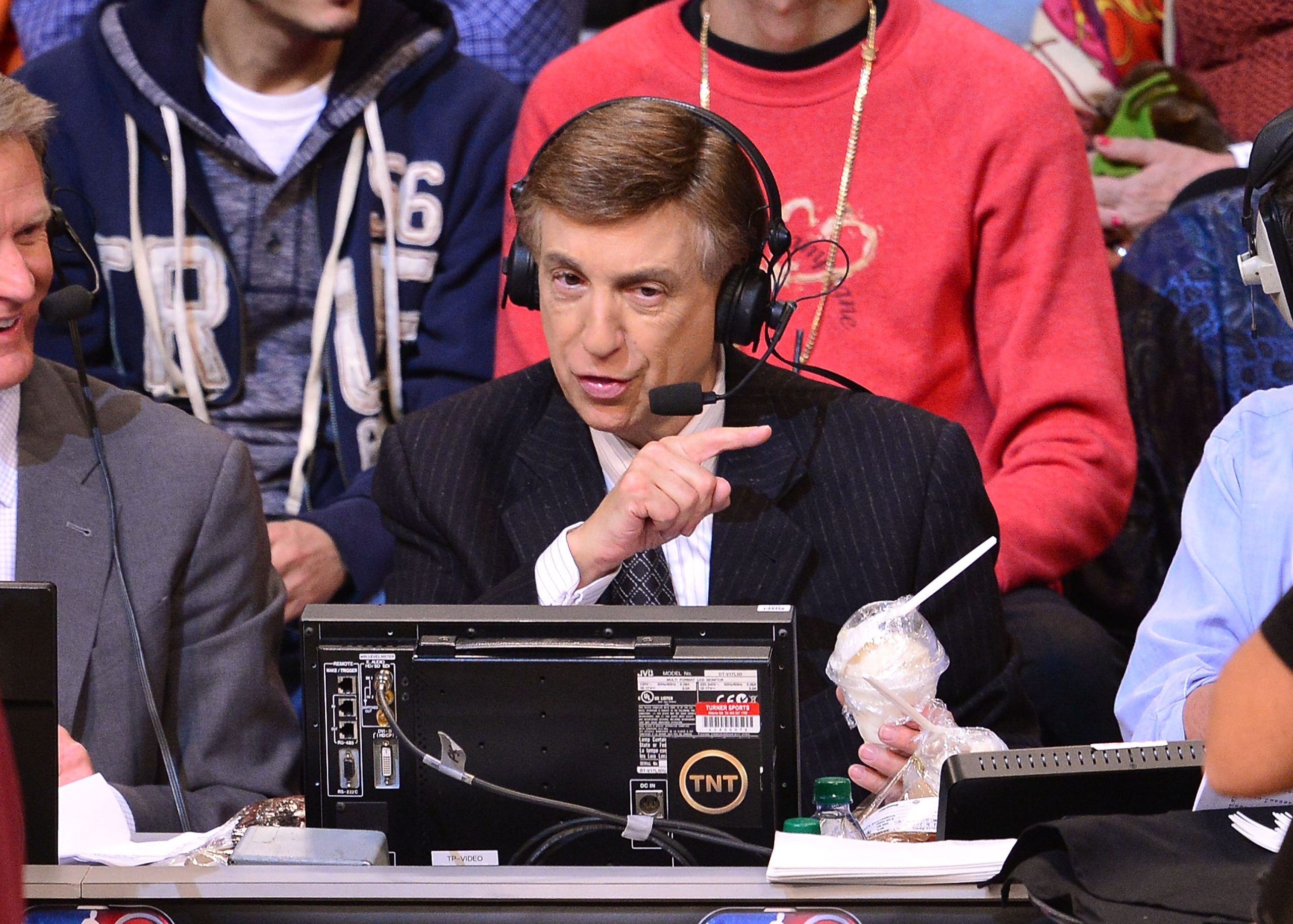 Marv Albert Reveals His Most Uncomfortable Broadcasting Experiences Have Taken Place at the Airport Urinal
Marv Albert has had his ups and downs in a 55-year broadcasting career.
Marv Albert's legendary career comes to an official end as soon as the Eastern Conference Finals finish. Albert's broadcasting run has spanned 55 years and has had its share of high and low moments. The 80-year-old Albert has covered 25 NBA All-Star Games and 13 NBA Finals. His high points came when he called the 1992 Olympic Dream Team games. His low point happened at the airport urinal.
Marv Albert was in awe of the 1992 Dream Team
Albert had the luxury of following the 1992 Dream Team during the Olympics Games in Barcelona, Spain. He likened the team that consisted of Michael Jordan, Charles Barkley, Larry Bird, Magic Johnson, Scottie Pippen, and many more stars, to the Beatles.
"It was one of the great thrills of my career," he told NBC Sports back in 2017. 'The drama was seeing these guys together and seeing them on the stand receiving the gold. Even now when I travel around the country to call games, I'm constantly asked about it."
He recently told NBA.com that he got chills watching them all play together.
"The greatest kick I got was doing the Dream Team, not for the games because they were all blowouts," he said. "But just to be around it. They were like the Beatles, had tight security, couldn't really go anywhere. This is when basketball internationally had landed and started the whole movement. The first time they walked out on the floor I got the chills. Greatest group of athletes in a team sport that I'd ever seen."
Marv Albert had some uncomfortable moments in the airport urinal
Albert has a very distinctive voice. He's like John Madden or Howard Cosell in that people love to mimic him. Many have done pretty impressive impressions of him. In fact, Albert said there was a Marv Albert sound-alike contest at Madison Square Garden a few years ago.
"We had a sound-alike contest years ago at the Garden," he said. "Billy Crystal's accountant was one of the finalists. I'd gotten to know Billy, he's a New York guy and sits next to us at Clippers' games when we go to LA. But his accountant was very good. I'd give him a six or seven."
Unfortunately for Albert, those sound-alikes don't just happen during contests. He hears them quite often throughout his travels. Sometimes they happen under very awkward circumstances.
"People will come up to me at the airport men's room and go into play by play," he said. "Right there at the urinal. All I could do is give them a strong five." 
Albert said one of the best interviews he's ever done wasn't with an athlete
Albert's been around. He's a celebrity. He's been on David Letterman, even though he said the host labeled him an "emergency guest" in case nobody showed up. Albert was also on The Tonight Show with Johnny Carson. One of his favorite interviews was conducted at The White House when he spoke with Barack Obama.
"I've interviewed presidents, and Barack Obama, his personality was unbelievable," Albert said. "All he wanted to do was talk basketball. I did it at the White House. When he walked out, he said "Yesss" and some of my other phrases. I asked him some questions that might have been considered mildly tough, and one time he said, "You know, I have security here all around me." So there were no more tough questions after that."
Obama said when he was watching the NBA games at night, he'd turn the sound down. Albert said he took offense.
"He said he watched games at night and would turn the sound down," Albert recalled. "I told him that I take that personally. He laughed. But he had the sound down because that's when he'd get his reading in. Terrific person."
At least Obama just turned the sound down and wasn't mimicking him at an airport.