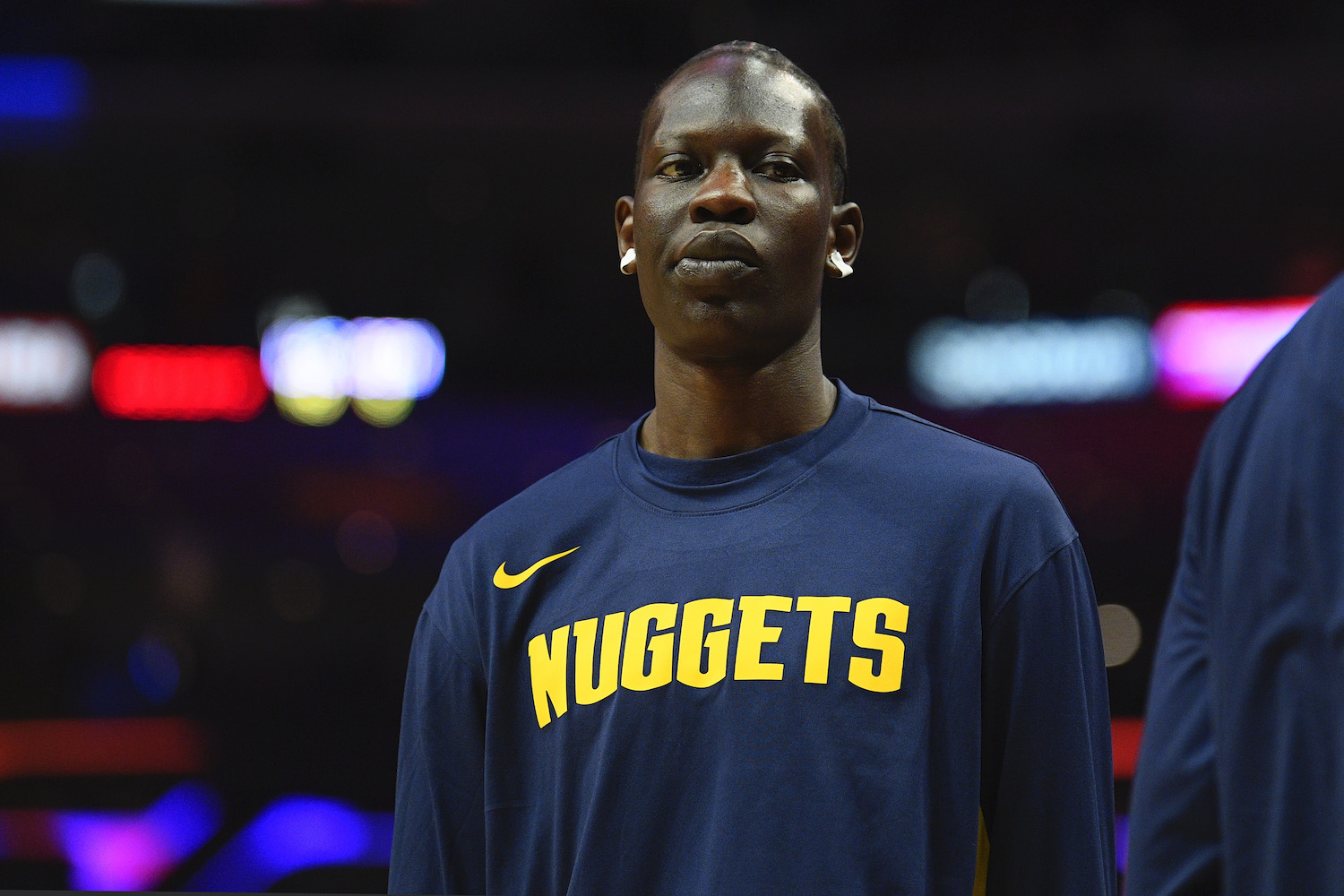 Bol Bol Is Manute Bol with Offensive Skills and a Major Chip on His Shoulder
Bol Bol is following his famous father's footsteps into the NBA. The difference is this Bol has an offensive game to go with his size.
Mention the name Manute Bol, and most NBA fans who remember the Washington center drafted in 1985 think of two related things — tallest player in the NBA and blocked shots. Manute Bol would go on to become one of the greatest shot blockers in NBA history. That said, his offensive game was lacking. 
Enter Bol Bol, Manute's 20-year-old son who made his NBA debut with the Denver Nuggets in a scrimmage at the Orlando bubble. When you watch the rookie's highlights you'll undoubtedly have flashbacks of his father with his height and lanky frame. There is one dramatic difference — Bol Bol can ball. 
Manute Bol's NBA career
The Washington Bullets drafted Manute Bol with the No. 31 overall selection in the 1985 NBA draft. Although he was an early-round pick, initial expectations weren't high for the 7-foot-7 Bol simply because of his size, or lack thereof. He weighed just 180 pounds when he arrived in the U.S. just a couple of years earlier. 
Despite his lankiness, Bol impressed with a record-setting rookie season with the Bullets. While he averaged just 3.7 points per game, he made his presence felt on the defensive side of the ball, where he led the league in blocks with five per game, which was a rookie record that still stands today.
Bol played for 10 seasons in the NBA with four different teams. His length always presented challenges to opposing offenses in the middle as he was regularly among the league leaders in blocks. He retired after the 1994-95 season and still holds multiple records, including highest career blocks per 48 minutes (8.6), second in career blocks-per-game average (3.34), 16th in total blocked shots (2,086), and the only player in NBA history to have more blocked shots than points scored.
Bol Bol's short college career
Because Manute Bol's game was very one-dimensional, the younger Bol always understood in order to take his game to the next level he had to develop an offensive game. After a successful high school career, which would have been successful due to his sheer height, Bol put his skills to the test in college when he joined the Oregon Ducks. 
In his freshman season with head coach Dana Altman, Bol made an impressive debut with a double-double scoring 12 points and adding 12 rebounds in just 23 minutes. He also added the trademark Bol statistic with three blocks. 
Several games later, Bol had a season-high 32 points and 11 rebounds in a loss to Texas Southern, followed by a 20-point, nine-rebound, three-block performance against San Diego. On December 12, Bol broke his left foot and was out of the season. After his freshman year ended, he declared for the NBA draft.   
Bol Bol's impressive NBA debut
When the 7-foot-2 Bol Bol attended the NBA draft as one of 20 players invited, most expected he would go in the top 10. It never happened. His stock plummeted and finally, in the second round at No. 44, the Denver Nuggets acquired the draft rights from the Miami Heat in exchange for a future second-round pick and cash considerations. Bol was visibly disappointed when he told ESPN, "I just want to prove everyone wrong, and just come out and be the best player I can be."
Bol played in just eight G-League games before the sports world shut down. Since arriving in Orlando, there was quite a bit of buzz that Bol had looked impressive in workouts with the Nuggets. On Wednesday night, he made his NBA debut, and it's something his father, who passed away 10 years ago, would have been most proud.
The youngster put on a display against the Washington Wizards, his father's former team, showing flashes of his father's dominance on the inside, blocking shots with his 7-foot-9 wingspan. He finished with six blocks. He showed his ability to bang inside and grab rebounds hauling in 10. It was, however, Bol's offensive game that dazzled the most. 
In one sequence, Bol blocked the shot, grabbed the rebound, and then ignored the point guard and brought the ball up the court himself. He stopped three feet outside of the three-point line, and smoothly drained a trey. It was one of many highlights for the 20-year-old who finished the night with 16 points. 
Bol has his dad looks. He has his dad's length. And he has an offensive game that his dad never possessed. All of that, combined with the huge chip on his shoulder he has in proving those teams who passed on him got it wrong, and Bol Bol has a bright future in the NBA. 
All stats courtesy of Sports Reference.