Boston Celtics: Glen 'Big Baby' Davis Had Front-Row Seat as Ray Allen Boxed Rajon Rondo to Settle Their Beef
Ray Allen and Rajon Rondo of the Boston Celtics had a boxing match to settle their differences.
Apparently, the Ray Allen/Rajon Rondo beef was already at a boiling point before Allen left the Boston Celtics and signed with the Miami Heat.
Glen 'Big Baby' Davis was part of Boston's 2008 championship team that included Allen, Rondo, Kevin Garnett, and Paul Pierce. Celtics fans know all too well that Rondo and Garnett, in particular, weren't happy with how Allen left the team in 2012. After the Heat bounced the Celtics from the playoffs in 2011, Allen turned down a Celtics offer to sign with the Heat. He won a championship that season.
As Davis recently explained, Allen and Rondo didn't quite get along well before Allen left town.
Boston Celtics stars Ray Allen and Rajon Rondo had an issue involving Chris Paul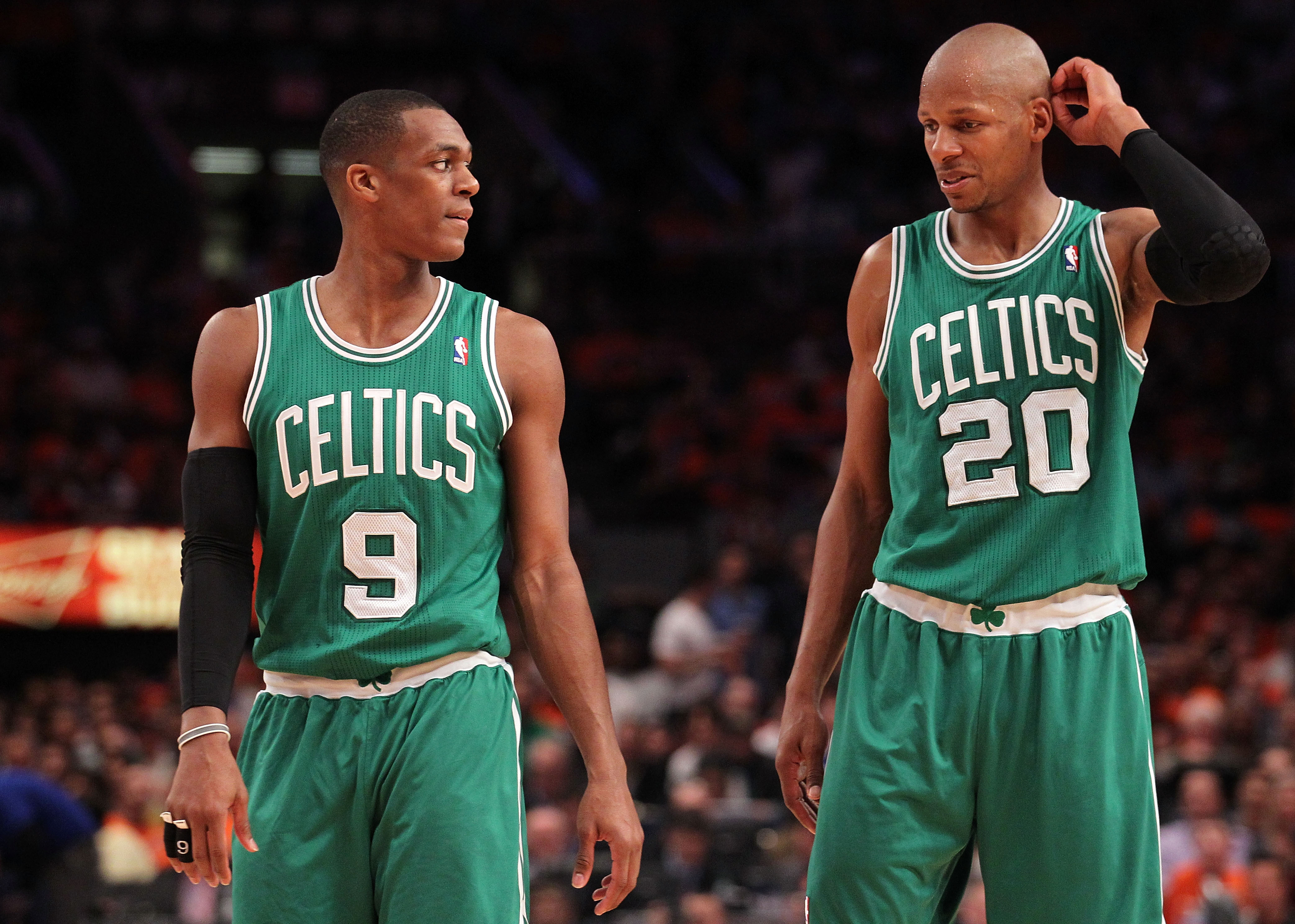 The Celtics had one of their worst years during the 2006-07 season, finishing with a 24-58 record. Danny Ainge apparently had enough.
He brought in Garnett via trade, sending five players and two first-round picks to the Minnesota Timberwolves. Ainge also acquired Allen from the Seattle SuperSonics, giving Boston its first real Big Three since Larry Bird, Kevin McHale, and Robert Parish in the 1980s.
In a recent interview with DJ Vlad, Davis, a reserve on that title team, said he believed the Allen/Rondo feud began over Allen's desire to bring in point guard Chris Paul.
"Ray was (supposedly) wanting Chris Paul in a trade," Davis said. "That's after we won it. Rondo didn't like that.
"And sometimes Ray, on defense, would suck ass, and Doc (Rivers) wouldn't say s***. It's like, 'Rondo, you're f***ing up. Chauncey Billups is killing you.'
"Rondo's like, 'Yo, Chauncey Billups ain't f***ing scored this f***ing series. It's Rip Hamilton that's busting our ass.' S*** like that was happening, and they had a beef."
Davis said Allen and Rondo had a boxing match to settle the score
Davis said the issue between Rondo and Allen resulted in a boxing match, one with gloves and everything.
"They boxed it out," Davis said. "They put on gloves and really threw hands. I was there."
Davis was asked who won, and he couldn't come to a conclusive decision.
"You could just tell Rondo was trying to knock his head off," Davis said. "Ray was jabbing."
Davis said the fight took place inside a weight-room area.
DJ Vlad asked if Celtics management had any idea this was going on.
"Oh, hell no," Davis laughed.
Like Sportscasting on Facebook. Follow us on Twitter @sportscasting19 and subscribe to our YouTube channel.