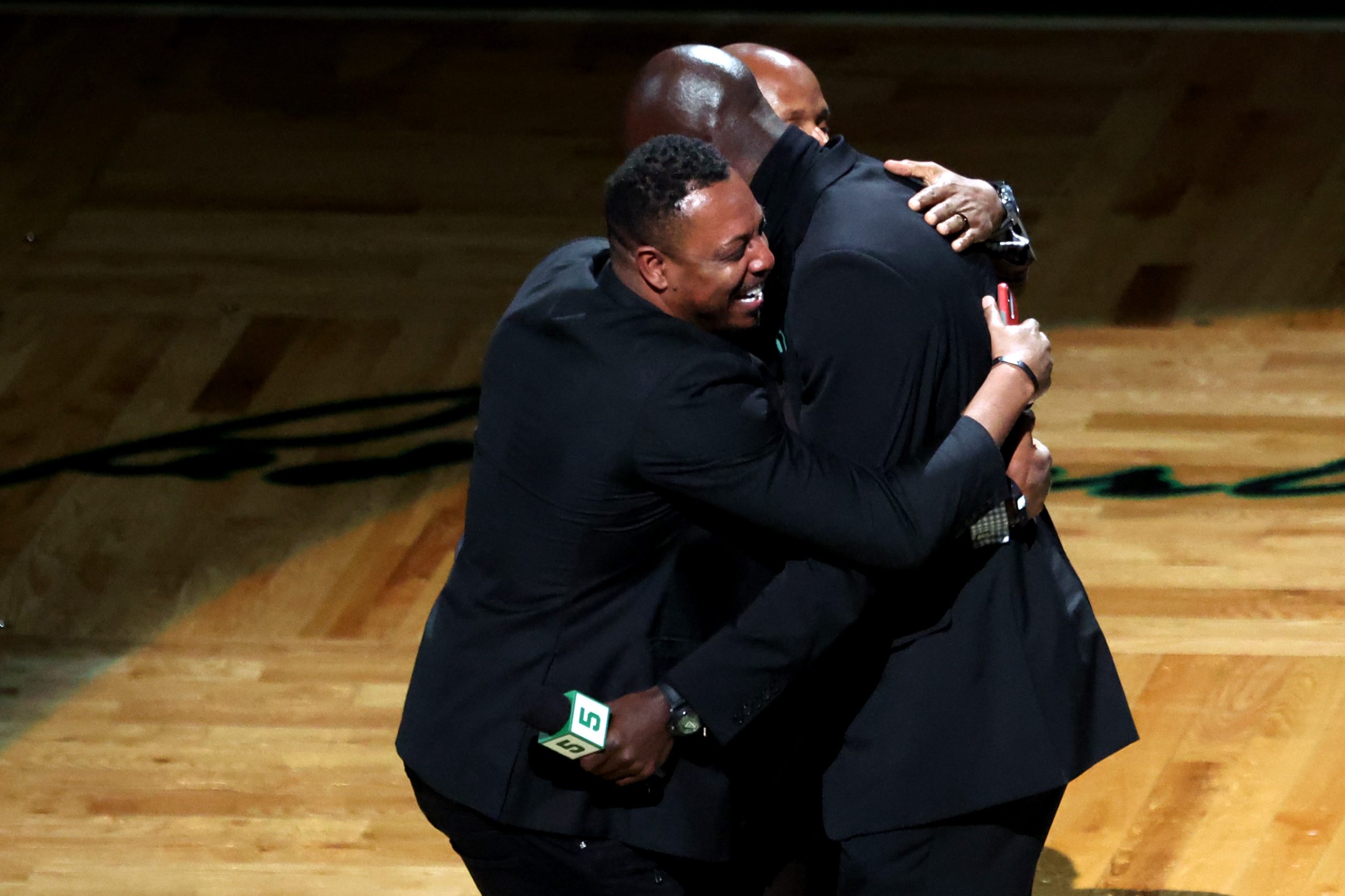 Ray Allen Played the Role of Big Man on Kevin Garnett's Big Day
Ray Allen proved to be the big man on Sunday during Kevin Garnett's Boston Celtics jersey retirement ceremony.
Naismith Memorial Basketball Hall of Famer Ray Allen was known for his prolific outside shooting during his 18 years in the NBA. When he came to the Boston Celtics in a 2007 trade, that long-range shooting immediately helped propel them to a championship.
Allen teamed with NBA All-Stars Kevin Garnett and Paul Pierce to form Boston's biggest Big Three since the Larry Bird era. On Sunday, in a room full of current and former basketball stars honoring Garnett, it was Allen who played the role of the big man.
Ray Allen rubbed his former Boston Celtics teammates the wrong way when he left via free agency
To some Boston players, Allen leaving the Celtics after the 2011-12 season was bad enough. Where he ended up was the bigger issue.
After winning the championship in their first year together in 2008, Allen, Garnett, and Pierce returned to the NBA Finals in 2010, falling to the Los Angeles Lakers in seven games. The next two years, Boston was bounced by the Miami Heat — in the conference semis in 2011 and the Eastern Conference Finals in 2012.
Allen declined a Celtics offer to return in 2012, instead choosing to sign with the Heat. He played a key role in Miami winning the championship in 2013. Leaving Boston didn't sit well with his Celtics teammates, including Garnett, Pierce, and point guard Rajon Rondo.
Allen said he never had any beef with his Celtics teammates, but Garnett appeared to be bothered most and seemingly held a long-lasting grudge.
"I've been very vocal on my distaste for what Ray did, that was real for everybody that was involved," Garnett said in 2020, per The Boston Globe. "That's real life. We was in a real beef with Miami at the time and very similar to if someone was to go from the Lakers to the Celtics, and vice versa. No one will speak on the underlyings of it, but that was a real thing. Miami and Boston. That was a real thing."
Ray Allen attended Kevin Garnett's jersey retirement ceremony
In September, Pierce said he had put any animosity he had for Allen bolting town behind him. He did say it didn't appear Garnett and Rondo had done the same. He said Garnett may be getting there, but Rondo still wasn't happy about it.
"KG, he's less stubborn as he gets older," Pierce said. to Sports Illustrated. 
What about Rondo?
"That's a problem," said Pierce. "Rondo, he's still stubborn."
If there was any legitimate beef between Garnett and Allen remaining, it appears to have been put to rest. Despite the rumblings Garnett still wasn't happy with Allen, Allen played the role of big man Sunday, attending Garnett's big day as his jersey was sent to the rafters, joining several other Celtics legends.
Garnett called out Allen, who was sitting in the front row during the ceremony.
"It's good to see Ray Allen here," Garnett said, per ESPN. "Real s***. It's good to see you, man. You next, dog."
The TD Garden crowd then erupted when Allen joined Garnett in a hug. Pierce then emerged from the crowd, and the trio embraced in a group bearhug.
Allen made that big step to help mend the fences
Allen's presence helped bring joy to many at TD Garden, including Doc Rivers, who coached that 2008 championship team.
"Yeah, that's a big one," said Rivers. "Because that's been a problem, obviously, and the fact that it looks like the fence is finally coming down is really cool. Very, very happy for Kevin, and really cool that Ray came today."
Allen said it's been tough not being able to connect with the guys he won that title with. He was happy being a part of Garnett's big day.
"I don't like being on the outside," Allen said. "There's so many people here that I love, that I spent time with … those people, they're etched in my mind when it comes to my time spent here in Boston, and to not be able to connect with them was always — it was always tough for me.
"Just because I moved away doesn't mean that relationship, that friendship, ends. So it did center around Kevin and myself because I did get the sense that the people here felt how Kevin felt. Once he accepted me, then the people accepted me. That was the sense. I was glad we could do that and people could see, 'We won with this guy in 2008, and that's what matters most.'"