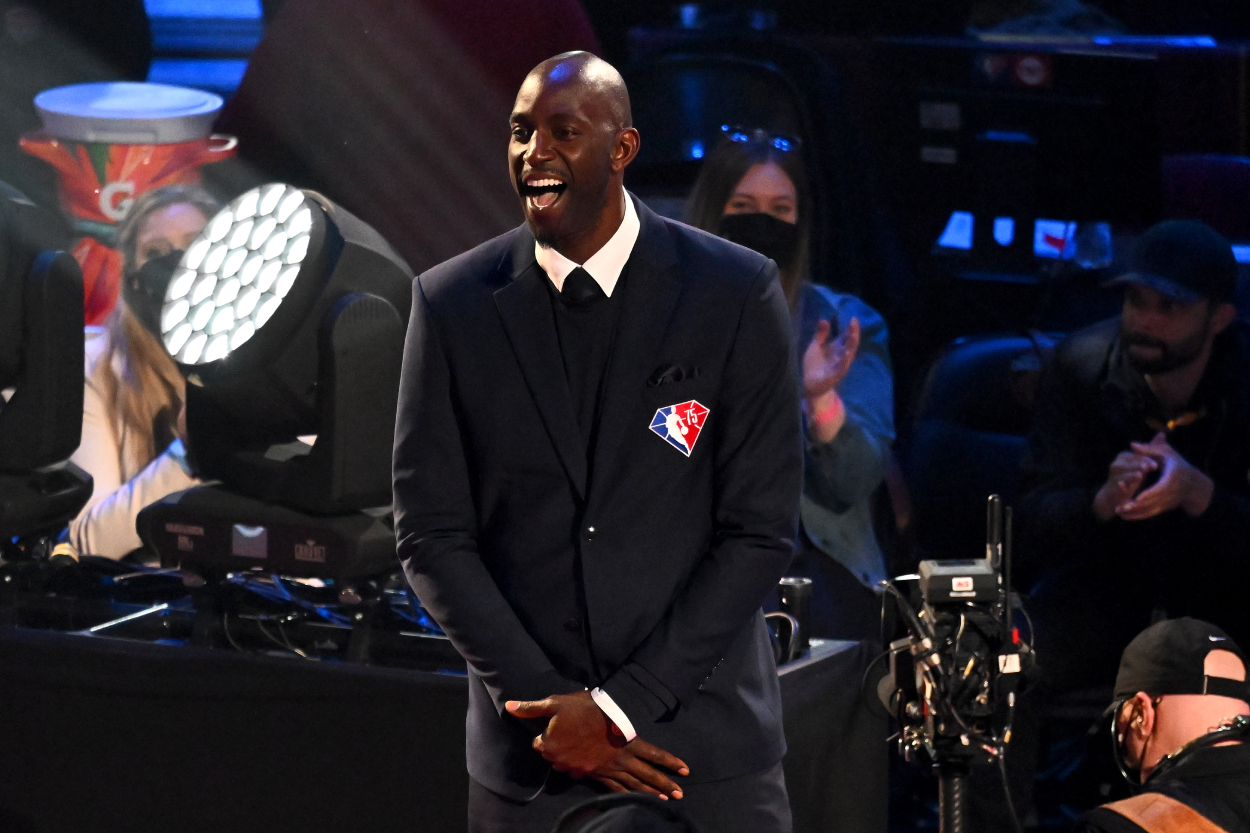 Kevin Garnett Took Advice From Larry Bird, and Now He's Joining Him in the Rafters
Kevin Garnett made quite an impact on the Boston Celtics and their fans in his six years with the team.
Kevin Garnett probably didn't need the advice. Garnett is a player whose motor never stopped on the basketball court. When he came to the Boston Celtics via trade prior to the 2007-08 season, KG said he once heard some words of wisdom from Celtics legend Larry Bird.
When the Celtics host the Dallas Mavericks on Sunday, Garnett and Bird will be together. They won't be together in person, but they will be linked forever in Boston. Garnett's No. 5 jersey will be officially retired and will be hanging with Bird's among the rest of the Celtics stars.
Kevin Garnett never cheated the game of basketball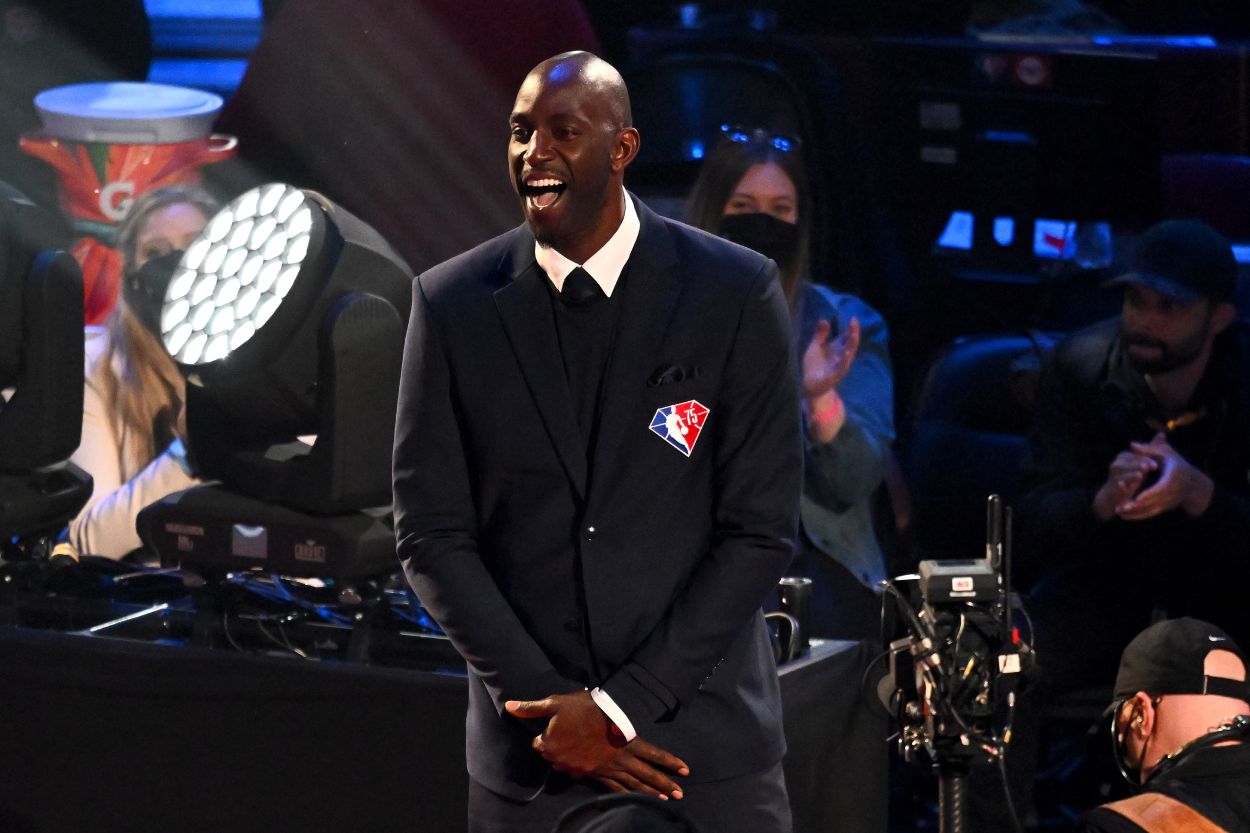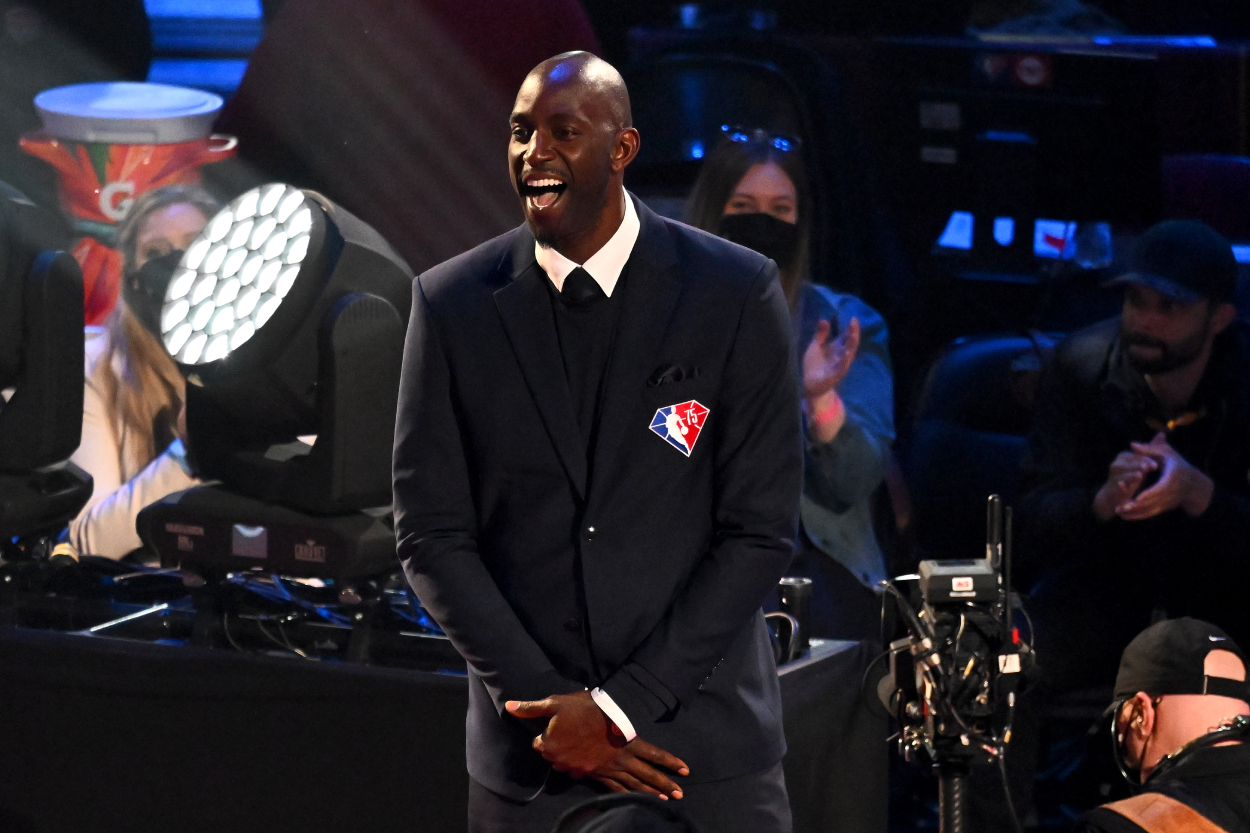 Garnett never had to be pushed. The fire always burned from within whenever he made his way onto the basketball court. He spent the first 12 years of his career with the team that drafted him, the Minnesota Timberwolves. He came to Boston in a trade that cost the Celtics five players and two first-round picks. It turned out to be a steal for Boston.
In his first year in green, he guided the Celtics to a championship. His passion for the game was contagious. He admits he was leery about making the move to Boston. Last week, however, he said he wished he had done it sooner.
"My only regret in any of this is that I should have came to Boston a little earlier," Garnett said, per Mass Live. "So that's it. Other than that, it was magical."
Garnett always had the passion for the game. He just never was able to win in Minnesota. That all changed when he teamed with Paul Pierce and Ray Allen as they brought Banner 17 to Boston in their first year together.
"It meant everything, man," Garnett said. "You come into the NBA wanting to win and losing is part of it. That doesn't mean you have to accept it. Getting with a storied franchise like Boston gave me light. It gave me breath. It gave me purpose."
Kevin Garnett remembers what Larry Bird said about Boston Celtics fans
Garnett was a perfect fit in Boston, and he knew it would be that way on the court. He knew if he brought his intensity every night like he did in Minnesota, he'd be a fan favorite.
He said he recalled something Bird said during his early days with the Celtics. It was something that stuck with him. It also rang true. Bird said you can't fool Celtics fans.
"I heard Larry Bird say one time in his early years in Boston is that the reason why he loved playing in front of the fans in Boston is because you couldn't fake them," Garnett said, according to Mass Live. "You couldn't fool the fans.
"They knew when you was playing hard, and they knew when you were giving your all. They have a sense of basketball history and they have high basketball IQs. They cared and I never forgot that."
That Garnett intensity resonated well with the people of Boston. Although he played just six seasons with the Celtics, he remains an all-time favorite.
"I wanted to be able to show people that I can play through injury," Garnett said. "I wanted to show them — plus teammates and coaching staff — I wanted them to see that I can play through damn near anything, that I was mentally strong."
Garnett clerly made an impression with the Celtics
Garnett proved his worth immediately in Boston. The Celtics won 66 games in his first year with the team. The previous season, they won 24.
Boston had a winning season each of those seasons and made trips to the NBA Finals in 2008 and 2010, winning it all the first year. Garnett was a winner and helped turned the Celtics back into one.
"I just knew Kevin just wanted to win," Pierce said in a tribute video put out by the Celtics.
Garnett finally got his chance to do that in Boston. He gave his all to the city, even if it was in just six short years.
The impact was loud and it was appreciated by the Celtics. Now it's Boston's turn to give back, and the Celtics will do so Sunday by putting him right up there with the rest of the Celtics greats.