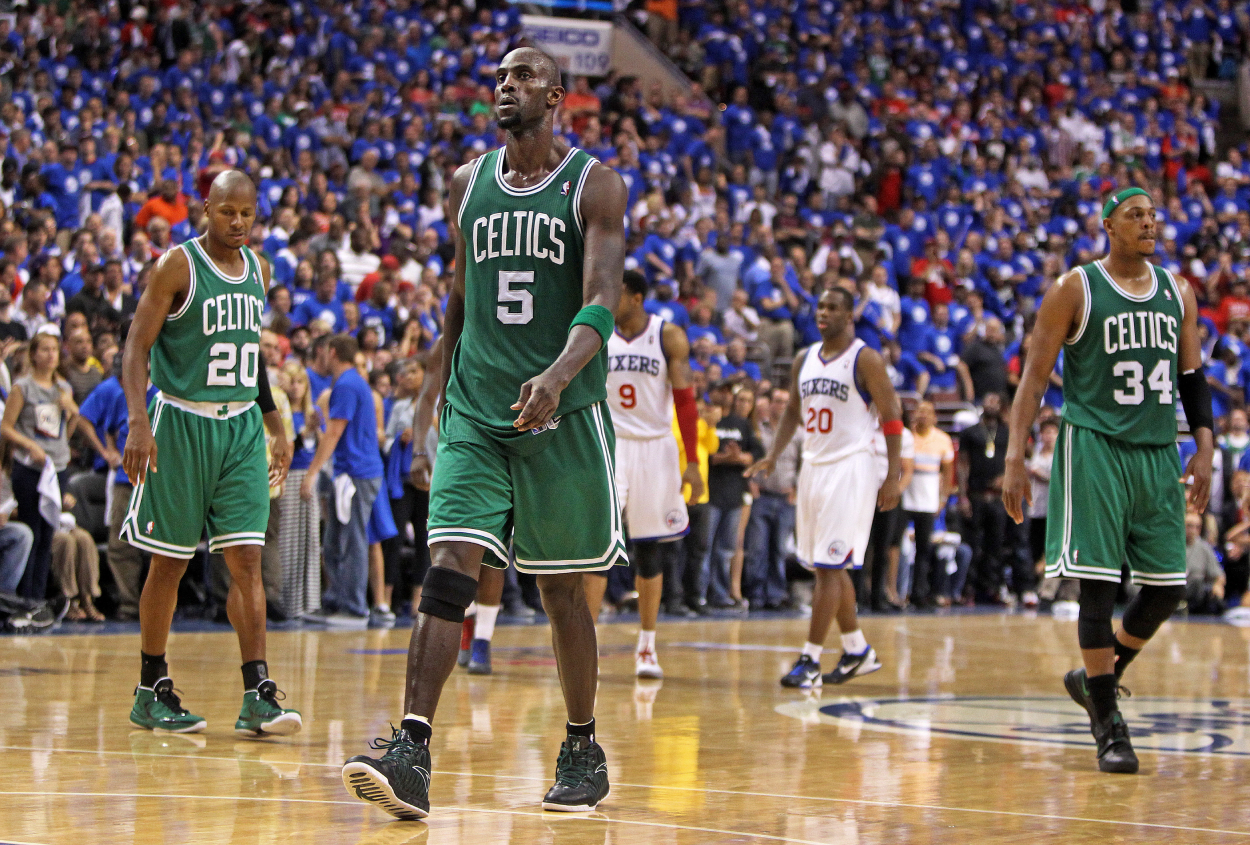 Kendrick Perkins Wants Peace Between Kevin Garnett and Ray Allen, Offers Foolish Way of Getting It Done
Kendrick Perkins hopes Ray Allen and Kevin Garnett can put aside their differences and become family again.
Kendrick Perkins remembers the 2008 Boston Celtics being like a family. One year after finishing with 24 wins, the 2007-08 Celtics won 66 games and earned their first NBA title since 1986.
Danny Ainge brought in Ray Allen and Kevin Garnett via trades to help turn the franchise around. Allen and Garnett teamed with Paul Pierce to give Boston one of the best trios in the NBA. Although they returned to the NBA Finals two years later, Boston's Big Three managed just the one championship.
Allen bolted for the rival Miami Heat after the 2011-12 season, irking Garnett and others on the team. Garnett has struggled to let it go. Perkins, the center on that championship team, is hoping Garnett and Allen can patch things up but offers an odd way of making it happen.
Ray Allen bolted from the Boston Celtics after five years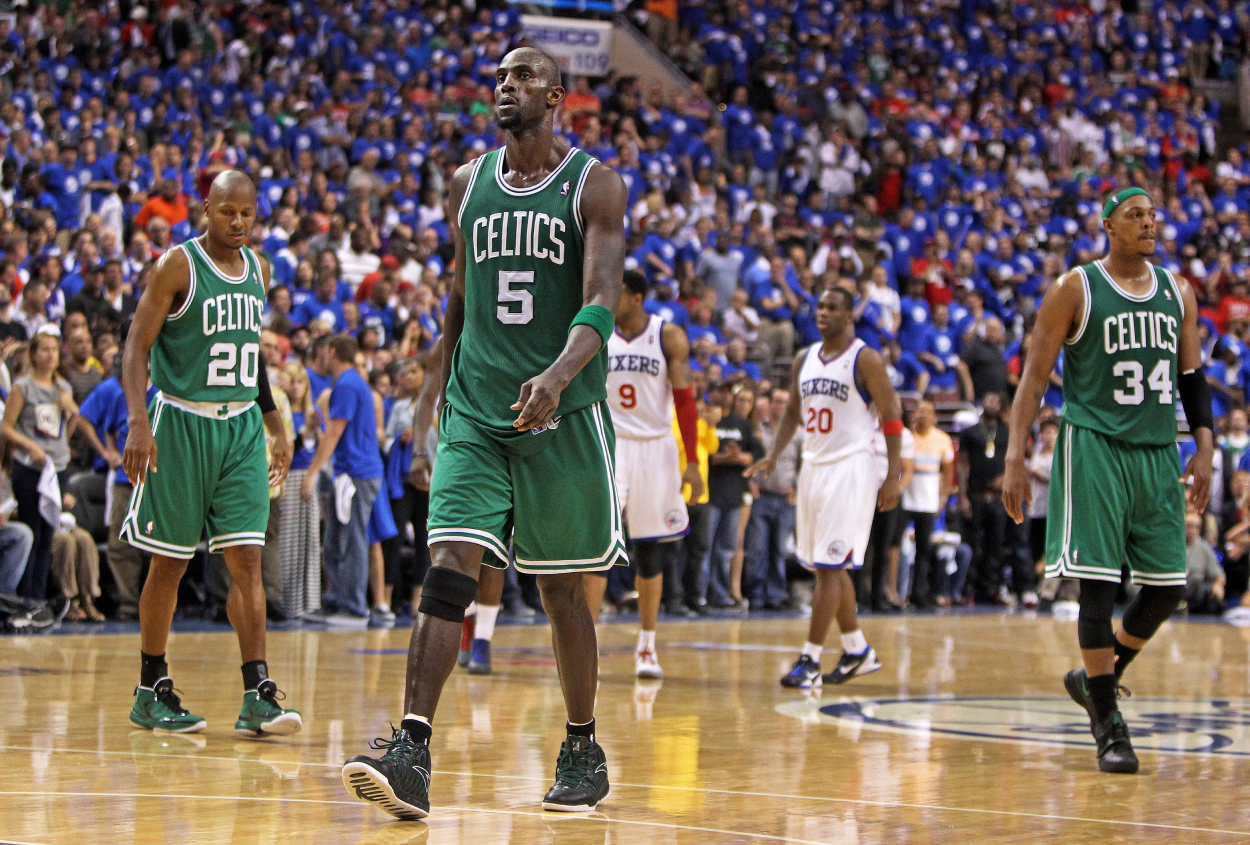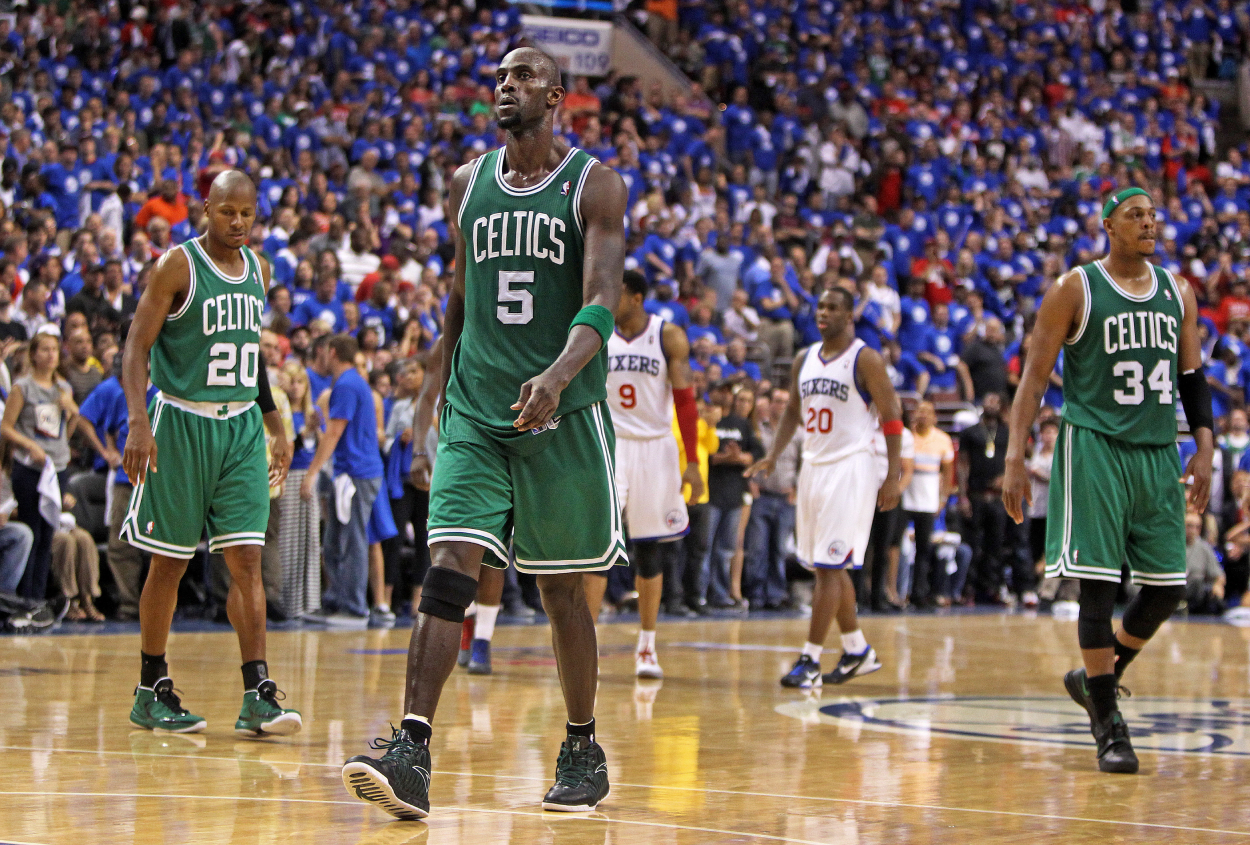 After winning the championship in their first year together, Ray Allen and Kevin Garnett brought new life to a Boston Celtics franchise that had seen better days. The Celtics hadn't made the playoffs the previous two seasons and were bounced in the first round in each of the two seasons before that.
After winning the title in 2008, Boston lost in the conference semifinals in '09, returned to the NBA Finals in '10, and then were eliminated by the Heat the next two seasons. In '12, the Heat bounced Boston in the Eastern Conference Finals.
After that season, Allen took less money to join the Heat, winning a championship in his first year with them. That didn't sit well with Garnett, who held a grudge against Allen, and apparently still hasn't let it go.
In 2020, Allen was a guest on the Cedric Maxwell Podcast and talked a little bit about the rift.
"These guys kind of removed me from the 'Big Three,' said so many negative things about me and I haven't had one negative thing to say about any of them," Allen said. "We had tough times, we're brothers. We went through a lot. But that doesn't change anything that we've done. It hurt me over the course of this time just to hear some of the things that have been said."
Kendrick Perkins has a foolish idea to try and mend fences between Kevin Garnett and Ray Allen
Allen, Garnett, and Pierce were among the players named to the NBA's 75th Anniversary Team who got together Sunday at the NBA's All-Star Weekend. There didn't appear to be much interaction among them, although the three did pose together for a photo.
That photo meant a lot to Perkins, who considers them all family. He's bothered by the breakup and the fact Garnett and Allen aren't on speaking terms. He offered a suggestion that would help bring Allen back into the Celtics family.
"I'm so happy that Paul, Ray, and KG came together," Perkins said on Swagu and Perk. "And I don't even care if it was just for a photo. Because with that photo that means there was some type of conversation. That touched me in a different way, bro.
"This is not only guys that we won the championship with (coming) together. But we spent Thanksgiving together, we spent Christmas together, we spent Halloween together. I'm talking about all of us collectively at Ray's house. 
"So here's the thing that I want to address. The Celtics, they have to put an end to the pettiness, and I'm going to tell you why: Paul got his jersey retired, KG getting his jersey retired in a few weeks, hey man retire Ray Allen's jersey. Retire Ray Allen's jersey."
Perkins is off base about retiring Allen's jersey
Without question, Allen played a big role in helping the Celtics win a championship. He was a valuable member of the team and is a 2018 inductee of the Naismith Memorial Basketball Hall of Fame.
While he helped turn the franchise around, his jersey should not be retired by the Celtics. Allen played five years with the team, making the All-Star team three times. His career averages with Boston are 16.7 points, 3.4 rebounds, and 2.7 assists. Those are solid numbers but nothing that screams for a retirement ceremony.
Having Garnett's jersey retired in Boston is questionable as well, although there is a little more to work with there. Garnett played six seasons, averaging 15.7 points, 8.3 rebounds, and 2.7 assists. He also didn't willingly leave as Allen did. Garnett and Pierce were traded to the Brooklyn Nets.
It's also tough to see how a jersey retirement might bring Garnett and Allen closer. We'll see if Allen shows up when Garnett sees his jersey head to the rafters at TD Garden on March 13.
Most Celtics fans would love to see Garnett and Allen together again and on good terms. Raising Allen's jersey just isn't the way to do it.