Did Brian Scalabrine Get in on Kevin Garnett's Shocking Arm-Wrestling Win in 2008?
The 2008 Boston Celtics were a bizarre bunch. Led by Kevin Garnett, Paul Pierce, and Ray Allen, the team went on to win an NBA title. Garnett helped Pierce win more than just a title that year when he shocked the team with his right arm on a flight home from Toronto. Former teammate Brian Scalabrine recently revealed if he got in on the action.
The 2008 Boston Celtics were quite the crew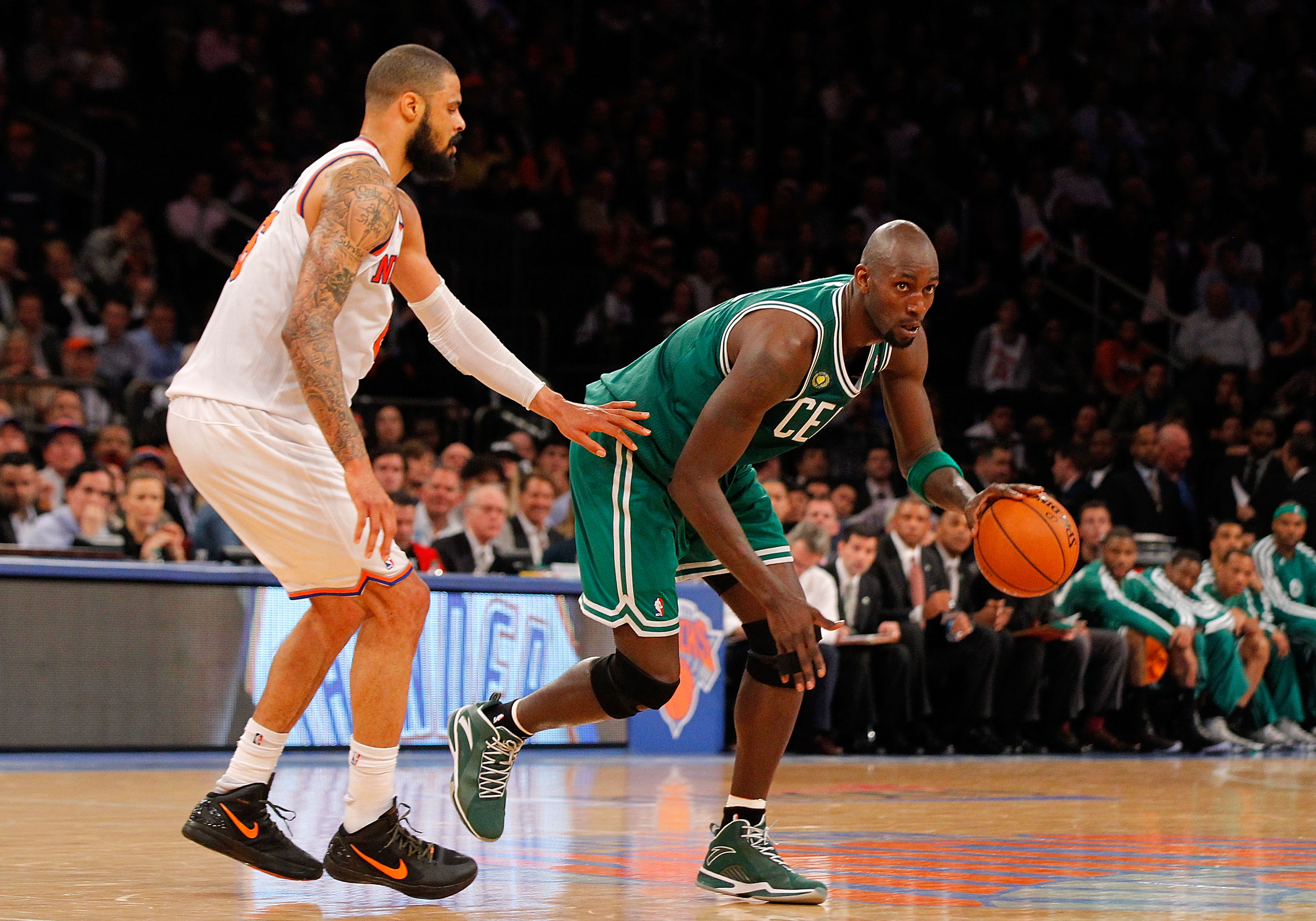 On July 31, 2007, the Celtics pulled off one of the biggest trades in franchise history, swinging a deal for Garnett. Boston gave up two first-round picks, five players, and cash for Garnett. The deal paid off immediately as the team won a championship in the 2007-08 season.
The team was comprised of a cast of characters that, according to teammate Brian Scalabrine, would make psychologists scratch their heads. "That 2008 team was certified," Scalabrine said on the Endless Hustle podcast Thursday. "If you took a group of psychologists and had a conversation with us, the psychologists would write down this team is nuts. They all need to be on medication.
"It was the most intense environment you could ever imagine. From the locker room to the weight room to the practice floor to the plane, buses, gambling… It was like you can not imagine what it was like to live like that, which was awesome, by the way."
Kevin Garnett won Paul Pierce some money on a plane
Glen 'Big Baby' Davis was the guy on that 2008 Boston Celtics team that nobody wanted a part of when it came to arm wrestling. Davis was the team champ, and Scalabrine said he would quickly take down his opponents. "(Davis) was crushing everybody," Scalabrine said. "I arm-wrestled him, and it was like go, bam.
"Eddie House, Posey, anybody and everybody, he just rolled through everybody. All of a sudden, we're on this flight back from Toronto, and KG's like, 'OK punk, let's do this.' I heard it, but I thought he meant like deal the cards or something else. It was so far-fetched to think that Garnett was going to arm-wrestle Big Baby.
"They go, and as they start, Garnett just stares at Big Baby. Big Baby is just so used to crushing people, and Garnett's like, 'I ain't moving. I ain't moving.' He's sweating profusely. It's coming down. You saw the look in Big Baby's eyes like I'm gonna lose.
"Before this happened, Paul Pierce – everyone was betting Big Baby, 'I got two thousand on Big Baby, I got five hundred on Big Baby,' – Paul Pierce stood up, wad of cash, 'I'm betting Ticket.' He started taking all the action. (Garnett) slams Big Baby down and he's like, 'I'm the alpha male, and don't you ever forget it, ahhhh.' Paul Pierce was counting his cash, and this was like a typical Thursday for this team."
Did Brian Scalabrine bet on the arm-wrestling match?
As most of the money was on Big Baby, Pierce walked away the big winner on that flight home. Tons of money exchanged hands that night, but did Scalabrine take sides in the arm-wrestling match?
"I think I put 42 dollars on Big Baby," Scalabrine said on the Endless Hustle podcast. "These guys only carry hundreds and I had 41 or 42 dollars on Big Baby."
The arm-wrestling event told the true story of Garnett, who will be inducted into the Naismith Memorial Basketball Hall of Fame this weekend. "That is Garnett's will, and it's how he believes in himself. You could see the goosebumps. It was nuts, maybe the most insane thing I've ever seen."