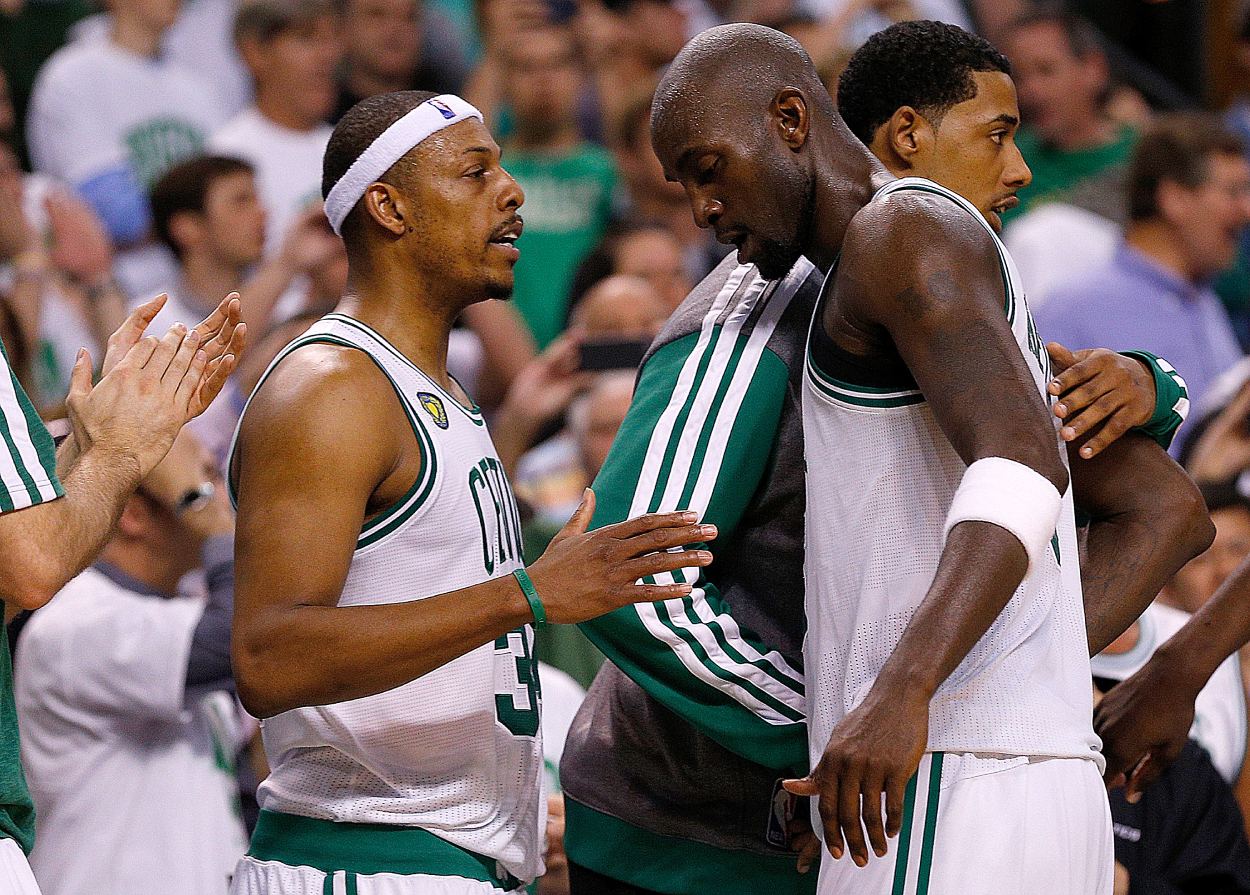 A Trip to the Free-Throw Line Had Paul Pierce Pushing for Kevin Garnett to Be His Teammate 2 Years Before It Happened
Paul Pierce knew Kevin Garnett belonged in Boston two years before he was traded to the Celtics.
Paul Pierce said his biggest regret about 2020 NBA Hall of Famer Kevin Garnett becoming a Boston Celtics star was that it didn't happen sooner. Pierce recently reminisced about his championship days in green, recalling the time he lobbied to bring Garnett to Boston long before it happened. Pierce called out to Celtics owner Wyc Grousbeck during a game to make his plea. Two years later, they were teammates and champions.
Paul Pierce on getting Kevin Garnett to Boston: 'I knew something'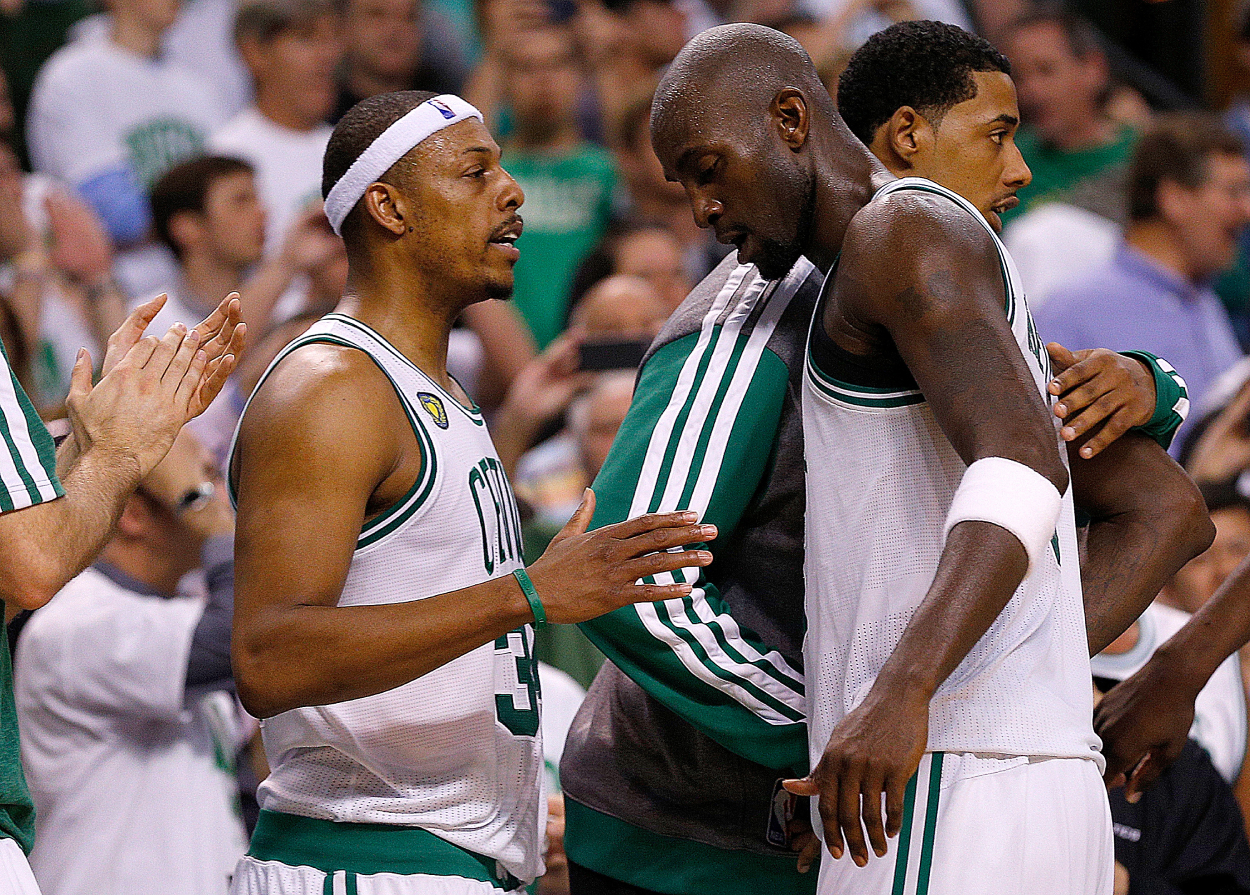 Pierce suffered through some ugly seasons with the Celtics early in his career. Drafted 10th overall in 1998, he didn't reach the postseason until his fourth year in the NBA. That season, he made the first of 10 All-Star appearances and led the team to its first winning season since the 1992-93 season.
Pierce helped get the Celtics back on track, but even after two straight winning seasons, the Celtics hit rock bottom. In the 2006-07 season, Boston won 24 games, finishing last in the Eastern Conference. That's when it knew it had to make a move.
In the summer of 2007, Boston pulled the trigger on a trade for Garnett, sending five players, two picks, and cash to the Minnesota Timberwolves. It also brought in veteran Ray Allen, forming Boston's best trio since Larry Bird, Kevin McHale, and Robert Parish suited up in the 1980s.
The moves paid immediate dividends as the Celtics went from worst to first in the Eastern Conference, winning 66 games. They also went on to knock off the Los Angeles Lakers in the 2008 NBA Finals.
Pierce recently admitted on the Cedric Maxwell Podcast that he lobbied hard for Garnett to come to Boston two years before it happened.
"I knew something," Pierce told Maxwell.
Paul Pierce lobbied for Kevin Garnett during a free-throw attempt
During Pierce's conversation with Maxwell, he recalled a game in Boston when Garnett and the Timberwolves came to town. Garnett was at the free-throw line, and Pierce called out to Grousbeck, seated under the basket.
"I'm at the free-throw line boxing out. Wyc is in the front row right here," Pierce remembered. "Kevin's at the free-throw line, and I'm like, 'Can we get him? We'll win the championship.' I looked him dead in his eye.
"A couple years later, we get KG, and we deliver."
Pierce admitted the addition of Garnett and Allen gave them a "superteam," but it wasn't like the superteams of today when players actively recruit others.
"They manufacture their moves now," he said. "We got KG, yeah we had a superteam, but we had to like do it through trades. We had to have some picks to do it. It wasn't like I was calling, hey, let's play together.
"That's why this one's more special because I waited until like my 10th year. I'm like 10 years with no playoff success — couple first rounds, second rounds, one Eastern Conference Finals."
Pierce said the Celtics put aside their egos to win a championship
It didn't take long for Pierce, Garnett, and Allen to gel. Pierce said the three put aside their egos and did whatever it took to win a championship.
"Kevin was our inside guy. Ray was our shooter," he said. "I was a guy who could do a little bit of everything, and that's what made it work so well.
"We conversated every day, and we put our egos down. We were like, look, we've all been in the same boat. We're all coming from being All-Stars. KG, you've been an MVP. You got multiple All-Stars. Ray, shooting champ, All-Star, but we ain't ever won nothing.
"You've been the man over there — Seattle, Milwaukee — Ray. Kevin, Minnesota, you've been the man. I've been over here in Boston. We never won nothing. So when we got together, we were like it's all about winning a championship now. No egos. Let's brush them to the side. We gotta do what we gotta do to win."
In their first year together, they did just that. They defeated the Lakers in the 2008 NBA Finals in six games. Boston returned to the Finals two years later but came up short to those Lakers, falling in seven games.