Fiery Kevin Garnett Reflects on the What-Ifs of His NBA Career, Including Playing With Kobe Bryant
Kevin Garnett played with passion throughout his 21 years in the NBA. The 15-time NBA All-Star made the most of his professional basketball career, capped by an NBA title with the Boston Celtics in 2008. There wasn't much Garnett didn't accomplish in the NBA, so his regrets are few and far between. Garnett, however, recently reflected on his Hall of Fame career by playing the what-if game.
Kevin Garnett's NBA career was built on motivation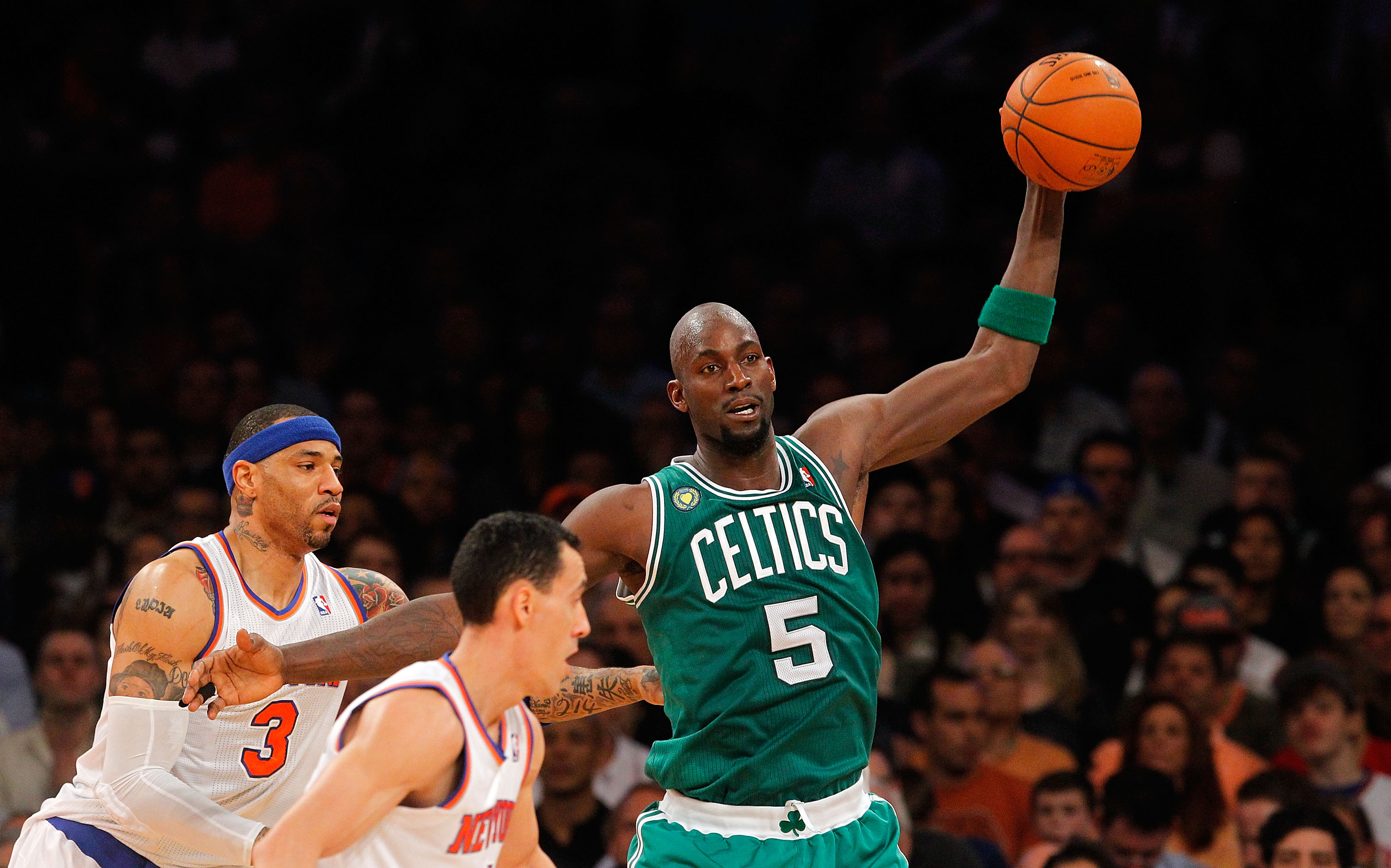 Nobody wanted to win more than Garnett, and that's why the first 12 years of his NBA career were so frustrating. He made it to the Western Conference Finals one time with the Minnesota Timberwolves, the team that made him the fifth pick in the 1995 NBA Draft. Winning motivated Garnett, and he finally won once he left town.
Garnett said he had an oversized picture of the Larry O'Brien NBA Championship Trophy above his bed. That proved to be his biggest motivator. Garnett used the same intensity he played with to describe how the picture drove him to succeed.
"I used to wake up to this every day," he said in a GQ article published Wednesday. "Wake up, look at it, believe it. Wake up, see it, believe it. Wake up, ingest it, believe it. Every day. So much that when I went to Boston, I'd go to sleep thinking the same thing. Then it happened." 
Garnett was traded to the Celtics prior to the 2007-08 season. He teamed with Paul Pierce and Ray Allen to form a deadly Big 3. In his first season with Boston, he finally won his first and only NBA title.
Kevin Garnett has few regrets but did play the what-if game recently
One of Garnett's biggest regrets might be that he was too loyal to the Wolves, a team that didn't share the same passion he did for winning. The Wolves had Garnett for 12 years but never surrounded him with much talent. According to GQ, Garnett only had three teammates — Tom Gugliotta, Wally Szczerbiak, and Sam Cassell — who made All-Star appearances during his first 12 years in Minnesota.
That prompted him to go back and play the what-if game. He often thinks about what it would have been like to play with a true superstar in his prime.
"I've often wondered what playing with (Kobe Bryant) would've been like," he said. "Beside (Kobe), you know? What would we have been like? If playing with (Paul Pierce) was like this, then playing with (Kobe) would've been like what?"
Then he drifted off to another thought. What would it have been like had he left Minnesota earlier in his career?
"I often wonder, too, about coming to Boston earlier, in '04, '05," he said. "I play with that idea."
Garnett had doubts about playing for the Celtics — all because of Kobe
Garnett knew he had to move on from Minnesota. He had three teams — the Phoenix Suns, Los Angeles Lakers, and Celtics — on his list. He spoke with Celtics president of basketball operations Danny Ainge but was still reluctant. That hesitation was because he wanted to speak with Bryant, who was touring China with Nike at the time.
Garnett said Phoenix point guard Steve Nash called him and told him he would have to take a pay cut to make it work for the Suns.
"Steve Nash came to me and was very disappointed," Garnett recalled. "He also apologized on behalf of Phoenix and ownership, and he was very, very, very deliberate about how much he wanted to play with me."
He agreed to head to Boston after being unable to connect with Bryant. It worked out for Garnett as he won a championship in his first season in Boston.
Still, he wonders what life had been like as Kobe's teammate.
"It was all good," he said of his move to Boston. "I always loved playing against (Kobe). But yeah, it probably would have been a different level playing with him."