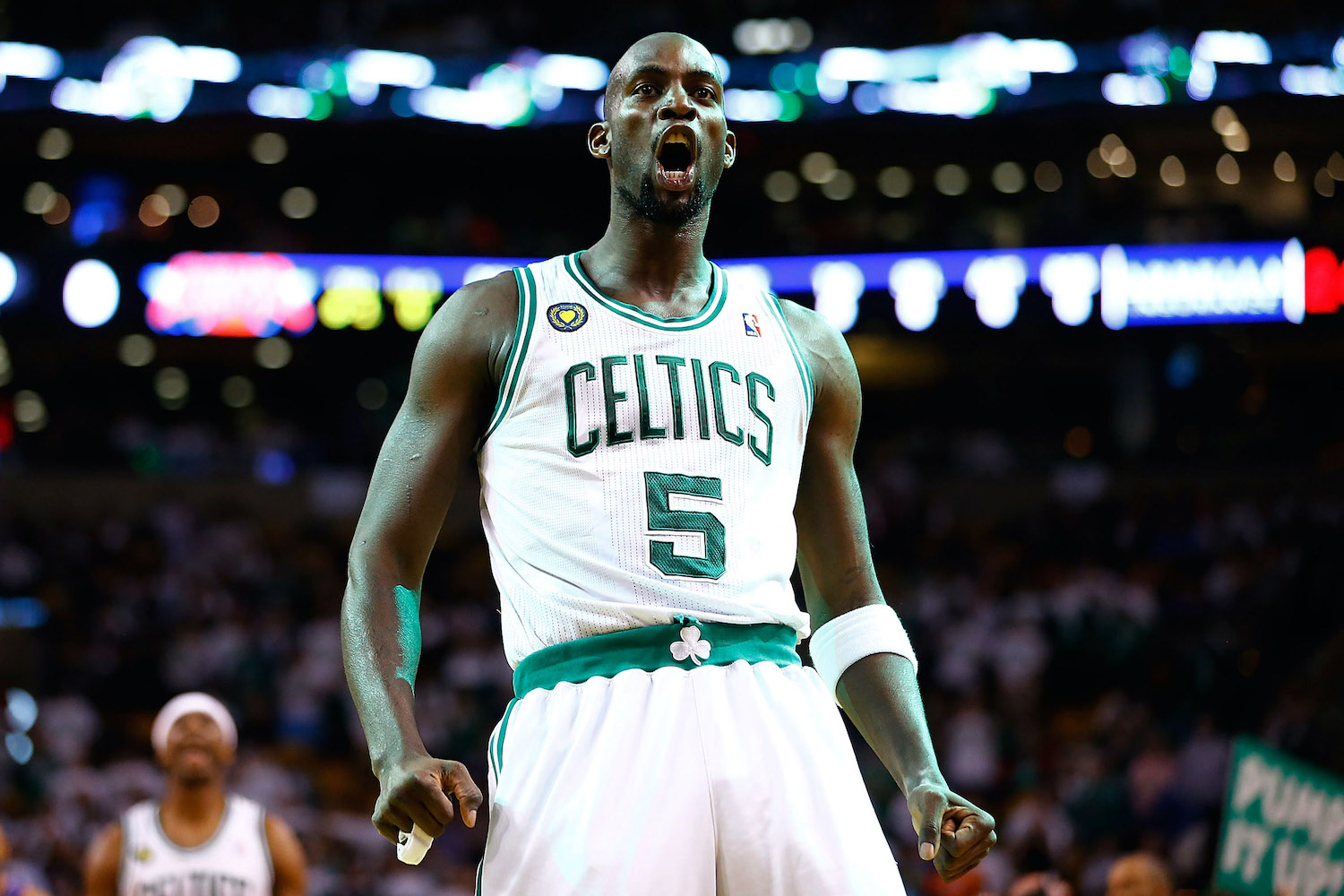 Kevin Garnett Was So Competitive That He Once Headbutted a Hole in His Wall Because of a Reality TV Show: 'You've Got to Fight'
When it comes to watching reality TV, Kevin Garnett can apparently get pretty invested in the competition.
While virtually every NBA player has to be incredibly competitive, certain stars take things to the next level. Michael Jordan, for example, refused to lose, whether he was chasing championships or playing Yahtzee. Kobe Bryant created his famous Mamba Mentality and was known to put himself through the wringer in order to be the best. Then, there was Kevin Garnett. The Big Ticket, as basketball fans will remember, took things to a rather extreme level.
Although KG was known as a fierce competitor on the court, things didn't stop once he headed home. On one occasion, the big man became so invested in a reality TV show that he started shouting at the screen and eventually headbutted a hole in the wall.
Kevin Garnett developed a reputation as a ruthless NBA competitor
During the Montreal Canadiens' dynasty years, Steve Shutt quipped that everyone on the roster hated head coach Scotty Bowman 364 days a year, with the 365th being the day they received a championship ring. While Kevin Garnett didn't quite have that same level of sustained success, he probably inspired a similar sentiment in the locker room.
Although KG jumped directly from high school to the professional ranks, he quickly established himself as one of the game's top big men. He also honed a reputation as a fearless competitor, which became more and more apparent as he came into his own.
Over the years, the Big Ticket unleashed plenty of trash talk and developed a pregame routine that seemed reminiscent of a warrior preparing for battle. Before tip-off, Garnett was known to bang his head against the padded stanchion supporting the basket while talking to himself; he'd also beat his chest and shout obscenities into the crowd for good measure.
During his time with the Boston Celtics, some more specific stories about Garnett's inner fire emerged. On one occasion, Doc Rivers banned the forward from practice, hoping he'd get some much-needed rest. KG, however, showed up and put himself through a one-man workout on the sidelines until the head coach begrudgingly sent the entire team home. On another, the veteran refused to help a choking Rajon Rondo during a huddle, preferring to remind the young guard about the importance of following orders.
Headbutting a hole in the wall because of 'Making the Band'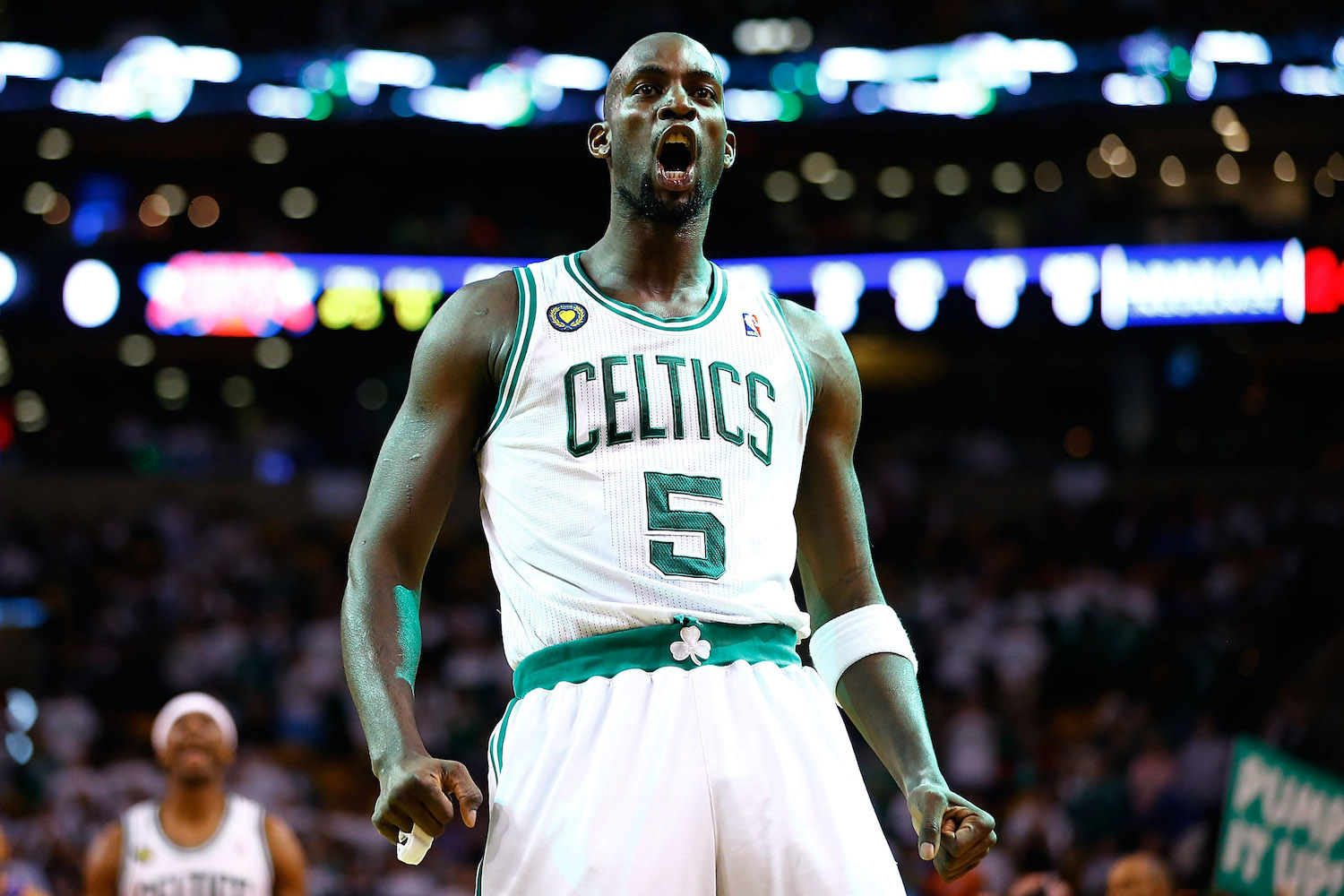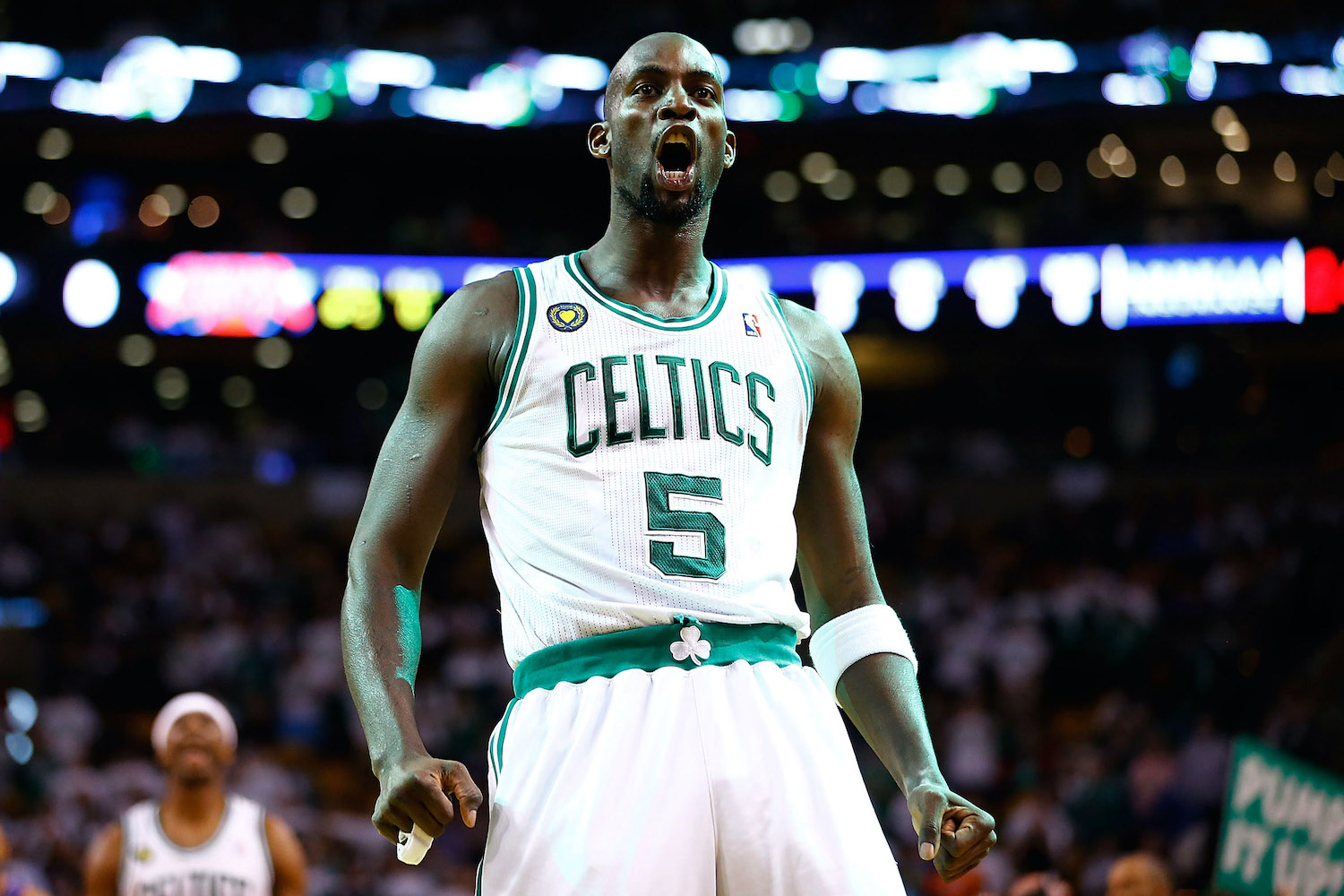 Garnett's intensity wasn't just limited to basketball, though. If you listen to the Big Ticket's former coworkers, they'll tell you that he could get fired up about virtually everything.
As Tyronn Lue, who spent the early day of his post-playing career in Boston, explained in a Bleacher Report oral history, some of the Celtics had gathered at Garnett's house and decided to watch the reality competition show Making the Band. KG wasn't just going to quietly sit on the couch, though.
"So one day we were at his house, and we were watching Puff Daddy's show Making the Band, and in one of the scenes, some new guys came in and were trying to sing and were trying to compete against the guys who had been there. And KG just got so hyped, 'Motherf—–, you've got to stand up for yours! You've got to fight! Motherf—–, you've got to come together!' He's going crazy, he's sweaty. And he just head butts the wall and put a hole in the wall of his house."

Tyronn Lue, via Bleacher Report
While one could cynically assume that Garnett was putting on a bit of a show — maybe there were some young players present, and he wanted to send a message — Lue explained that wasn't the case. The Big Ticket was the same person whether he was playing basketball or watching TV.
"A lot of people do all their howling on the court, and they're faking just for attention, but what he does is genuine," the former guard added.
At the end of the day, that edge was a key part of Kevin Garnett's game
If Garnett was a bench warmer, his competitive edge might have worn a bit thin. Thankfully for the Big Ticket, though, that wasn't the case; he had more than enough talent to back up his behavior.
Despite jumping straight into the professional ranks without attending college, KG quickly established himself as a legitimate NBA player. While his rookie numbers didn't exactly set the league on fire, the big man came into his own and, by his fourth season in the Association, Garnett was averaging more than 20 points and 10 rebounds per night. He established himself as the Minnesota Timberwolves' franchise player and, in 2004, even took home NBA MVP honors.
For all of his individual heroics, though, the T-Wolves couldn't make it over the hump. While that eventually led to an ugly divorce, it did bring Garnett to Boston. There, he seemed to relish being a locker room leader and finally claimed his elusive NBA championship. The big man would then move to Brooklyn before returning to Minnesota for a curtain call with the Timberwolves.
While it's impossible to know how things would have played out if he had a different personality, it's safe to make a connection between KG's competitive edge and his on-court success. The big man possessed plenty of talent, but he also had the attitude to make sure it didn't go to waste.
"He's still a little nuts," Mason Plumlee explained in the Bleacher Report oral history. "Even on the court, he's different, but in a good way, man."