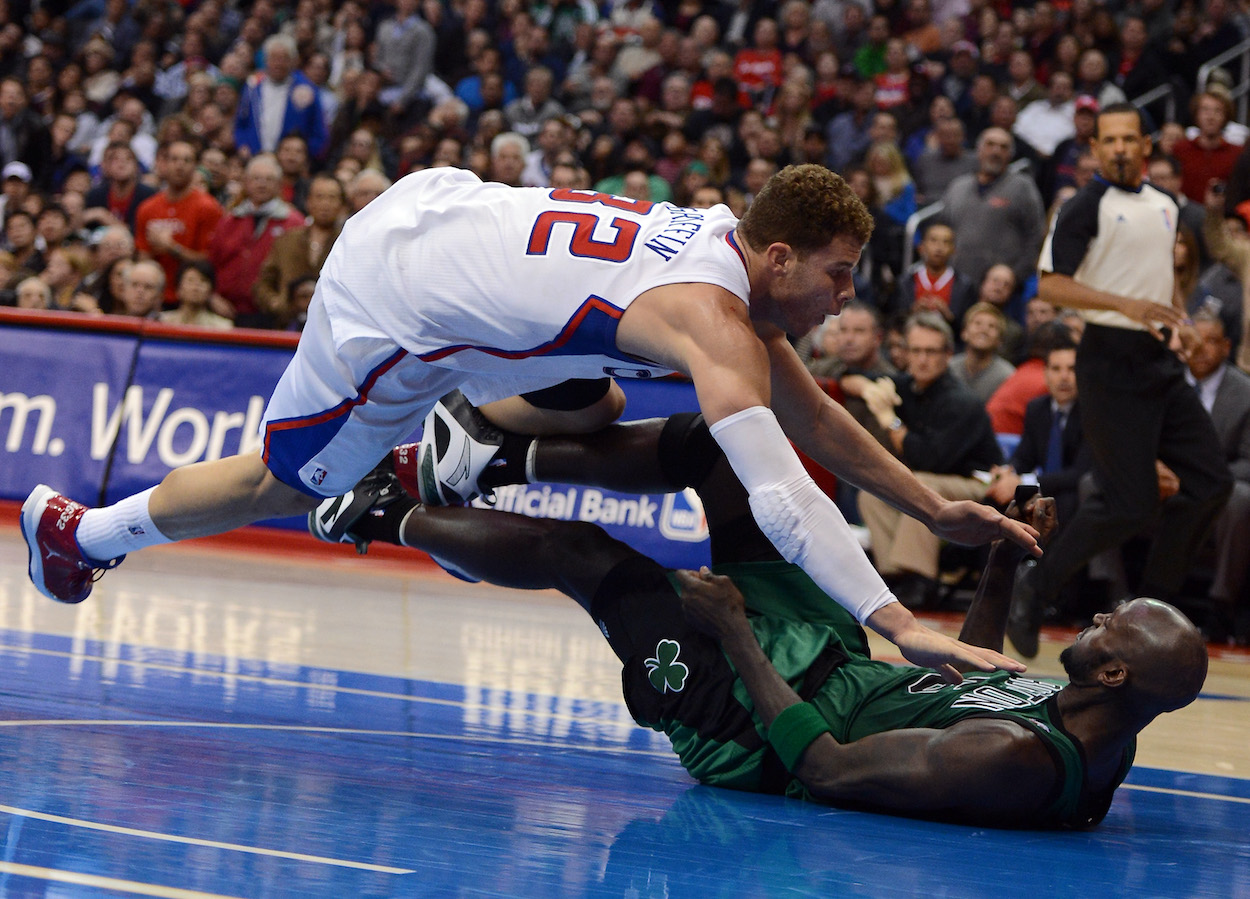 Kevin Garnett Had the Weirdest, Most Intimidating Trash-Talk Game in the NBA According to Blake Griffin
Blake Griffin says that Kevin Garnett was the last of a generation of trash talkers who really knew how to get in their opponents' head. He said that Garnett would unnerve his opponent by talking trash without directly looking at them which was funny and unsettling to Griffin.
When Kevin Garnett retired in 2016, he was one of the last of a generation in many ways. He was one of the last high school straight to the pros guys to retire and one of the last great mid-range big men. He was also one of the last legendary trash talkers. Garnett's intense stare and big bark continued the legacy of players like Allen Iverson, Gary Payton, Michael Jordan, and Larry Bird. 
The 6-foot-11 KG could trash talk in a way that would completely throw opponents off their game. However, as the next generation's Blake Griffin shared, "now that he's gone, nobody really holds a candle to him."
Kevin Garnett is a Hall of Fame basketball player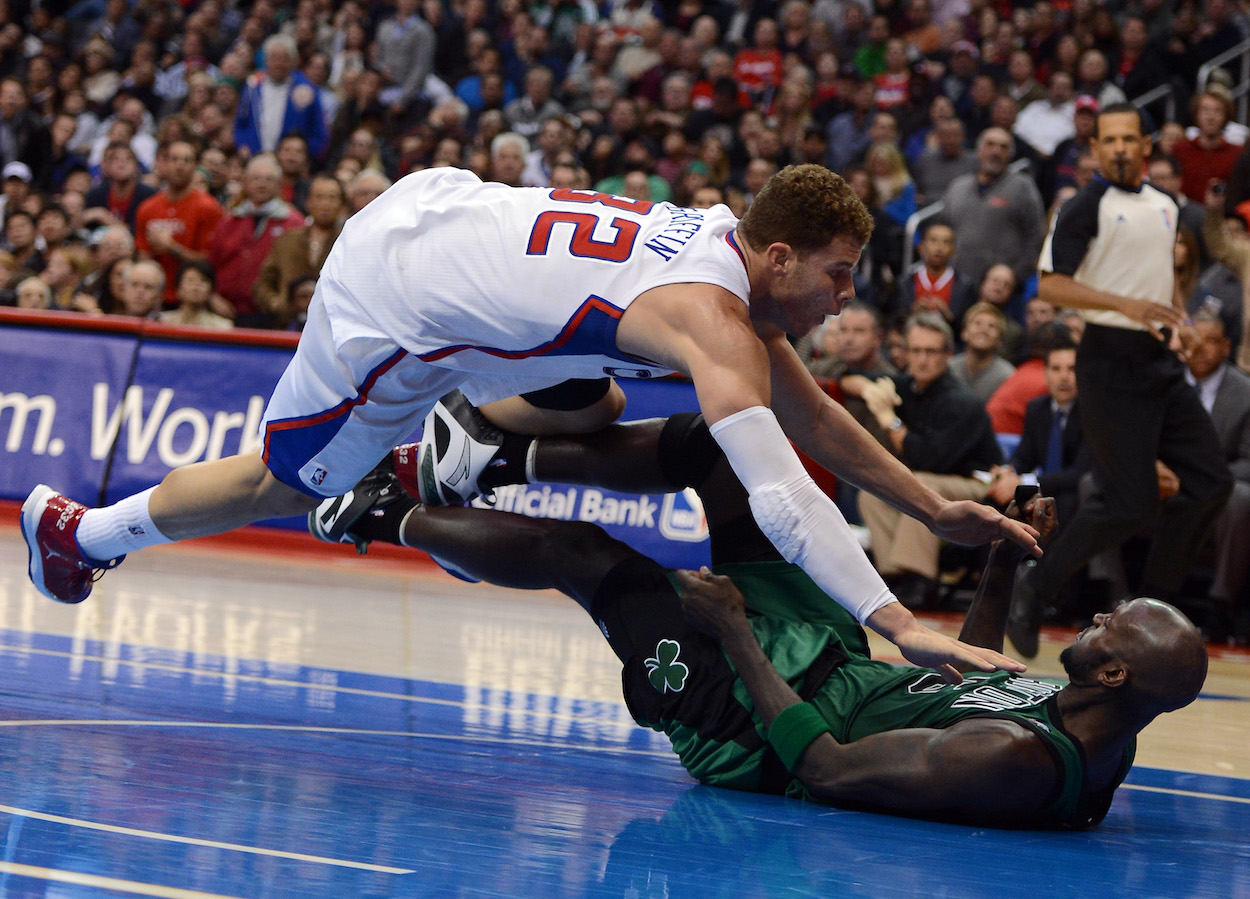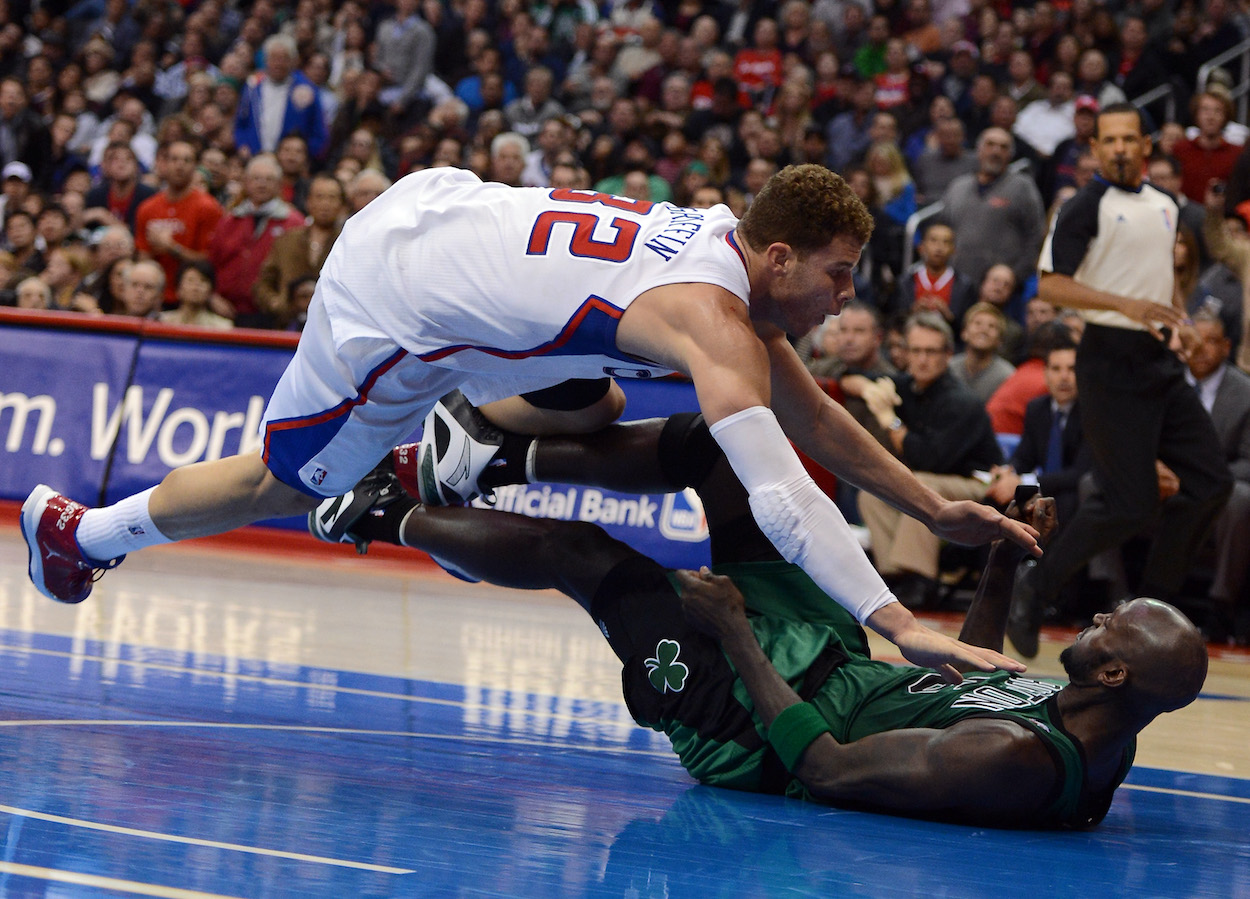 In 2005, Kevin Garnett became the first American high school player to go directly to the NBA's first round of the draft since Darryl Dawkins and Bill Willoughby did it in 1975. He retired in 2016, the same year as Kobe Bryant and Amar'e Stoudamire. At that time, only a small handful of high school to pro guys were still in the league. All these players (LeBron James, Tyson Chandler, JR Smith) came into the NBA years after Garnett. 
In his 21 seasons in the NBA, mainly with the Minnesota Timberwolves and Boston Celtics (and a forgettable 96 games with the Brooklyn Nets), Garnett was one of the most dominant power forwards in league history. 
The Farragut Academy product was a 15-time All-Star and nine-time All-NBA player who won the MVP Award in 2003-04 and Defensive Player of the Year in 2007-08. After years of toil in Minnesota, he joined the first modern superteam – the Boston Celtics with Paul Pierce, Ray Allen, and Rajon Rondo – which won the 2008 NBA championship. In 2020, he was enshrined in the Naismith Basketball Hall of Fame.
Garnett did all this with an old-school scowl and a demeanor that unsettled even his toughest competition. 
Garnett is also a Hall of Fame trash-talker
On First We Feast's Hot Ones, host Sean Evans asked Griffin, "Who's the funniest trash-talker in the league? Who has the best on-court roast game? "
Griffin didn't hesitate before sharing his answer: 
Kevin Garnett had the best trash-talking because he would like, would never look at you, but he would say like crazy stuff. He would be like, 'You can't f'in guard me.' And you knew he was talking to you, but he would never look at you, so it was like a weird – like you couldn't look back at him, and you couldn't look away. It was just a very intimidating thing. He would just be talking and you just kind of like had to look around to try to get your teammates' attention, like making conversation. But now that he's gone, nobody really holds a candle to him. 

Blake Griffin on Kevin Garnett
Griffin, who the Los Angeles Clippers drafted in 2009, is a classic new-school big. He came into the league as an athletic high-flyer and developed into a legit stretch 4 late in his career. When he and Garnett faced off, trash talk aside, it was a classic battle of the old way vs. the new. 
Blake Griffin vs. Kevin Garnett 
Although Kevin Griffin was part of the 2009 draft class, a knee injury kept him out for an entire season. He made his debut on October 27, 2010. This means that Griffin and Garnett played in the NBA together for six seasons.
Griffin made five All-Star appearances during this time, while Garnett, on the backside of his career, made just two. These appearances were for different conferences as well. 
The two players did play nine times head-to-head, though. Garnett's team got the best of Griffin by the slimmest of margins, five games to four. The ascending former Oklahoma Sooner won the head-to-head statistical matchup quite convincingly. 
Garnett averaged 10.4 points, 6.8 rebounds, and 2.3 assists, while Griffin went for 17.7 points, 9.1 rebounds, and 4.7 assists per game, according to statmuse. The old-timer did get one over on the young gun in 2015 when he posterized Griffin during a December game. 
Garnett immediately got a technical foul for trash-talking after the dunk. 
All stats courtesy of Basketball Reference