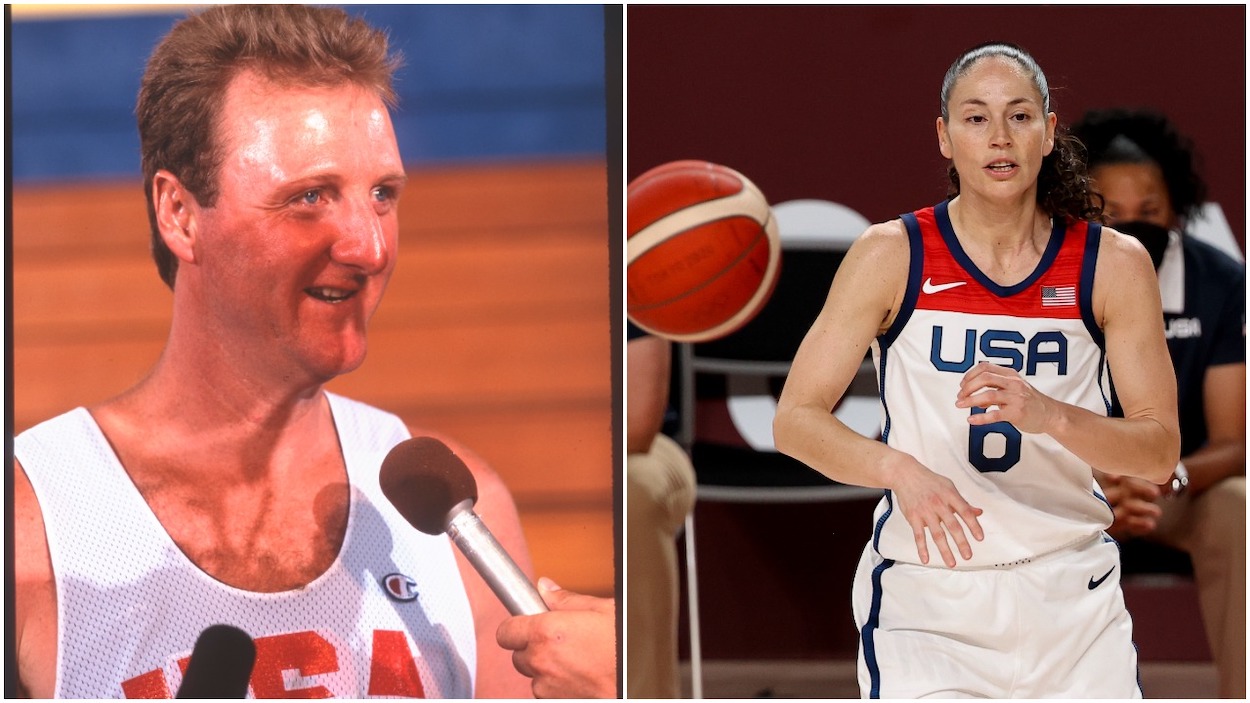 Is Women's Basketball Legend Sue Bird Related to NBA Icon Larry Bird?
Sue Bird and Larry Bird are two of the greatest basketball players to ever step on a court, but are they related? The answer is no. Although, Sue has been answering that question since she was five years old. Sue Bird will soon be related to marriage, though, to Megan Rapinoe.
Sue Bird was one of the biggest stories at the Tokyo Olympic Games. The American basketball player started the Games as the Team USA flag-bearer with baseball player Eddy Alvarez. The 18-year WNBA vet then became, along with teammate Diana Taurasi, the first-ever basketball player to win five Olympic gold medals.
Despite her college, professional, and Olympic success on the court, one question persists more than all others because of her chosen profession and her last name: Is Sue Bird related to Larry Bird?
Sue Bird gets asked if she's related to former Boston Celtics legend Larry Bird all the time
It makes sense that people think Sue Bird and Larry Bird are related. They are two of the greatest basketball players ever to play the game, and their ages — Sue Bird is currently 40 and Larry Bird is 64 — make it conceivable that the two are father and daughter, uncle and niece, or cousins.
For Sue, this is a question she's been getting since she picked up a basketball. In an interview with WNBA.com in 2006, she shared how often this subject comes up when she meets someone new:
Matt Wurst, WNBA.com Editor: I know you're NOT related [to Larry Bird], but people always think you are.

 Sue Bird: Totally. Since I've been five, people asked me if we're related. It is usually the third question in the line of questions. What's your name? Sue Bird. Oh, what do you do? I play basketball. Are you related to Larry Bird? That's how it goes. I guess it could be worse, though, since he is a legend and all.

Sue Bird on Larry Bird
It sounds like Sue appreciates who Larry Bird is and all he accomplished in the game. However, she may also be a little sick of answering the same questions for 30-plus years. 
Comparing their basketball careers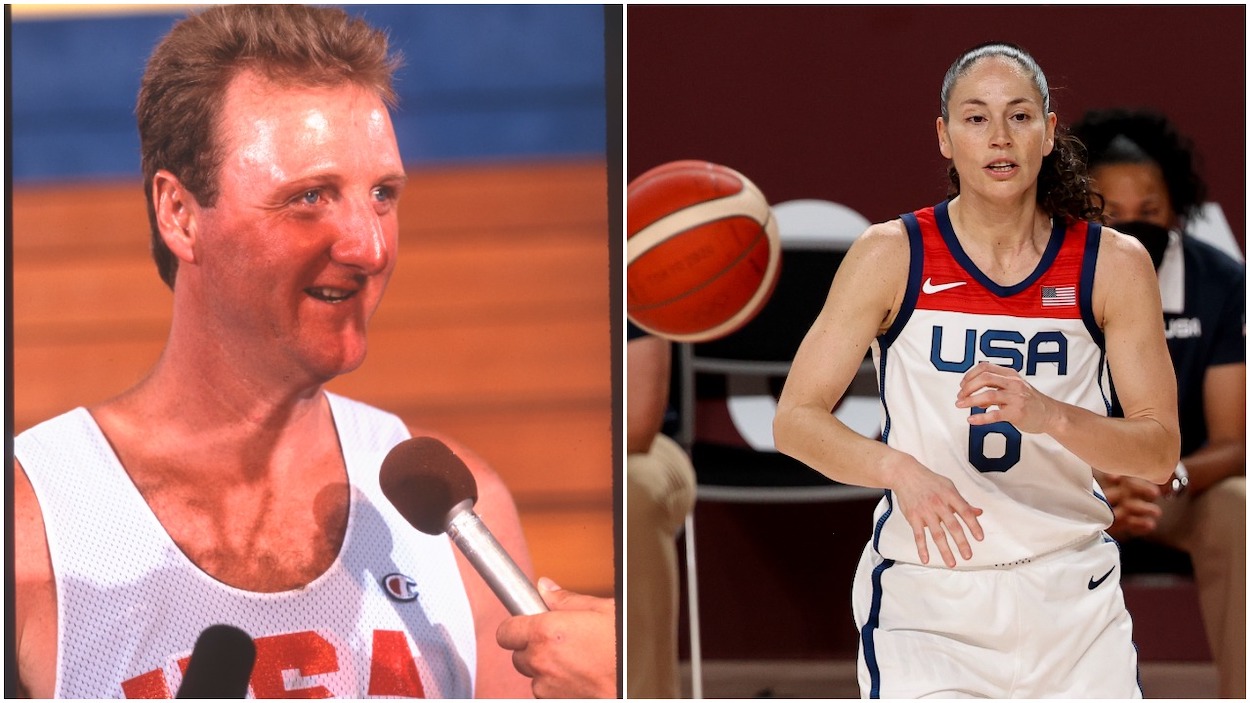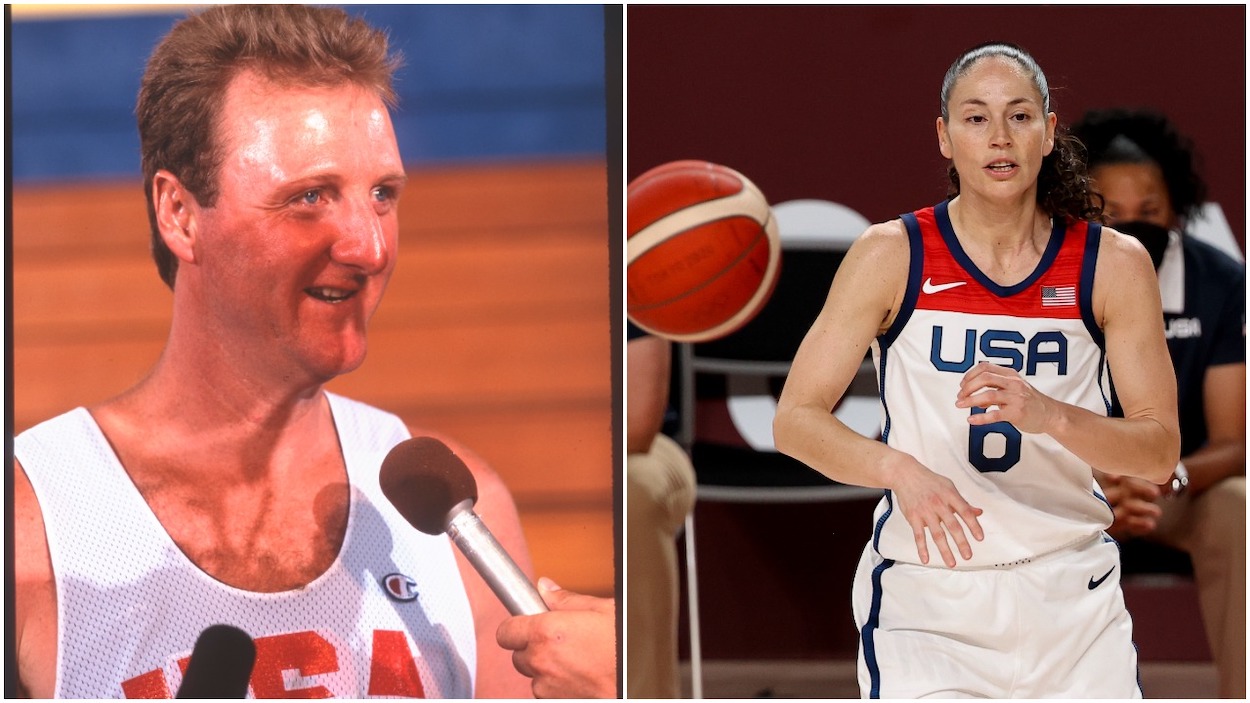 Sue Bird and Larry Bird both accomplished more in their respective professional basketball leagues than almost anyone else in history. Going through their list of numbers and accomplishments is truly incredible.
Larry Bird, from French Lick, Indiana, took his Cinderella Indiana State Sycamores to the 1979 NCAA Tournament Finals before beginning his career with the Boston Celtics. He spent his entire 13-year career in Beantown and became, arguably, the best player in the storied franchise's history.
Larry Legend won three NBA titles (1981, 1984, 1986) to go along with his three consecutive NBA MVP Awards (1983-1986). He made 12 All-Star Games and earned All-NBA selections 10 times. And, maybe more significantly, his rivalry with Magic Johnson and the Los Angeles Lakers in the '80s helped turn the NBA into the globally beloved league it is today.
Sue Bird's origin story is almost the polar opposite of Larry's upbringing. Sue grew up in Syosset, Long Island, and attended the women's college basketball powerhouse UConn. Under legendary coach Geno Auriemma, she won three straight NCAA championships (2000-2002).
After college, the Seattle Storm picked Sue No. 1 in the 2002 WNBA Draft. She's now a four-time WNBA champion (2004, 2010, 2018, 2020) and 12-time All-Star, and she made eight All-WNBA teams. She's also the league's all-time minutes (1,7025) and assists (3,003) leader.
Her five Olympic golds also trump Larry's one with the 1992 Dream Team.
Sue Bird will soon be related to another impressive athlete
Sue Bird might not be related to Larry Bird, but she will be related to another world-class athlete through marriage soon.
Sue and USWNT soccer star Megan Rapinoe got engaged in October 2020. The pair of extraordinary athletes started dating in 2016 when they met at an event leading into the Rio Olympics, according to Popsugar.
Rapinoe is a decorated Olympic athlete herself. She has Olympic gold and bronze medals in soccer. She's also won two FIFA World Cup trophies. In 2019, she was both the World Cup's Golden Boot and Golden Ball winner for top scorer and best player, respectively.
All stats courtesy of Basketball Reference