Devin Booker Credits Having a Basketball Legend 'Right in Your Backyard' For His Success
Phoenix Suns guard Devin Booker has been around several impressive veterans in his six seasons in the NBA. He's learned from guys like Tyson Chandler, Leandro Barbosa, Ricky Rubio, and now future Hall of Famer, Chris Paul.
During his journey from back-of-the-lottery draft pick to Suns' star scorer, Booker gives one player he's been around more credit than most for teaching him the right way to be a professional: Phoenix Mercury and all-time WNBA great, Diana Taurasi.
Devin Booker has developed into an NBA superstar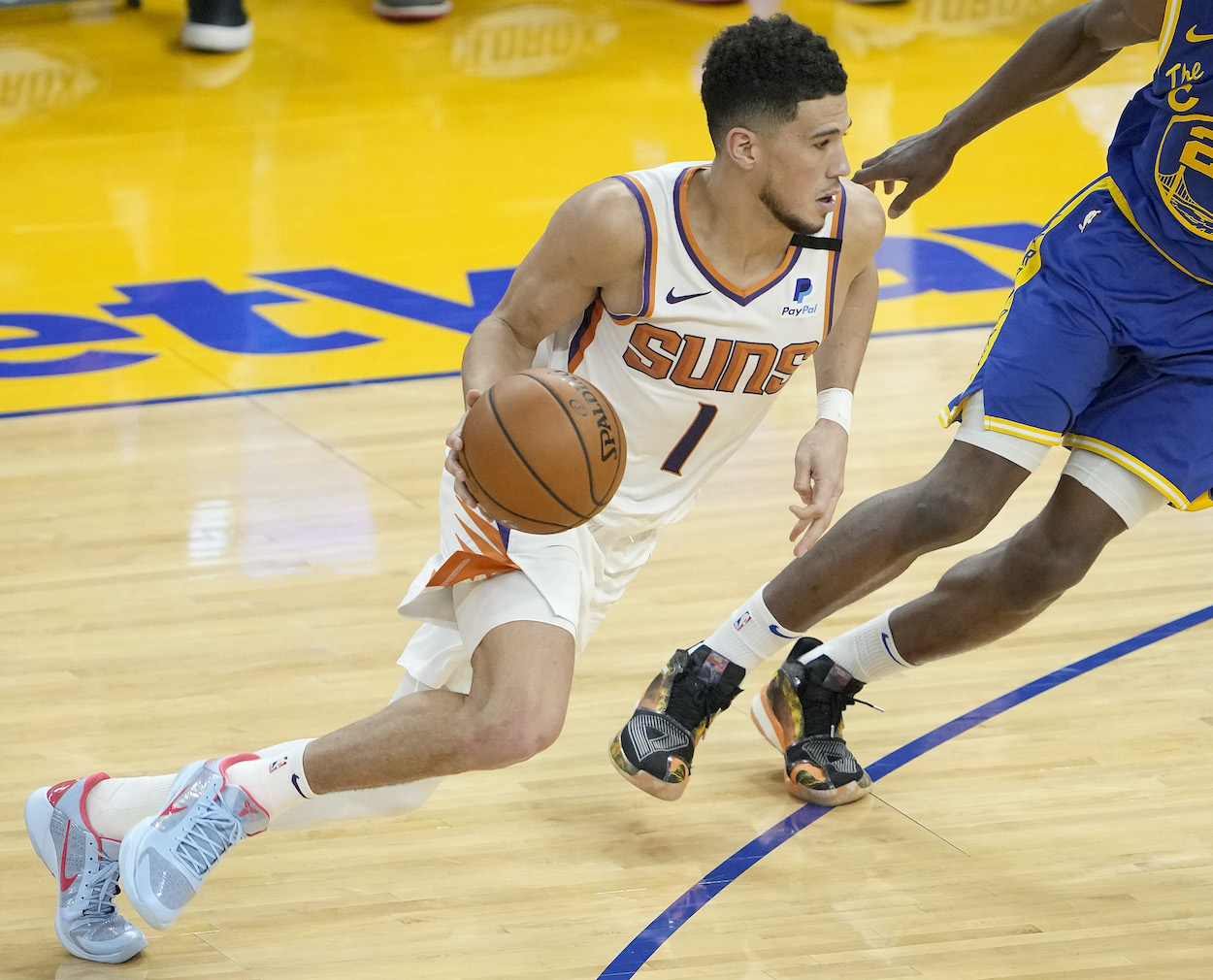 Booker, the son of a former NBA player, played one year at Kentucky before declaring for the 2015 NBA draft. His time under coach John Calipari was relatively unimpressive on a team that included the eventual No. 1 overall pick, Karl-Anthony Towns.
Booker averaged 10 points as a Wildcat along with 1.1 assists and 2.0 rebounds in 25.1 minutes per game.
The Suns took a chance on the 6-foot-5 shooting guard at No. 13 even though NBA teams didn't see Booker as a top prospect in that draft. Teams selected players like Jahlil Okafor, Mario Hezonia, and Emmanuel Mudiay ahead of Booker, as well as three of his Kentucky teammates: Towns, Willie Cauley-Stein, and Trey Lyles.
Booker quickly rewarded the Suns for their pick by making the All-Rookie Team. In the next several years, he became one of the best pure scorers in the league, even putting up 70 points in a single game in 2017. For his career, he's made two All-Star teams and averaged 23.0 points, 4.5 assists, and 3.7 rebounds with a 57.1 true shooting percentage.
Booker credits some of his development to watching "the greatest of all time," WNBA legend Diana Taurasi, work
Until Chris Paul joined the Suns in the 2020-21 season, Booker had never had an actual NBA superstar in his locker room. However, he has shared facilities with WNBA legend Diani Taurasi, and her work ethic has rubbed off on the young star.
Booker recently told Insider:
Being in the locker room and in the weight room with [the Mercury] at the same time, and seeing how Diana just goes about her business and her weights and her routine is something that helped me pick up and develop my game and develop my off-court ability and skills at the same time.
He certainly picked a great role model to imitate. Taurasi is arguably the greatest women's basketball player of all time. She is the WNBA's leading scorer with 8,994 points and has won three NCAA titles at UConn and two in the WNBA. The point guard has also won multiple individual and team awards playing overseas.
Booker also says he's benefitted from being around the other WNBA All-Stars players on the Mercury. Baylor's Brittney Griner and Notre Dame's Skylar Diggins-Smith also share a building with Booker's Suns.
Booker needs to take the next step to get past the Los Angeles Lakers in the 2021 NBA Playoffs
The 2021 NBA postseason marks Booker's first postseason experience. After finishing second in the Western Conference in the regular season, the Suns were rewarded with an unenviable matchup with the Los Angeles Lakers.
Booker and the Suns took Game 1. The Lakers won the next two, though, following Paul's injury. As Paul recovered in Game 4, Lakers big man Anthony Davis went down, and the Suns evened the series going into Game 5.
Booker is averaging 25.3 points, 5.5 assists, and 4.8 rebounds in the series. With the team's veteran leader still hurting, the shooting guard will have to put up big numbers to get Phoenix past the Lakers and beyond.
If Booker can channel his inner Diana Taurasi, the Suns should have a pretty good chance.
All stats courtesy of Basketball Reference and Sports Reference