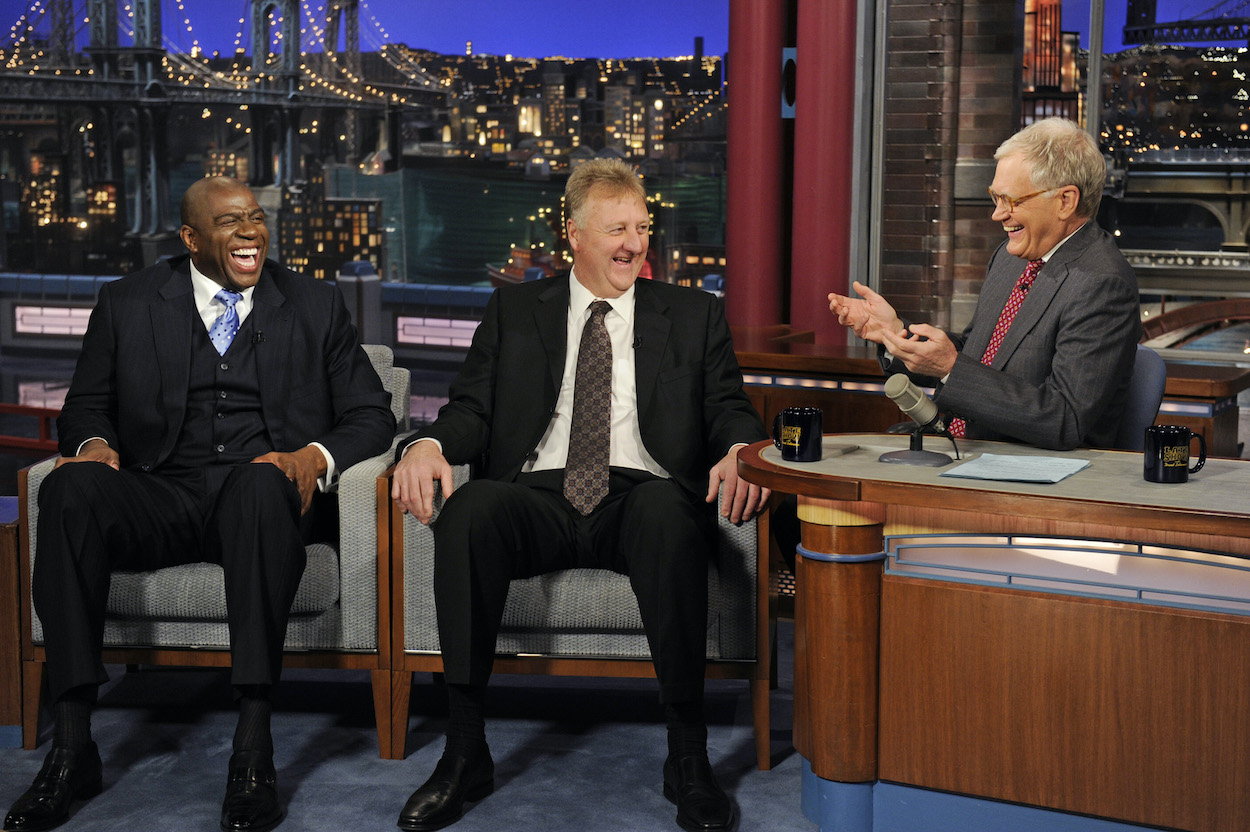 Larry Bird 'Really Liked' Earvin Johnson but was 'Less Fond' of Magic Johnson
Larry Bird and Magic Johnson are friends because Bird can compartmentalize how he feels about his friend Earvin vs. Lakers star Magic Johnson. Bird once told David Letterman that he had a little problem with Magic Johnson, the LA Lakers star and Magic liked the sound of that because he wanted to kick Bird's butt.
Larry Bird and Magic Johnson are two of the greatest players in NBA history. Their famed Magic vs. Bird rivalry defined the game in the 1980s. While these two were fierce competitors on the court, they were also good friends off it.
How can these two basketball enemies be so close personally? Bird once explained that they can make that work because he has a very different relationship with "the man," Earvin Johnson, and the Los Angeles Lakers star, Magic Johnson.
Larry Bird and Magic Johnson were rivals throughout their careers but became friends
The Magic vs. Bird rivalry started in the 1979 NCAA National Championship game when Johnson's Michigan State Spartans took down Bird's Cinderella Indiana State Sycamores to with the title.
The two Hall of Famers then went to the NBA, each ending up on a different coast. Bird's Boston Celtics and Magic's Lakers defined the next decade of basketball. From 1980 to 1989, at least one of these teams was in every NBA Finals. During this time, the LA Lakers took home five championships while the Celtics netted three.
Bird and Magic were bitter rivals when they arrived in the league. However, a Converse sneaker commercial shoot changed that.
The two players were stuck together in Bird's hometown of French Lick, Indiana, for the shoot, and Bird's mom made lunch for the two of them. Over a meal, Bird and Magic found that, while their early environments were very different, their upbringings and experiences were much the same.
Since that famous meal in French Lick, the two greats have been friends ever since.
Bird told David Letterman how he felt about Earvin vs. Magic Johnson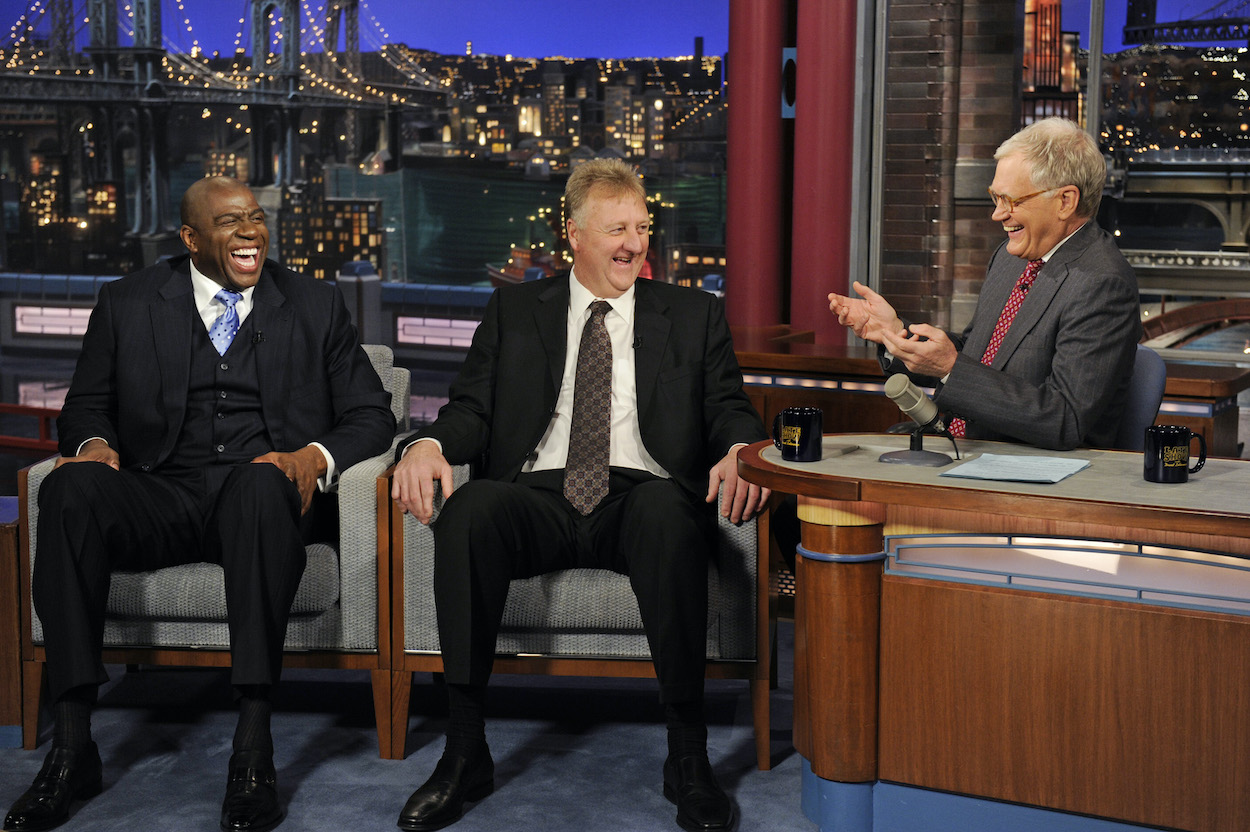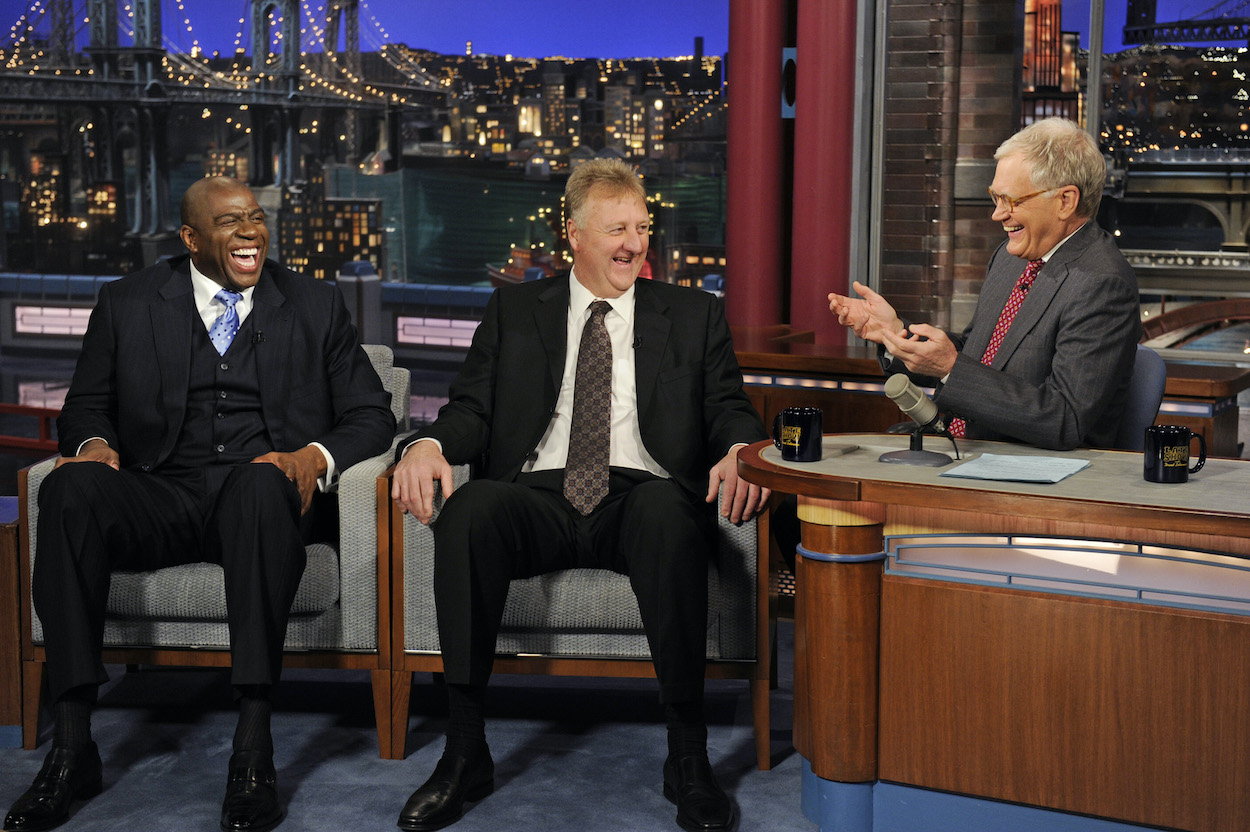 As friends, now that their playing careers are over, Bird and Johnson make appearances together with some frequency. One such appearance included a sit-down on the Late Show with David Letterman.
The three icons talked about Bird and Magic's relationship, including how Bird felt about Earvin Johnson, the man, vs. Magic Johnson, the Lakers star:
Letterman: I think I remember from the documentary that said that you really liked Earvin, you were less fond of Magic. Is that a correct – what does that mean?

Bird: Well, Earvin the man is one thing, but Earvin the basketball player, I had a little problem with him. It ended, of course, twenty years ago but … I can't really say what I think.

Larry Bird on Earvin "Magic" Johnson
After listening to Bird say this sitting next to him, Magic shared that he enjoyed hearing that. "It makes me feel good, Johnson said. "I was a thorn in his side, I'm supposed to be. I'm supposed to go out there and kick his butt."
He continued and talked about how the two players didn't like each other on the court, but they did have an incredibly high amount of mutual respect. It is that combination of animosity and admiration that made Magic vs. Bird the best rivalry in NBA history.
The Lakers and Celtics didn't face off as many times as you'd think 
The Magic vs. Bird rivalry is both the most famous and the most important long-standing, head-to-head battle in NBA history. However, the two all-time greats didn't play against one another as much as it might seem.
The two played their first NBA game against each other on December 28, 1979. They met for the last time on February 15, 1991. In between, Bird's Celtics and Johnson's Lakers met 18 times in the regular season and 19 times in the playoffs for a grand total of 37 games.
Of course, those 19 playoff games (NBA Finals games, really) are some of the most iconic NBA games ever played.
Johnson's Lakers got the best of the Celtics more times than not. Magic's head-to-head record against Bird was 11-7 in the regular season and 11-8 in the Finals. Bird had the upper hand when it came to scoring, though. The Legend averaged 21.7 points in the regular season and 25.3 points in the Finals, while Johnson put up 19.4 and 20.7 per game, respectively.
Bird also averaged more rebounds (10.9 regular season, 11.1 playoffs) and blocks (1.0) in the matchups, while Magic put up more assists (11.5, 13.5) and steals (2.2) per game.
The most important head-to-head number is championships, and Magic has the edge there. Boston and LA met in the NBA Finals in 1984, 1985, and 1987. The Celtic lifted the Larry O'Brien Trophy in '84, but the Lakers took it home in '85 and '87.
All stats courtesy of Basketball Reference and Stathead
[Correction: An earlier version of this article listed Magic Johnson's given name as Ervin.]