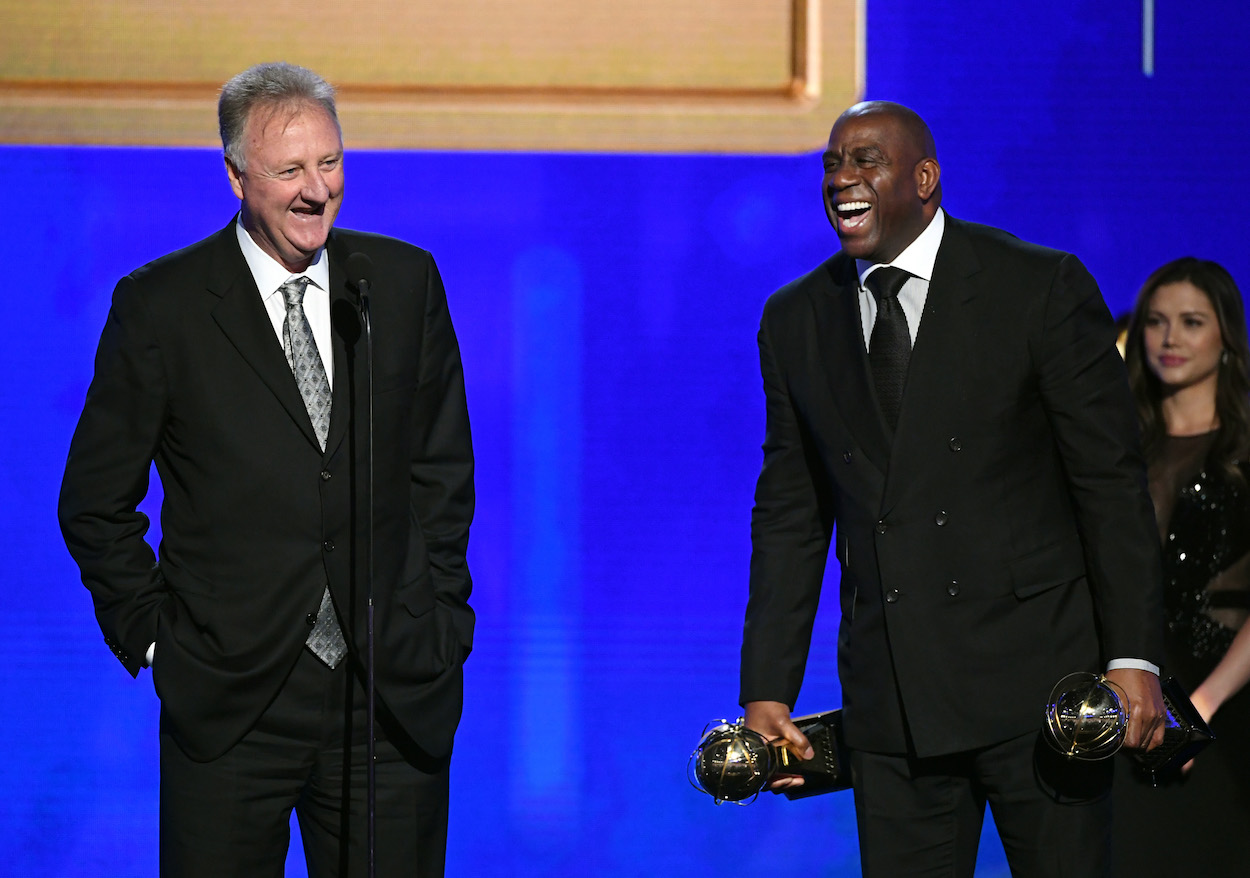 Magic Johnson and Larry Bird Truly Despised Each Other and It All Changed in a Very Unexpected Way
Magic Johnson and Larry Bird really didn't like each other. In 1985, their hatred turned into a lifelong friendship when Bird surprised his rival in a very unexpected way.
March 26, 1979. Magic Johnson and Larry Bird met for the first time in the NCAA national championship. That initial battle was an appetizer for the decade that followed as the pair became two of the greatest basketball players in NBA history who developed a fierce personal rivalry during the 1980s that included three meetings in the NBA Finals. 
The Celtics-Lakers already had an established rivalry. Bird and Johnson took it up another level. There was a true dislike for one another. However, that animosity suddenly vanished during the middle of their primes in a very unexpected way. 
Magic Johnson and Larry Bird meet for first time in college
Larry Bird and the Indiana State Sycamores faced off against Earvin "Magic" Johnson and the Michigan State Spartans for the NCAA title on March 26, 1979. Expectations were understandably high with two of the nation's best players battling for the championship.
The game lived up to the billing. Johnson scored 24 points. Bird tallied 19. Johnson's Spartans came away with the 75-64 victory in what remains the highest-rated college basketball game in television history. 
Years later, Larry Bird admitted that game was especially painful. 
"You never get over that. It's impossible to get over it, when you get your heart broken," Bird admitted. "I knew going into that game that I was going to have to play the best game I'd ever play in my life, and I didn't do it. I let us all down."
Magic Johnson and Larry Bird battle for NBA supremacy
Larry Bird and Magic Johnson both joined the NBA during the 1979-80 season. Bird averaged 21.3 points, made his first of 12 All-Star appearances, and won Rookie of the Year. The Celtics lost in the conference finals. 
Johnson finished his rookie season, averaging 18 points, made his first of 11 All-Star games, and made the All-rookie team. The Lakers defeated the 76ers in the NBA Finals. 
Over the next decade, Bird and the Celtics and Johnson and the Lakers met in the NBA Finals on three occasions. Johnson won twice. When their careers both came to an end in the 1990s, Johnson had won five NBA titles and three Finals MVP awards, while Bird earned three titles and a pair of Finals MVP awards. 
The moment the two NBA legends became friends
On a recent episode of A Late Show with Stephen Colbert, Magic Johnson admitted there was a genuine hatred for Larry Bird. It just came with the territory. However, he said that all changed in 1985 when Converse asked the two to film a shoe commercial in French Lick, Indiana, Bird's hometown. 
"We shot about three hours, so finally, they said it's lunchtime. I'm thinking I'm going to my trailer to have lunch, and he's going to his house. He turned to me and said, 'Magic, my mom has prepared lunch for us at the house.' And when he threw his mother in there, you know I can't say no.
"Now we had never really broken bread so I went up to his house and his mother was bringing out all the food, and finally, she said to Larry, 'Did you tell him yet?' And Larry said, 'No, you tell him.' She turned around and said, 'Magic, you're my favorite basketball player.' That broke the ice and we became friends right after that and we're great friends even today and I love the man."
Larry Bird's mom proved the saying is true that a way to a man's heart is through his stomach.