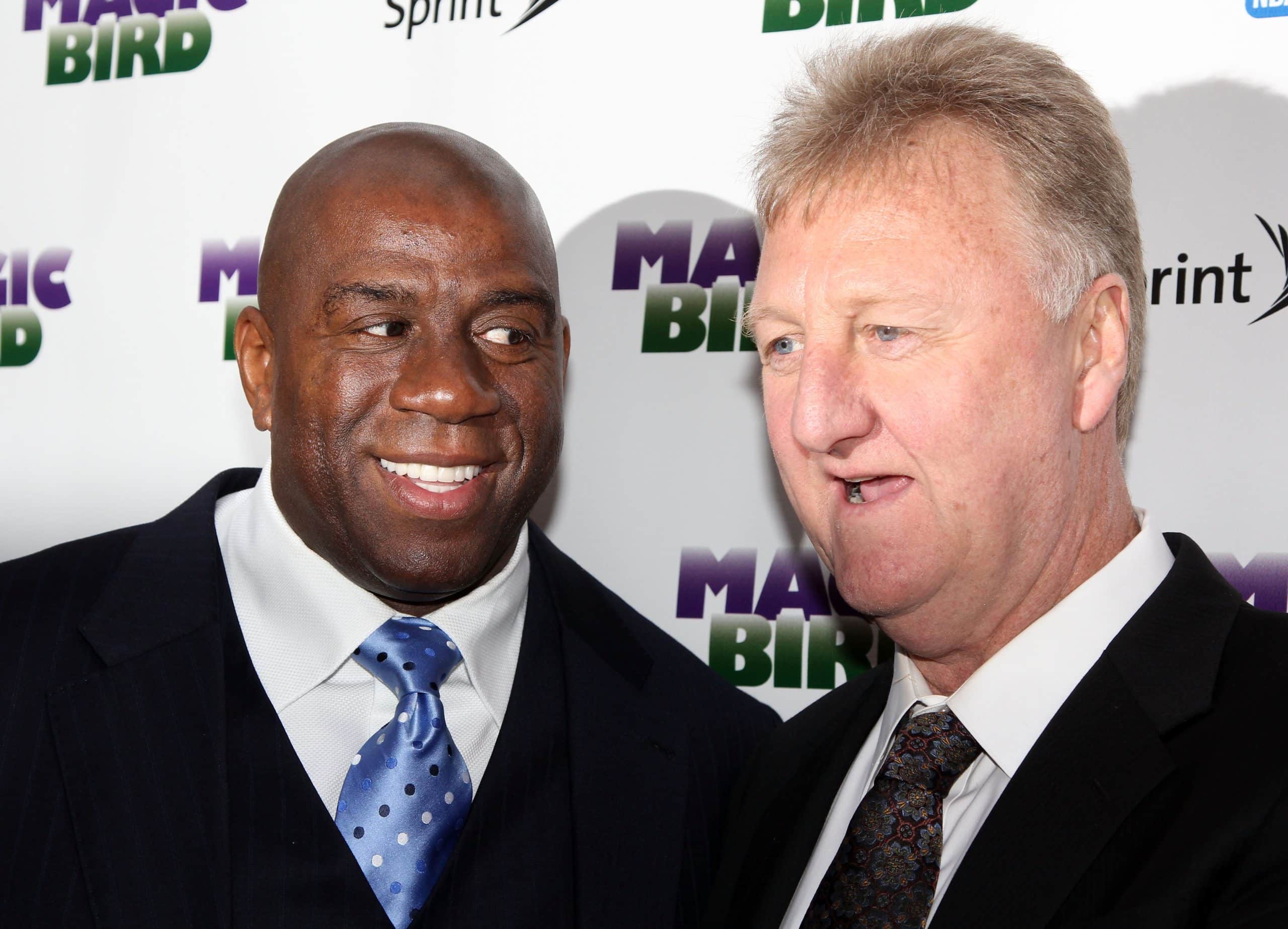 As Their Careers Wound Down, Larry Bird Pointed Out the 1 Major Difference Between Him and Magic Johnson
There wasn't a bigger personal rivalry in the NBA — and perhaps all of sports — than Larry Bird vs. Magic Johnson.
Throughout their Hall of Fame careers, Larry Bird and Magic Johnson were often compared. The Boston Celtics forward and Los Angeles Lakers point guard ruled the league in the 1980s. They constantly guided their teams to the NBA Finals, with either the Celtics or Lakers taking part in each year of the decade.
Their individual rivalry began in college and carried over through their professional careers. The two are credited with saving the NBA and have always been linked. As their careers came to a close, Bird said there was one significant difference between the two stars.
Larry Bird said if he and Magic Johnson had grown up in the same town, they'd have been best friends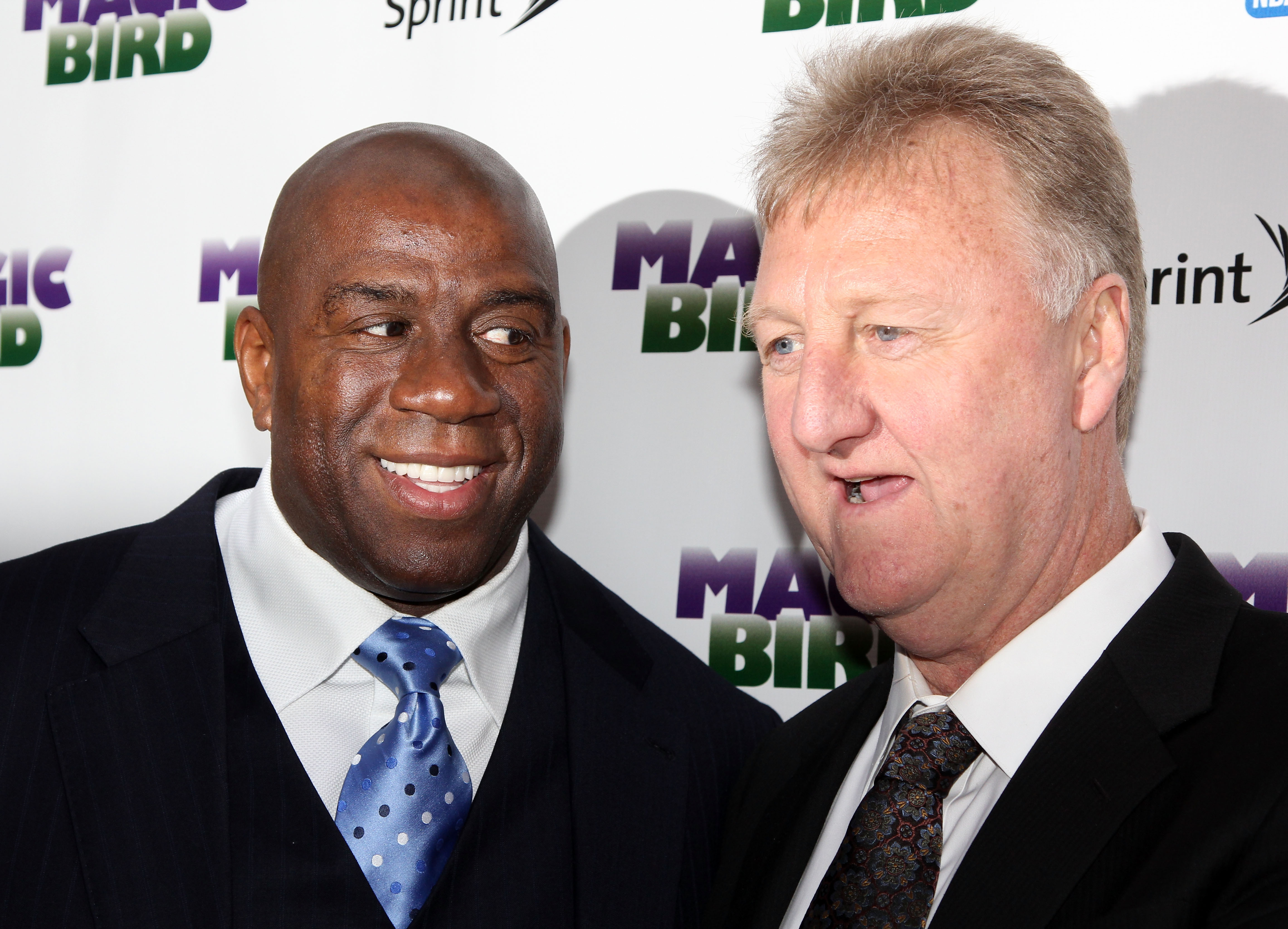 The Celtics/Lakers rivalry was heated. The games were physical and evenly matched. Although the battles on the court were intense, there was a huge level of respect between Bird and Magic.
With Bird and Magic taking over the NBA, the league thrived. The Celtics/Lakers rivalry was rekindled. Television deals soared. Attendance grew.
"You know how you always wanted somebody who thinks like you, plays like you, wants to work like you, wants to improve like you?" Johnson said to Sports Illustrated in 1991. "That's Larry and me."
Bird felt the same way.
"Magic plays the game the way I always wanted to play the game," he said. "If I'd grown up where he did (in East Lansing, Mich.) and I had been on the playgrounds when he was, I'd say we'd be best friends. And deep down, I've always felt that way."
Larry Bird pointed out the one big difference between the two NBA stars
Bird and Magic landed in the perfect spots in the NBA. They were the ideal representative of their cities. Bird was a blue-collar, hard-working player in Boston, while Magic and his huge smile were perfect for the Hollywood-type lifestyle in LA.
As their NBA careers progressed and the rivalry heated up, reports came out that the two didn't get along.
 "It was reported in the papers that they didn't like each other," said Magic's agent, Lon Rosen, to Sports Illustrated, "and they started to believe it themselves."
In the mid-80s, things loosened up.
"Before, we wouldn't say nothing, we'd just be glaring at each other, wouldn't even shake each other's hands," Johnson said. "But now we'll talk a little bit on the court: 'I got you that time,' 'What you doing on me? You can't stop this,' 'You're too big to be out here.' Little stuff like that. It's fun." 
There were too many similarities between the two to not like each other. Bird, however, pointed out one significant difference.
 "In one sense, we're different," Bird said then. "He wants to make $100 million. I only want to make $50 million."
Bird and Johnson battled through the end
The Bird vs. Johnson rivalry ended after the 1990-91 season when Johnson announced he tested positive for HIV. Bird retired the following season after a bad back hindered his performance. In the 1991 SI article, Johnson said he envisioned playing "two or three" more years, but the HIV diagnosis halted that.
Bird's body just wouldn't let him be Larry Bird again. Johnson and others took notice.
"He wants to be Larry Bird again, but his body won't let him," Johnson said. "It shows on his face after he misses a shot he knows he should have made, after things he knew he could do before and can't do now. He's never going to admit it — he's a no-excuse guy.
"He's in pain, but he's such a damn warrior he's not going to give in no matter what. The back could go out tomorrow, and he'd still be out there because that's all he knows. That's why I've got to give him the utmost respect. When the chips are down, he's going to be out there whether he's walking around dragging one leg."
In the end, Bird and Magic were great fr the NBA. They were great for each other.
"It's like the ultimate, beating Boston and Larry," Magic said. "It's special, and it's always going to be special. When we're old playing checkers and I kick his ass, it's going to be special then, too."