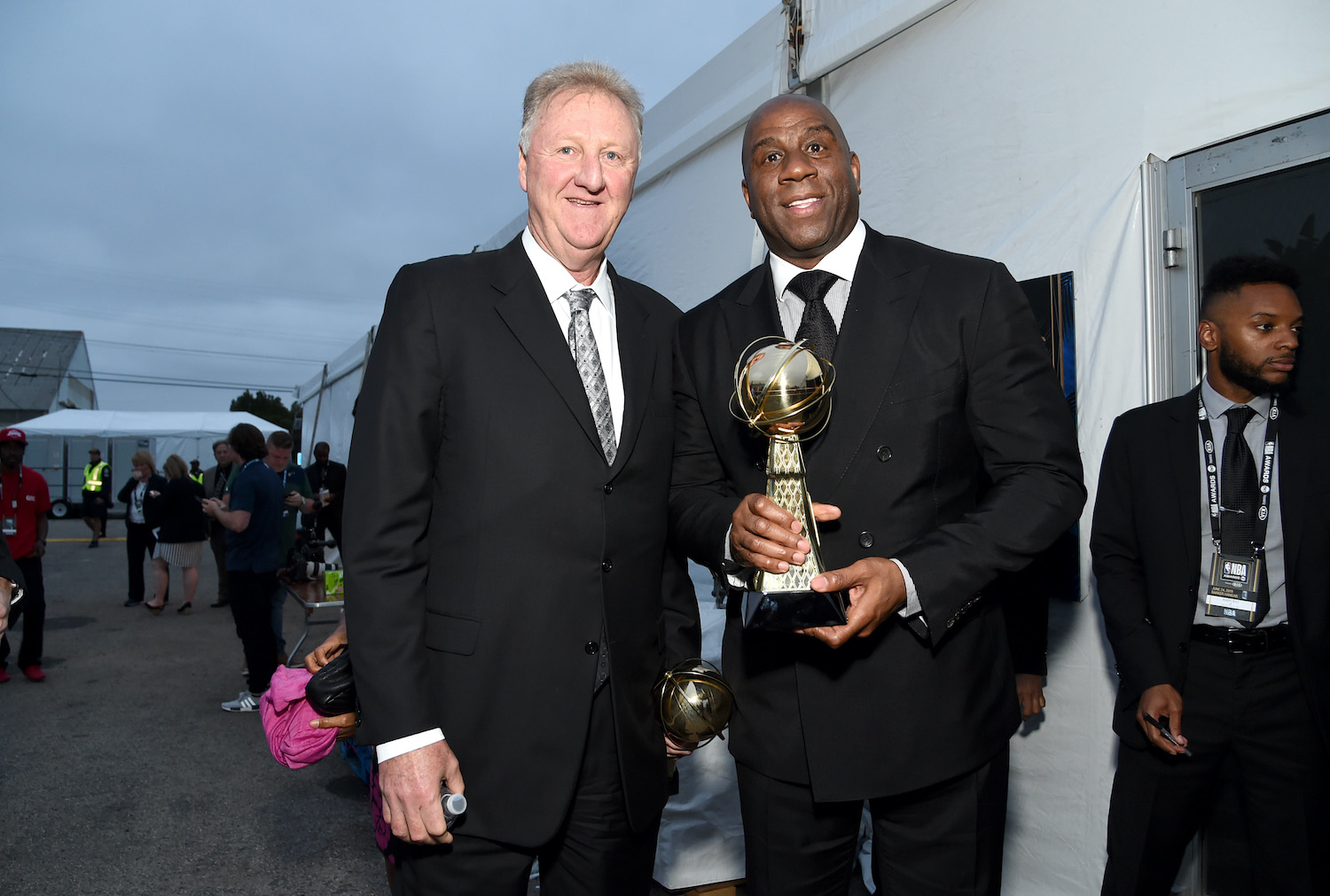 Larry Bird Was So Shaken by Magic Johnson's HIV Diagnosis That He Didn't Want to Play in the Boston Celtics' Next Game: 'I Didn't Have Anything That Night'
Larry Bird loved basketball, but after learning of Magic Johnson's HIV diagnosis, he didn't really want to play.
Sometimes the world of sports will produce moments that transcend fandom and become legitimate parts of history. One of those occurred in November 1991, when Magic Johnson told the world that he had tested positive for HIV and was immediately retiring from basketball. That news understandably shook just about everyone in the Association, including Larry Bird.
Although Larry Legend and Magic had started out as rivals, the two men developed quite the bond during their time on the hardwood. They became so close that after Johnson's diagnosis, Bird found himself in an unprecedented situation: playing in a basketball game when he didn't want to be on the floor.
Magic Johnson and Larry Bird started out as rivals before becoming friends
From a fan's perspective, rivalries can seem like insurmountable obstacles; the Boston Red Sox and the New York Yankees, for example, simply can't be on the same side. On a personal level, though, Magic and Bird proved that things could change over time.
The two stars first did battle during the 1979 NCAA title game, when Johnson's Michigan State Spartans defeated Bird's Indiana State Sycamores. While the latter was stung by the defeat, even saying that it was "impossible" to forget what happened (H/T NCAA.com), that wasn't the last he'd see of Magic.
Whether by chance or by fate, Bird joined the Boston Celtics, and his college rival headed west to become a member of the Los Angeles Lakers. That placed the two stars in constant conflict. Larry Legend was the class of the Eastern Conference, Magic ruled the roost on the opposite coast, and only one of them could claim the NBA title each season.
Despite that ongoing duel, though, Bird and Johnson managed to set their differences aside and become friends. While filming a Converse commercial in French Lick, Indiana, the Celtics star invited his counterpart over for a home-cooked meal. Over lunch, Magic also learned that he was Bird's mother's favorite player, cementing their friendship.
Magic Johson's HIV diagnosis shook his friend to the core
When Johnson told the world that he had tested positive for HIV, it seemed impossible to believe. One of the top talents in all of basketball was leaving the hardwood behind because of an invisible and, at the time, highly stigmatized issue.
Understandably, those close to the Lakers star were shaken by the news.
"Magic's agent (Lon Rosen) calls me and tells me about the announcement ahead of time. I said, 'I gotta talk to him right now.' And Lon goes, 'I don't know. He's going through all this stuff right now.' And I said, 'I don't care. I gotta talk to him right now.' And he put me through to him," Bird explained in a 2012 ESPN interview with Rick Reilly. "Man, that really hit me. It really hit me hard. That was the first time in my life I played in a game that I didn't want to play (vs. Atlanta). I didn't have anything that night."
While it doesn't exactly match up with Bird knowing "ahead of time," the Celtics did play the Hawks the day after Johnson's announcement. The forward shot 5-of-14 from the floor, including 1-of-5 from 3-point range, and finished the contest with 17 points. He also struggled in Boston's next game, which came three days after Magic's press conference.
Larry Bird wasn't the only NBA star affected by the news
Given his relationship with Magic, it's understandable that Bird didn't want to take the court after hearing the news about his friend's health. He wasn't the only big-time NBA talent to be shaken up by the news, though.
Michael Jordan, for example, spoke to Magic from a car phone and told the Washington Post that he was "almost driving off the road." Kobe Bryant was only a teenager at the time, but he was still affected. In a conversation with Graham Bensinger, the future NBA star explained that he "was devastated" by the news and confirmed that he missed meals for a week after that famous press conference.
Nearly 30 years later, though, Johnson is still going strong. While his HIV diagnosis may have (mostly) ended his basketball career, the Lakers star also helped change public perceptions around the disease and showed that it wasn't an automatic death sentence.
Some things are simply bigger than basketball.
Stats courtesy of Basketball Reference