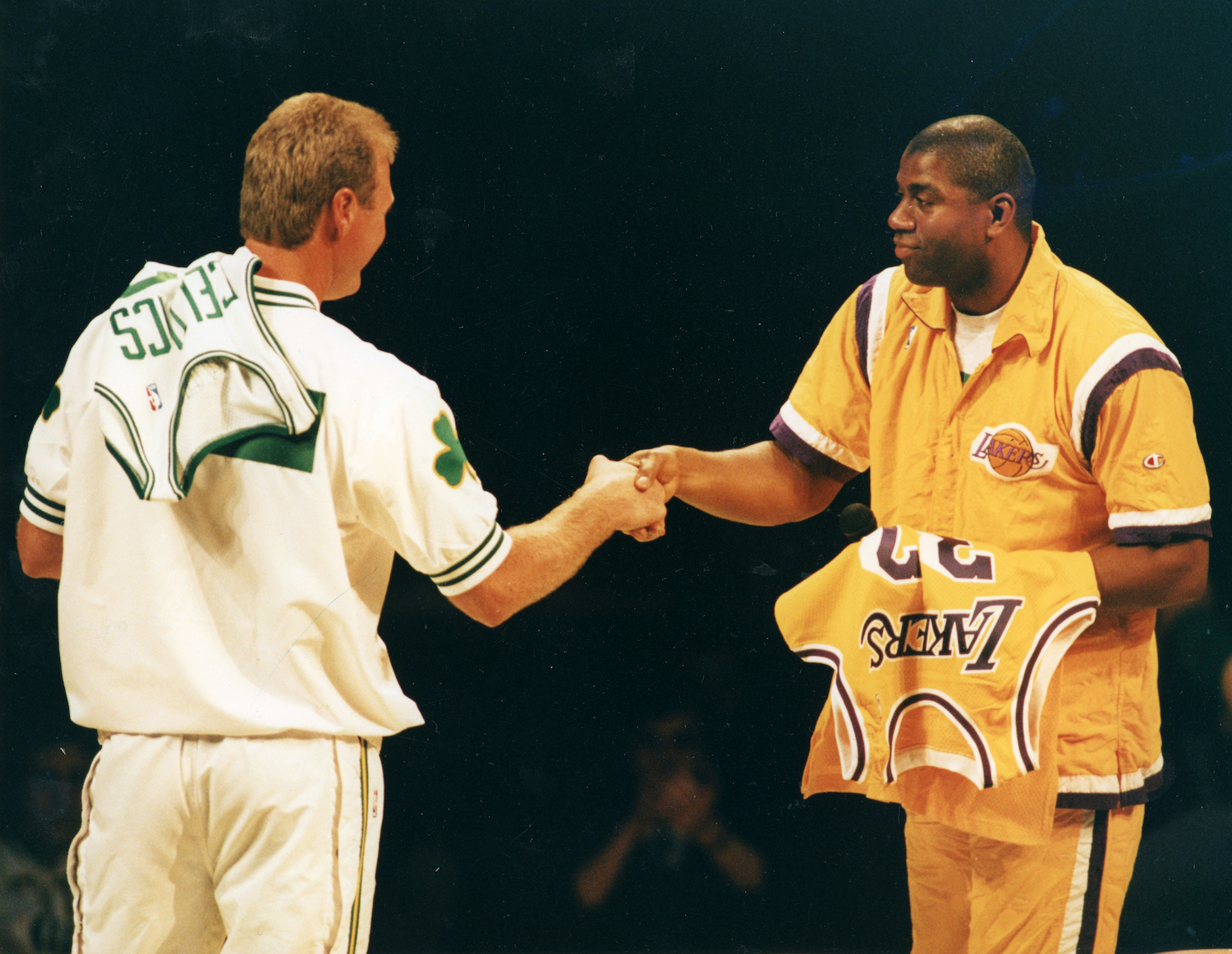 Larry Bird's Famous Rivalry With Magic Johnson Included at Least 1 Piece of Trash Talk: 'I'm Gonna Put on a Show for You'
During their famous rivalry, you better believe that Larry Bird tossed some trash talk in Magic Johnson's direction.
In the world of sports, there's nothing like a good rivalry to get the competitive juices flowing. While the two men eventually buried the hatchet and formed quite a bond, Larry Bird and Magic Johnson had their fair share of duels over the years.
Larry Legend, for his mind-mannered nature, knew a thing or two about trash-talking and had no problem needling his famous rival. On one occasion, Bird even approached an injured Magic before a game and promised the Lakers star that he'd see quite a performance from his seat on the bench.
Larry Bird and Magic Johnson first squared off in college and continued to battle in the NBA
Sometimes, a single event is all it takes to kick-start a rivalry. That's exactly what happened for Larry Bird and Magic Johnson.
In 1979, the two stars met in the NCAA championship game. While the match-up proved to be an instant classic, only one man could leave the floor as a winner. That, of course, proved to be Magic, as his Michigan State Spartans knocked off Bird's Indiana State Sycamores. As documented on NCAA.com, Larry Legend was heartbroken and said it was "impossible" to get over that defeat.
Even after leaving the NCAA ranks and moving to Boston, Bird couldn't escape his college rival. Johnson, of course, joined the Los Angeles Lakers, and the two continued to duke it out for NBA supremacy. As both men dominated their respective conferences, the other was waiting on the other side of the country as an inescapable measuring stick and obstacle. If one of them wanted to win a championship — and, combined, they claimed eight titles — they'd usually have to best their rival en route to the Larry O'Brien Trophy.
Promising the injured Lakers star a show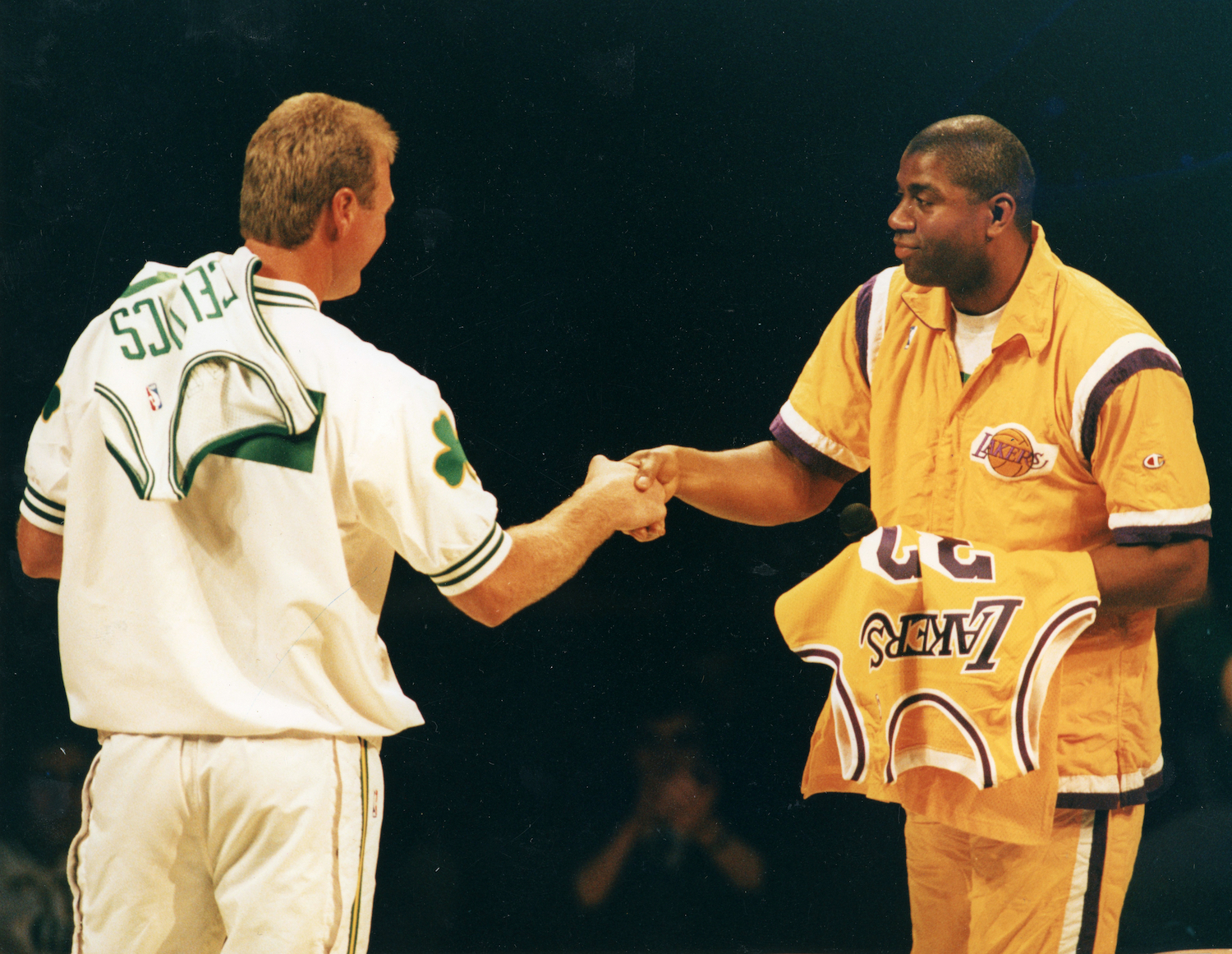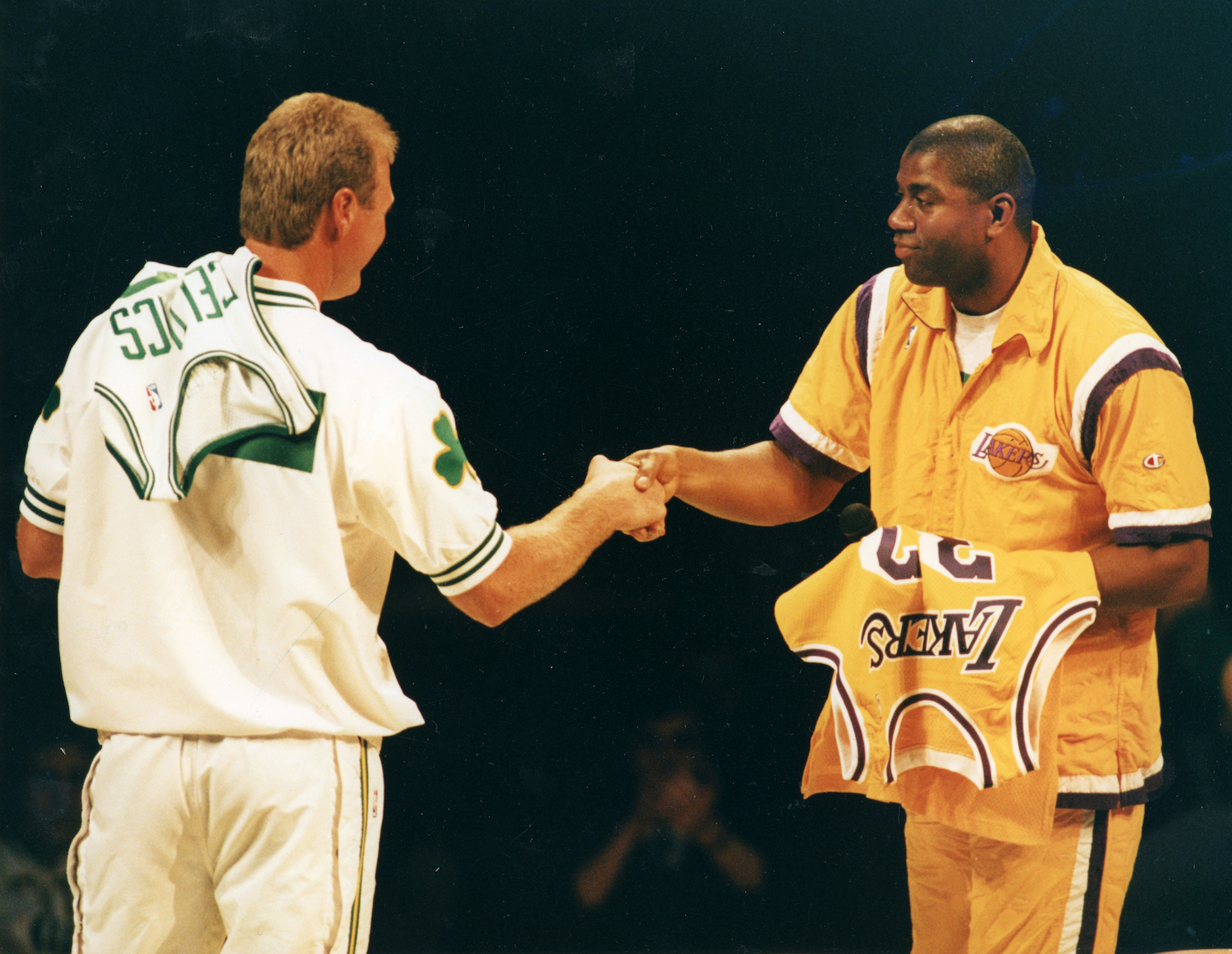 In any rivalry, there will probably be a bit of trash talk thrown around behind the scenes. Given Bird's knack for verbal warfare, it's not surprising that he engaged with Magic on at least one occasion.
In 2012, Bird and Johnson sat down with Rick Reilly for an ESPN interview. During that conversation, the pair paid each other plenty of compliments, and, during one anecdote, Magic shared the story of how Larry Legend promised him a night of quality entertainment.
"Larry was just so smart," Magic explained. "He attacked you from so many different angles. And with Larry, you had to guard him five and 10 feet past the [3-point] line. Five feet past the line was nothing for Larry. One time, I was hurt. I was on the bench. Larry comes by during warm-ups and says, 'Don't worry, Earvin. I'm gonna put on a show for you.'"
While it's impossible to know exactly when Bird made that remark in order to verify the box score, Johnson claimed that the Celtics star made good on his promise.
"I think he scored 40 that night, and I think he only missed two shots," Magic concluded. "He'd get that walk goin' and that blond hair floppin', and you knew you were gonna be in for a long, long night."
For all of their battles, Magic Johnson and Larry Bird buried the hatchet and became friends
Given their frequent battles for NBA supremacy and the fact that at least some trash talk was thrown around, you might think that Bird and Magic hated each other. While the two men didn't always see eye-to-eye, they eventually set their differences aside and became friends.
As Johnson explained on A Late Show with Stephen Colbert, he and Bird shot a 1985 Converse commercial in Fench Lick, Indiana. While the Lakers guard thought he'd be stuck alone when it came time for lunch — in theory, Larry Legend could go home and take a break — he ended up receiving an unlikely invitation.
"We shot about three hours, so finally, they said it's lunchtime. I'm thinking I'm going to my trailer to have lunch, and he's going to his house," Johnson explained. "He turned to me and said, 'Magic, my mom has prepared lunch for us at the house.' And when he threw his mother in there, you know I can't say no."
In addition to enjoying a homecooked meal, Johnson also learned that Bird's mother considered him to be her favorite player. That broke the ice and, from then on, Magic and Larry Legend were friends.
As the cliche says, time heals all wounds. If their 2012 interview is any indication, though, Johnson hasn't forgotten the trash talk that Bird hurled his way.
[Correction: An early version of this article stated that Bird and Johnson combined for five titles, not eight.]