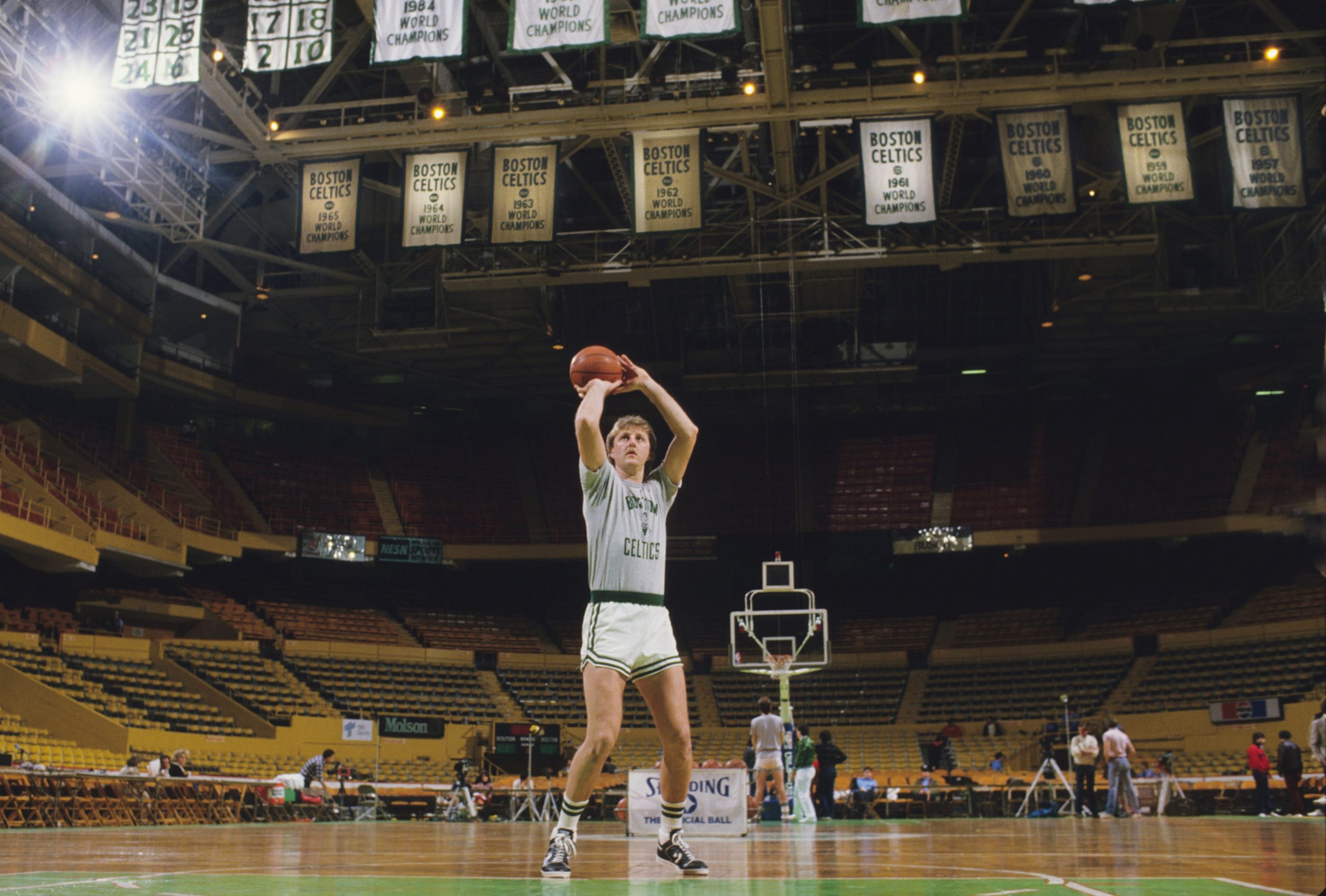 Larry Bird Worked for Everything He Achieved but Said He Had 3 'God-Given' Traits
Larry Bird was one of the hardest workers in the NBA because he had to be.
Larry Bird wasn't blessed with pure athletic ability, yet the former Boston Celtics star was one of the best to ever play in the NBA. Bird made a living with clutch shooting, crisp passing, and getting in great position for a rebound. Outjumping an opponent was never an option. Outhustling one was.
Back in his playing days, Bird admitted he had to work hard to enjoy success in the NBA. He also said he was blessed with three God-given traits.
Larry Bird had to outwork and outhustle everyone on the basketball court
If it seemed like Bird was always one step ahead of his opponent, it was because he had to be. Bird's greatest gift wasn't running or jumping. Athletically speaking, he was below average by NBA standards. Bird made up for it in many other ways.
"Larry is the best passing big man I've ever seen," said Celtics President Red Auerbach to Sports Illustrated in 1981. "Barry was damn good, but he wasn't in a class with Bird. This guy is unique. He's like a Bob Cousy up front, and Cousy, without question, was the greatest passer who ever played the game. Larry will probably go down in history as one of the great forwards of all time, if not the greatest."
His passing skills were a direct result of his court awareness. He knew where people were and where they were going to be. He anticipated well and that more than made up for his lack of speed.
"What Larry does doesn't surprise me because our minds think alike," Celtics Hall of Famer John Havlicek said in 1981. "When I watch a game, I know what should be done, but 99 percent of the time it isn't. When Larry's in there, 99 percent of the time it is."
Larry Bird admitted he had 3 'God-given' traits
Bird knew he was good. He always had confidence in his abilities, and he either showed it with his play on the court or in the form of some trash talk. Bird always talked a good game, and usually backed it up.
"There are a lot of good players in the league," Bird said to Sports Illustrated. "And on any given night any player can get hot and do anything he wants to. Some guys are very consistent, and some guys are just great, but there are probably about 20 guys up there all the time. Now, I figure three out of four nights I'm going to play better than anybody else in the game."
So what made Bird so good? According to him, it was a lot of hard work and three God-given traits.
"I would say my vision, my court awareness, and my height are God-given," Bird said. "Everything else I've worked my ass off for."
Bird said he always had the desire to play basketball but never dreamed of an NBA career
Like many kids, Bird spent many nights outside on the basketball court. Bird always found himself playing as daylight disappeared, but he was never one to believe he would make a career out of playing a game.
"I was one of those guys that never looked ahead," he said. "When I was younger I played for the fun of it, like any other kid. I just don't know what kept me going and going and going.
"I remember we used to practice in the gym in high school. Then, on the way home, we'd stop and play on the playgrounds until eight o'clock. I played when I was cold, and my body was aching, and I was so tired, and I don't know why, but I just kept playing and playing.
"I didn't know I was going to college until I was there. Never thought about pro basketball until I got there. Now that I am there, I want to make the most out of it that I can. I guess I always wanted to make the most out of it. I just never knew it."
It sounds like Bird may have even had a fourth God-given trait – that burning desire.