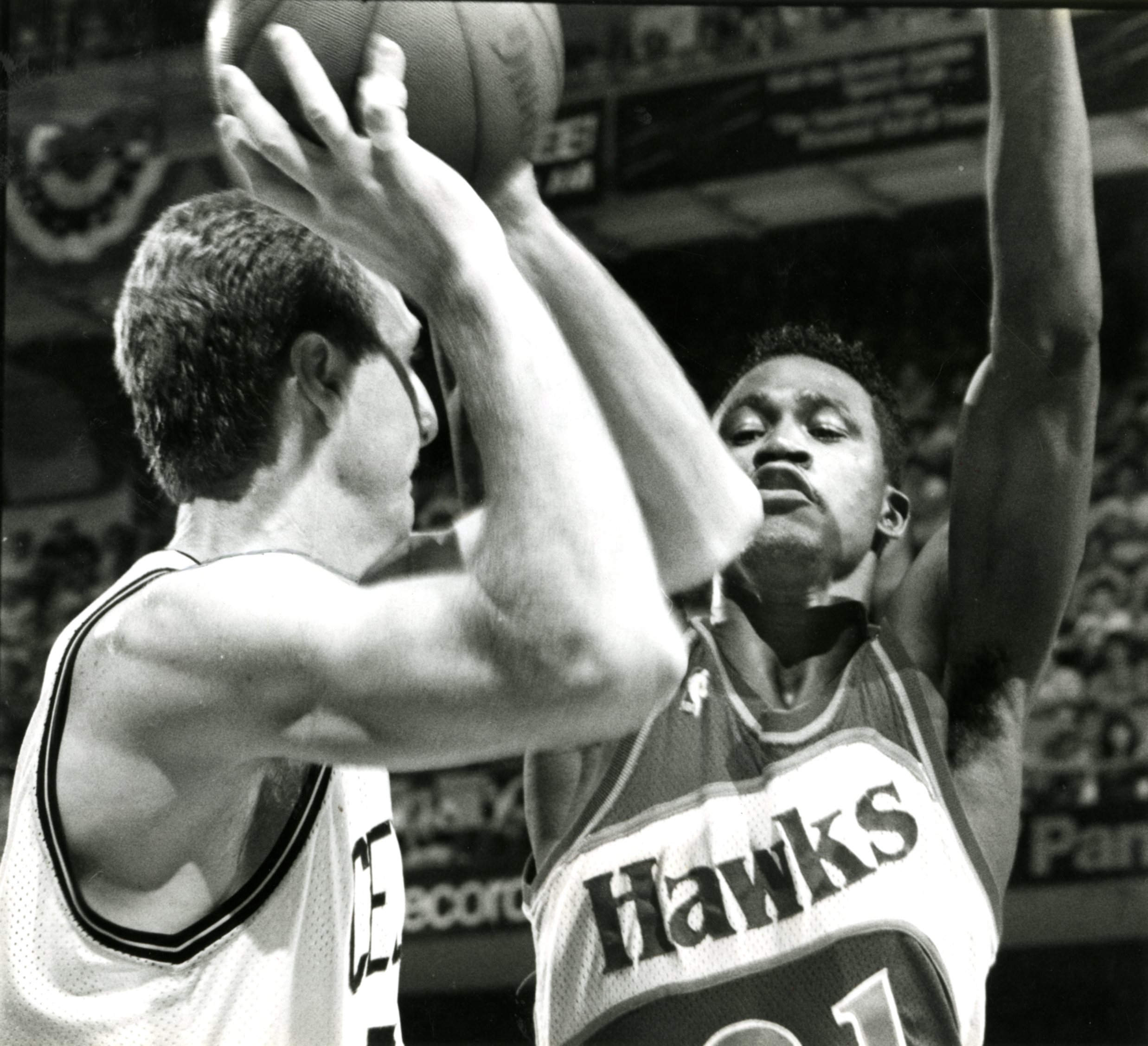 Larry Bird Was So Hot Against Atlanta, Hawks Players Got Fined for Cheering Him On
Former Boston Celtics forward Larry Bird was in such a groove against the Atlanta Hawks that Hawks players began cheering him on.
Larry Bird talked a good game. He was one of the biggest trash talkers in the NBA during his day, but more often than not, he'd back everything up. Bird was dominant during the 1980s and would always put on a show. One game against the Atlanta Hawks, he was in such a groove that Hawks players found themselves cheering him on and then finding their wallets were a little lighter.
Was Bird a trash talker or just extremely confident?
Larry Bird was very confident, borderline cocky, in his ability on the basketball court. Some looked at it as him being a trash talker. During one of the 3-point shooting contests he took part in at the NBA All-Star Game, he looked at his opponents and asked who would be coming in second place. In an interview with The Undefeated, Bird said he didn't really consider that trash talk.
"The 3-point thing was more of a … it wasn't really (trash talk)," Bird said. "I just walked in and seen all them guys and said, 'Who is coming in second?' But I didn't do it for any reason at all. The one thing about that first 3-point contest, when I went in the locker room, they had them red, white, blue balls, and so I was feeling them. Them things were slicker than hell. I was like, 'How am I ever going to shoot this thing?'"
Bird said he never had a problem shooting 3-pointers and he entered the contests because it was a quick way to make a few bucks. "The 3-point line was never a problem," he said. "It's just that back then I never practiced it until we had the 3-point contest. I figured I could pick up a quick $10,000 by shooting a basketball on a Saturday afternoon. Why not spend a half-hour shooting 3s?"
Larry Bird's biggest moments
Larry Bird had many huge games over his 13-year NBA career. As a 12-time NBA All-Star, but was a human highlight reel and put together several strong performances during his career. For Bird, it might not have always been a 50-point night, but it may have been a clutch steal or big rebound that helped preserve a victory.
The three-time MVP once put up 43 points in 29 minutes in a victory over the Cleveland Cavaliers in 1986. One of his biggest plays of his career came during the 1987 Eastern Conference finals against the Detroit Pistons. The Pistons seemed to be on the verge of taking a 3-2 series lead and heading home for a series clincher. With the Pistons holding a one-point lead with five second left, Bird, stole an inbound pass and dished the ball to Dennis Johnson to swing the series momentum.
Bird has had his clashes with the best of them. He battled Michael Jordan. He went toe-to-toe with Dominique Wilkins in an epic Game 7 of the 1988 Eastern Conference Finals. Wilkins and Bird went at it down the stretch in one of the best individual battles in playoff history. Wilkins won the battle, outscoring Bird 47-34, but Bird's Celtics won the war, 118-116.
Bird's biggest individual performance
On March 12, 1985, Larry Bird put together his biggest individual performance. In a game against the Atlanta Hawks, Bird scored 32 points in a 14-minute stretch of the second half in Boston's 126-115 win over Atlanta. He finished with a career-high 60 points. Bird was putting on quite a show that he even had Hawks players cheering for him.
In an interview with Bill Simmons, former Atlanta Hawks star Dominique Wilkins recalled the game. He said the Celtics were so good at slowing down the pace and making opponents play at their tempo. He called Bird one of the greatest players to ever lace up a pair of shoes. "Bird was so hot (in that game), he threw up a couple of threes with his left hand and fell into our bench.
"(Hawks players) were cheering and high-fiving on our bench. I made sure those guys got fined because you don't do that. I make fun of this all the time, but they don't even talk about the 30 or 40 I had that game, they say Bird had 60. He had gotten into a groove earlier in the game. When you get a guy in that zone, there's no defense designed that can stop them."