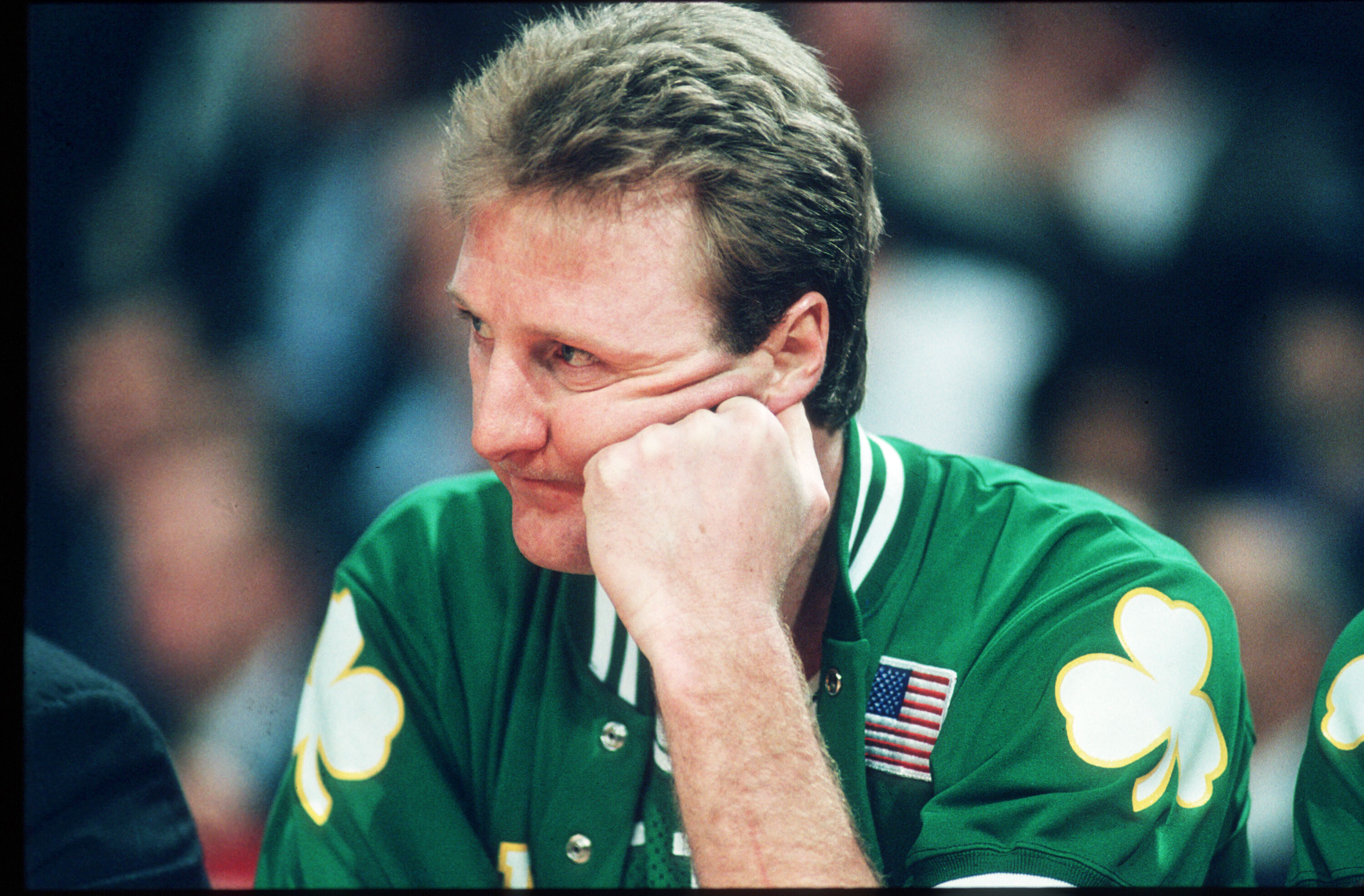 Larry Bird Reveals The Best Player He's Ever Played With
Boston Celtics legendary forward Larry Bird revealed to Magic Johnson the best player he's ever played with.
Larry Bird played 13 seasons in the NBA – all with the Boston Celtics. He's won three NBA titles and has played with several Hall of Famers. Bird also played in the NCAA title game in 1979 when his Indiana State team fell to Magic Johnson and Michigan State. In a one-on-one interview with Johnson himself, Bird was asked to name the best player he ever played with. His answer may have raised some eyebrows.
Larry Bird's basketball career
Larry Bird spent all 13 of his seasons in the NBA with the Boston Celtics. He made an immediate impact when he played in all 82 games during his rookie season and averaged 21.3 points and 10.4 rebounds per game during the 1979-80 season. Bird went on to become an NBA All-Star in 12 of his 13 seasons. The only year he failed to make it is when he was limited to six games during the 1988-89 season when he had surgery on both heels.
After being named the NBA Rookie of the Year, Bird went on to win three straight MVP awards from 1984-86. Statistically, Bird's best season came in 1984-85 when he averaged 28.7 points, 10.5 rebounds, and 6.6 assists per game through 80 games. For his career, Bird finished with averages of 24.3 points, 10 rebounds, and 6.3 assists.
Bird was strong in all facets of the game. He wasn't the quickest or most athletically gifted players, but he was one of the game's top shooters, passers, and defenders. He helped guide the Celtics to three NBA championships. Bird was inducted into the Naismith Memorial Basketball Hall of Fame in 1998.
What former teammates said about Larry Bird
While Larry Bird wasn't the guy who could jump the highest nor could he wow a crowd with a flashy dunk, he could outsmart most of his opponents. "He's a big guy and really unbelievably crafty, said former teammate Kevin McHale in a 2017 Yahoo! Sports article. "His ability to read the defense was phenomenal, just a whole different level of understanding. And then, his competitive nature. You don't know a guy until you're with him. Larry's mental and physical toughness was the highest level you can get in the NBA."
Bill Walton, another former teammate of Bird said he knew Bird was good but didn't realize it until they were on the same team. "A rare and different bird, like no other, with a spectacularly unique skill set, personality, level of humanity, and creative imagination," Walton told Yahoo! Sports. "He was just so far ahead of everybody else. There have been other great players, but this guy Larry Bird: Oh, my God. I was there and I saw it. I knew Larry was a good player before I got there but I had no idea how good."
Rick Carlisle, who played in Boston with Bird from 1985-87, said Bird was more than a good player. He said he was also a very good entertainer. "He was the ultimate winner, the ultimate competitor, and in many ways he was the ultimate showman because he played the game in a way that made the game more beautiful," Carlisle said.
Bird tells Magic the best player he's ever played with
In a very rare instance, Magic Johnson, Larry Bird's ultimate rival on the basketball court, sat down one-on-one with Bird. He asked him several basketball-related questions. He first asked Bird who the smartest player he ever played with was. Without hesitation, Bird said it was Dennis Johnson.
Magic Johnson then followed up by asking who the best player Bird ever played with was. Again, he chose Dennis Johnson, although he wasn't quite as emphatic this time. "Probably Dennis Johnson, but it's close between Kevin (McHale) and Dennis Johnson. They're two different types of players. I always thought if we really needed something big, Dennis was always shooting 44 percent during the regular season and then 60 in the playoffs.
"Kevin was incredible. You know, you played against him. But D.J. was a guy I loved to play with. He thought the same way I did and he was pretty good."