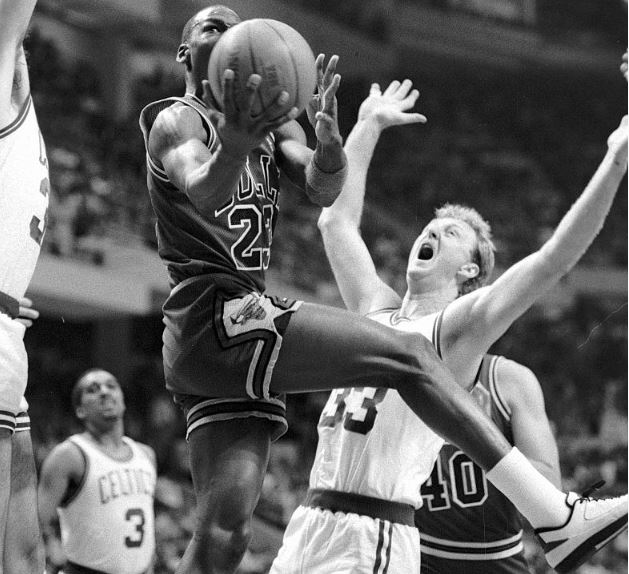 Michael Jordan Won the Battles, While Larry Bird Won the Head-To-Head War
In head-to-head competitions, Chicago's Michael Jordan won the individual battles, but Boston's Larry Bird won the war.
When it came to basketball, there couldn't have been two more different styles of play than Michael Jordan and Larry Bird. Jordan, often considered the greatest player of all time, was the flashy, high-rising dunker who could light up the scoreboard on any given night. Bird, was the better shooter and had a more complete game. When it came to head-to-head competitions, Jordan usually won the individual battles, while Bird won the war.
Michael Jordan and Larry Bird, two of the best ever
Between the two of them, Michael Jordan and Larry Bird have 26 NBA All-Star appearances and nine NBA titles. The two engaged in some serious head-to-head battles during their Hall-of-Fame careers, putting on a show for their fans.
Their NBA careers overlapped for eight seasons and began when Jordan came into the league as a rookie during the 1984-85 season. The two faced off against each other 28 times during the regular season. Jordan scored at least 40 points in six of those meetings. In those 28 games, however, Bird has a 17-11 record.
It's in the playoffs where Bird dominated against Jordan. They met just six times and Bird's Celtics swept Jordan's Bulls. Jordan averaged nearly 40 points per game (39.7) to Bird's 27.2 in those playoffs, but Bird wound up getting the better of Jordan.
Bird once referred to Jordan as God
Michael Jordan has had some of the most memorable individual performances in the NBA. One of his biggest games came during the playoffs in 1986 when the Bulls played at the Boston Garden. Jordan put up 63 points and singlehandedly kept his team in the game, but the Bulls fell to the Celtics in double overtime.
Bird, who finished with 36 points and 12 rebounds in the victory, commended Jordan after the game. "He is the most exciting, most awesome player in the game," Bird told the Post. "I didn't think anyone was capable of doing what Michael has done to us the past two games."
He later told the Boston Globe, "I would never have called him the greatest player I'd ever seen if I didn't mean it," Bird said. "It's just God disguised as Michael Jordan." Jordan, however, said he would have sacrificed the 63 points for getting a win. "I'm not worried about the points," Jordan told The Washington Post. "I'd give all the points back if we could win."
Jordan happy to finally see Bird retire
Larry Bird finished his NBA career in 1992. He played 13 seasons and averaged a double-double in his career at 24.3 points and 10 rebounds. Michael Jordan said Bird was the biggest trash talker in the NBA, saying it was "good trash, not dirty trash."
Jordan had a lot to say about Bird, who was clearly not the most athletic player in the NBA. "Larry is good with playing you kind of slow, but all of a sudden, he will grab you by your pants, get open for a layup, or a three-point play. That is smart. It's not really cheating, but it's smart," Jordan said. "He overcomes a lot of the things regarding natural ability that he doesn't have. He is not the quickest guy, he can't jump, but he overcomes it really well." 
When Bird retired, Jordan jokingly said he was tired of seeing his face.
"Larry, I hear that you're retiring," he said. "Thank goodness. I'm glad. I'm tired of seeing your face. You brought a lot of sad memories for me. I enjoyed it and I wish you a lot of luck and I think you had a great and wonderful career. You ruined a lot of my successful games against the Boston Celtics."