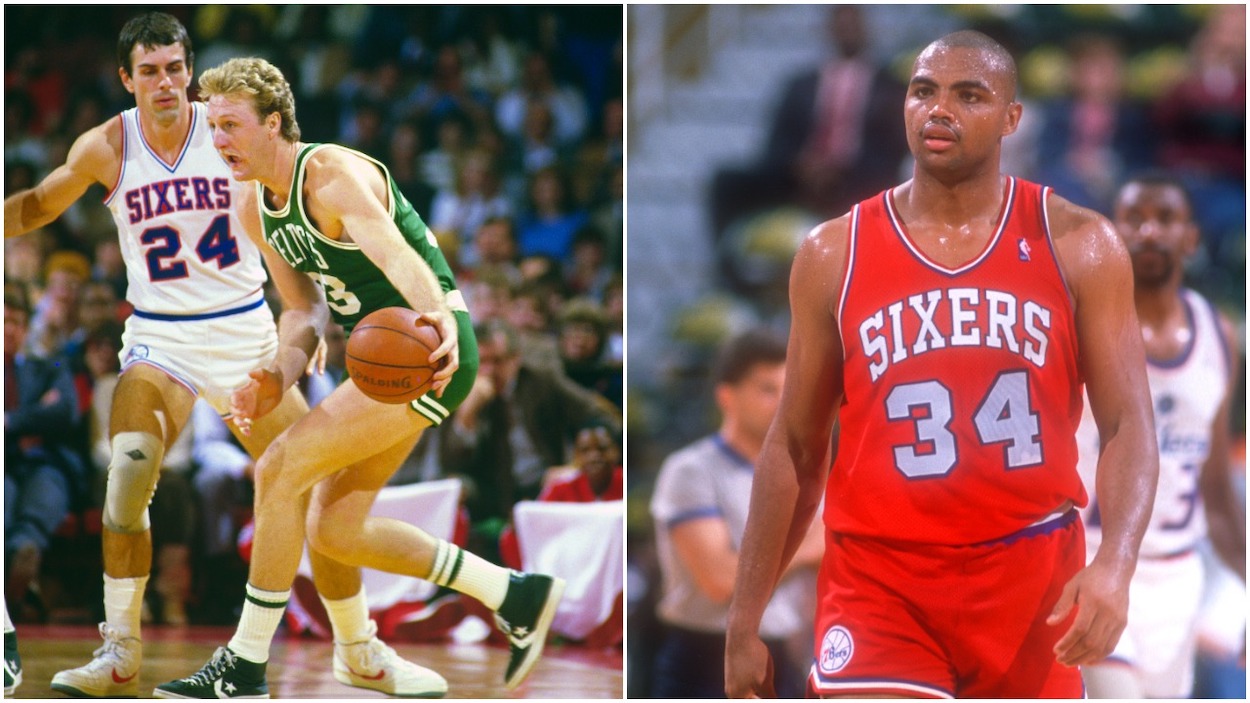 Larry Bird Once Told Charles Barkley During a Game, 'There's Not a White Guy on the Planet That Can Guard Me'
Larry Bird was one of the greatest trash talkers of all time and Charles Barkley shared a story about Bird who once told him on the court "there's not a white guy on the planet that can guard me." This endeared Bird to Barkley even though the Celtics consistently beat the Sixers in the 1980s.
Trash talk on an NBA court is commonplace, especially back in the 1980s. One of the truly great trash-talkers of his day was Larry Bird. He would tell you what you and your team were doing wrong, then go out and back it up with his performance.
This ability endeared him to many NBA players, including another loquacious Hall of Famer, Charles Barkley. The TNT analyst recently joined Dan Patrick and shared a classic story about Bird talking trash that made Barkley laugh on the court.  
Larry Bird vs. Charles Barkley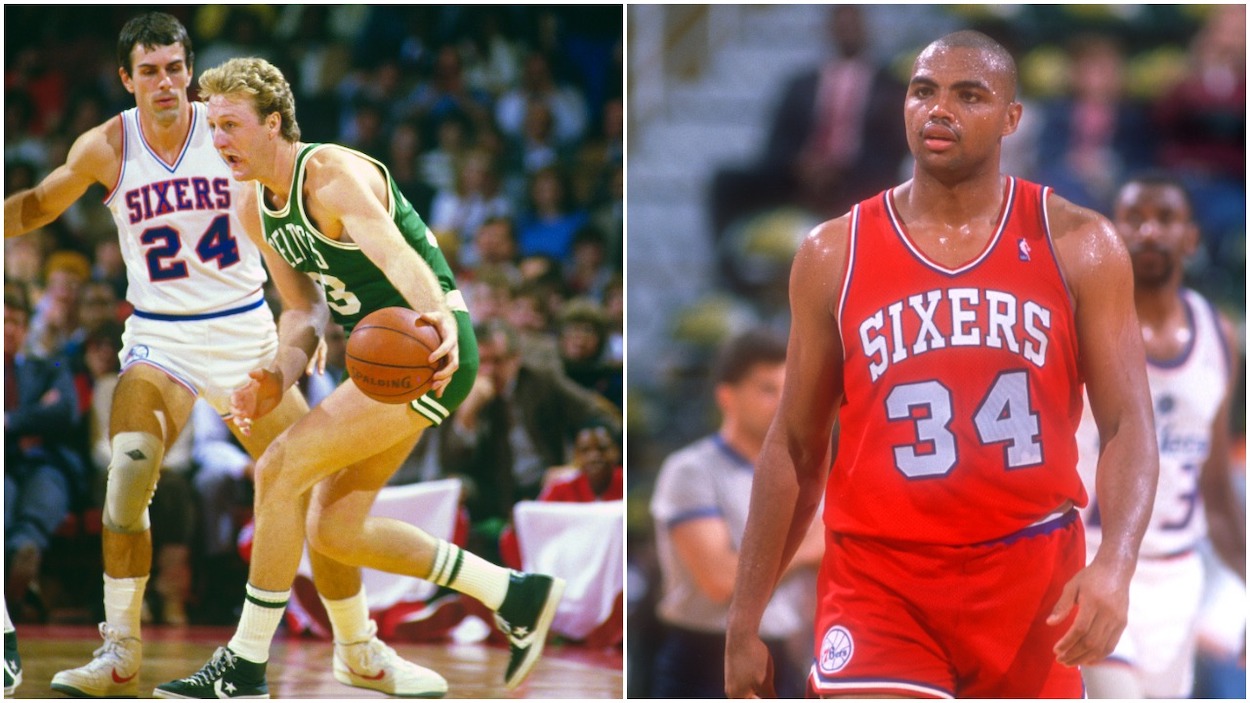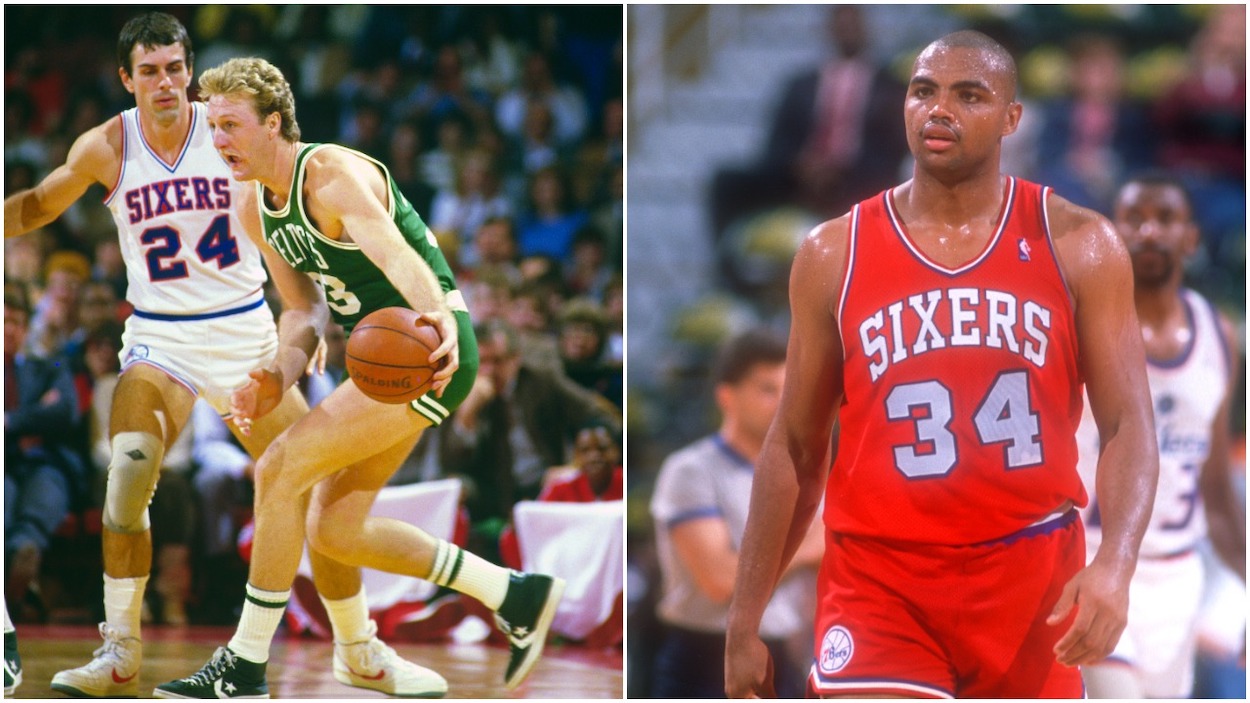 Bird and Barkley faced off as Eastern Conference rivals for the Boston Celtics and Philadelphia 76ers, respectively, 30 times in their NBA careers. The matchups happened during Barkley's first eight seasons and Bird's last eight.
Bird's Celtics got the best of Barkley's Sixers more often than not. The two Hall of Famers' head-to-head record was 17-13 in favor of Boston, according to statmuse.
Statistically, the two were very close in these contests. Bird averaged 23.8 points, 8.5 rebounds, and 7.0 assists against Barkley, and Barkley put up 21.9 points, 10.1 rebounds, and 3.3 assists a game versus Bird. 
The two, who are among the best forwards in NBA history, became teammates for a summer on the iconic 1992 USA Dream Team. 
On the way to the gold medal, Barkley, in the prime of his career, led the team in scoring with 18.0 points and 4.1 rebounds per game. Bird, who was at the end of his career and struggling with back issues, put up 8.4 points and 3.8 boards per game. 
Larry Bird once told Charles Barkley the Philadelphia 76ers were 'disrespectful' because of who was guarding him
One of Bird's pet peeves during his playing days was a "white guy guarding me," as he told ESPN in 2004.
During a visit with The Dan Patrick Show ahead of the 2021 NBA Finals, NBA great-turned-analyst Barkley confirmed this with a story about an on-court interaction with Larry Legend.
"Larry Bird is one of my favorite people in the world," Barkley told Patrick before launching into a story about how funny Bird was and how much he loved to trash-talk:
I always laugh about Larry because Larry was like, 'Chuck, I need to talk to you,' in the middle of a game, Dan. I said, 'What's going on, LB?" He says, 'Ya'll being disrespectful to me.' I'm like, 'What do you mean?' He says, 'Ya'll got a white guy trying to guard me, that's disrespectful.' It caught me off guard, and I'm like, 'What do you mean?' He's like, 'There's not a white guy on the planet that can guard me.' I think it was Bob Thorton at the time.
That edge is what made Bird great. His dry sense of humor is what endeared him to his peers even though he consistently beat them in the 1980s. This included a young Charles Barkley.
Bird blocked Barkley's best team from reaching the NBA Finals
When NBA fans think about Charles Barkley's career and why he never won an NBA title, most think of Michael Jordan blocking his path. While Barkley couldn't get past the '90s Chicago Bulls later in his career, it was Larry Bird and the Boston Celtics that blocked the path of the most talented team he ever played on.
The 1984-85 76ers were just two years removed from winning the franchise's second NBA title (third if you count the Syracuse Nationals' 1955 championship before they moved to Philly). With the No. 5 overall pick in that year's draft, the team took a 21-year-old forward from Auburn to add to its impressive collection of talent.
Barkley joined future Hall of Famers Maurice Cheeks, Moses Malone, and Julius "Dr. J" Erving, along with All-Stars Andrew Toney and Bobby Jones on that squad.
The Sixers went 58-24 that season. In the playoffs, the team beat the then-Washington Bullets 3-1 and swept the Milwaukee Bucks. In the Eastern Conference Finals, it met Bird, Robert Parish, Kevin McHale, and the vaunted 1980s Celtics.
As good as that Philadelphia team was, it was no match for the Celtics. Boston won the series 4-1, holding the Sixers to 100 points or fewer in all the Celtics victories. Philly did win Game 4 with Barkley putting up 15 points and 20 rebounds.
Barkley's Sixers never played Bird's Celtics in the playoffs again, and Philly would never again get out of the second round with Sir Charles on the team. Two years later, Jordan's Bulls won their first playoff series, and the rest, as they say, is history.
All stats courtesy of Basketball Reference