Charles Barkley, Shaquille O'Neal Get Heated and Trade Shots on TNT: 'I Was a Better Defender Than You'
The Milwaukee Bucks are leading the Atlanta Hawks in the Eastern Conference finals, but a disagreement about how the series has played out turned into a heated war of words between NBA legends Shaquille O'Neal and Charles Barkley. In fact, Barkley and Shaq even traded some personal shots on TNT.
The Milwaukee Bucks and Atlanta Hawks are in a tough series in the Eastern Conference finals. However, they aren't the only ones who have been battling, as two of the analysts following their postseason runs recently got into a heated quarrel: NBA legends and TNT analysts Shaquille O'Neal and Charles Barkley.
Before Game 3 of the conference finals, O'Neal and Barkley discussed the Bucks' defensive strategies through the first two games. But it ultimately turned into a must-watch war of words between the two, with both of them even taking shots at each other.
Neither one held back, either.
Shaq and Charles Barkley debated about the Bucks and Hawks on TNT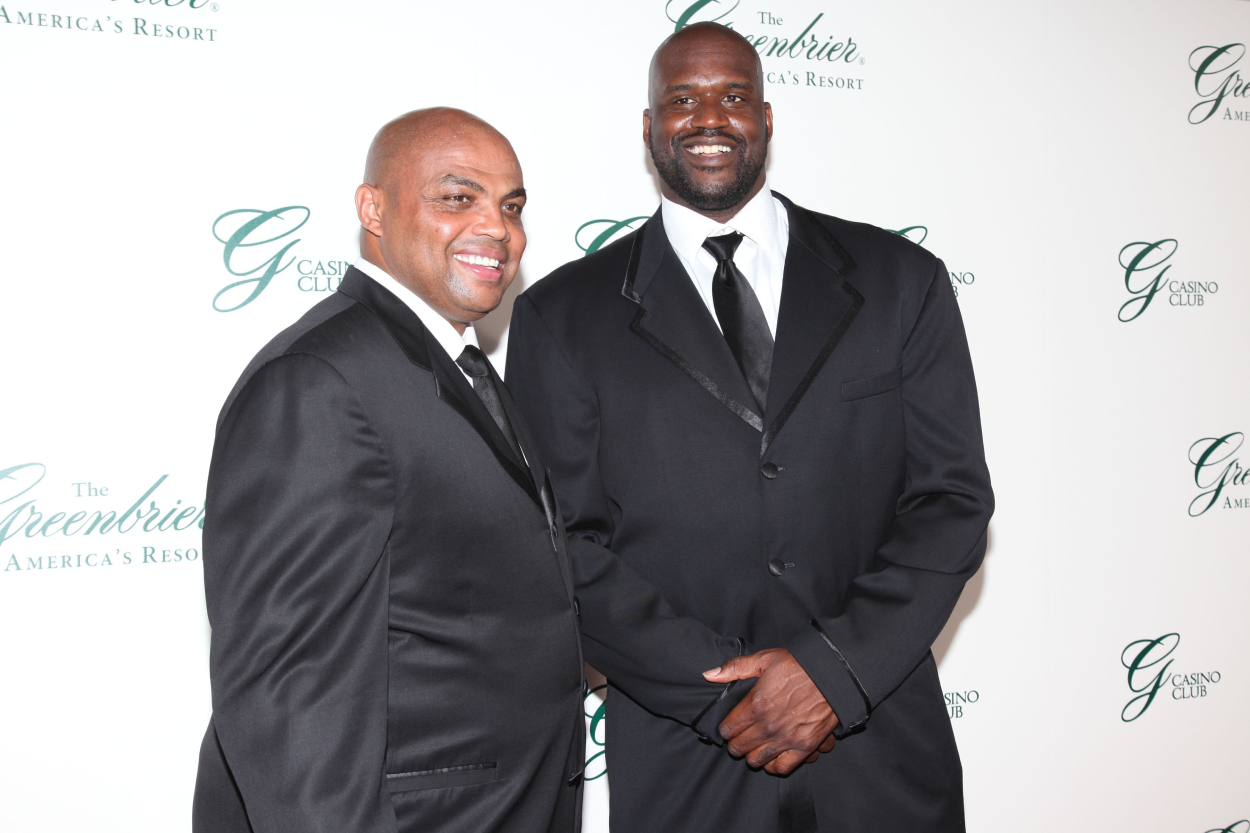 The Atlanta Hawks continued their impressive playoff run in the Eastern Conference finals with a 116-113 win over the Milwaukee Bucks in Game 1. However, Milwaukee played much better in Game 2, holding Atlanta to only 91 points and winning 125-91.
Ahead of Game 3, Barkley said that Atlanta got lucky in Game 1.
"They got lucky in Game 1 that the Milwaukee Bucks had the worst defensive strategy in the history of civilization," Barkley said on the June 27 episode of Inside the NBA.
Shaq responded to his fellow NBA legend and TNT analyst, saying the Bucks had the same defensive strategy in Game 2. Barkley, though, vehemently disagreed with him.
"They did not have the same strategy; you watched the game," Barkley said in between O'Neal's rebuttals. "… They were up on every pick-and-roll."
O'Neal then claimed that the Hawks just lost Game 2 because Trae Young turned it over nine times, but Barkley said that was a result of the Bucks' defense.
"That's because they cleaned out all the lanes; he didn't have no open lanes because they were doubling him on the pick-and-roll; that's why he was turning the ball over and shot the ball bad," Barkley said.
O'Neal kept claiming that Young just had a bad game before eventually trading some verbal jabs with Barkley.
Shaquille O'Neal and Charles Barkley took shots at each other on TNT
In response to Barkley saying Young struggled because of the Bucks' defense, O'Neal finally decided to take a shot at the former Philadelphia 76ers star's past defensive abilities.
"You don't know nothing about no defense; what the heck you talking about?" O'Neal said.
Of course, though, Barkley wouldn't just sit there and let O'Neal diss his game like that.
"You were an awful defensive player on the pick-and-roll; they were playing defense like you did [in Game 1], you can't play defense like that," Barkley said.
Shaq then insisted that no one should be listening to Barkley because he "ain't stopping nobody," and Barkley agreed about his poor defensive abilities — to an extent.
"I wasn't a great defender, but I was a better defender than you," Barkley said. "You were the worst big-man defender in the history of basketball, other than Brook Lopez in Game 1."
Things then quieted down after that, with O'Neal finishing the argument by saying Barkley needs to Google him.
The segment was ultimately pretty entertaining, and almost as fun as the game, which Game 3 ended up being pretty good, too.
The Milwaukee Bucks seem to have figured out how to beat the Atlanta Hawks
No matter who was right, the Bucks seem to have figured out how to beat the Hawks.
After dominating in Game 2, things were much closer in Game 3. The Hawks led 85-83 at the end of the third quarter, but the Bucks pulled away in the fourth with Khris Middleton dropping 20 points in the period to help his team win 113-102. He finished with 38 points, 11 rebounds, and 7 assists, while Giannis Antetokounmpo had 33 points and 11 rebounds.
Young played better for the Hawks, as he had 35 points, but after spraining his ankle in the third quarter, the Bucks held him to only three in the final quarter.
Whether the Bucks' two wins are a product of their own stellar defense or Young's Game 2 struggles/Game 3 injury, Milwaukee leads the series 2-1 and has all the momentum. It'll be fun to see how the teams respond in Game 4 and whether O'Neal and Barkley get into it again.
Given their personalities, this probably won't be the last time that we see Shaq and Charles passionately debate about this series on TNT.
Stats courtesy of Basketball Reference