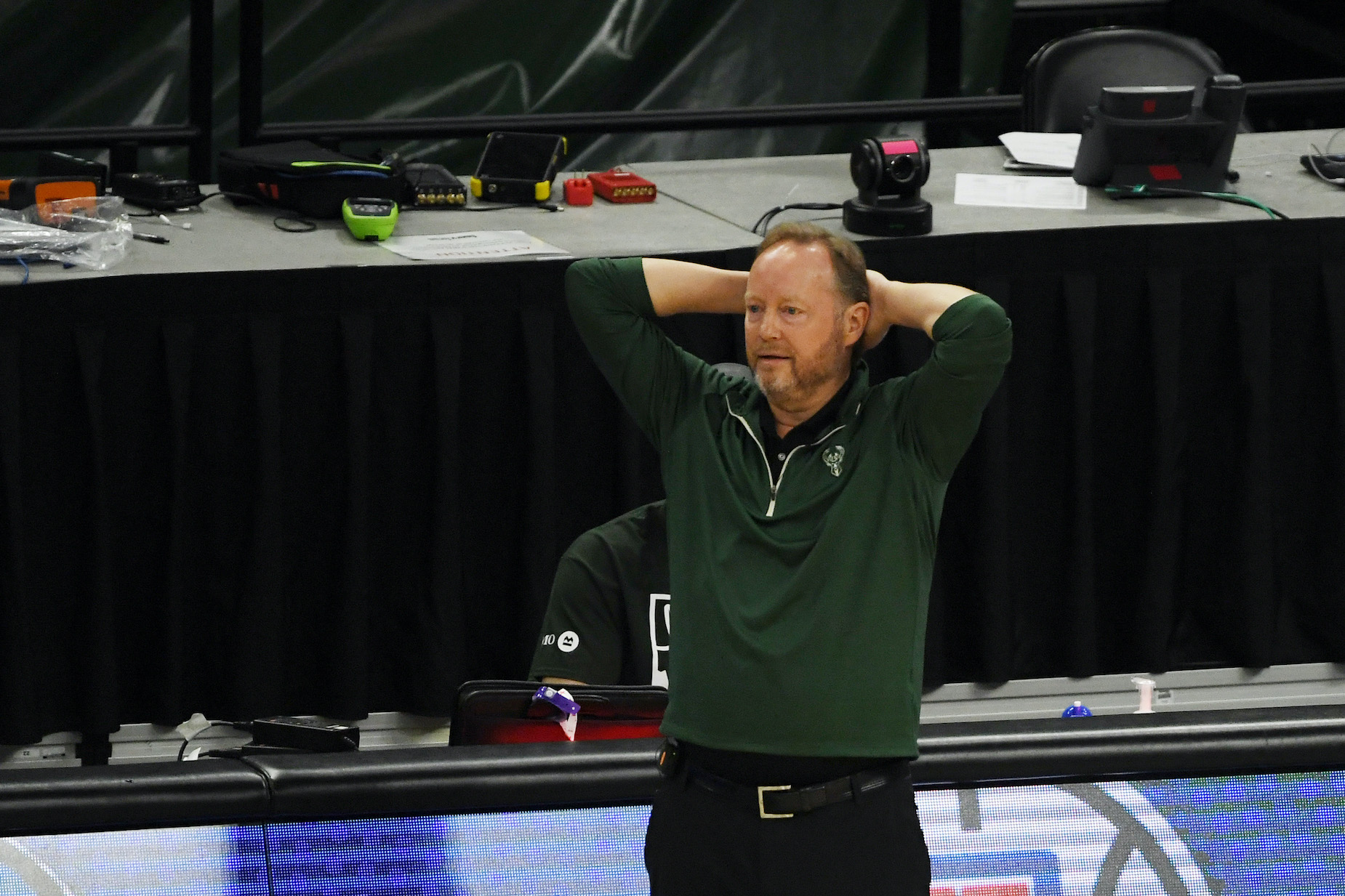 The Milwaukee Bucks Seem Poised to Make a Risky, Short-Sighted Decision Based on Their Victory Over the Brooklyn Nets
Mike Budenholzer may be a talented NBA coach, but beating the Brooklyn Nets shouldn't guarentee his future with the Milwaukee Bucks.
Upon first glance, the Milwaukee Bucks seem to be in a pretty good spot right now. In December 2020, the club convinced Giannis Antetokounmpo to sign an extension and commit to bringing an NBA Championship to Milwaukee. Now, thanks to the Greek Freak's strong play — and some luck — the club has reached the Eastern Conference Finals. While there's still plenty of basketball to play, the Larry O'Brien Trophy seems to be getting closer and closer by the day.
Beyond those obvious positives, though, the Bucks may have a longer-term issue. Thanks to the club's come-from-behind victory over the Brooklyn Nets, Milwaukee's brass is reportedly prepared to keep head coach Mike Budenholzer on the bench for the foreseeable future. While that move makes sense on an emotional level, it might not be the best basketball decision.
Mike Budenholzer and the Milwaukee Bucks dodged a major bullet against the Brooklyn Nets
Whether it's fair or not, players and coaches are usually judged on what happens in the postseason. Based on that reality, Budenholzer and his Bucks dodged a major bullet by surviving their series with the Nets.
As noted above, Milwaukee convinced Giannis to sign a new contract by (presumably) promising to do whatever it took to win an NBA championship. If the club did that and then crashed out of the playoffs in the second round, it would have been an ugly situation. At one point, it seemed like that's exactly what was going to happen.
During their Eastern Conference semifinals series with Brooklyn, the Bucks seemed destined for an early exit after dropping the first two games at the Barclays Center. Budenholzer's men fought back, though, and ended up receiving an assist from the basketball gods. Both Kyrie Irving and James Harden suffered injuries during the series; the latter guard managed to return to action, but he clearly wasn't 100%.
When the dust cleared, Milwaukee secured the series-clinching victory in Game 7. What looked like a disaster had turned into a dramatic triumph, leaving the club in a prime position to make a run at a championship.
That victory reportedly earned Mike Budenholzer some (less-than-ideal) job security
For virtually everyone affiliated with the Bucks, Game 7 represented a significant step toward their ultimate goal of lifting the Larry O'Brien Trophy. The win probably meant a bit more to Budenholzer, though.
"Mike Budenholzer knew coming into this season that his future in Milwaukee would be judged by his postseason performance," said Adrian Wojnarowski on NBA Countdown on Sunday (h/t RealGM). "He's gone through Miami, and now he's gone through the Brooklyn Nets into the Eastern Conference Finals. I'm told that has gone a long way in securing Mike Budenholzer's future in Milwaukee. He has one year left on his contract."
While Bud isn't a bad coach — he hasn't posted a 162-65 regular-season record in Milwaukee by accident — there are some questions about his ability to get the Bucks over the hump. Over the past few postseasons, he's shown a consistent hesitancy to adjust in key moments. When you have a generational talent like Giannis on your roster, the playoffs are the time to make the fullest use of his potential, not rest him on the bench or leave him to flounder in a half-court set against a settled defense.
Although Budenholzer did admittedly make some tweaks ahead of the 2020-21 campaign, it's not like he defeated the Nets through superior coaching skill and a world-class game plan. If not for some conveniently timed injuries, the Bucks could very well have been swept out of the second round.
Making matters worse, Rick Carlisle seems like an obvious replacement. While he apparently had some issues with Luka Doncic, the former Mavs bench boss knows how to get the most out of his players and has two championship rings to his name. Keeping Budenholzer, however, closes the door on his potential appointment.
Winning this year's championship would give the Milwaukee Bucks somewhat of a free pass
When you're a team in the upper echelon of the league hoping to win a championship, you need to be ruthless and seize every opportunity to improve. Keeping Budenholzer on the bench simply because he beat the injury-affected Nets doesn't fit that bill.
With all of that being said, though, there is one massive elephant left in the room. The Bucks are still in this year's playoffs and, thanks to some fortuitous results on both sides of the bracket, have a good chance of winning the NBA championship. That success would change everything.
While winning a title wouldn't automatically make Budenholzer a better coach, it would change the Bucks' perspective on things. Although dishing out long-term contract extensions based on a single playoff run can be a recipe for disaster, it does take some pressure off in the short term. If Bud brings a championship back to Milwaukee in 2021, fans will be a bit more understanding if he fails to adjust during the 2022 playoffs.
When you have a big ring on your finger, some problems just disappear.
Looking at the Bucks' big picture, though, deciding to keep Budenholzer on the bench reads like a short-sighted and reactionary decision. While it wouldn't keep Milwaukee from remaining one of the NBA's top regular-season teams, the lack of an upgrade on the bench could very well keep the team from reaching its full potential.
Stats courtesy of Basketball-Reference