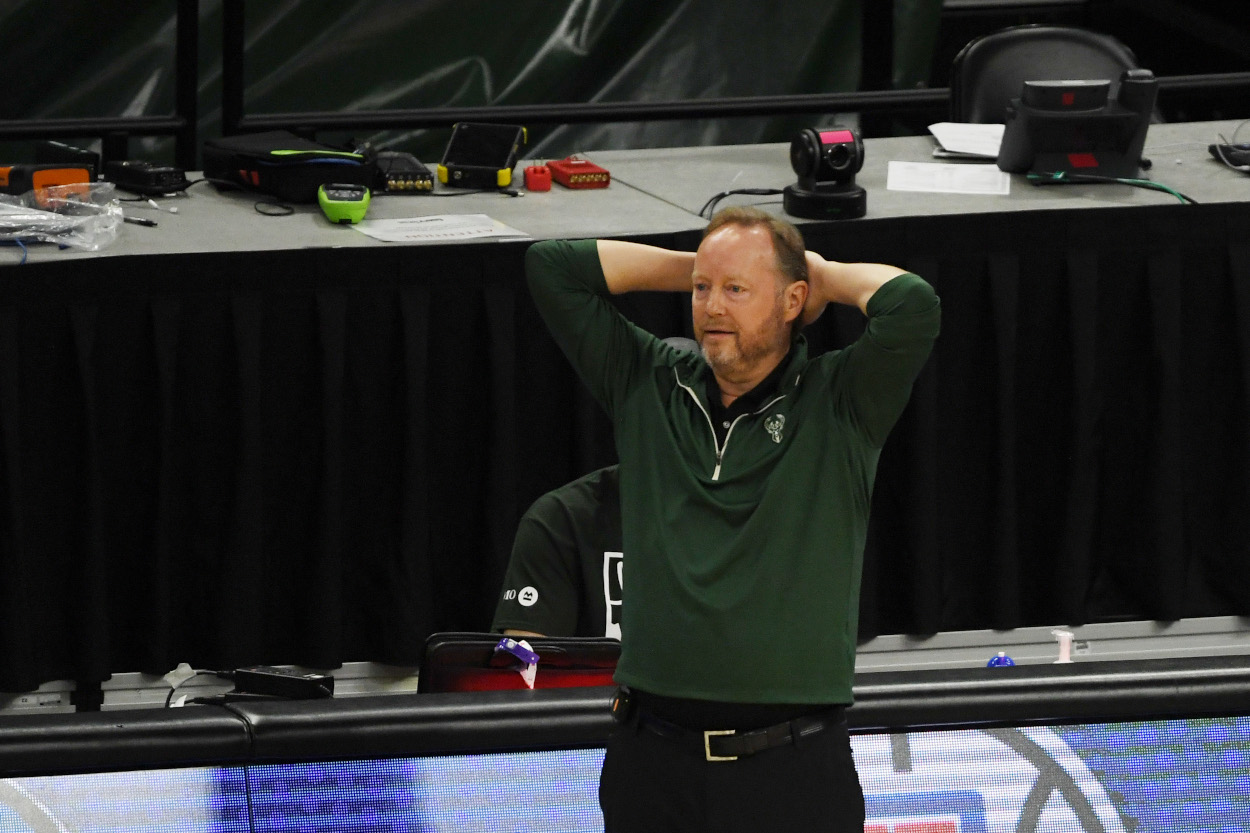 3 Candidates to Replace Mike Budenholzer After Milwaukee Bucks Are Eliminated by Brooklyn
Milwaukee Bucks head coach Mike Budenholzer has been rumored to be on the hot seat for much of the season, needing a strong playoff run to remain. After a humiliating defeat at the hands of the Brooklyn Nets in Game 2 of their Eastern Conference semifinal series, it might be time to start examining potential successors.
For the third year in a row, the Milwaukee Bucks rode Giannis Antetokounmpo to a dominant first-round victory in the NBA Playoffs. But as badly as the Bucks folded against the Miami Heat in the Eastern Conference semifinals last season, they were at least competitive in each game. During Game 2 against the Brooklyn Nets this time around, Mike Budenholzer's team just stopped doing much of anything. The Nets and their Big Three Minus One blasted out to a gigantic early lead and never looked back.
Is Budenholzer the problem? The Bucks have the best record in the NBA over the last three regular seasons at 162-65. But they continue to come up short in the playoffs. As the No. 1 seed in the East in 2019, Milwaukee took a 2–0 series lead at home against the Toronto Raptors. Then the Bucks proceeded to lose the next four games. As the East's top seed In the 2020 playoff bubble, they fell behind 3–0 to the fifth-seeded Heat en route to a five-game exit.
For weeks, there has been speculation that another playoff flameout could lead to a coaching change in Beer City. The Bucks have squandered four years of Giannis Antetokounmpo's prime with tactically limited Jason Kidd, followed by Budenholzer.
Why have the Milwaukee Bucks faltered in the playoffs under Budenholzer?
The Milwaukee Bucks have gone 19–12 in the postseason with Mike Budenholzer as their coach. A loss to Brooklyn would mark the first time during that stretch, however, that a higher-seeded team would oust the Bucks. But is Budenholzer the problem?
Milwaukee was a top-five team offensively in 2020–21, averaging 116.5 points per 100 possessions. Not surprisingly, that number has gone down in the playoffs to 109.2. But in the first two games against the Nets, the offense is getting a shockingly poor 97.0 points per 100 possessions.
Brooklyn exploiting a familiar fault of Milwaukee's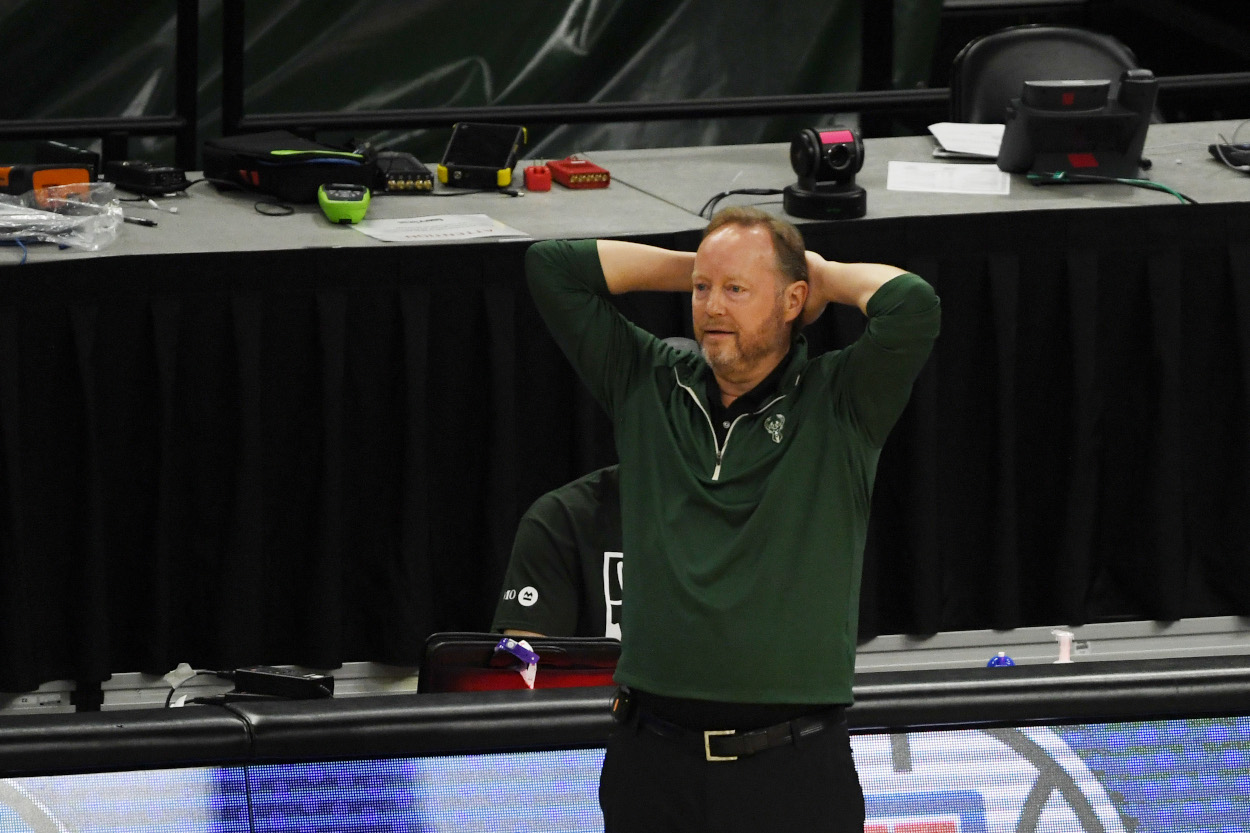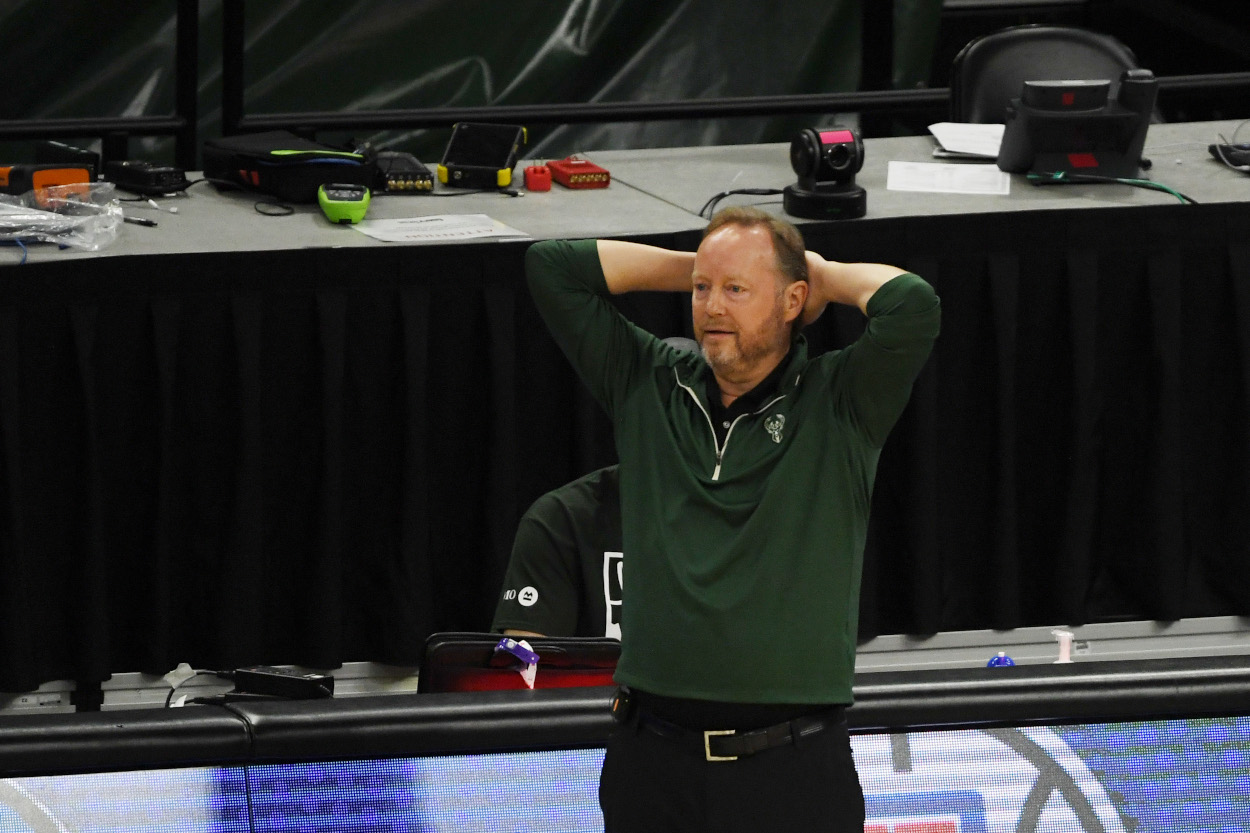 During Game 2, the offense descended into the same unsuccessful mess shown against the Heat in 2020. That entailed Giannis Antetokounmpo working in isolation against an already-set defense, while four other players found comfortable places on the floor from which to stand and watch. It doesn't help that the Bucks can't hit an ocean if they threw a rock from the beach. Milwaukee is shooting just 24.6% from 3-point range in the Brooklyn series. But at least they went the entire first quarter of Game 2 without attempting a shot at the rim, so they have that going for them.
Throw in Budenholzer's reluctance to shorten his rotation when the games are at their most crucial, and it's a situation that again has a talented Bucks team looking like so much playoff roadkill.
Who does the Milwaukee Bucks turn to in the wake of another disappointing exit?
Giannis Antetokounmpo signed a five-year, $228 supermax extension in December 2020, so he's in place through 2024-25. He also has a $51.9 million player option for 2025–26 (and wouldn't we all like to have those sorts of options?). They don't have a lot of cap flexibility. Khris Middleton and Jrue Holiday carry massive contracts. That would dictate a coaching search for someone ready to win now.
That could exclude some hot assistant coaching candidates, such as Brooklyn's Ime Udoka, San Antonio's Becky Hammon, or the Bucks' own Darvin Ham. Then again, the Nets turned to neophyte Steve Nash, and that's worked out OK so far.
Three candidates could be intriguing fits in Milwaukee.
Terry Stotts: Stotts and the Portland Trail Blazers just parted ways after nine seasons together. It was the third NBA head coaching stop for Stotts and the first where he found success. Stotts won a championship as an assistant in Dallas in 2011. He also has ties to Milwaukee, having worked there as an assistant from 1998–02 and serving as head coach from 2005–07.
Dave Joerger: He was pretty successful with the Memphis Grizzlies from 2013–16. His three-year run with the Sacramento Kings saw the team improve each season. He's currently an assistant with the 76ers.
Mike Brown: Brown took the Cleveland Cavaliers to the NBA Finals in 2007. He also filled in ably for Steve Kerr for the Warriors during the 2017 NBA Finals. He has the experience and brings rings as an assistant.
A wild card could be Sam Cassell, like Joerger, an assistant in Philadelphia. Cassell won three NBA titles as a player. An assistant coach since he stopped playing, Cassell was a fan favorite during his stint with the Bucks from 1999–2003. He's never gotten a head coaching shot, but maybe he's due.
Statistics courtesy of Basketball Reference and NBA.com.