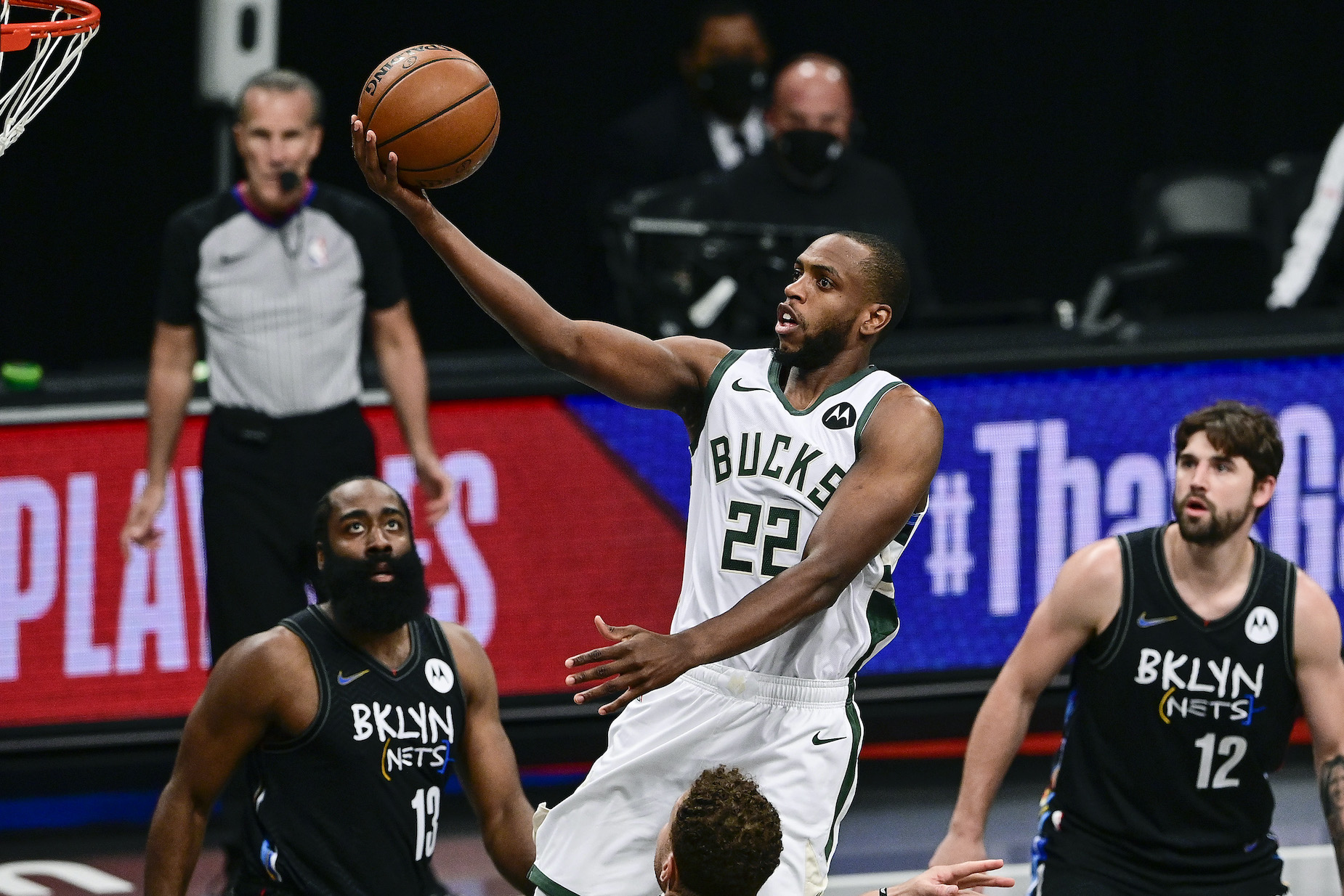 Khris Middleton Has Made $120 Million in the NBA and Used Part of That Fortune to Buy Part of a Professional Basketball Team
Khris Middleton has made plenty of money playing pro basketball and, in April 2021, used that wealth to move into ownership.
When you think of the modern Milwaukee Bucks, Giannis Antetokounmpo is probably the first name that springs to mind. While the Greek Freak may be the team's biggest star, he can't do it all alone. That's where Khris Middleton comes in.
Although being the second option on an NBA team might not seem like the greatest accomplishment, his place in the depth chart hasn't stopped Middleton from earning plenty of money. The sharpshooter has earned $120 million during his time in the Association, allowing him to buy into professional basketball ownership.
Khris Middleton has carved out a $120 million career in the NBA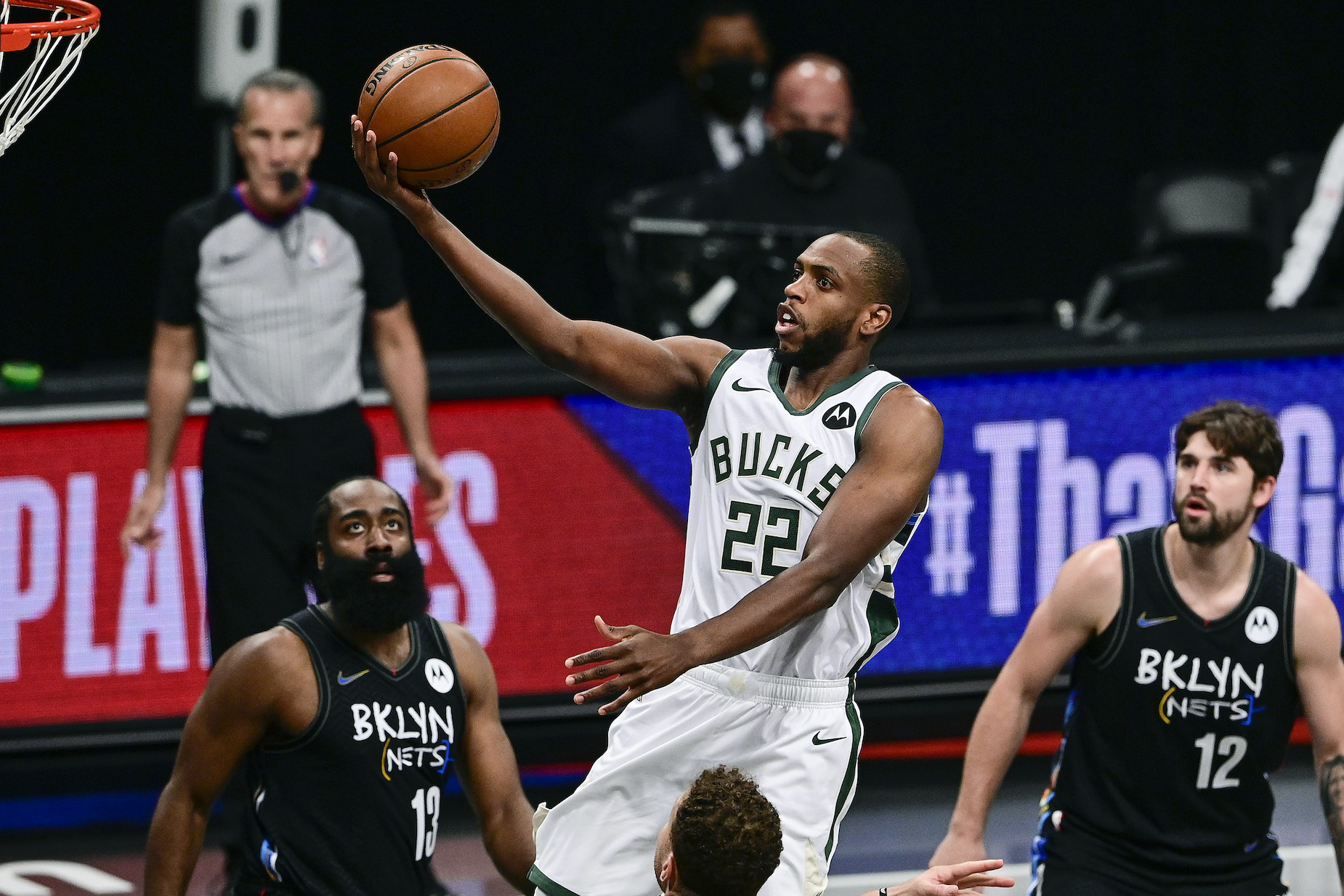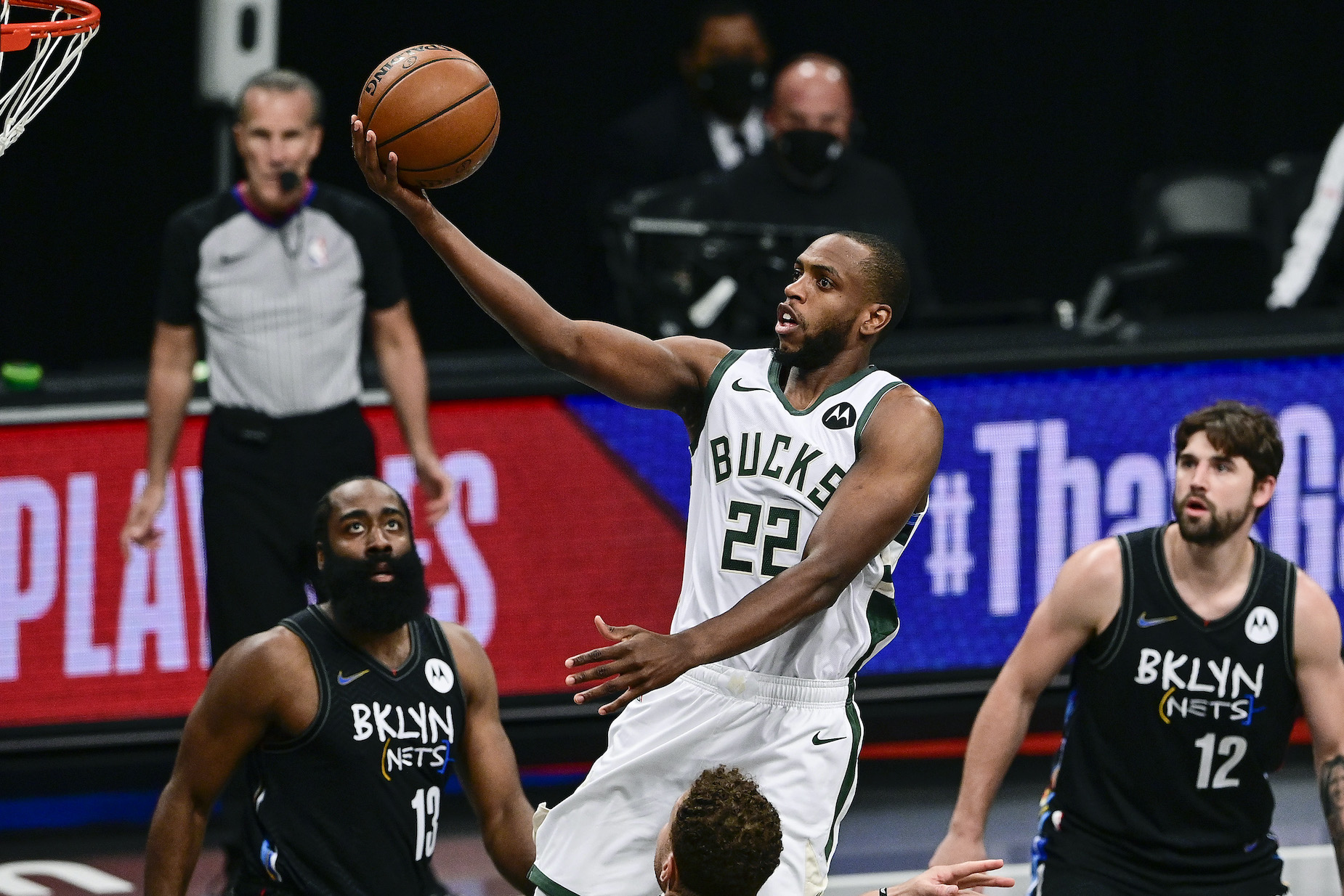 In the modern NBA, it's not enough to have one elite player on your roster; a dynamic duo or, ideally, a big three is almost a requirement to compete for a championship. While Middleton might not sit in the league's upper echelon, that dynamic has earned him earn a nice chunk of change.
After playing his college ball at Texas A&M, Middleton joined the Detroit Pistons in the second round of the 2012 NBA draft. The small forward didn't make much of an impact in the Motor City, though, and split his time between the Association and the D-League. After that quiet rookie campaign, the Pistons shipped him to Milwaukee as part of the Brandon Jennings trade.
In Wisconsin, Middleton hit his stride. After two solid seasons, he had shown enough to earn a five-year, $70 million contract extension. The forward didn't rest on those laurels, though. He continued to improve and, with each passing campaign, he became more and more valuable.
As Giannis Antetokounmpo blossomed into a star, Middleton emerged as a legitimate number-two option. For all of the Greek Freak's strengths, he's struggled to knock down outside shots consistently. Middleton, on the other hand, is a capable shooter, which helps space the floor and keep Milwaukee's offense a bit more balanced.
On the back of that valuable role, the forward earned himself another raise ahead of the 2019-20 campaign and inked a five-year, $177.5 million contract. That brings Middleton's all-time NBA earnings to a shade under $121 million through the 2020-21 season; by the time his current deal expires, he'll have eclipsed $234 million in salary.
Khris Middleton has used some of that fortune to become a part-owner of the Brisbane Bullets
As professional athletes made more and more money, it's become fairly standard to read stories about all sorts of exorbitant purchases and impulse buys. Middleton, on the other hand, decided to use some of his NBA earnings to buy into professional basketball ownership.
In April 2021, news broke that Middleton has become a partial owner of the Brisbane Bullets, who play in Oceania's National Basketball League (NBL). While specific terms of the deal weren't revealed — we don't know how much the Bucks forward invested or how much of the team he owns — both parties seemed happy to get the arrangement over the line.
"Khris has thousands of opportunities to invest money into different sectors, so we are excited to have him as part of our team," Bullets majority owner Kevin Martin said in an official statement. "Though he has 10 more years in the NBA to play, with this opportunity, he will be able to be a part of a professional basketball ownership journey in one of the most coveted places in the world."
"I'm thrilled to be announcing that I'm joining the ownership group of the Bullets," Middleton added. "I traveled to Australia with Team USA in 2019 and saw firsthand the passion for basketball that Australians have. The game of basketball is constantly evolving; especially on a global scale, and the Bullets are a team that has incredible potential for growth both on and off the court."
The Milwaukee Bucks man isn't the only NBA player involved in the NBL
For most North American NBA fans, the NBL is little more than a lower-tier league on the opposite side of the world. For those with millions of dollars to spend, though, it represents an opportunity to break into basketball ownership.
Midleton isn't the only NBA player to buy into an NBL team. Kevin Martin, the Bullets' aforementioned majority owner, spent a decade in the Association. Thaddeus Young is also on Brisbane's books as a partial owner and, elsewhere in the league, the likes of John Wall, Zach Randolph, Al Harrington, Victor Oladipo, and Shawn Marion all have various stakes in clubs.
At the end of the day, it all comes down to market price. While someone like Khris Middleton may have millions in the bank, he's not quite at NBA-owner levels of wealth. That's where the NBL comes in.
"You have to be a billionaire to own an NBA team," Martin explained in a 2019 ESPN story. "And none of us are billionaires."
Contract information courtesy of Spotrac