WNBA Legend Sue Bird Was 'Devastated' by a Conversation With Her New Teammate
There will not be enough room on the plaque to highlight all of Sue Bird's achievements when she enters the Naismith Memorial Basketball Hall of Fame as a first-ballot inductee after she retires from the WNBA.
Bird has been playing professionally for two decades, and she is one of the greatest athletes the sport has seen. However, her longevity in the game has brought about one of those mid-life crisis moments that comes with turning 40.
Sue Bird has done it all professionally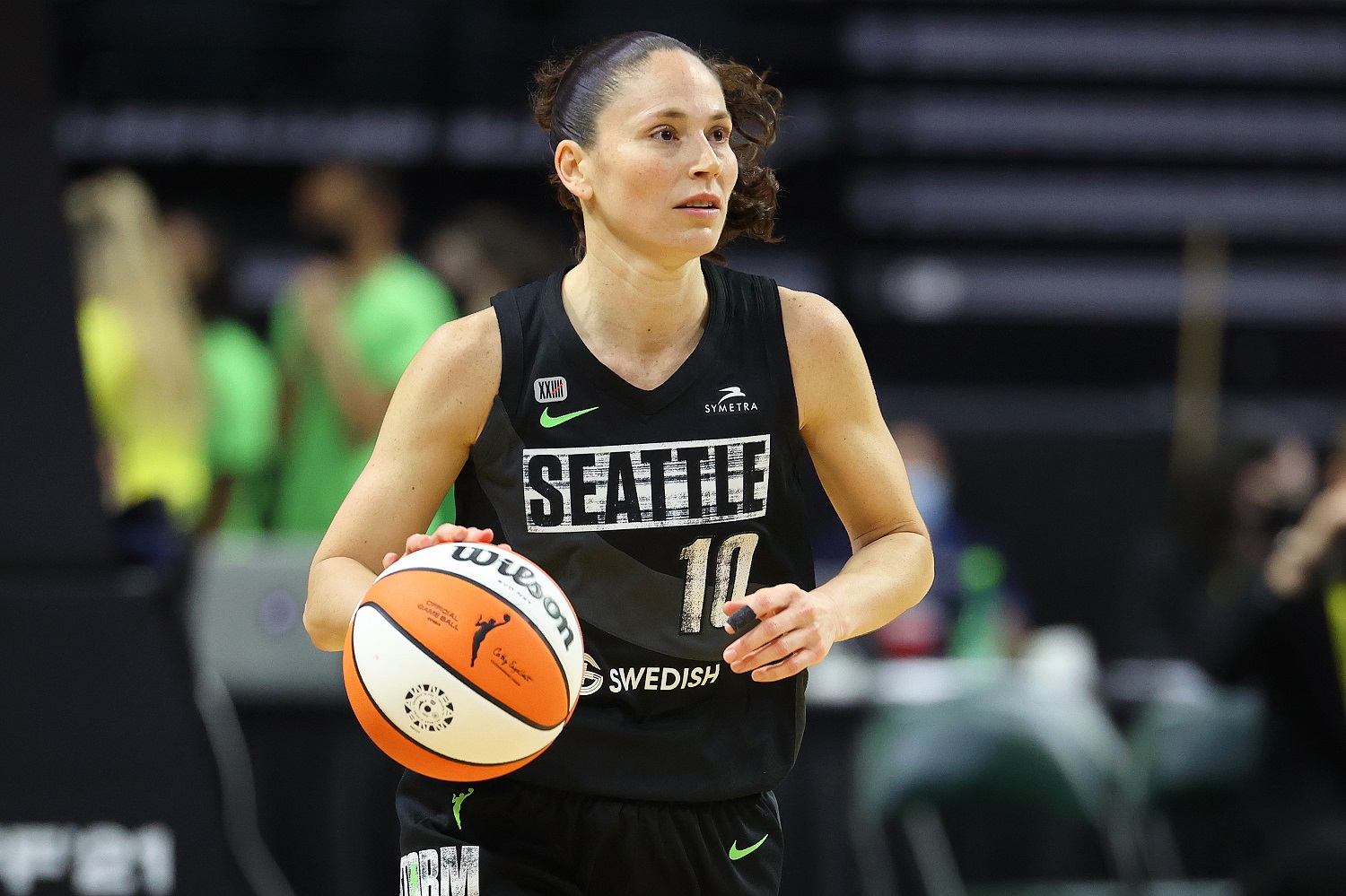 Bird launched her 18th WNBA season by scoring 11 points and contributing eight assists in the Seattle Storm's 97-83 victory against the Las Vegas Aces. The numbers may not be extraordinary for a typical point guard, but Bird is anything but typical. She's 40 years old in a league in which the average age is 26.
Bird leads the WNBA in career games, minutes, and assists. She is also third in 3-pointers, fourth in steals, and 11th in win shares, according to Basketball Reference. She's achieved all that despite missing two full years with injuries — and half of the abbreviated 2020 season, as well.
Aside from her WNBA career, the former UConn great played 11 seasons overseas and helped the United States to four gold medals in the Olympics to go with her four titles with the Storm.
Turning 40 recently became a 'devastating' experience for Bird
Age was just a number to Bird — until it smacked her in the face like a basketball being rejected by Storm teammate Breanna Stewart. It all changed once new teammate Mikiah "Kiki" Herbert Harrigan put it in perspective for her.
Harrigan came to the Storm in February via a trade with the Minnesota Lynx. As a rookie guard out of the University of South Carolina, she averaged 3.8 points per game in limited action. However, the more relevant number is her age — 22 — which came up during a media availability for Bird ahead of the opening game.
"I found out today that my new teammate, Kiki, her mom is my age," Bird said, according to Yahoo! Sports. "We have the same birthday. Like, she's 40 the same way I'm 40. She was like, 'Oh, don't worry, she's a young mom.' I'm like, 'She's a mom to my teammate.'
"She's like, 'She's excited to meet you.' It's like, 'Yeah, she probably wants to hang out and get drinks.'"
The WNBA veteran can relate to LeBron James, Tom Brady
Bird segued briefly to a discussion of older athletes enduring by taking better care of themselves. Then she circled back to one more thought about being as old as a teammate's mother.
"Devastating," she said. "Just devastating."
Bird was having fun with reporters as she told the story about Harrigan's mother. But she did turn serious about age in a broader context. It's hard not to notice that Tom Brady recently won his seventh Super Bowl ring at age 43. Before his high ankle sprain, LeBron James was playing his usual remarkable basketball at 36. Nelson Cruz is 40 years old and continues to hit for average and power.
"I kind of joke — myself, Diana (Taurasi), and I don't say this lightly, LeBron James, Tom Brady — I think we're changing the conversations of what it means to have a long career as an athlete," Bird reflected. "I think the way I always joke about it is 40 is the new 30."
If that's the case, sign Bird up for another decade. She played through her 30s like a champ once before. The basketball world is curious to see whether she can do it again.
Like Sportscasting on Facebook. Follow us on Twitter @sportscasting19.