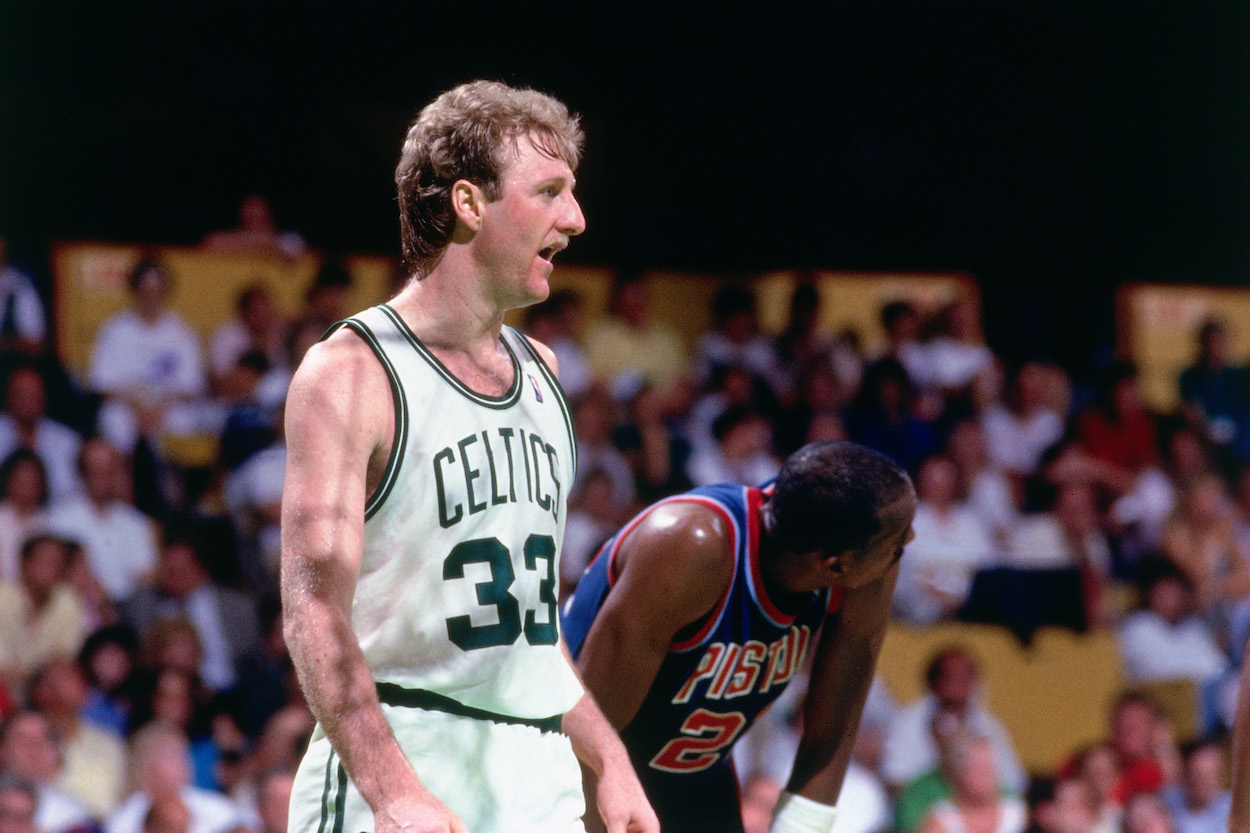 Larry Bird Told His Defender How He Was Going to Hit His Game-Winning Shot, Then Apologized: 'I Didn't Mean to Leave Two Seconds on the Clock'
Larry Bird was a trash-talking master who told defenders exactly how he was going to hit game-winning shots then hit them in their faces. He did it once to Xavier McDaniel of the Seattle Supersonics and another time to Byron Scott, James Worthy, and the Los Angeles Lakers. It's why Bird's one of the greats.
Boston Celtics icon Larry Bird could talk a big game, but he could back it up too. Whether it was calling his shot "from the trainer's lap" or calling his Three-Point Contest rival a benchwarmer, the Bird trash talk stories are legendary.
One of the best Bird calling his shot stories comes from 12 year NBA vet Xavier McDaniel. The play happened at the end of a tight game in 1986 between the Celtics and the Seattle Supersonics. Bird told the X-Man exactly what he was going to do and then did it. However, unlike many of Bird's insane moments, this one didn't go perfectly to plan.
Bird had a great 1986-87 season, but the Celtics came up short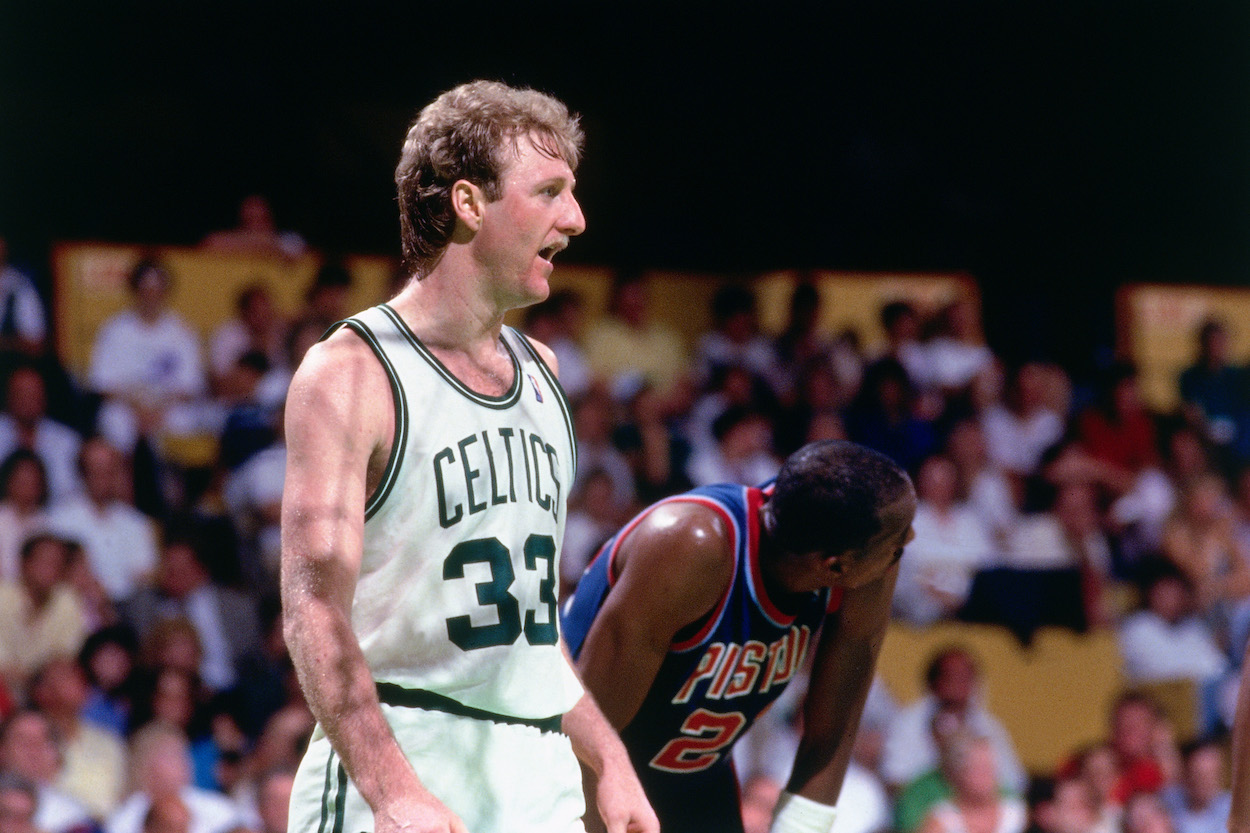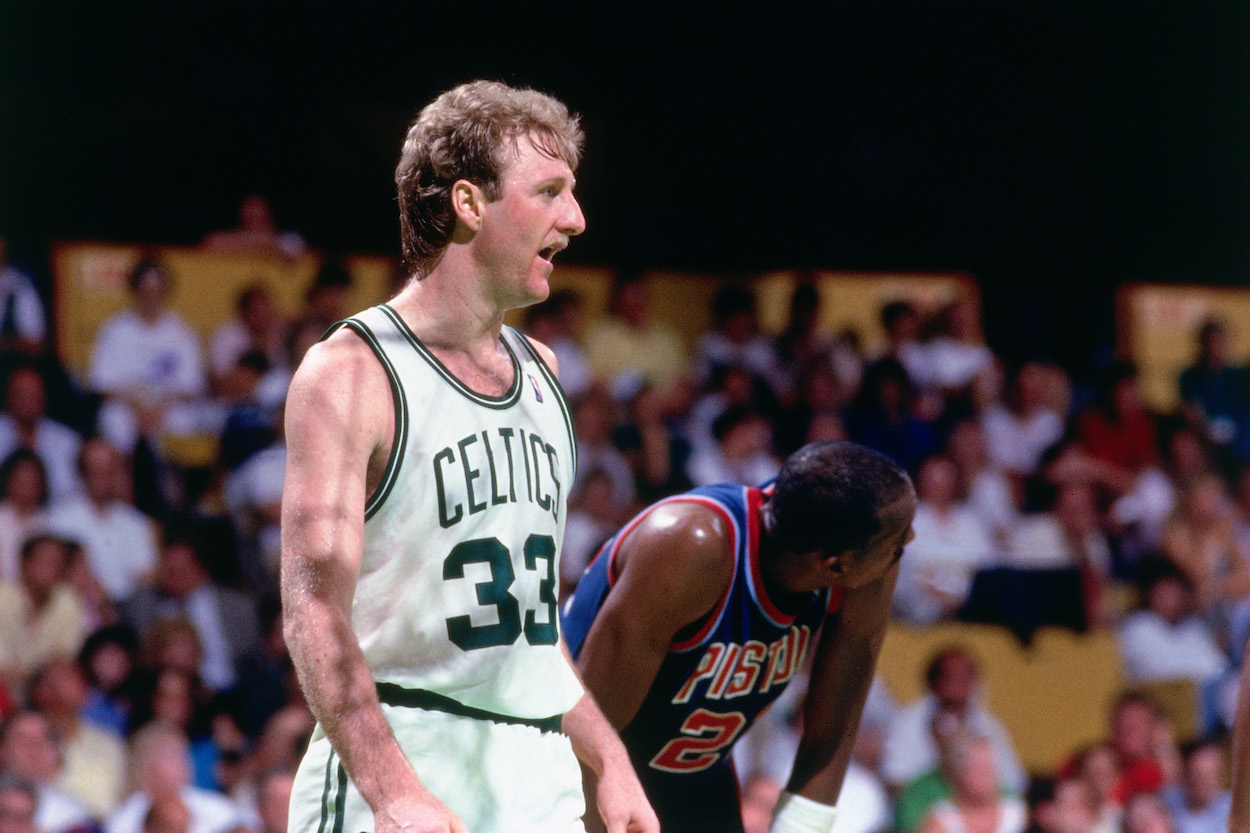 The 1986-87 season was another excellent season for Bird in a long line of great seasons. He was coming off three consecutive NBA MVP Awards and once again dominated the league. He led the NBA in minutes (40.6), 3-pointers made (90), and free throw percentage (91.0%). Bird also averaged 28.1 points, 7.6 assists, and 9.2 rebounds per game.
After back-to-back-to-back MVPs, though, he lost that season's award to his rival out west, Magic Johnson. Johnson also got the better of Bird in the NBA Finals. It was the third time in four years the Celtics and Los Angeles Lakers faced off in the Finals and the rubber match series between the two famous franchises.
Johnson and the Lakers took the series four games to two, and Magic won the Finals MVP Award. It was the last Finals appearance for Bird. The "Bad Boy" Detroit Pistons came out of the East the next three seasons, and Michael Jordan's Chicago Bulls made and won the Finals the three seasons after that.
Bird called his shot against Xavier McDaniel and the Seattle Supersonics
Injuries would start to take a toll on Bird in the following years, but Larry Legend was still at the top of his game in 1986. It was that Larry Bird who schooled McDaniel with a moment that would become part of Bird's lore.
At the end of a close game in December, Celtics coach K.C. Jones went to diagram a play. "About that time Larry steps in and says, 'Coach, why don't you just give me the ball and tell everybody to get out of the way?'" Bird told Jones.
Once Jones decided to give Bird what he wanted, the Hick from French Lick shared his plan with McDaniel, the player assigned to guard him.
Bird told McDaniel that he was getting the ball. "I know," said McDaniel, "And I'm gonna be waiting." Bird continued to point out the exact spot he was headed to and told McDaniel he was "gonna shoot it right in your face." McDaniel tells the rest of the story:
He came out at about that exact spot and shot a shot right in my face, and he was like, 'I didn't mean to leave two seconds on the clock.' He wanted to shoot it with zero seconds on the clock, and I go back to the sidelines like, 'damn.'
As impressive as this feat of trash talk and execution was, it wasn't the only time Bird did it.
Bird called his shot against the Lakers as well
Calling a game-winning shot wasn't a one-time deal for Bird. It was something he did more than once in his storied NBA career. Byron Scott, a Lakers guard in the 80s and 90s, told Dan Patrick an eerily similar story about a completely different game on The Dan Patrick Show:
On the last play, he says to James Worthy, 'You guys don't have to worry about it. I'm gonna go right over there to that corner, they're going to set a screen for me, we're taking the ball out, I'm gonna curl right over' – and he's telling us the play! He's telling us the play before they even take it out. He's saying, 'I'm gonna go right over to that corner and I'm gonna catch the ball, and I'm gonna shoot it and tie the game (or win the game)' whatever the case may be.

They take the ball out, and I think it was either Danny (Ainge) or the late, great DJ (Dennis Johnson). Take the ball out, and the man curls right to the corner, cocks a shot, shot a 3, game over. I'm just like, 'are you f'in kidding me?'
It is stories like these that make Bird one of the greatest of all time. It's what elevates him to another level.
LeBron James and Kevin Durant and all the small forwards who came before and since Bird may have impressive stats and unforgettable moments. However, until you hear a story about those greats telling their defenders exactly what they are going to do and then doing it, Larry Bird is still the greatest.
All stats courtesy of Basketball Reference