Larry Bird 'Schooled' a Young Dennis Rodman With Some of His Signature Trash Talk: 'Dennis, Are You Guarding Me?'
While he eventually became known for his extracurricular activities, Dennis Rodman first made a name for himself as a tenacious defender willing to do the dirty work on the hardwood. As an NBA rookie, though, he faced a stiff challenge in the form of Larry Bird.
Although trying to defend one of basketball's top offensive talents is tough enough, Larry Legend wasn't one to take it easy on a rival. In fact, he taunted Rodman throughout their initial encounters, even going as far as asking the Worm if he was playing defense.
Larry Bird earned a reputation as one of the NBA's top trash talkers
When you think of Larry Bird's skills, his shooting touch and overall offensive game probably spring to the forefront of your mind. While those talents helped make him a living NBA legend, he also had a knack for trash talk.
While it's easy to write trash talk off as a mean-spirited way to mess with an opponent, Bird didn't usually tear down his opponents. Instead, his verbal warfare focused on confidence in his own ability. One of the forward's signature moves was telling a defender exactly how he planned on scoring, then pulling it off.
On some occasions, though, Larry Legend pushed things even further. During a game against the Suns, for example, the Celtics needed two points to tie the contest and force an extra frame. But Bird wasn't prepared to play any overtime that night. He told the Phoenix bench that he was tired of playing against them, nailed a game-winning three, and headed to the locker room.
Even Michael Jordan, one of the most competitive men that basketball has ever seen, appreciated Bird's efforts. During a 2015 Flight School camp, he said Celtics star was the best trash talker he ever faced and noted that he relied on "good trash, though, not dirty trash."
Schooling a young Dennis Rodman during his rookie season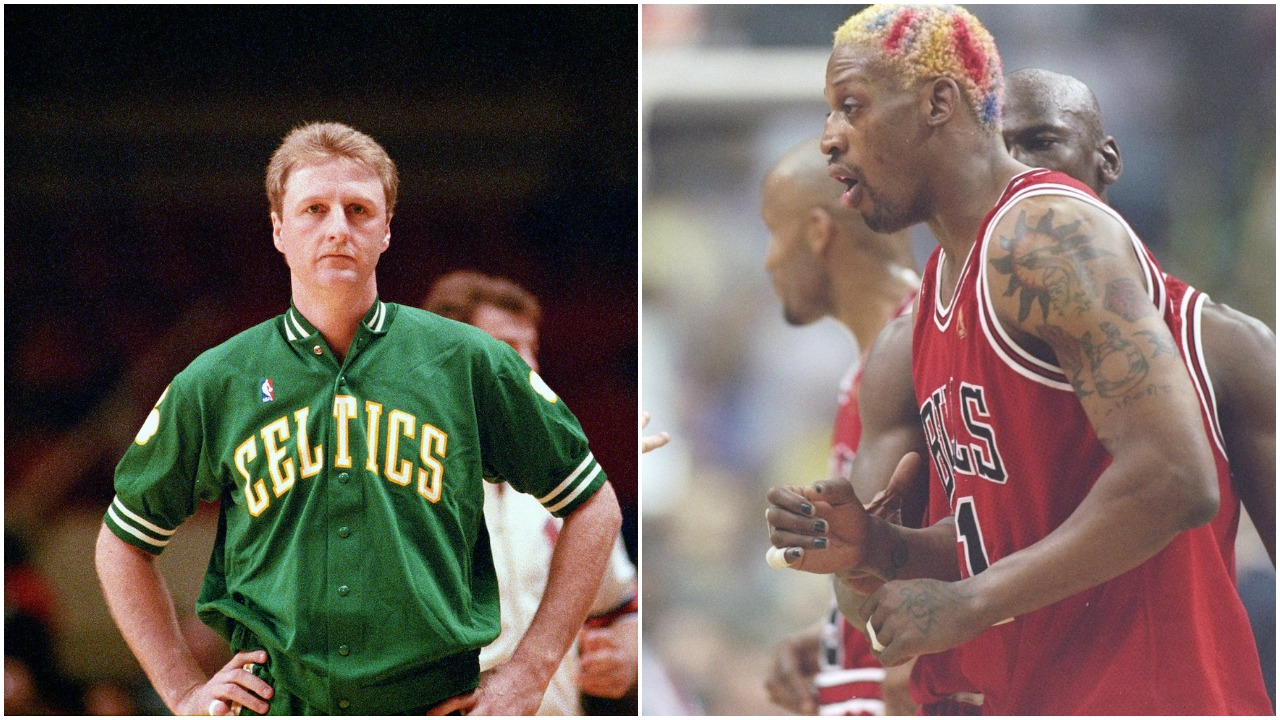 During his time in the pros, Dennis Rodman proved to one of the toughest defenders around. As a rookie, though, he faced a stiff test of his mettle in the form of Larry Bird. Not only did the Celtics' star put on an offensive show, but he also hit the Worm with some trash talk along the way.
During an appearance on the Basketball Time Machine podcast, Rodman fielded a question about the Celtics-Pistons rivalry. While the forward admitted that he didn't understand the hate until he hit the floor against Boston, he did share an anecdote about that first game.
"I didn't know the rivalry was like that until I got to participate in the first game in 1986-87, and I tried to do my best to go on Larry Bird – it didn't work too well, he kind of schooled me a little bit," Rodman explained. The whole game — every game — he plays it [by saying], 'Dennis, are you guarding me? Take that for you.' 'Alright, I'll take that, Larry. I'll take that. I'll take that.' He'll shoot a jump shot and say, 'Dennis, you like that?' I said, 'You know what man, the hell with you."
If you look online, there are also stories that Bird made some comments to Pistons coach Chuck Daly, suggesting that someone should defend him and further building on the idea that the rookie was so ineffective that he might as well be sitting on the sidelines. There's no confirmation, however, that that interaction ever took place.
Based on Basketball-Reference's game logs, it seems like Rodman's first encounter with Bird took place in March 1987 as he didn't see the court during the teams' first meeting. Larry Legend scored 23 points in a Celtics win and, since the Worm only played 13 minutes coming off the bench, clearly trash-talked well enough to leave a lasting impact on his young opponent.
Dennis Rodman infamously threw his own trash talk back at Larry Legend at the end of that season
Even early in his career, Rodman wasn't going to take that trash talk lying down. In fact, when the 1986-87 season ended, the rookie forward took an infamous shot at Bird.
After the Celtic eliminated Detroit in the Eastern Conference Finals, Rodman told the world exactly what he thought of Larry Legend.
"He's not God," Rodman said, according to The Orlando Sentinel. "He ain't the best player in the NBA, not to me. … He's white. That's the reason he gets it, the MVP award. Nobody gives Magic Johnson credit. He deserved it last year, too. I don't care. Go ahead and tell him. You'll put it in the paper anyway." Isiah Thomas agreed but later insisted that he was joking.
Unsurprisingly, Rodman's agent forced the forward to apologize for his comments. Bird, however, wasn't too concerned with the entire saga.
"Well, I've been in them locker rooms after tough losses," the Celtic told Marc J. Spears of The Undefeated in 2019.
"There is no telling what's said off the record, heat of the battle. Stuff like that never bothered me. Everybody is going to have their opinion, they're going to say what they're going to say, you just go on about your business. I can remember after that game somebody come up to me right away after they talked to Isiah. But really, it wasn't a big deal."
As Michael Jordan noted, Larry Legend only talked "good trash." Dennis Rodman, on the other hand, always preferred to play by his own rules.
Stats courtesy of Basketball-Reference