Larry Bird's Still Mad About His High School Point Guard Missing Free Throws Decades Later
Larry Bird became one of the greatest basketball players in history thanks to his incredible skills on the court. He became a champion thanks to his fabled competitive drive. That will to win started early for Bird, dating back to at least his high school days.
The Legend demonstrated his competitive fire in 2015 when he told radio host Dan Patrick that missed free throws from a high school teammate still bother him 40-plus years later.
Larry Bird grew up in French Lick, Indiana
Bird's most famous nickname comes from his hometown. Throughout his career in Boston, the publically-reserved Indiana native was known as the "Hick from French Lick."
The all-time great grew up in French Lick, Indiana, a tiny town with a current population of 1,777, per the U.S. Census Bureau. It is in rural Southern Indiana, about 100 miles southeast of Indianapolis and 60 miles northwest of Louisville, Kentucky.
Bird grew up poor in this sparsely populated area, and, to this day, the median household income in French Lick is just $37,377. Almost 20% of the town still lives below the poverty line.
The reason Bird got out is because of his incredible basketball skills. The first time a wider audience got a look at the future superstar was in the famed Indiana High School Basketball Tournament. The state-wide tournament, made famous by the movie Hoosiers, allowed all schools, even Bird's tiny Springs Valley High School, to compete against the biggest teams in the state.  
Bird (and his hometown) are still mad about his high school teammate's missed shots
In 2015, Bird was an executive for the Indiana Pacers. He joined The Dan Patrick Show to discuss the Pacers' special edition Hickory High uniforms from the 1986 film.
Patrick asked Bird to explain the "Hoosiers phenomenon." Bird started describing his experience as a young player in the tournament but couldn't help throwing his high school teammate under the bus:
The dream was to be good enough to play against the big schools, and that's what we tried to do. We tried to maybe be good enough to maybe have an opportunity one day to play against the Crispus Attucks or Jeffersonville or New Albany, but, unfortunately, I played with a kid that kept missing free throws at the end of the game, and we didn't get there.

Larry Bird on The Dan Patrick Show
The host burst out in laughter and asked if the other teams were implementing a "Hack-a-Shaq" strategy back in the '70s. "Well, with my point guard, he got a little nervous, and they knew it, and so they started fouling him," Bird explained. "And we just didn't make it."
"You're not over it, are you?" Patrick guessed. "Never!" Bird exclaimed. "A loss is a loss, and [it was] a big loss."
It wasn't just Bird who held onto these feelings over the ensuing decades. People in his town remembered it as well:
You know what's funny? I was at a party about two years ago – it wasn't a party, it was a cookout – and this lady in her 70s, she looked at my friend and says, 'What are you doing here?' And he goes, 'Well, I'm coming to the cookout.' She goes, 'After missin' them free throws back in '74, you shouldn't even show your face.'

Larry Bird on The Dan Patrick Show
The moral of this story is that basketball is no joke in French Lick, Indiana.
Bird stayed local and went to Indiana State for college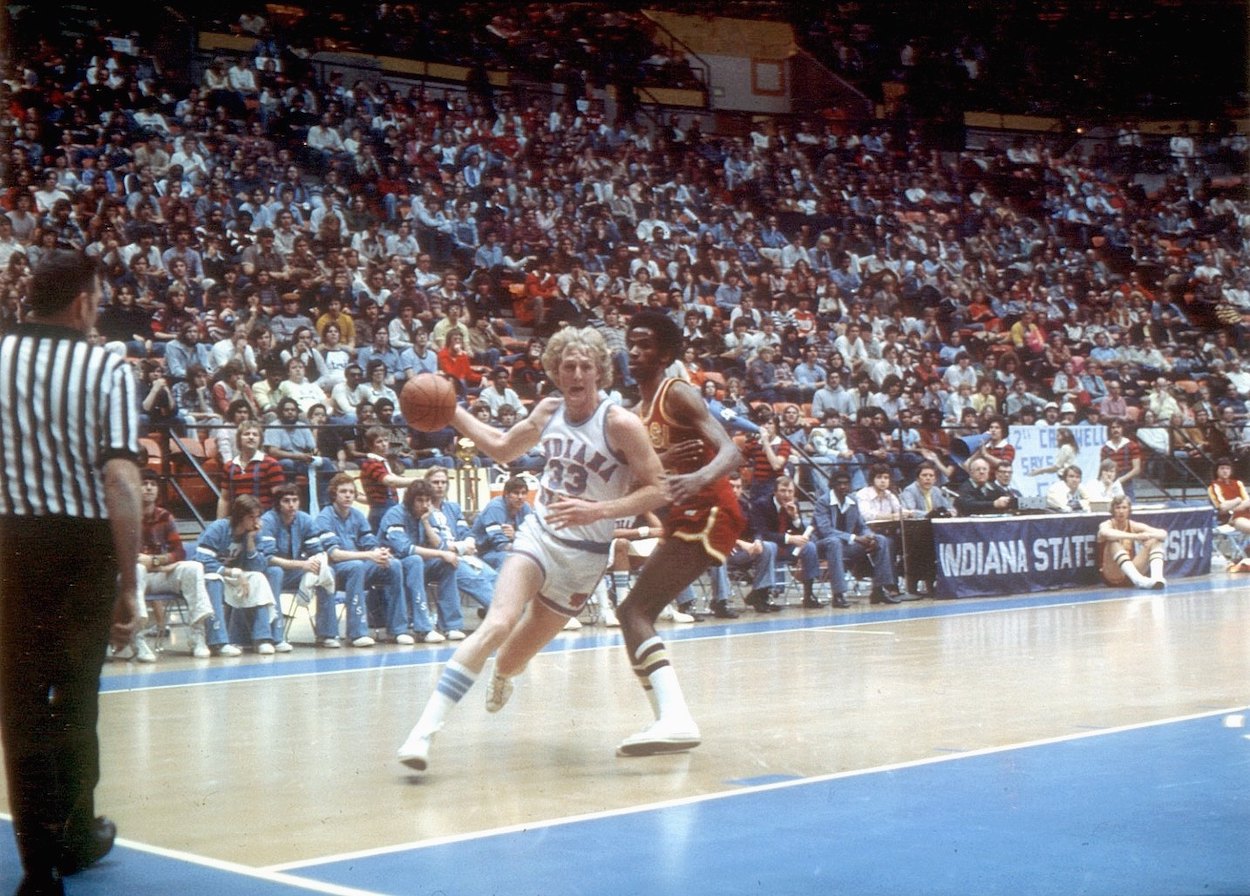 Bird became Springs Valley's all-time leading scorer his senior year. This earned him a scholarship to play for the jewel of Indiana basketball, Bobby Knight's Indiana Hoosiers, per NBA.com.
However, after just a month on campus in Bloomington, he left. The future NBA MVP enrolled in Northwood Institute Junior College and then at Indiana State. It was here, at a school that finished with a 12-14 record the previous two seasons, that Bird's legend grew.
The 6-foot-9 forward averaged 30.3 points, 13.3 rebounds, 4.6 assists, and 2.6 steals per game in his three seasons as a Sycamore. In his last year, he led the small-school team to the No. 1 ranking in the county and the finals of the NCAA Tournament.
In the 1979 NCAA Tournament Final, Bird and the Sycamores ran into a Michigan State team led by a point guard named Ervin "Magic" Johnson. The Big 10 squad overpowered the small school and won the National Championship 75-64.
This would be the first iconic Magic Johnson vs. Larry Bird games, but certainly not the last. There's no word whether Bird still harbors ill-will against any free-throw-missing teammates from this game.
Like Sportscasting on Facebook. Follow us on Twitter @sportscasting19