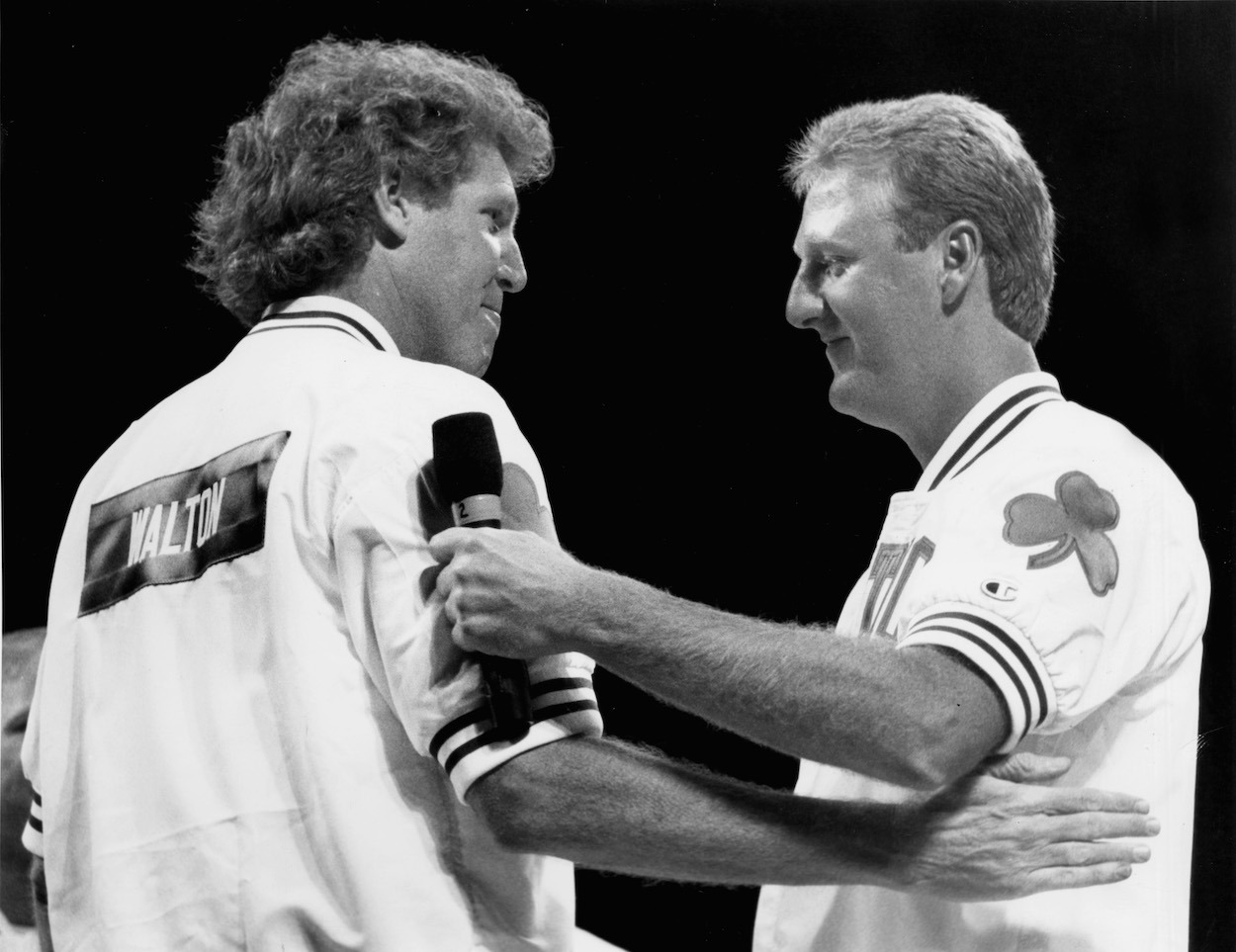 Larry Bird Gave Bill Walton His Life Back: 'You Have Not Spent Six Years of Your Life on the Clippers'
Larry Bird gets credit for a lot of things but one teammate, Bill Walton, credits The Legend with giving him his career and his life back. After six long years in San Diego with the Clippers, Walton's 1985-86 championship season with the Boston Celtics brought good things back into his life.
Larry Bird gets credit for a lot of things. He gets credit for being one of the best players of his generation. He gets credit for leading the Boston Celtics to three NBA titles. Bird even gets credit for making the NBA what it is today through his rivalry with Magic Johnson and the Los Angeles Lakers. His former teammate Bill Walton goes a step further, though, and credits Larry Legend with giving him his life back.
Bill Walton could have been the best center of all time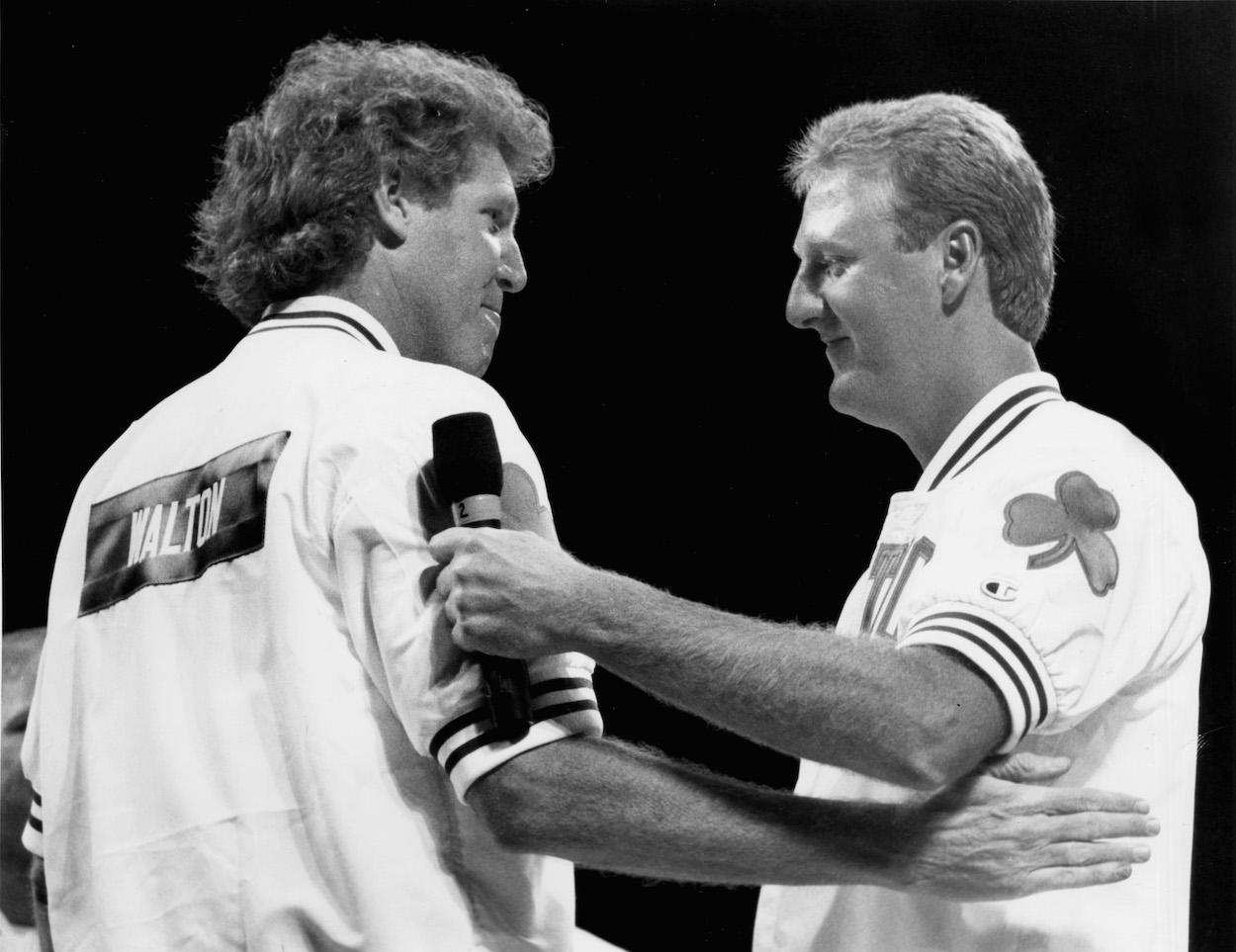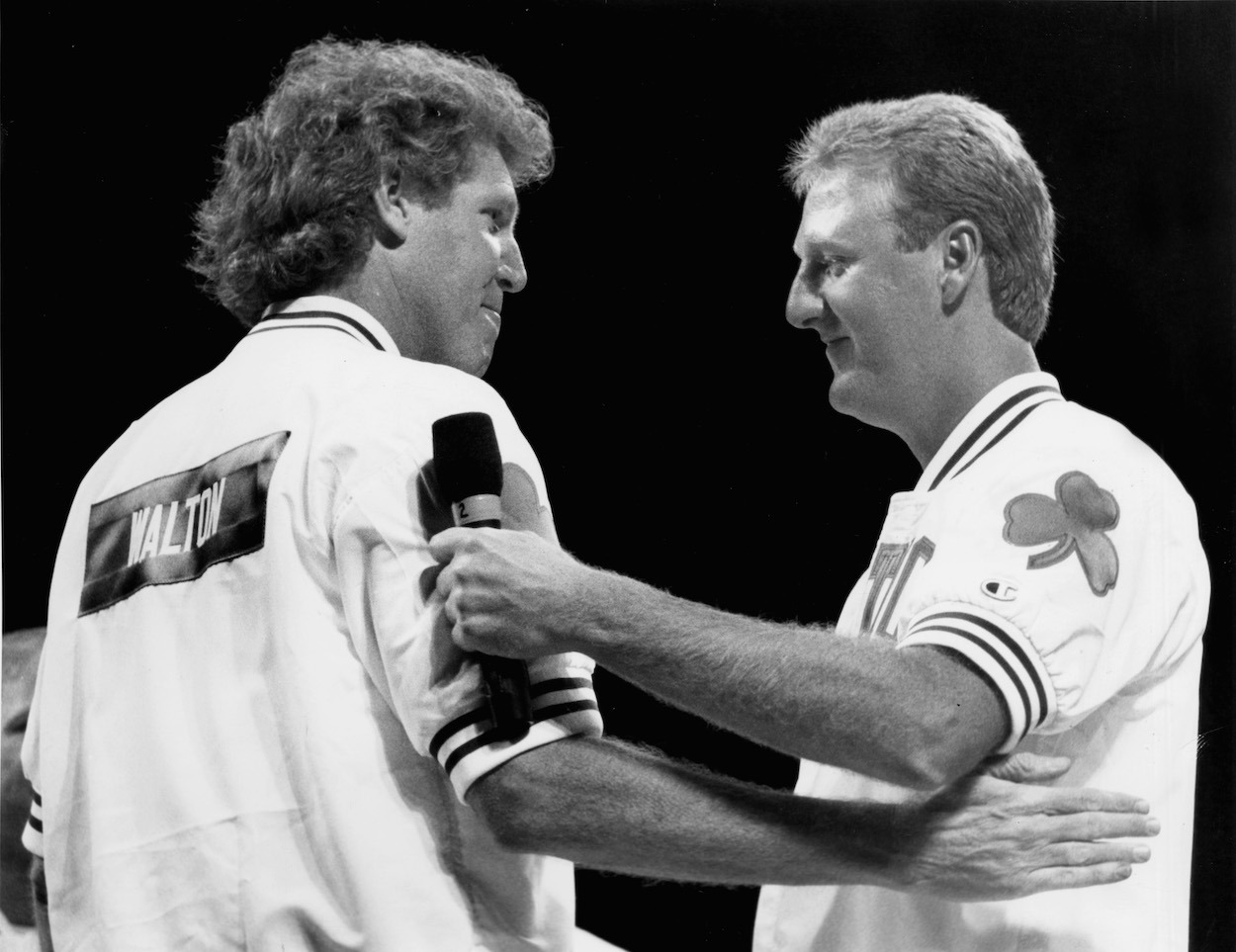 William Theodore Walton III from La Mesa, California, is unlike any NBA player ever to play the game. His 6-foot-11 frame, wild red hair, soft touch, tenacious defense, and love of the Grateful Dead is a combination never seen before or since.
What is all too common a story, though, is that the big man's body couldn't hold up to the rigors of professional basketball. Dr. Jack Ramsay once described Walton as a combination of Bill Russell and Wilt Chamberlain, per NBA.com. But, unfortunately for him and basketball fans everywhere, Walton played less than 500 games in his 14-year NBA career.
Walton won three consecutive National Championships playing for John Wooden and UCLA in the early 1970s. In 1974, the Portland Trail Blazers made him the No. 1 overall pick in the NBA draft.
Despite all the injuries, Grateful Red, as some teammates called him, still had an incredible Hall of Fame career. Walton was a two-time All-Star, All-NBA, and All-Defensive team member. He also won the NBA MVP in 1977-78 and Sixth Man of the Year in 1985-86. The former Bruin also won a pair of NBA titles. In '77, he led the Blazers to a championship and won Finals MVP. In '86 he came off the bench to help Bird win his third.
Hard-earned success bookended Walton's career in Portland and Boston but, from 1979 to 1985, Walton spent five losing, injury-filled seasons with a newly relocated franchise, the San Diego Clippers.
Walton credits Larry Bird with giving him his life back after his time with the Clippers
Walton can pontificate like no one else, and listening to him tell any stories, but especially ones about Larry Bird, is a singularly unique experience.  
The oft-injured-center-turned-announcer shared a stage recently with Bird, former Boston Globe columnist Jackie MacMullan, and several prominent Celtics figures. MacMullan was going around the dais soliciting Bird stories when she had this exchange with Walton:
MacMullan: Bill, you once said that Larry didn't just give you your career back, he gave you your life back. What did you mean by that?

Walton: Absolutely. You have not spent six years of your life on the Clippers. But, to know what Larry Bird was like, not so much as a basketball player, but more as a human being. And that's what's so special for me to be here tonight.

Jackie MacMullan and Bill Walton on Larry Bird
Walton spends the next three-plus minutes on tangents about whiskey in his hotel room, the program for the event, and Celtics coach KC Jones drinking in the locker room. However, he eventually got to the story that illustrated why Bird is so important to him on a personal level.  
He told a tale of Bird snarling at an official while Boston was down big. "We're not going to quit," Bird told the ref. "You make sure you don't quit either."
The Legend then went on a scoring rampage, and the Celtics won in overtime. "We didn't need a plane to get home that night," Walton exclaimed. "Larry Bird, you're awesome!"
It is being able to participate in that kind of moment after six years of basketball darkness with the Clippers that gave Walton his life back.
The Boston Celtics won the 1985-86 NBA Championship
The 1985-86 Celtics were the last truly great team of the Larry Bird era. It was the final of Bird's three titles and his third-consecutive and final NBA MVP Award.
The team was dominant the entire season. They cruised to first place in the Eastern Conference with a 67-15 record and even set the mark for best-ever home record. The team's 40 victories and one loss at the Boston Garden that season stood as the best home record ever until the 2016-16 San Antonio Spurs tied it.
The playoffs were just as easy for the Celts.
The team walked to the NBA Finals, defeating the Chicago Bulls, Atlanta Hawks, and Milwaukee Bucks a combined 11 games to one. It took six games for Walton, Bird, Kevin McHale, Robert Parish, Dany Ainge, Rick Carlisle, and Dennis Johnson to put away the Houston Rockets, but they prevailed in the NBA championship series nonetheless.
Walton would only play 10 more games in his NBA career after lifting that Larry O'Brien Trophy, but that season, and his buddy Larry Bird, gave him his life back.
All stats courtesy of Basketball Reference