Larry Bird Always Focused on 1 Banner in the Rafters During the National Anthem, and It Wasn't a Boston Celtics One
Larry Bird wasn't blessed with athleticism. He had heart, determination, and the will to win. He could pass, shoot, and rebound the basketball as well as anyone. Bird was also focused. Whether it was the next opponent or his next goal, the former Boston Celtics star remained engrossed in the task until it was complete. During the national anthem at the Boston Garden, Bird focused on the rafters. While many believed he was staring up into the heavens, he was fixated on one hanging banner, and it wasn't a Celtics one.
Larry Bird always did things his way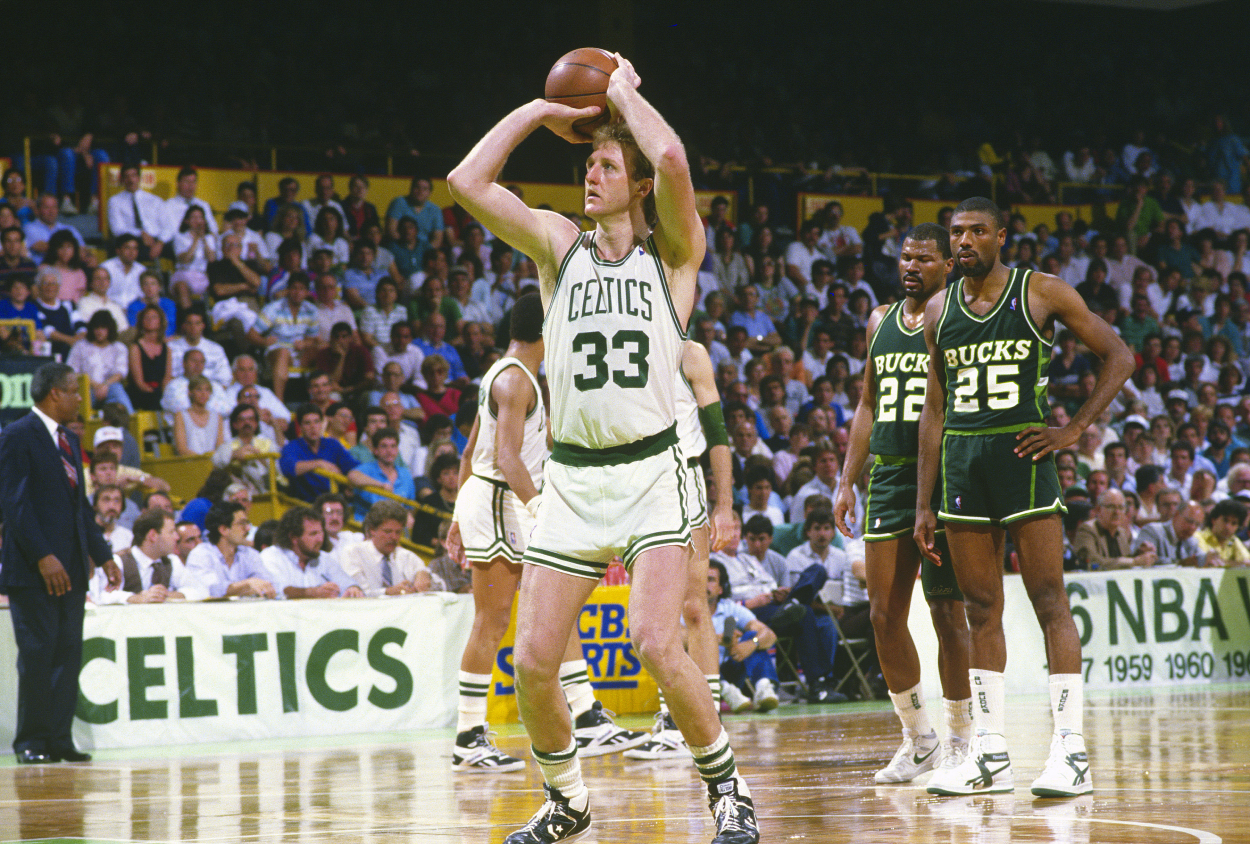 Bird spent 13 seasons with the Celtics, the last couple while battling a bad back and various other nagging injuries. He and Magic Johnson have been forever linked since their 1979 NCAA title game. The two came up together in the NBA and have been credited for helping save the league.
Bird and Magic were college rivals, at least in that final game in '79. The personal rivalry spilled over into the NBA and lasted throughout their careers. Along with the one-on-one rivalry, Bird and Magic helped restore the Celtics/Lakers one. From 1959-1969, the Celtics and Lakers met in the NBA Finals seven times with the Celtics winning every time. After a 15-year lull, the duo faced off three times in the championship in the 1980s with the Lakers holding a 2-1 edge.
Bird was all basketball. He did things his way, never wanting to be bothered by the outside noise. Sports Illustrated detailed an "important" phone conversation between Bird and his agent, Bob Woolf, back in a 1988 piece that showed Bird's lack of enthusiasm for his popularity brought on by basketball stardom.
"I have three things, Larry," Woolf began. "Derek Bok, the president of Harvard, would like you to address the freshman class this fall."
"No," Bird answered.
"Sports Illustrated wants you to pose for a cover."
"No."
"Life magazine wants to do a photo essay on you, but you won't have to pose. The photographer will…."
"No. Mr. Woolf, I thought you told me this was an important call."
Larry Bird was always fixated on a particular banner in the rafters during the national anthem
Before every home game, Bird stared up at the rafters during the playing of the Star-Spangled Banner. The Garden was loaded with banners, both championship and individual ones. While it appeared he was staring into space or mentally preparing for the game, he was focused on one particular flag dangling from the ceiling.
According to Sports Illustrated, Bird fixated himself on the No. 4 banner. The No. 4 is not retired by the Celtics, but it's retired by the Boston Bruins. Bobby Orr wore that jersey. The article stated Bird knew every stitch of that jersey and how many lines surround the capital 'B' on the jersey.
"Eight. Don't bet me," he said.
Bird never saw Orr play. He met him only once. He heard how great a player Orr was and how much the city embraced him. Bird never told Orr about his admiration until he mentioned it in a speech during a dinner when Orr was in attendance for the unveiling of Bird's statue.
Orr became emotional when he heard this. "My God," Orr whispered in the dark. "My God."
Bird went on to have a Hall-of Fame career with the Boston Celtics
As much as Bird and Magic helped inject new life into the NBA with their rivalry, they both went on to have Hall-of-Fame careers. Bird played 13 seasons in the league – all with Boston. Johnson also played 13 NBA seasons – all with the Lakers.
Bird was a three-time MVP, winning the award three straight years from 1984-86. He was also a three-time NBA champ, winning titles in 1981, 1984, and 1986. He was also named the Finals MVP in 1984 and 1986.
Bird was a 12-time NBA All-Star, making All-NBA First Team nine times. The one year he was not an All-Star, he played just six games because he had bone spurs removed from both heels. For his career, he averaged 24.3 points and 10.0 rebounds per game.
He was the classic example of how much hard work pays off. He was motivated and focused, and he can thank Bobby Orr for that.
RELATED: Larry Bird May Have Stayed a Garbage Man If Not for a Man Named Bill Hodges