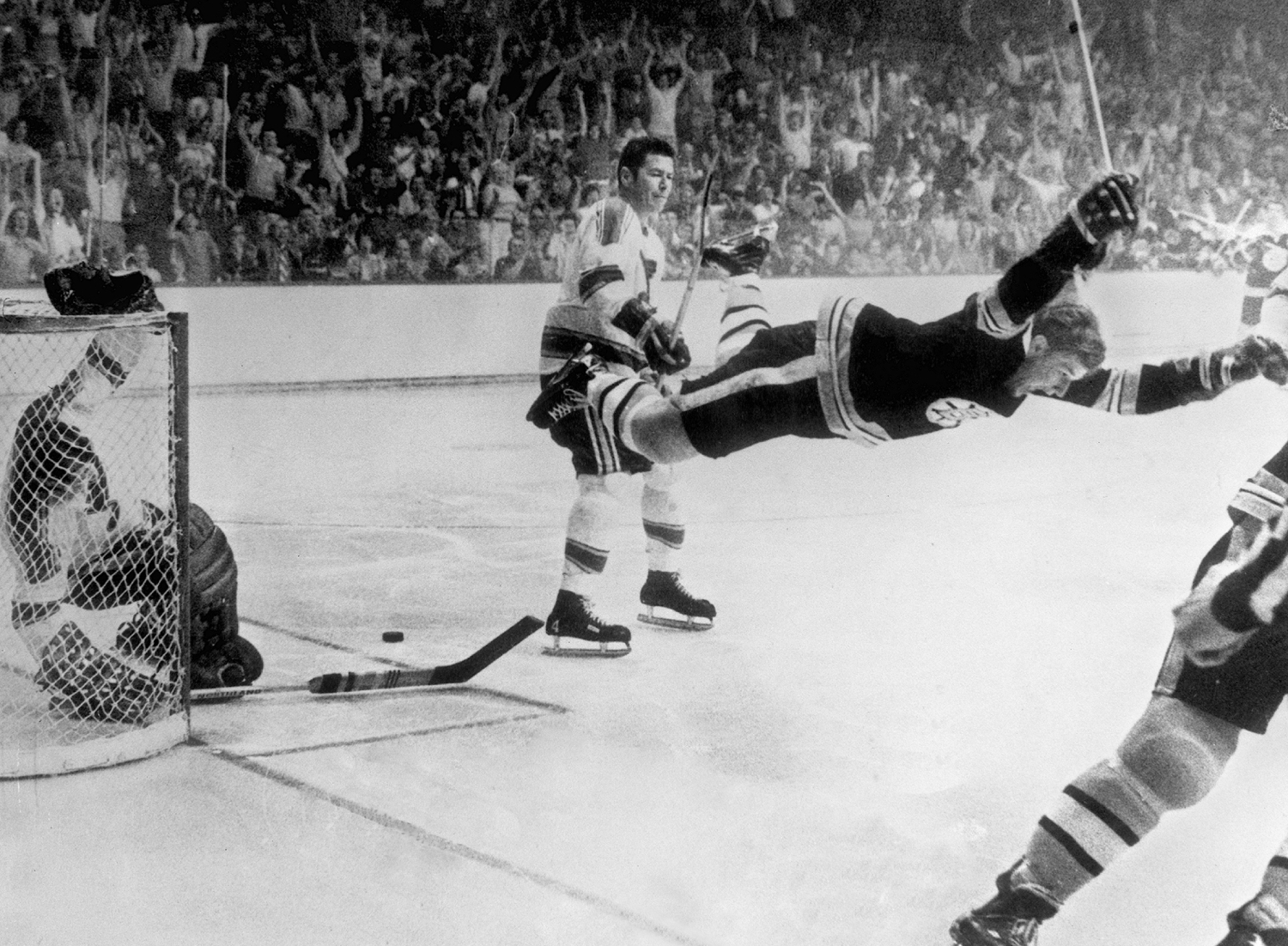 Bobby Orr Says He Wants Donald Trump as His 'Teammate'
Former Boston Bruins standout defenseman and Hockey Hall of Famer Bobby Orr said he wants Donald Trump as a "teammate."
Boston Bruins hockey legend Bobby Orr joined former sports legends Brett Favre and Jack Nicklaus in endorsing President Trump. Orr, who lives in Florida, took out an ad in New Hampshire's largest newspaper, the New Hampshire Union Leader, on Friday, giving his support. In the ad, Orr wrote of Trump, "That's the kind of teammate I want," in bold print.
How good was Bobby Orr?
Bobby Orr was one of the best defensemen ever to play in the National Hockey League. Orr began his NHL career during the 1966-67 season and won the first of his eight consecutive Norris Trophies (best defenseman) beginning in his second year in the league. He played 12 seasons in the NHL.
Orr played the first 10 of those seasons with the Boston Bruins and was an NHL All-Star in his first nine years. He revolutionized the position of defenseman as he is the lone one to capture two Art Ross Trophies for leading the league in points scored. Orr did it first in the 1969-70 season and then did it again in 1974-75.
Orr led the league in assists five times in his career. He did it three straight seasons, including the 1970-71 campaign when he racked up 102. Orr is a two-time Stanley Cup winner and was inducted into the Hall of Fame in 1979.
Bobby Orr's life after hockey
Bobby Orr spent the last three years of his NFL career with the Chicago Blackhawks. He missed the entire 1977-78 season due to injury. In those three years with the Blackhawks, Orr played in just 26 games. After he sat out the 77-78 season, he tried to come back but hung it up after six games.
Orr battled through more than a dozen surgeries on his knees. He became the youngest player to be enshrined into the Hockey Hall of Fame at the age of 31. Although he retired from the NHL, he remained in hockey. Orr became an assistant to the general manager in Chicago.
In 1996, Orr became an agent for NHL players and eventually founded Orr Hockey Group in 2002. He's been involved in many charities. Orr has been known to participate in numerous fund-raisers and has made appearances at hospitals to visit sick children. He also has a passion for fishing.
Orr endorses Donald Trump
Bobby Orr recently took out an ad in a New Hampshire newspaper to show his support for Donald Trump for president. Orr admitted he doesn't usually do this, but felt compelled because of the state of the country. He believes President Trump has battled through a lot in his last four years and Orr believes Trump would be a great "teammate."
"When I look at America during these turbulent times, I keep trying to separate style from substance, fact from fiction," Orr wrote, according to The Boston Globe. "This much I know. Our current president has had to operate under extremely difficult conditions over these past several years. In addition, no leader anywhere signed up with the idea that dealing with a worldwide pandemic would be a part of their mandate.
"The attacks on our president have been unrelenting since the day he took office. Despite that, President Trump has delivered for all American people, regardless of race, gender, or station in life. "That's the kind of teammate I want."