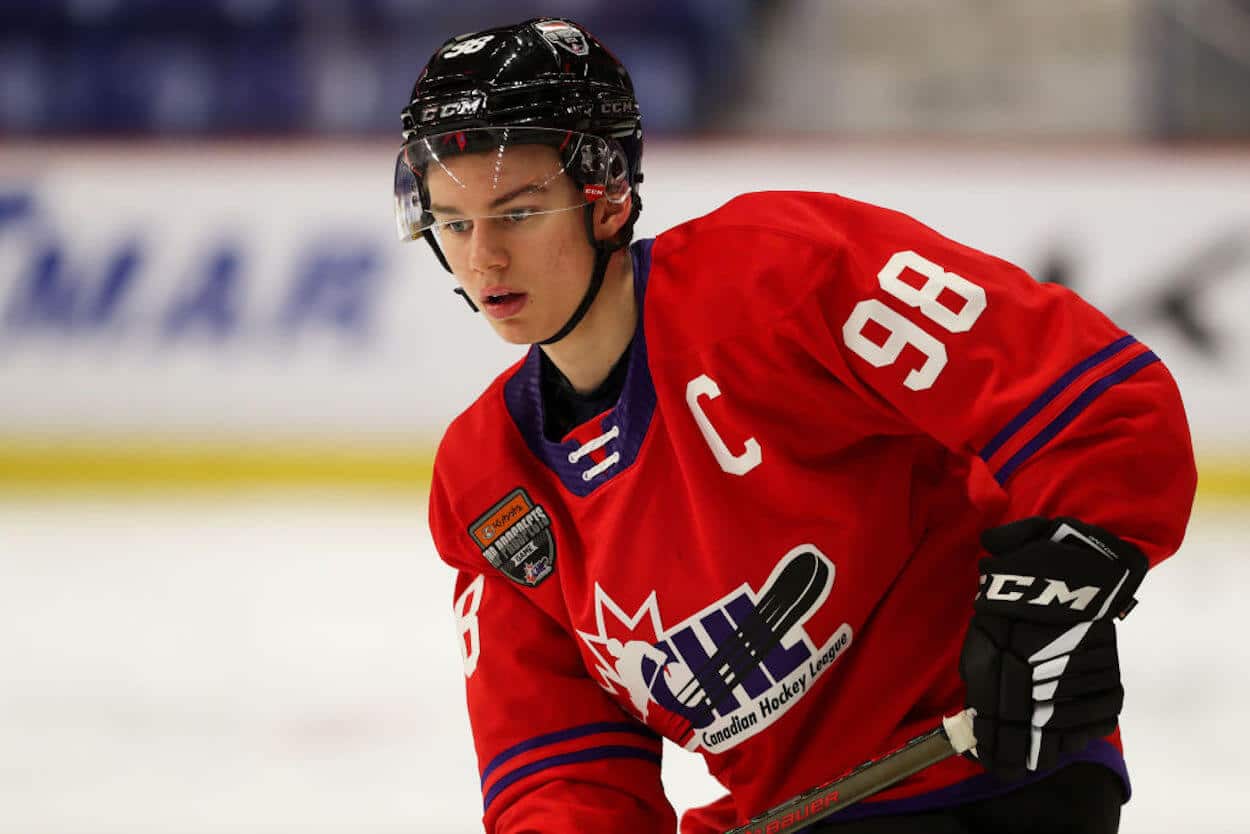 Why Does Connor Bedard Wear No. 98?
What's in a name? Or, in the case of Connor Bedard, what's in the number 98?
While the cliche may ask, "What's in a name?" jersey numbers can become a professional athlete's signature. That's certainly true of Connor Bedard. The teenager is still waiting to play his first NHL game, but his No. 98 jersey has already become a familiar sight for hockey fans.
That number, however, doesn't have much of a precedent in the ice game. Wayne Gretzky, of course, wore 99. More contemporary stars, like Sidney Crosby and Connor McDavid, don 87 and 97, respectively.
So, why does Connor Bedard wear 98 on his jersey? It turns out the forward had a surprisingly prophetic thought process behind the choice.
Let's check it out.
Bedard chose No. 98 to get close to the most popular numbers, but he also made a prophetic comment about his decision
If you played youth sports, you might have chosen your favorite athlete's jersey number as your own. While that's an age-old strategy, Connor Bedard couldn't exactly follow suit.
"Houman Ershadi, a manager of our team who was a big part of our '05 development group, went around the room and asked every kid 'what number do you want?' when they were five," Jon Calvano, one of Bedard's early coaches, told Rob Vanstone for a piece that ran in the Toronto Sun. "Numbers 87 and 97 were popular, so we had to have votes and draw names to see who got the number."
Eighty-seven, as mentioned above, belongs to Sidney Crosby. Ninety-seven was worn by Matt Barzal when he was making waves in British Colombia en route to joining the WHL's Seattle Thunderbirds as a top pick. And, as any hockey fan will tell you, wearing Gretzky's 99 is also off-limits.
Faced with that logjam, Bedard pivoted and took the closest available number: 98.
The story, however, doesn't end there. The young forward didn't just take the number. He declared that it was his own.
"When Connor asked for 98, our manager asked him, 'Who's 98?' " Calvano recounted. "He said, 'I'm 98.'


"We kind of looked at him like, 'You're five, and that's your response?' It was pretty neat to hear a five-year-old say, 'That's my number.'


"Nobody really said anything. Then he just played."

Rob Vanstone
Years later, it's safe to say that he was right.
Wearing that number, Bedard rose through the youth hockey ranks, showing enough talent to become the first player to earn exceptional status and enter the WHL as a 15-year-old. While that could have presented quite the challenge for even the most gifted athlete, the young forward was up to the task. After posting 28 points in 15 games during his first season with the Regina Pats — which is already impressive when you consider his age — the North Vancouver native grew by leaps and bounds. His point total jumped to 100 during the 2021-22 campaign and peaked at 143 during his last major junior season.
Bedard's impact wasn't limited to Western Canada, though. The teenager has suited up for the national team on multiple occasions and truly put on a show (23 points in seven games en route to a gold medal) during the 2023 World Junior Championship. He wasn't wearing his signature No.98 in Halifax and Moncton, but the performance was undeniably another step toward establishing his name as a legitimate star.
So, while his NHL future is uncertain — even the most talented prospects can fall short at the professional level — one thing is a sure bet. Given his status as the first overall pick of the 2023 draft, we're going to see plenty of No. 98 jerseys around.
As Connor Bedard said all those years ago, it's simply his number.