Connor Bedard: Biography, Career, Net Worth, Family, Top Stories for the Rising Hockey Star
While the NHL doesn't always do the best job of marketing its stars, certain hockey players still manage to move the needle. From the high-flying Montreal Canadiens back in the day to more modern names like Sidney Crosby and Alex Ovechkin, there's something awe-inspiring about seeing a top-tier talent gliding around the rink with the greatest of ease. Connor Bedard could be the next name to join that elite company.
The North Vancouver native may not be an NHL player just yet, but it seems safe to assume he'll be making waves at the highest level in no time. Have some highly touted prospects such as Alexis Lafreniere (though it may still be too early for this label) and Nail Yakupov flopped? Yes, but posting more than three points per game at World Juniors and dominating the WHL speaks volumes about the teenager's talent.
So, with all that in mind, let's get to know Connor Bedard a bit more. Here's everything to know about the promising center, ranging from his hockey history to some perspectives on what the future could hold. 
Article contents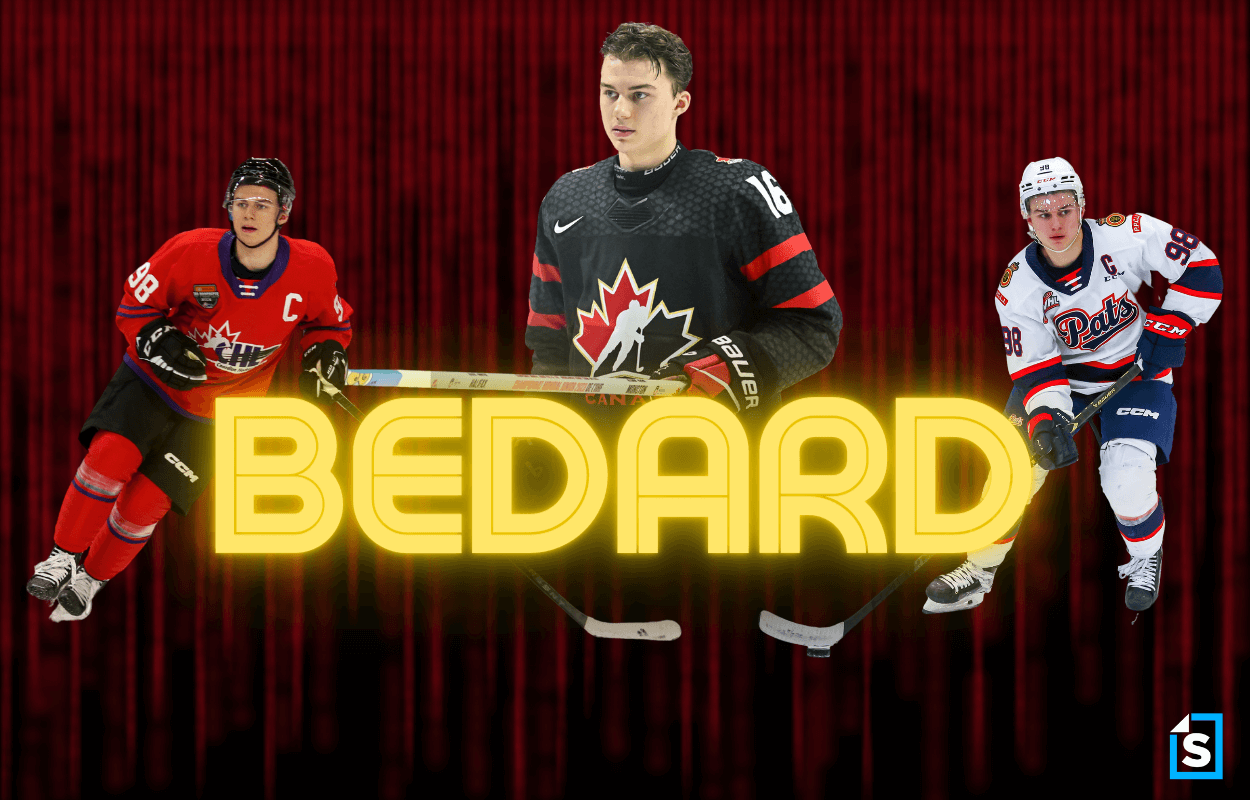 Quick facts
Early life and career
Regina Pats career
Major Junior Stats
Canada career
Canada stats
NHL scouting reports
Net worth/earnings
Nicknames
Media presence
FAQs
Quick Connor Bedard facts
Full name: Connor Bedard
Birthday: July 17, 2005
Birthplace: North Vancouver, British Columbia, Canada
Parents: Tom and Melanie Bedard
Siblings: Madisen Bedard
Listed height: 5-foot-10
Listed weight: 185 pounds
Junior teams: HV71 J18, HV71 J20 (Sweden), Regina Pats (WHL)
Position: Center
Playing numbers: No. 98 (Regina Pats), No. 16 (Canada), No. 17 (Canada)
Junior playing career: 2020-present (including Sweden)
Marital status: Single
Early life and the road to junior hockey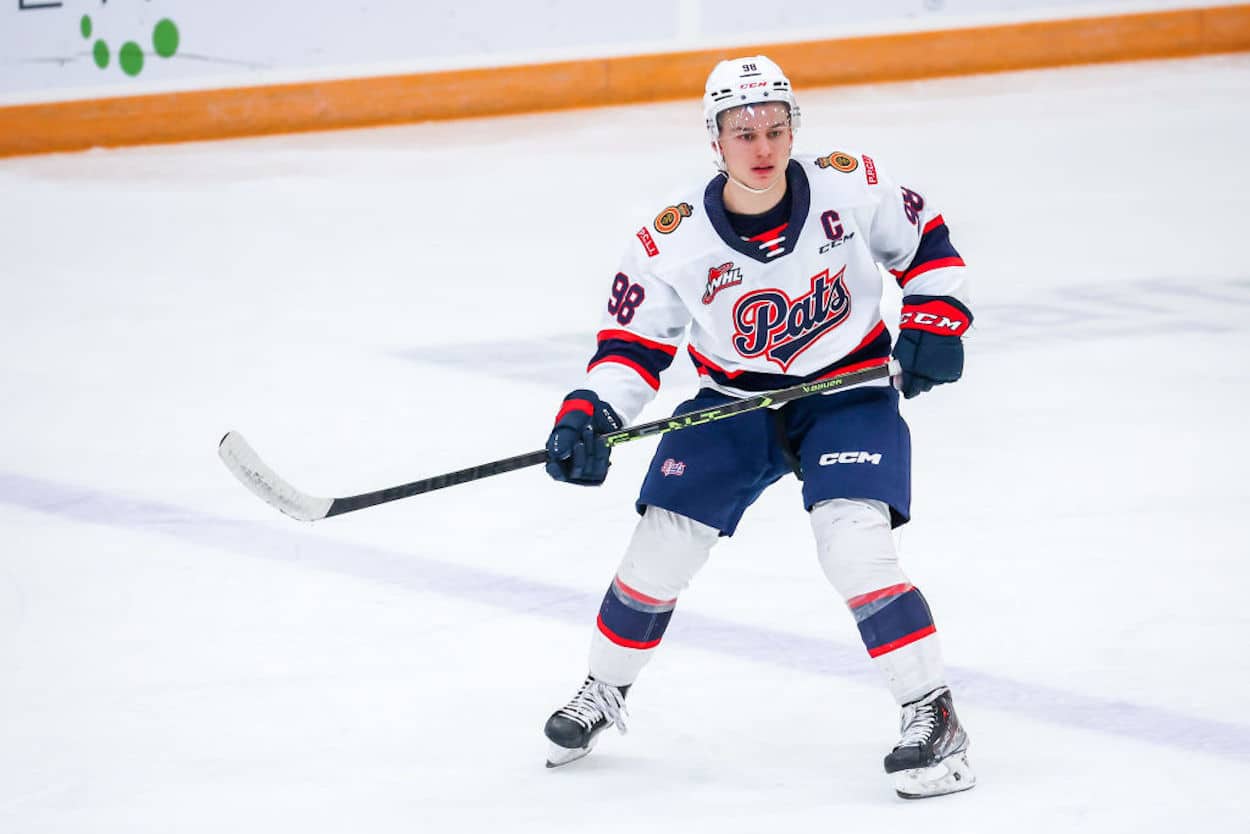 When you think of a high-level professional athlete, it's easy to imagine them being a natural at their chosen sport from day one. Connor Bedard did things a bit differently.
In some regards, the North Vancouver native was hooked on hockey from an early age.
"From the age of three on, Connor always had a ball and a hockey stick," Tom Bedard told Rob Vanstone of the Regina Leader-Post for a December 2022 story. "That's what he always seemed to be doing — not on the ice, but around the house."
As that quote indicated, the ice part of the equation was a bit trickier. While Connor took skating lessons with his sister, things didn't immediately click.
"My first time going out on the ice was just skating," Bedard explained. "I didn't really like it at first." Adding sticks and pucks to the mix, however, changed everything."
"When I got to go out by myself with pucks and everything else, that's when I fell in love with it — just having the imagination of being creative on the ice as a kid," the teenager shared. 
Once everything came together, the rest was history.
Bedard progressed through the local ranks before taking his talent to West Vancouver Academy Prep, where he began receiving national attention. In 2018, for example, The Hockey News ran a story declaring the 13-year-old to be "the future of hockey" and "the next phenom you should know."
Based on those rave reviews, it's unsurprising that the center applied for — and received — exceptional status, allowing him to enter the Western Hockey League (WHL) at age 15 instead of waiting for his 16th birthday, as is the norm. With that approval under his belt, Bedard entered the 2020 WHL Bantam Draft and joined the Regina Pats as the first overall pick.
Connor Bedard's junior hockey career
There was another twist in the story, however. Bedard was on a WHL roster, but he wouldn't be able to hit the ice as planned.
As you may remember, the COVID-19 pandemic reached North America in March 2020. That delayed the start of the WHL season and saw the Pats loan their young star to Sweden's HV71, where he played a handful of games for their U18 and U20 teams.
When the Major Junior campaign kicked off, Bedard returned to Regina. Although that freshman outing was shortened — he departed for the 2021 World U18 Championships — the center posted 28 points (12 goals and 16 assists) in 15 games. That was enough to earn him the Jim Piggott Memorial Trophy as the league's leading rookie.
With that extra year's experience under his belt, the teenager returned for an even stronger 2021-22 season.
Regina finished near the bottom of the WHL's Eastern Conference, but Bedard shouldered more than his fair share of the load. He tallied points in 22 consecutive games, dating back to the previous campaign, and despite missing some time for World Juniors, he accumulated 100 points (51 goals and 49 assists) in 62 games.
Though prospects of a professional future have loomed, the Regina Pats star hasn't slowed down during the 2022-23 season. Even with a break for an eye-popping World Junior performance — we'll get to that shortly — he's recorded 123 points (59 goals and 64 assists) in only 48 appearances.
Connor Bedard stats
While we've already alluded to some of Connor Bedard's stats, passing mentions don't do them justice.
Consider the following table and remember the center was granted exceptional status, allowing him to enter the WHL a year ahead of schedule:
| Team | Season | Games | Goals | Assists | Points |
| --- | --- | --- | --- | --- | --- |
| Regina Pats | 2020-21 | 15 | 12 | 16 | 28 |
| Regina Pats | 2021-22 | 62 | 51 | 49 | 100 |
| Regina Pats | 2022-23 | 48 | 59 | 64 | 123 |
Connor Bedard on the Canadian national team
As you might expect given his exceptional talent, Connor Bedard has been a fixture on Canada's international teams. While he's yet to make his debut for the senior squad, the center has still made quite an impact for his country.
The British Colombian's international debut came in 2021 when he suited up for Canada at the U18 World Championships. He recorded 14 points (seven goals and seven assists) in seven games en route to a gold medal.
The following year's tournament was disappointing — Canada crashed out in the quarterfinals as an unseeded team — but Bedard still posted seven points (six goals and one assist) in four contests.
After that, the center stepped up a level and joined the 2022 World Juniors squad.
He got off to a hot start, tallying five points (four goals and one assist) across two games in the Edmonton bubble. The tournament was ultimately suspended, though, and had to be replayed at a later date. In that second attempt, Canada claimed a gold medal, and Bedard contributed eight points (four goals and four assists) in seven appearances.
While eight points is a more than respectable haul for a teenager, that stat line pales in comparison to the center's encore effort.
During the 2023 World Junior Championships, Bedard went off. He finished the tournament with an incredible 23 points (nine goals and 14 assists), scoring a game-winner in the quarterfinals, breaking scoring records, and claiming the MVP crown as Canada took home another gold medal.
Connor Bedard Canada stats
Even if you prioritize the eye test above everything else, Connor Bedard's stats don't leave any room for equivocation. Every time he's donned the Canadian jersey, the North Vancouver native has made a serious statement.
| Tournament | Games | Goals | Assists | Points |
| --- | --- | --- | --- | --- |
| 2021 U18 World Championship | 7 | 7 | 7 | 14 |
| 2022 U18 World Championship | 4 | 6 | 1 | 7 |
| 2022 World Juniors (Before Suspension) | 2 | 4 | 1 | 5 |
| 2022 World Juniors (Second attempt) | 7 | 4 | 4 | 8 |
| 2023 World Juniors | 7 | 9 | 14 | 23 |
Connor Bedard NHL scouting reports
Based on his scoring numbers, it seems safe to say that Connor Bedard possesses plenty of talent. But how will that raw ability translate to the NHL level? Let's consider what some scouting reports have to say about that very topic.
While it isn't too long, Jason Bukala's Sportsnet dispatch from the 2023 World Junior Championship speaks volumes
"Connor Bedard is a generational talent," Bukala wrote. "There isn't a player in this draft class who does what Bedard does. This space isn't big enough for me to share the entirety of his skill set. He changes gears in open ice and is an elite shooter from the half wall on the power play. He makes plays through seams – looking opponents off like a basketball player makes a no-look pass in transition – that lead to open net goals for his linemates."
And if that's not high enough praise, consider how the teenager stacked up against two of his professional teammates.
"Team Canada has Dylan Guenther and Shane Wright on their team and they have both been playing in the NHL to date," the writeup continued. "Bedard, at 17, is a better player than both of them already."
As Thomas Drance explained in a 2022 piece for The Athletic, Bedard's shot is a huge part of his success
"You've never seen anybody shoot like Connor Bedard," he explained. "What makes the shot special can be difficult to describe. It's partly in the way that the 17-year-old holds his hands on the stick. It's partly the wide variety of launch angles.
"Bedard has an uncanny, flexible release point too, a self-conscious tribute to Auston Matthews' signature drag shot. And there's the timing, the technique, the strength on display. There's the way that Bedard subtly opens his blade up on release to dissect an opposing goaltender with a cross-body finish.
"Bedard's pull shot is a chameleon. There's a touch of genius to it, something ineffable that's underpinned by a distinctive, metronomic rhythm. Bedard's shot is an evolutionary hockey weapon, owing a debt to the recent history of the sport even as it stands alone. You know it's special when you see it."
A bit later in the piece, the teenager gave Matthews, who has had no problem tickling the twine in Toronto, some direct acknowledgment.
"Even now, I'll just search up videos on shooting, or just watch his goals," Bedard explained. "I think I've seen all of his goals. It's something I enjoy doing and I use it a lot. He obviously created it, and it's become the shot I use the most. … I don't quite remember what year it was, but after I saw that, it was something that really popped to me. It was something I just needed to be able to do. Not that I'm going to be able to do it as well as him, but it was something I started working on after that."
For an alternative perspective, here's what NHL Central Scouting senior manager David Gregory told NHL.com's Mike G. Morreale in October 2022
"It seems like as soon as he's on the rush, even if it's starting in his own end, but certainly once he gains the blue line on the attack, he's a threat to score," Gregory said. "He has absolute elite puck handling and shooting skills, but you combine that with his hockey IQ and how he thinks it, he's just so hard to stop and contain."
Within that same piece, we also heard from TSN director of scouting and NHL analyst Craig Button, who paid Bedard an incredible compliment.
"He reminds me so much of Steve Yzerman because he's got what I call the four corners of excellence," Button told Morreale. "He's got great hockey sense. He sees what's facing him and is able to adjust and adapt. He's an outstanding skater. He's got magnificent hands and the ability to operate in tight spaces, and he's got NHL scoring ability. He reminds me of Steve Yzerman in this regard too: he's got a killer instinct. Steve had a steely determination to find a way to be successful and to do whatever it took to win. Connor, to me, has that same type of personality."
In a slightly dissenting perspective, Scott Wheeler of The Athletic doesn't see Bedard having the same impact as other "generational" talents
"Crosby and Ovechkin have a Mount Rushmore case, and McDavid will have one by the time he's done. I don't think Bedard is going to get to that echelon because he won't have the two-way impact Crosby has had, nor the singular speed that McDavid has, nor the power/shooting combination that has made Ovechkin's the game's greatest goal scorer," Wheeler wrote in a November 2023 mailbag. "I'd sooner expect him to get to the Patrick Kane/Pavel Bure echelon, where he may become the most electric player in the league, and he'll do things that others just can't, and he'll win some Art Ross and Rocket Richard trophies, but he may never be universally regarded as the undisputed best player in the world."
Wheeler also noted that Bedard could provide an offensive spark right away, which isn't always the case when a prospect makes the leap to the NHL.
That potential, however, requires finding the right fit.
"I do, however, think he has point-per-game (or at not far off) potential next year in the right situation, though. He's going to play PP1 right away and rack up points there," Wheeler continued. "With the right linemates and deployment at five-on-five (he'll probably need a coach who is going to play him 17 to 19 minutes per game), I don't think 35-40 goals or 70-80 points is out of the question at all."
Connor Bedard net worth and career earnings
Since he's still playing Major Junior hockey and not earning a proper salary, it's tough to accurately nail down Connor Bedard's finances. In a matter of months, though, things will change dramatically. 
Once he gets drafted into the NHL, Bedard will sign an entry-level contract. Those have to fit within certain parameters, and, according to Cap Friendly, the 2023 draft class' deals will max out at an annual average salary of $4.5 million. As the presumptive first overall pick, the teenager will receive a three-year contract that touches the top end of the scale.
Being a highly touted draft pick will also bring Bedard plenty of endorsement opportunities. While NHL stars might not be as marketable as their peers in other sports, he already has a deal in place with BioSteel, plus an exclusive autograph agreement with AJ Sports World.
Connor Bedard nicknames
While hockey has seen some epic nicknames over the years — Super Mario, the Dominator, and the Great One all spring to mind — the sport isn't exactly known for creativity in that department. Many players simply have a "y" or "er" added to the end of their name before calling it a day: see Kevin Hayes becoming "Haysey" or Steven Stamkos going by "Stammer."
At this point, it's not clear which side of the aisle Connor Bedard will fall on.
Given his talent, it's unsurprising that the teenager's lack of a catchy moniker has been noticed by the media. In a January 2023 dispatch from World Juniors, Kevin McGran of the Toronto Star literally wrote that "Connor Bedard is in need of a terrific nickname" before soliciting suggestions from his readers.
 In a follow-up piece, McGran shared some of the suggestions. The highlighted ideas were as follows:
Connor Bedangerous
Connor Bedazzles
Connor 2.0
The Bedder One
The Exceptional One
Honour Bedard
Connor Be-Daredevil
Sonic
The Whiz Kid
Connor The Stunner
Ace Card Bedard
As of now, it remains to be seen which of those, if any, will catch on. If nothing else, the center will probably end up with an established nickname once he hits the NHL and becomes a truly national topic of conversation.
Taking a page out of McGran's book, we at Sportscasting asked ChatGPT to generate some nicknames for the phenom based on his playing style and scouting report:
The Craftsman — for his precision and attention to detail on the ice.
The Playmaker — for his ability to create scoring opportunities for his teammates.
The Sniper — for his accurate shot and goal-scoring ability.
The Dangler — for his smooth stickhandling and ability to maneuver past defenders.
The Visionary — for his exceptional hockey IQ and ability to see the ice.
The Iceman — for his cool, calm demeanor under pressure.
The Dynamo — for his non-stop energy and relentless drive on the ice.
The Engine — for his ability to drive his team's offensive play.
The Magician — for his ability to make the impossible seem effortless on the ice.
Connor Bedard media presence
By and large, hockey players aren't the best at showing off their personalities. When you combine that reality with the fact that Connor Bedard is yet to turn pro, it's understandable that the teenager doesn't have much of a media presence just yet.
And while there will inevitably be some commercials and other advertisements in his future, it's not a foregone conclusion that Bedard will ever completely put himself out there. As laid out in a 2021 Regina Leader-Post story, the phenom doesn't have a Twitter account and seems content to keep off the platform. He does have an Instagram account, but it's relatively low-key with a handful of posts and a shade over 300,000 followers.
Connor Bedard FAQ
How tall is Connor Bedard? 
Connor Bedard is listed at 5-foot-10, per the WHL.
How much does Connor Bedard weigh?
Per the WHL, Connor Bedard's official weight is listed as 185 pounds.
Where was Connor Bedard born?
Connor Bedard was born in North Vancouver, British Columbia, Canada.
How old is Connor Bedard?
Connor Bedard was born on July 17, 2005. He is currently 17 years old.
Did Connor Bedard go to college?
Connor Bedard didn't attend college. Instead, he played Major Junior hockey in the WHL. 
What team does Connor Bedard play for?
Connor Bedard currently plays for the Regina Pats in the WHL and for Canada on the international stage.
What position does Connor Bedard play?
Connor Bedard plays center. 
What number is Connor Bedard?
Connor Bedard wears No. 98 for the Regina Pats and has worn both Nos. 16 and 17 for Team Canada.
What stick does Connor Bedard use?
Per Hockey Unfiltered with Ken Campbell, Connor Bedard uses a 70-flex Bauer Nexus 2N Pro XL stick, which is whippier than the sticks typically used by NHL players.