Connor Bedard Reveals the Pregame Superstitions He Follows Before Taking the Ice
On the whole, professional athletes are a superstitious bunch. And, given that large parts of their career can depend on luck, who can blame them? That's especially true in hockey, where randomness is inescapable. It's tough to draw up a play, and even if you do, it's completely possible that the puck will simply bounce over someone's stick and ruin everything. Connor Bedard may not be an NHL player just yet, but he clearly understands what he's up against.
With his entrance into hockey's highest level getting closer and closer, the current Regina Pats star spoke to NHL.com. While the conversation touched on a variety of topics, ranging from his signature shot to Connor McDavid, Bedard also revealed the things that he has to do before a game in order to avoid upsetting the fickle hand of fate.
Let's check it out.
Connor Bedard is a creature of habit on game day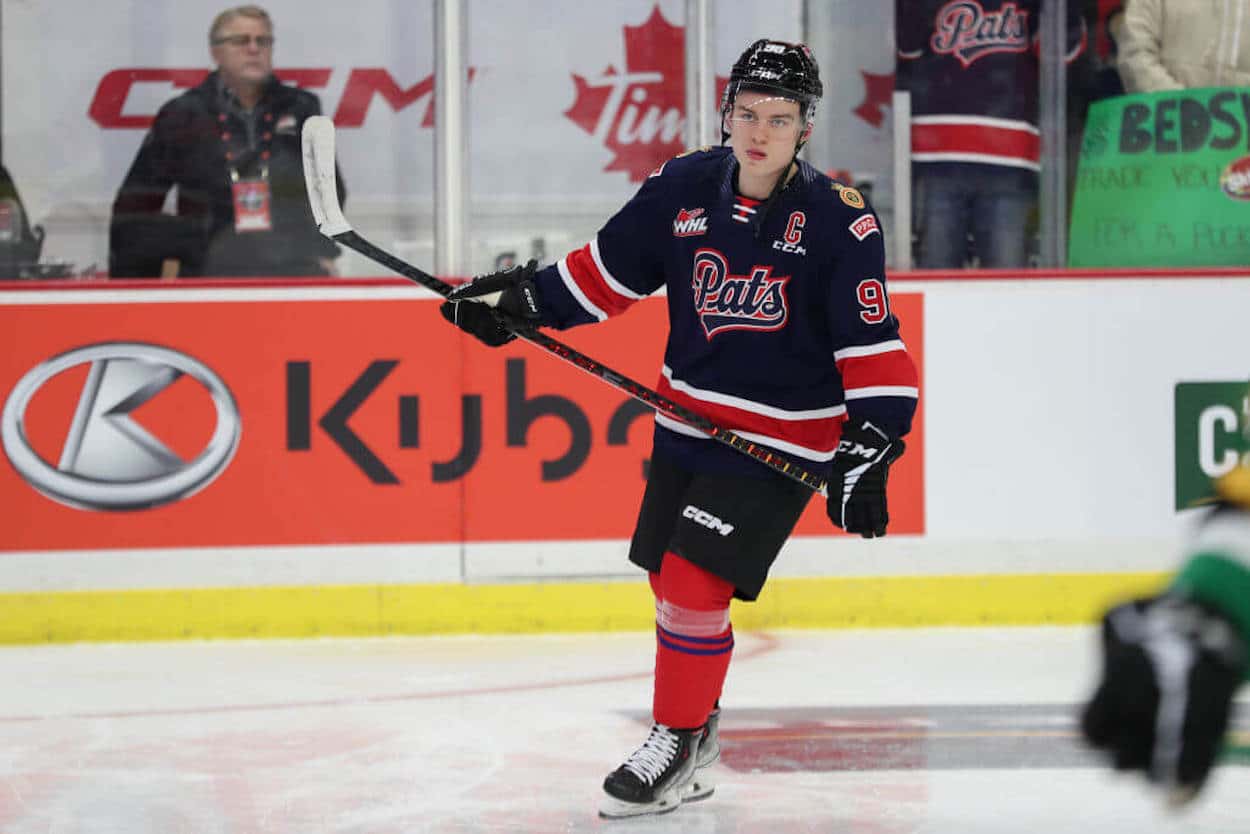 Over the years, hockey has seen plenty of bizarre routines. Sidney Crosby, for all of his fame and fortune, still wears the same athletic supporter that he donned in high school. Glenn Hall was known for throwing up before taking the ice and, in a 2011 interview the The Providence, even admitted that he came to feel that he "wasn't giving everything [he] had" if he wasn't sick to his stomach. Thankfully for his teammates, Connor Bedard keeps things a bit lower-key.
When speaking to Mike G. Morreale of NHL.com, the Regina Pats star dished on his pre-game superstitions. While he has plenty of boxes to check off before taking the ice, they're all pretty standard.
"Well, my whole day is exactly the same on game days," the presumptive first overall pick explained. "The way I do everything is very similar. I think if you watch my warmup, or watch my warmup off the ice, it's always the same kind of patterns. I always put my stick in the same spot, same way, before taping it. I could definitely have a pretty good list [of superstitions]."
What else is on that list? Apparently, the center forgoes the standard practice of getting dressed in the same order every time. His check list, it seems, varies depending on why he's taking the ice.
"Most times, I'll put on left skate first, right skate second, but for practices I go right skate first, left skate second," Bedard noted.
No matter what Bedard has been doing, there's no reason to change now
When you look at pregame rituals from afar, it's easy to say that they don't matter. Even if you want to be charitable and say they help the athlete get into the right mindset, a professional would theoretically click into gear pretty quickly, even if things didn't go according to plan. Even with that cynicism, though, Connor Bedard is clearly doing something right.
While he's yet to reach the NHL level — you could argue that represents the hardest test, and the forward hasn't done anything yet — the British Colombia native hasn't had any problem stuffing the box score. He recorded 100 points during the 2021-22 Major Junior season and, through 48 games of the 2022-23 campaign, has already tallied 23 additional points. If you add in his exploits at World Juniors, where he posted 23 points en route to a gold medal, it's easy to see why Bedard is tapped as the safe bet in the upcoming NHL draft.
And even though there's some debate about what his professional future will hold, even the most conservative projections are still rather flattering. Writing for The Athletic, Scott Wheeler mused that Bedard could be more of a Patrick Kane than a Sidney Crosby, profiling as an electrifying scorer rather than a true do-it-all game-changer. If that's a worst-case scenario (barring truly unforeseeable factors like a career-ending injury), then the Regina Pats star is in a pretty good place.
If he remains on that trajectory, just about any superstition he wants to follow will be tolerated. If you're scoring goals, after all, you get plenty of latitude.