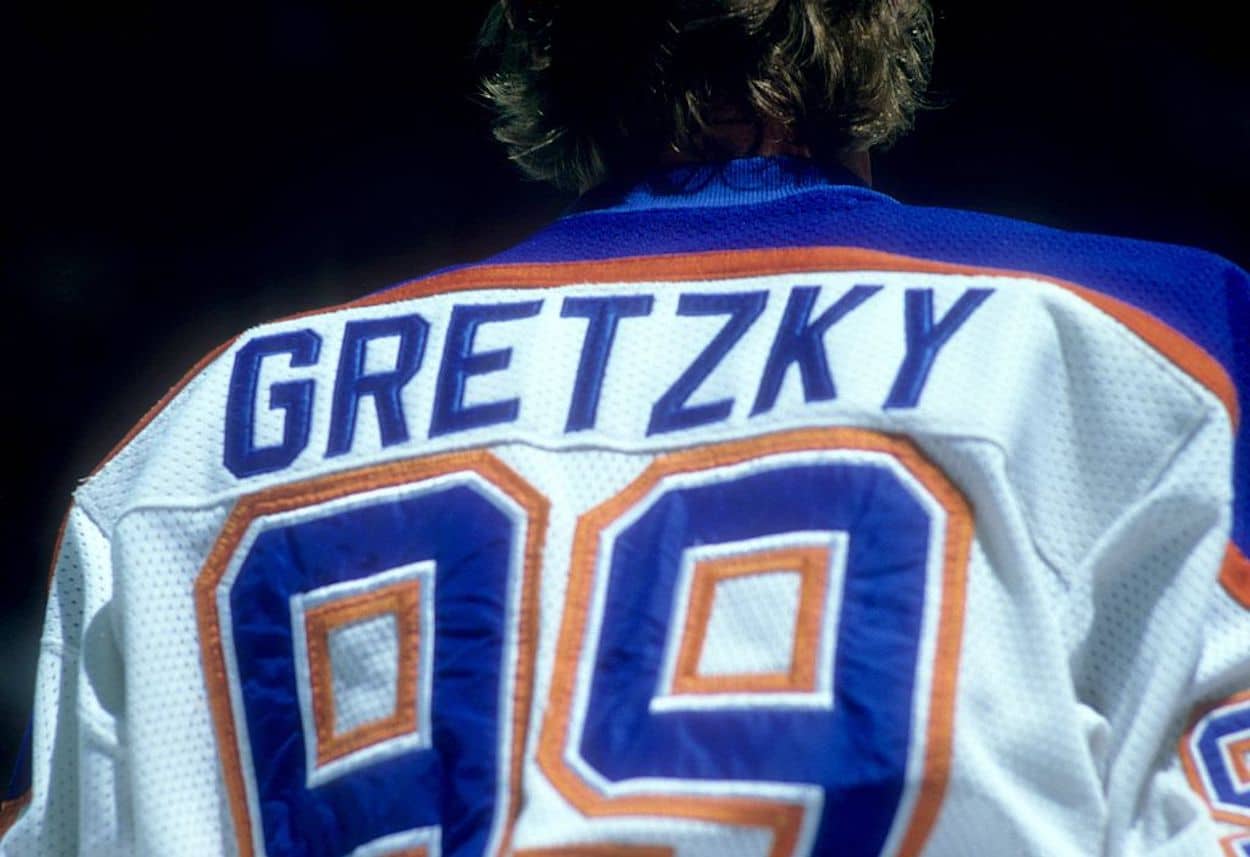 Wayne Gretzky and His $1.4 Million Jersey Confirm the NHL's Dangerous Star-Power Problem
Wayne Gretzky still looms large over hockey culture, which underscores the NHL's inability to market stars to a larger fanbase.
While hockey might not be the most popular sport in North America, just about everyone is familiar with Wayne Gretzky. During his time on the ice, the Great One rewrote the record book. Unsurprisingly, that made him a household name and created a market for any piece of memorabilia affiliated with the forward. That's even true today, as one of his old jerseys recently sold for a shade over $1.4 million.
That might seem like a relatively benign piece of news — famous jerseys tend to sell for sizable sums across the sporting world — but the story still underscores a dangerous reality of the NHL landscape. More than 40 years after Gretzky burst onto the professional scene, the league hasn't been able to find and market a star capable of rivaling him.
A 1988 Wayne Gretzky jersey just sold for $1.4 million
In the world of hockey, the jersey is essentially sacred ; there's even a line from "The Hockey Sweater" on some Canadian $5 bills. Through that lens, it's not exactly surprising that a piece of Wayne Gretzky's uniform recently sold for big bucks.
As laid out by Dan Hajducky of ESPN, the jersey "sold for $1.452 million (including buyer's premium) with Grey Flannel Auctions on Sunday night." It was worn by Gretzky during Game 4 of the 1988 Stanley Cup Finals, which is most remembered for a power failure ending the contest early. It was replayed two days later, and Edmonton clinched the title.
That championship was the Great One's fourth; he also earned his second Conn Smythe Trophy as the postseason MVP.
The $1.4 million price tag was the highest sum ever spent on a single hockey jersey. The previous high-water mark was Paul Henderson's 1972 Summit Series jersey, which went for $1.3 million. For a bit of added context, the gloves that Gretzky wore in the same Cup-clinching contest as the jersey also sold at the same auction for $204,162.
That auction may seem benign, but it shows how hockey has failed to market the next generation of stars
From afar, a historical jersey selling for a massive sum of money wouldn't raise too many eyebrows. It's the sort of story that, while it might not be ideal from a financial perspective, is largely good clean fun. In this case, however, it underscores a larger issue on the NHL's side of things. The league simply lacks the name recognition to be relevant.
When you think of an NHL star who transcends the bounds of hockey and becomes a pop-cultural presence, there's no one more recent than Gretzky. Sidney Crosby could have been that player, but he's been well trained in the hockey tradition of giving the most boring interviews possible. Alex Ovechkin came into the league at roughly the same time and possesses all-world talent, but his Russian heritage and willingness to show emotion rubbed many the wrong way. Connor McDavid has been pegged as the next Gretzky and even plays in Edmonton, but the league doesn't know how to market talent. If you live on the east coast, you'll be lucky to see him a few times per season.
Compare that with the NBA. If we posit that Michael Jordan is the Association's equivalent of Gretzky, look at all the stars who have come after him. Even if you're grading incredibly strictly, there's Kobe Bryant and LeBron James. If you're feeling more charitable, guys like Allen Iverson, Shaquille O'Neal, and Steph Curry have name recognition outside of basketball.
That's part of the reason why the NBA is a global league, and the NHL finishes fourth in a three-horse North American race. Even the 2022 postseason TV numbers, which are largely unprecedented, are a drop in other leagues' metaphorical buckets. If hockey ever wants to grow, it needs stars.
Although that might sound like a simple problem, finding a fix will probably take a bit of effort. So much of hockey culture is built around toughness, selflessness, and collective sacrifice. You're supposed to play for the name on the front of the jersey, not the one on the back. Changing those attitudes will simply take time.
The NHL can help those attitudes shift, though. The league can, and should, flex its muscles with broadcasters to highlight skill, speed, and personality. Situations like when Coyotes broadcaster Tyson Nash essentially said skilled players have to accept they'll be punched in the mouth shouldn't happen. A single comment like that may seem innocent, but those one-liners set precedents. There could also be an effort to promote players and, again, their personalities, rather than the league's previous obsession with creating rivalries between teams without any natural connection.
Teams should also do their part to promote unique personal angles. While there's a limit to how much they can "force" the media to tell a story, the information gets out there. If the New York Rangers, for example, were to cut a video or write an in-house feature about Igor Shesterkin or Artemi Panarin, that will be aggregated, shared on social media, and simply be in the ecosystem. Fans will hear the story and want to know more.
To be clear, the modern NHL has plenty of talent. There are players with great stories to be told. While purists might insist they don't deserve to be on the same footing as Wayne Gretzky, they'll never have the chance to get there if the league doesn't pull its share of the weight.
Like Sportscasting on Facebook. Follow us on Twitter @sportscasting19 and subscribe to our YouTube channel.