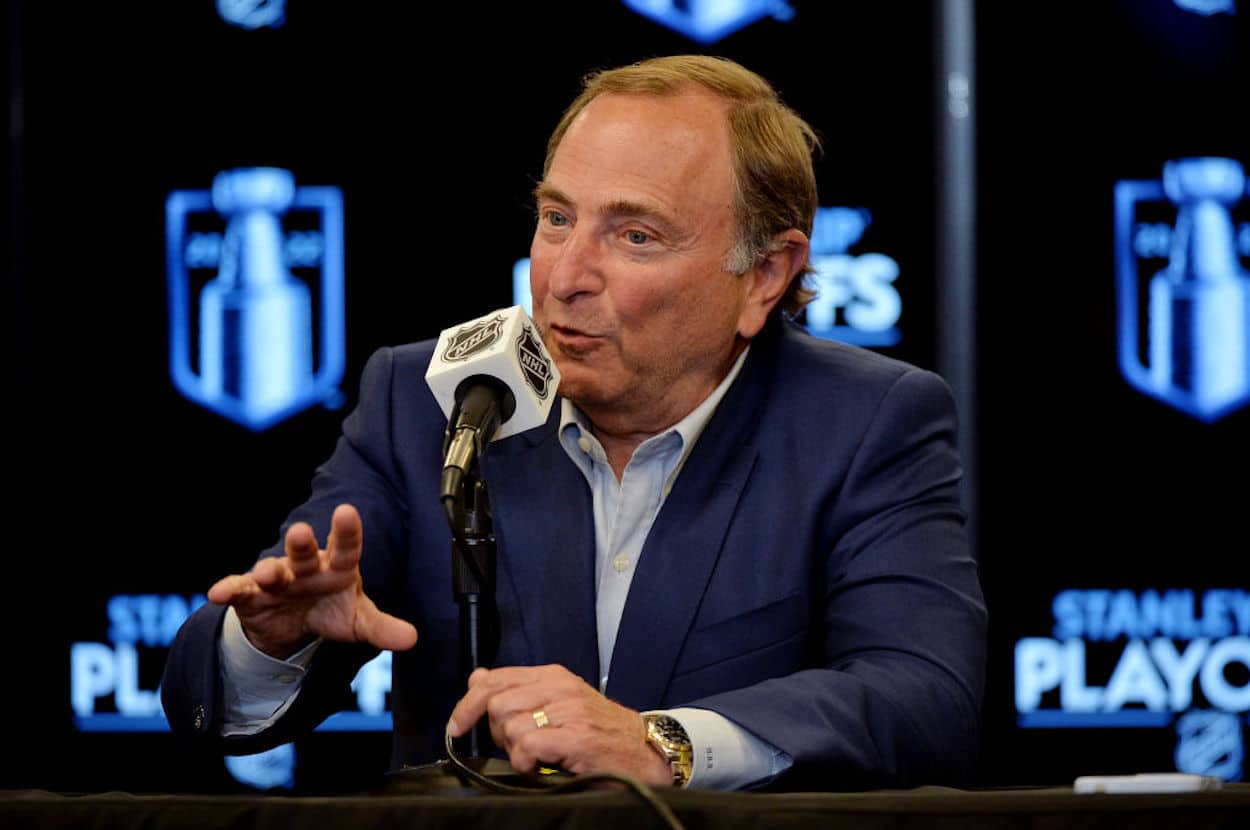 The NHL Refuses to Position Itself for Success Even as Gary Bettman Says the Right Things About Viewership
The NHL has increased its reach with a new broadcast deal, but the league can still improve it's product to speak to a wider audience.
As any hockey fan can tell you, the ice game is at the bottom of the heap. While the NHL may have its fair share of fans, the league will never compete with the likes of the NFL and NBA.
If you believe Gary Bettman, though, things are changing. Ever since the league changed broadcast partners, moving to a combination of ESPN and TNT, viewership numbers have increased. Hockey may finally have somewhat of a foothold.
All the numbers in the world, however, won't matter if the NHL isn't putting forth a good product. While the 2022 playoffs have produced some high-quality play, the league is still living in the past and unwilling to realize that skill, not toughness, speaks to new fans.
Gary Bettman spoke positively about increasing NHL viewership during a recent interview
For years, the NHL was broadcast on the Outdoor Life Network/Verses Network, which eventually grew into NBC Sports. These days, however, the league has partnered up with the big boys and airs on a combination of ESPN and Turner. Unsurprisingly, that move has helped hockey gain a bit of mainstream footing.
"The transition has been better than seamless, and it has been sensational in terms of the results," commissioner Gary Bettman explained on the Sports Business Journal's Marchand and Ourand podcast. "Both ESPN, the Walt Disney Company, ABC, ESPN, ESPN+, Hulu, and Turner, which is now Warner Brothers Discovery, made a series of promises, as we were going through our discussions, about promotion, production, scheduling, and they have both been utterly fantastic."
As you might expect, that's led to increased numbers across the board.
"And the results are, in the first round of this year's playoffs, we're seeing numbers on cable that we've never seen before. In fact, I think that Game 7 of New York Rangers-Pittsburgh Penguins was the most-viewed first-round game on cable and three of the four most-highly rated games on cable that we've ever seen. And so, they're doing a great job, and we couldn't be more pleased."
Viewership is all well and good, but the NHL needs to put out a modern product
On the surface, it's great that the NHL is reaching more viewers. That can't be the end goal, though. The league needs to put out a product that can turn one-off viewers into proper fans, and, during the 2022 Playoffs, we've seen elements of negative hockey culture peeking through the cracks.
Let's keep the focus within the past few days, if only for convenience. Sam Girard, one of the Colorado Avalanche's exciting young players, is out for the remainder of the postseason after a body check broke his sternum. While the hit wasn't dirty, it was the sort of unnecessary, 'finish your check' play that doesn't ever need to happen.
While this isn't to say all physical contact should be banned from hockey, let's consider it from a neutral's perspective. What is more exciting for someone new to the game? Watching a skilled player or seeing someone get run into the boards after moving the puck? I'd wager the former, even if the latter is a short-term thrill.
Moving beyond that incident, the St. Louis-Colorado series has also seen injured goalies, thrown water bottles, and controversies over dirty play and reputations. Now, the Battle for Alberta has seen a similar situation, with Milan Lucic being ejected for charging Oilers goalie Mike Smith.
While those sorts of situations may produce viral clips for social media (like the penalty call above), I would again question if that's the image the NHL wants to portray. What does the league want new fans to think it provides? Speed and skill or penalties and drama?
As long-time NHL fans can tell you, that division between speed/skill and traditional hockey values isn't anything new. It shows up in team construction — do you keep an enforcer on the roster? — the media, and just about everywhere in between. The division is furthered, whether intentionally or not, by the rule book and the Department of Player Safety. When unnecessary physicality, like the hit that ruled Girard out, is simply written off as the way the game is played, things don't change.
As someone who's followed hockey for a while now, I'm thrilled that it's reaching a larger audience. With that being said, though, the league can't simply look at the numbers and consider its mission accomplished. Hockey can be an exciting game with genuine tension and emotion, but it can also be an artifact from 1982 where toughness trumped skill. If the NHL wants to grow, they'll have to understand and embrace that. People want personality and skill, not grinding physicality and an unwillingness to have fun.
It's unclear if Gary Bettman and company understand that, though. Moving forward, the league will need to walk the walk and deliver a good product. If they don't, this increased viewership will be little more than a spike in unsustainable curiosity.
Like Sportscasting on Facebook. Follow us on Twitter @sportscasting19 and subscribe to our YouTube channel.