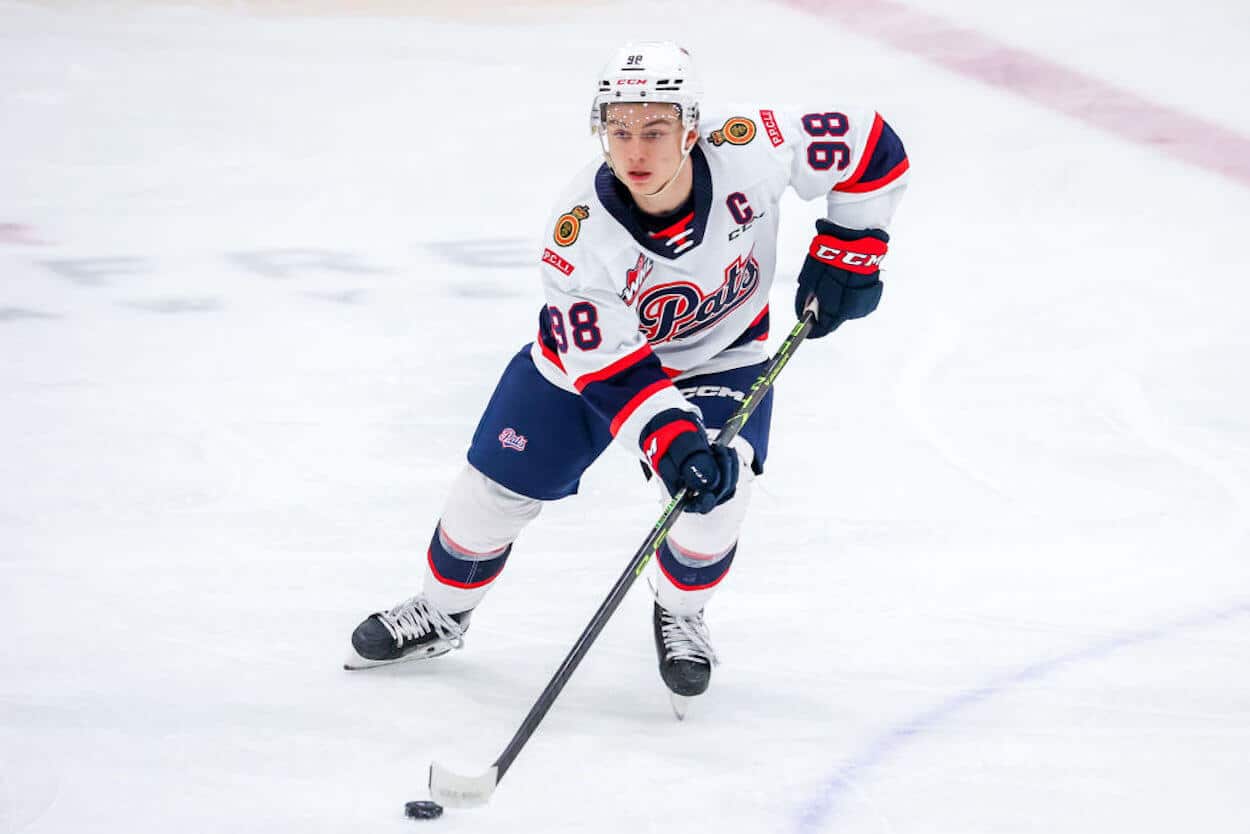 Connor Bedard Could Perfectly Fulfill a Prophetic Scouting Report With the Chicago Blackhawks … Or See Everything Go Wrong
While anything can happen on draft night, Connor Bedard seems destined to join the Chicago Blackhawks. That could be a blessing or a curse.
On Monday, May 8, Connor Bedard took another step toward becoming an NHL player. That evening, the ping-pong balls awarded the Chicago Blackhawks the first overall pick of the 2023 draft. And while nothing is set in stone, it seems like Bedard is going to be plying his trade in the Windy City.
If the teenager does join the Blackhawks, that will do more than (potentially) revitalize the Original Six franchise. Bedard will also bring things full circle and could fulfill a strikingly accurate scouting report. Alternatively, everything could come crumbling down.
Let's break it down.
Connor Bedard was tapped as a Patrick Kane-type player, and now he's heading to Chicago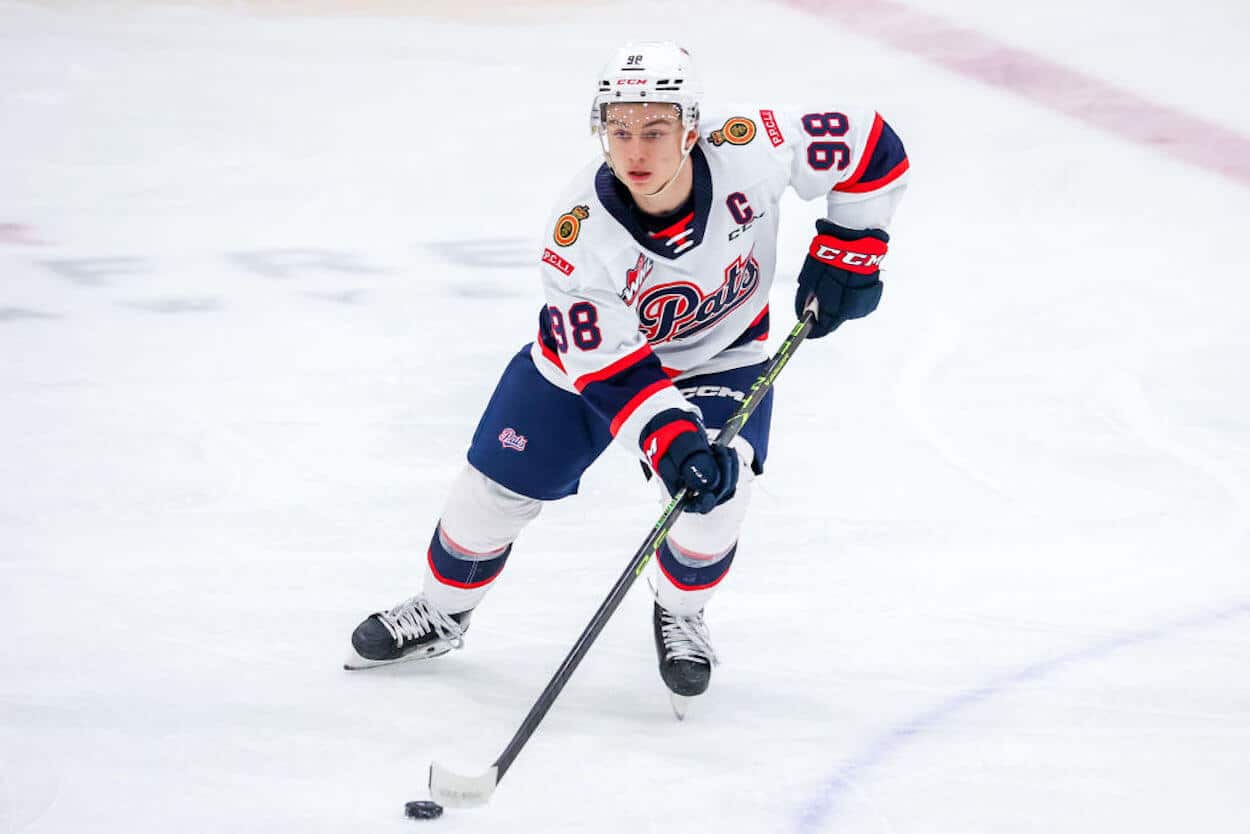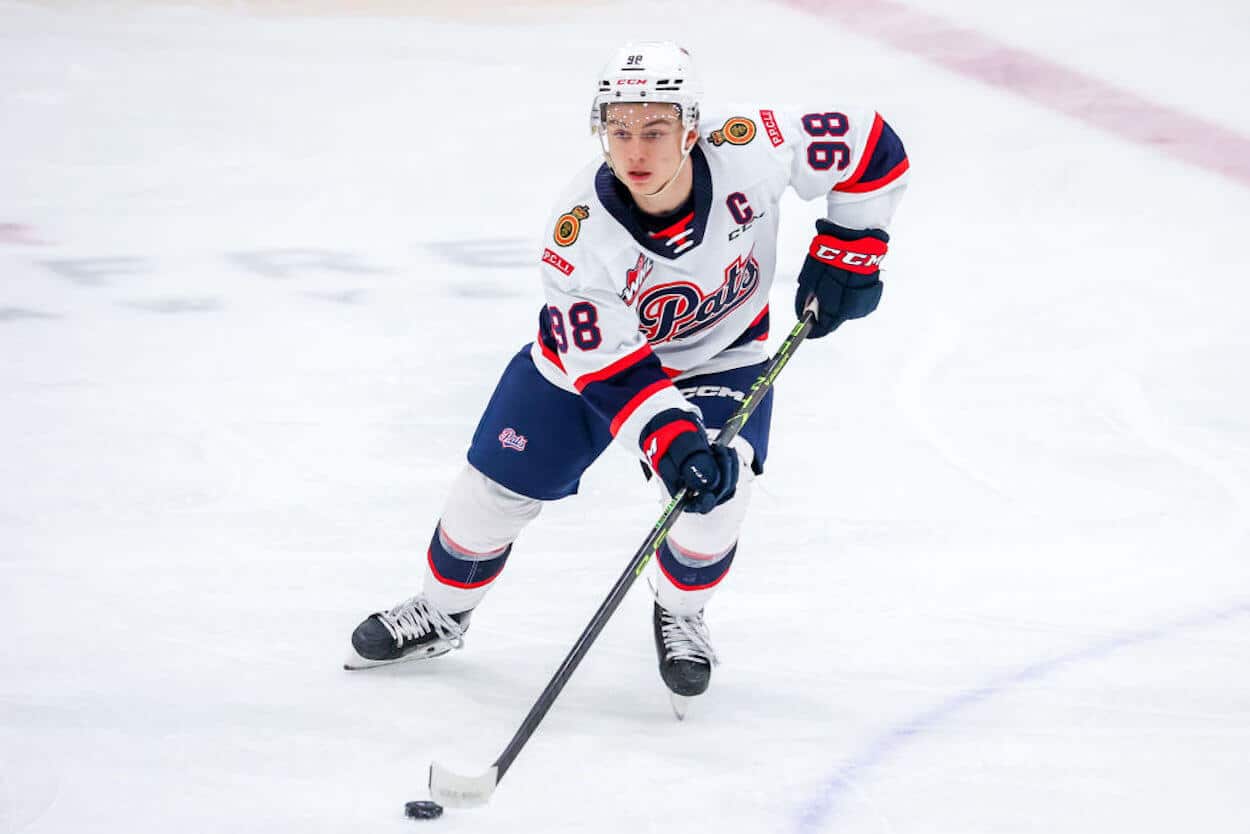 While the Chicago Blackhawks have had plenty of legendary players on the roster over the years, the modern era is headlined by Jonathan Toews and Patrick Kane. The latter has already left the Midwest, though, and the former has played his last game for the franchise. Connor Bedard, however, is probably coming to town to fill the void.
As mentioned above, the Blackhawks won the 2023 NHL Draft Lottery, giving them the first overall pick. That probably means Bedard, who has shined for the Regina Pats and Team Canada, will be calling the United Center home for the foreseeable future.
In an ironic twist, one of the teenager's scouting reports makes specific mention of one of Chicago's modern stars.
"Crosby and Ovechkin have a Mount Rushmore case, and McDavid will have one by the time he's done. I don't think Bedard is going to get to that echelon because he won't have the two-way impact Crosby has had, nor the singular speed that McDavid has, nor the power/shooting combination that has made Ovechkin's the game's greatest goal scorer," Scott Wheeler of The Athletic wrote in a November 2023 mailbag. "I'd sooner expect him to get to the Patrick Kane/Pavel Bure echelon, where he may become the most electric player in the league, and he'll do things that others just can't, and he'll win some Art Ross and Rocket Richard trophies, but he may never be universally regarded as the undisputed best player in the world."
Whether you agree with that assessment or not, Bedard will now (probably) have the perfect chance to prove if he can be a Patrick Kane-type player at the professional level.
Bedard will have plenty of opportunities to shine in Chicago, which could be a gift or a curse
The comment about Patrick Kane wasn't the end of Wheeler's answer, though. He also talked about Connor Bedard landing in a favorable situation, which we can certainly apply to Chicago.
"I do, however, think he has point-per-game (or at not far off) potential next year in the right situation, though. He's going to play PP1 right away and rack up points there," the scribe continued. "With the right linemates and deployment at five-on-five (he'll probably need a coach who is going to play him 17 to 19 minutes per game), I don't think 35-40 goals or 70-80 points is out of the question at all."
If we assume the teenager will be heading to the Windy City, he'll certainly have plenty of opportunity right out of the gate. Patrick Kane left town at the trade deadline; Jonathan Toews has played his last game for the franchise. Max Domi was also traded, and Andreas Athanasiou is bound for free agency. That means the top-scoring forward still under contract with the Blackhawks is Taylor Raddysh, who finished the 2022-23 campaign with 37 points.
Faced with that vacuum of top-end talent, Bedard will step onto the NHL stage as a top option. He'll probably get first-line minutes — with all due respect, who else will you put there? — and will step straight onto the top power-play unit. There will certainly be plenty of opportunity for the North Vancouver native to cut his teeth and adjust to life in the NHL.
At the same time, though, that opportunity isn't automatically a good thing.
While getting ice time is better than sitting on the bench, a first overall pick would ideally have some support around him. And while there's certainly time for offseason moves, Chicago doesn't have that infrastructure there yet. If there's no one to pick up the scoring slack and Bedard finds himself being caved in night after night, a golden opportunity could turn into a confidence-crushing experience rather quickly. Just consider how Jack Hughes came to hate his rookie year; he eventually turned the page, but that's ability to recover from a tough start isn't universal.
As the cliche says, though, with great power draft status comes great responsibility. Now it's nearly time to see how Connor Bedard handles that pressure.