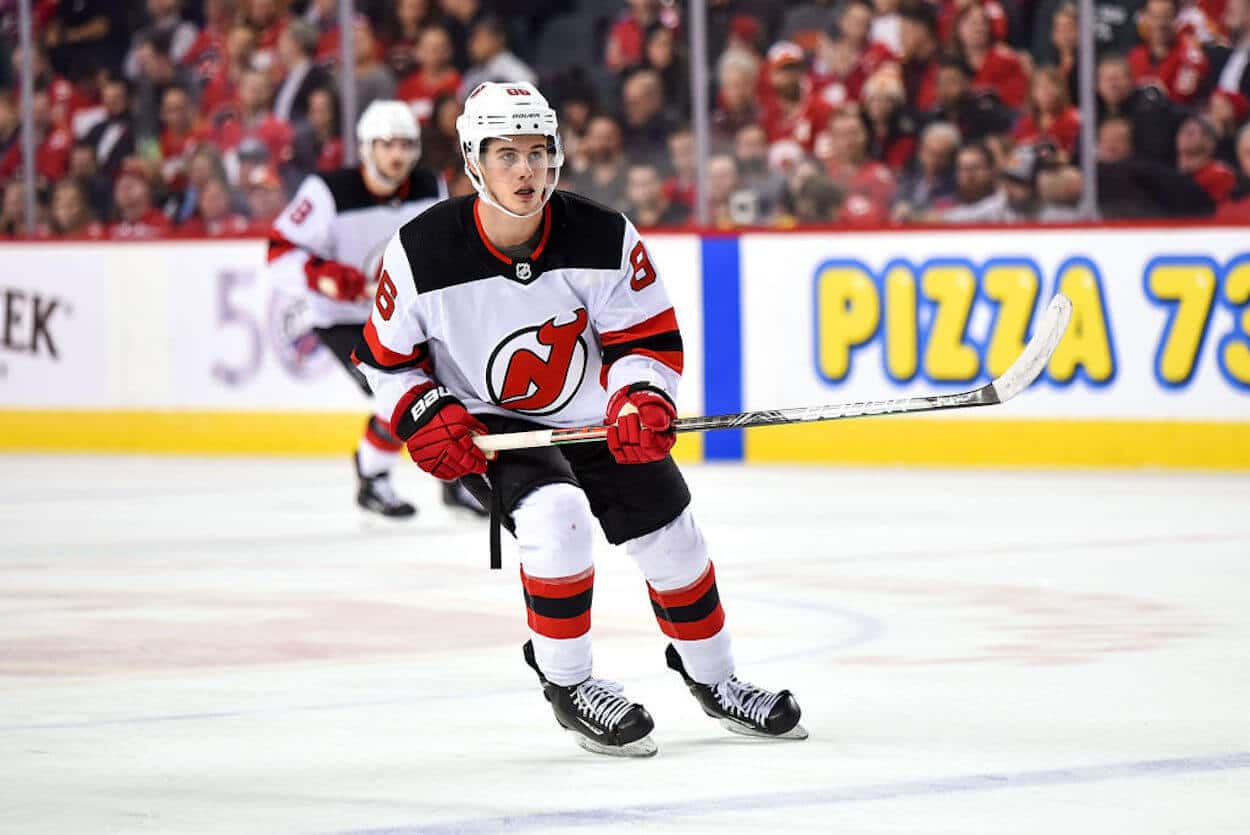 Jack Hughes Made Almost $1 Million During His Rookie Year With the Devils, but He Still 'Hated It'
Jack Hughes has fully arrived as an NHL star, but his first year in the pros was quite a bit tougher. Allow the forward to explain.
Despite a cliche that says otherwise, it's easy to think that professional athletes can buy their way to happiness. Making millions of dollars to play a children's game, after all, does seem like a pretty sweet gig. That assumption, however, ignores the human challenges that come with life in the spotlight: Just ask Jack Hughes about that.
While the young forward has finally managed to put everything together, things were a bit different during his first season with the New Jersey Devils. Hughes and the team both struggled and making nearly $1 million in salary couldn't mitigate those challenges. In fact, the Orlando, Florida native admitted that he "hated" that first professional campaign.
Sound unbelievable? Well, let's hear it from the man himself.
Money couldn't stop Jack Hughes from hating a tough rookie year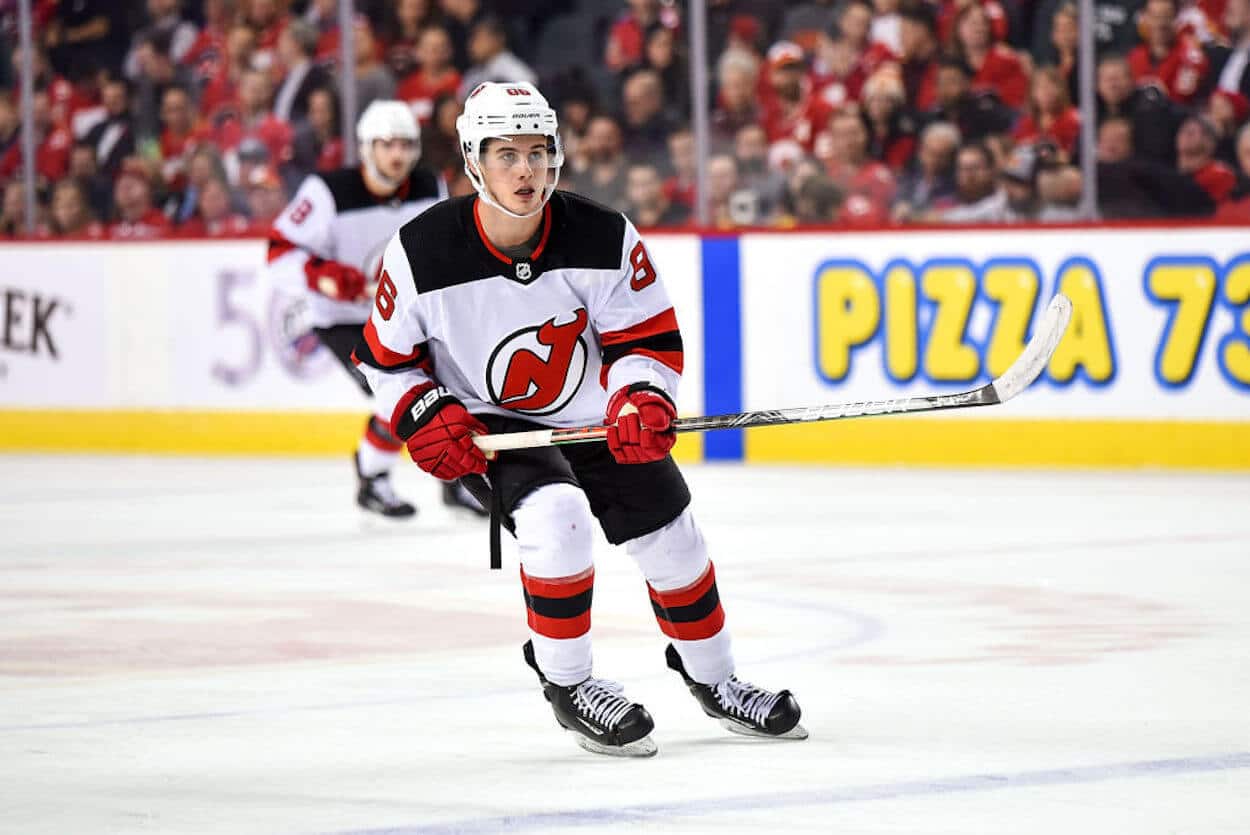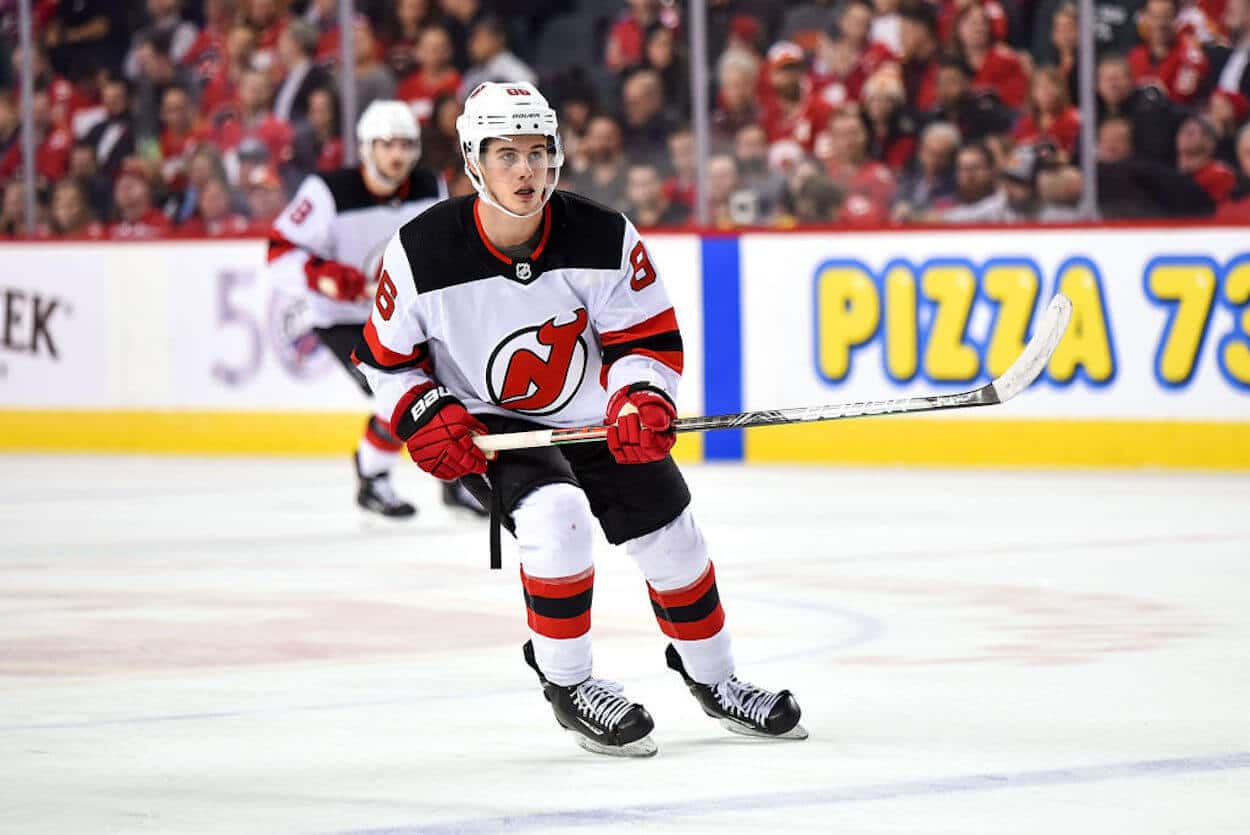 If you can remember your first day at your first job, you'll know the challenges of being at the bottom of the food chain. While playing professional sports obviously has its differences, Jack Hughes didn't have the easiest time as an NHL rookie.
As you might expect from the fact that they had secured the first overall pick, the New Jersey Devils weren't a great team. The club limped out of the gate, let both the head coach and the general manager go, and traded away Taylor Hall, only making things tougher on the ice. Needless to say, that wasn't an environment that allowed Hughes to flourish.
"I hated it," the forward told ESPN's Emily Kaplan about his rookie year.
And while on-ice challenges certainly played a role in that — Hughes only recorded 21 points in 61 games and grappled with the challenges of going toe-to-toe with hockey's biggest stars while trying to physically develop — there was more at play. Making around $925,000 might seem like a perk, but money can't alleviate pressure.
"Like, I was in high school, living at home, driving a car my parents paid for, lucky if I had Chipotle once a week. I'd have to ask my parents, 'Hey, can I go to Chipotle with my friends?'" Hughes explained. "And then the following year, you're making a million bucks, playing in front of live arenas. You obviously have a lot of hype. It's everything I dreamed of and I wouldn't want to change it, I just wish I could have played better."
Not only would Hughes refuse to change it, but he found a silver lining to the struggles.
"But at the same time, I think going through that adversity is going to make me the player that I am," he added.
Hughes has found his stride, and the money matches his performance
While saying that adversity taught some valuable lessons is one of the oldest cliches in the book, it does seem to ring true for Jack Hughes.
The forward didn't turn into a superstar overnight, but he did improve year over year. His 2022-23 campaign, however, was the biggest leap forward. The center finished the campaign with 99 points (43 goals and 56 assists), setting the New Jersey franchise record for the most points in a season. Hughes also earned his first All-Star nod and helped the Devils reach the postseason for the first time in his professional career.
Nothing in sports is guaranteed, but at this point, the sky seems to be the limit for the young forward.
And, away from the ice, things have also improved. While Hughes' $925,000 rookie salary is to be expected — NHL players come into the league on entry-level contracts, which exist on a sliding scale — he is making quite a bit more these days. The center is in the first year of an eight-year, $64 million extension; when you factor in his signing bonus, the 21-year-old earned $9 million this season.
To make things even sweeter, this current contract expires in 2030. That may seem like an eternity away, but Hughes will theoretically still be in his prime then. Again, there's no telling what the future holds, but it's quite possible that he'll be able to sign one more massive contract before starting to decline.
If nothing else, we know one thing: Hughes can certainly afford to buy a lot of Chipotle. And, the way he's been playing, maybe he'll be able to eat it out of the Stanley Cup one day.