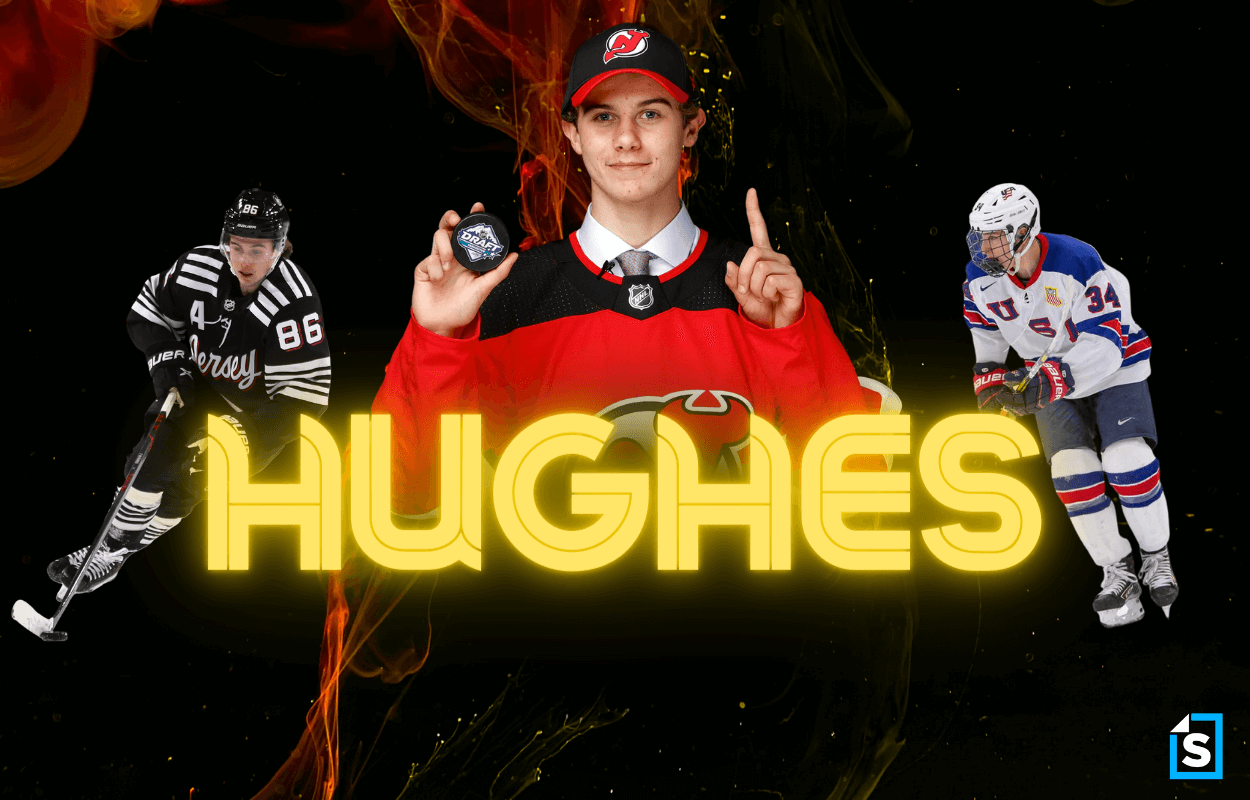 Jack Hughes: Biography, Career, Net Worth, Family, Top Stories for the NHL Star
Who is Jack Hughes? We've got you covered with anything and everything about the talented NHL center.
In the world of sports, the line between a star NHL player and a draft bust can be paper-thin. Consider Jack Hughes as an example of that. After joining the New Jersey Devils as the first overall pick of the 2019 draft, the American center only had a modest impact at the professional level. Things didn't get much better during his sophomore campaign, and while he improved gradually during his third season, Hughes didn't seem like a world-beater.
That narrative, however, has melted away like the ice after the Stanley Cup Finals. During the 2022-23 campaign, Hughes (not to mention the Devils) took a leap forward. 
 With that in mind, let's get to know the real Jack Hughes a bit more. Here's everything to know about the New Jersey Devil, ranging from his hockey history to some perspective on the contents of his bank account.
Article Contents
Quick facts
Early life and career
Major Junior career
Major Junior Stats
NHL career
NHL stats
United States career
United States stats
Net worth and earnings
Nicknames
Media presence
FAQs
Quick Jack Hughes facts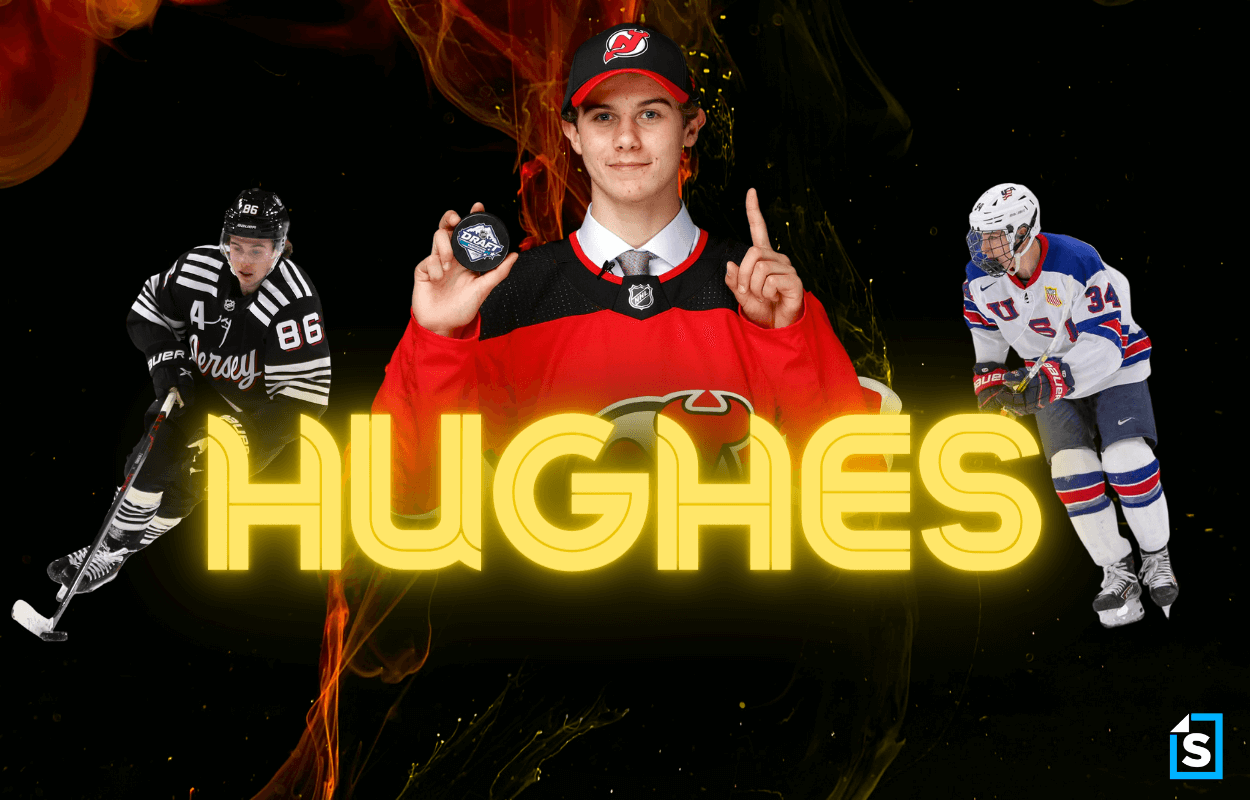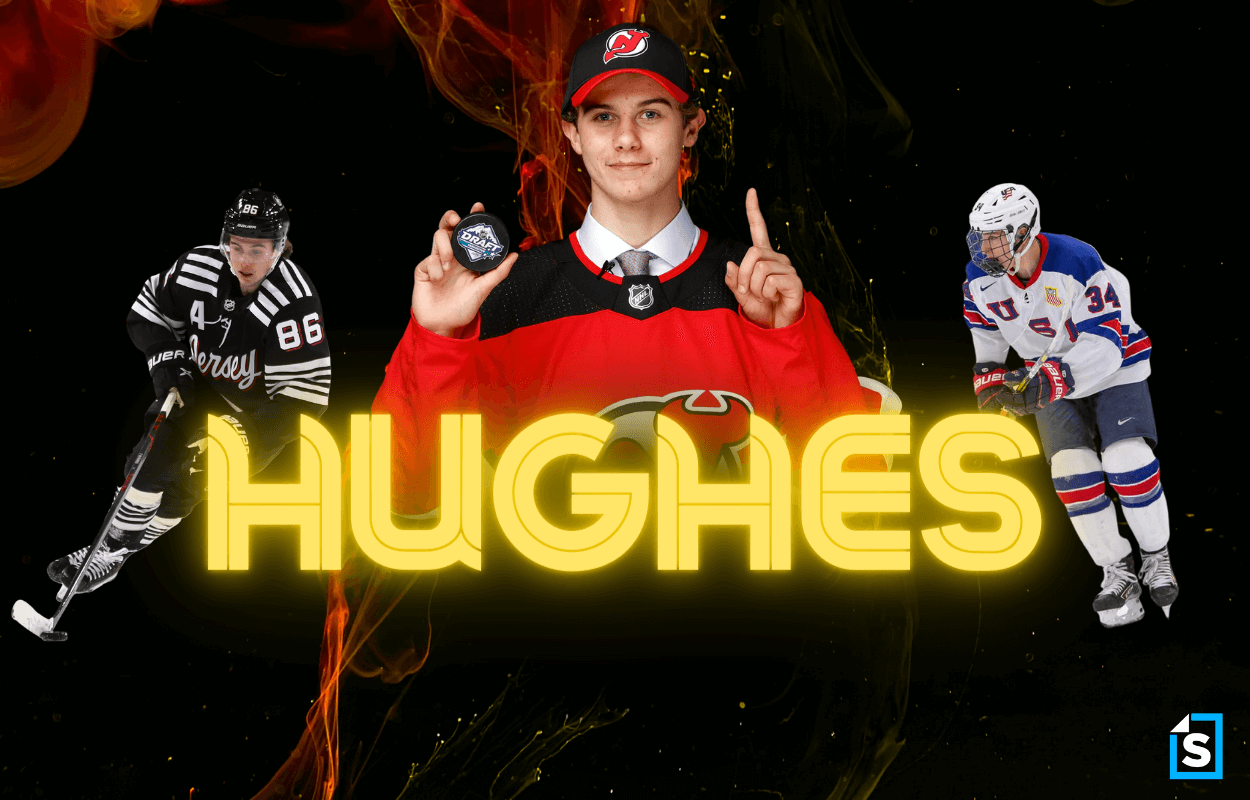 Full name: Jack Hughes
Birthday: May 14, 2001 
Birthplace: Orlando, Florida
Parents: Jim and Ellen Hughes
Siblings: Quinn Hughes, Luke Hughes
Listed height: 5-foot-11
Listed weight: 175 pounds
Junior teams: USNTDP (United States National Team Development Program)
Professional position: Center
Professional numbers: No.86 (New Jersey Devils), No.6, No. 43 (USNTDP and Team USA)
Junior playing career: 2017-19
Professional playing career: 2019-present
Marital status: Single
Jack Hughes' early life and hockey career
As much as Gary Bettman may have tried to change things, hockey is usually associated with colder, northern locations rather than the sunny south. Jack Hughes, however, (somewhat) defies that norm by hailing from Florida.
Despite being born in the Sunshine State, the ice game ran through Hughes' blood. As laid out in a Colorado Avalanche profile written ahead of the 2019 draft, his father, Jim, was a coach, while his mother, Ellen, played college hockey and won a silver medal at the 1992 Women's World Championship.
And while Jim's job took the Hughes family to Florida, it also moved them to more hockey-friendly locales. They bounced north to Boston, then continued on to New Hampshire. Eventually, they settled in Toronto — Jim worked for the AHL's Marlies and the NHL's Maple Leafs — which put Jack in the right place at the right time. While he had been skating since age two and doing battle with his brothers, living in Canada allowed him to take things even further.
"Hockey was in my blood, I think I was born to be a hockey player. I spent so many hours skating and playing mini-sticks, I think it was just meant to be," Hughes said in an NHL.com interview cited in the Avalanche article.
With that blood pumping through his veins and hockey around him, the young American worked his way through the local ranks. Before long, he was lighting it up in the Greater Toronto Hockey League.
Despite that success, Hughes' petition for exceptional status, which would have allowed him to play Major Junior Hockey a year early like Connor McDavid and Connor Bedard, was denied. Ultimately, he was drafted by the Ontario Hockey League's Mississauga Steelheads. 
The American had something else planned, though.
Jack Hughes junior career
For most big-time NHL prospects, playing Major Junior Hockey in one of Canada's big three leagues is the preferred way to prepare for the pros, with NCAA hockey being an alternative path.
Jack Hughes did something different.
While the center did play junior hockey, he did so south of the Canadian border. He joined the United States National Team Development Program (USNTDP), which plays in the United States Hockey League (USHL).
During his first year within the organization, Hughes split his time between the U17 and U18 teams. If that was a challenge — how could he develop chemistry with two sets of teammates? — the center didn't show it. He played 24 games with the former squad, recording 48 points (13 goals and 35 assists), and appeared in 36 contests with the latter, adding another 68 tallies (27 goals and 41 assists).
As those numbers might indicate, Hughes was more than prepared to spend the entire 2018-19 season playing at the higher level. Not only did he record 112 points (34 goals and 78 assists) in 58 games with the U18 team, but he also played 11 international games and 11 games against collegiate opponents, adding 36 points (15 goals and 21 assists) and 17 points (four goals and 13 assists), respectively.
Those two seasons were enough to write the forward's name into USNTDP history. He left the program as the all-time leader in total points (228) and total assists (154). Hughes also tallied the sixth-most goals (74), recorded the most assists in a single season (78 in 2018-19), and tallied the second-most points in a single campaign (116 in 2017-18).
Jack Hughes junior stats
Since he played for the USNTDP rather than a conventional Major Junior team, Jack Hughes' stats were compiled across different competitions and age brackets. The numbers don't lie, though; he still turned in some rather impressive performances.
| Season | Competition | Games | Goals | Assists | Points |
| --- | --- | --- | --- | --- | --- |
| 2017-18 | U17 | 24 | 13 | 35 | 48 |
| 2017-18 | U18 | 36 | 27 | 41 | 68 |
| 2018-19 | U18 | 50 | 34 | 78 | 112 |
| 2018-19 | International Opposition | 11 | 15 | 21 | 36 |
| 2018-19 | College Opposition | 11 | 4 | 13 | 17 |
Jack Hughes NHL career
After two years with the USNTDP, Hughes had accomplished just about everything possible. Perhaps even more important, he had established his pedigree as a legitimate NHL prospect.
When the 2019 NHL Draft rolled around, the choice seemed to be between Hughes and Kaapo Kakko, a big, Finnish winger. The New Jersey Devils, having secured the first overall pick in the lottery, took Hughes; Kakko landed across the Hudson River with the New York Rangers.
That first professional season wasn't the greatest outing.
The Devils, as you might expect from their high draft pick, weren't a great team. They changed coaches during the campaign and, even with that move, limped to an eighth-place finish in the Metropolitan Division. Hughes appeared in 61 games, recording 21 points (seven goals and 14 assists).
While the next season was far from conventional — due to the COVID-19 pandemic, the season started late and featured modified divisions — things weren't too much better for Hughes and the Devils. The club finished seventh in the East Division, while its sophomore center recorded 31 points (11 goals and 20 assists) in 56 games.
After that, though, the worm partially turned. Although the Devils couldn't climb much higher in the standings, Hughes began to flex his metaphorical muscles. Despite suffering an MCL injury and playing fewer games than ever before (46), he finished the year with 56 points (26 goals and 30 assists). 
That upward trajectory continued into the 2022-23 NHL season. Not only did Hughes set career highs in goals, assists, and points — he's tallied a franchise-record 99 points (43 goals and 58 assists in 78 games — but the Devils have also improved. New Jersey finished second in the Metropolitan Division and dispatched the rival New York Rangers in the first round before losing in five games to the Carolina Hurricanes. That may have been a disappointing end to the season, but the campaign suggested that even brighter days are on the horizon.
Jack Hughes NHL stats
While possession numbers and other advanced metrics are becoming more and more accepted in the NHL world, the counting numbers do matter. Jack Hughes, after a slow start to life in the pros, is stepping up his game in that regard.
| Season | Games | Goals | Assists | Points |
| --- | --- | --- | --- | --- |
| 2019-20 | 61 | 7 | 14 | 21 |
| 2020-21 | 56 | 11 | 21 | 32 |
| 2021-22 | 49 | 26 | 30 | 56 |
| 2022-23 | 78 | 43 | 56 | 99 |
Jack Hughes Team USA career
As mentioned above, Jack Hughes played his junior hockey with the USNTDP. Understandably, that placed him on the radar of USA Hockey, who welcomed him into the international fold.
Hughes first suited up for the United States at the U17 level, taking part in the 2017 Hockey Challenge. He tallied 15 points (five goals and 10 assists) in six games, helping the Americans earn a gold medal.
His next international appearance came at the 2018 U18 World Championship. Hughes contributed 12 points (five goals and seven assists) in seven games en route to a gold medal. 
The 2019 calendar was a bit busier as Hughes appeared in three different tournaments. He took part in World Juniors and was relatively quiet, notching four assists in four games, and skated in the U18 World Championship, tallying 20 points (a record-setting nine goals plus 11 assists) across seven games in Sweden. The United States earned a silver medal in the former competition and bronze in the latter.
The next international outing was less happy. In the 2019 World Championship, Hughes only recorded three assists in seven games. While you could argue that was mitigated by the fact that he made history as the youngest player to represent the United States at the World Championship, the experience probably wasn't too positive. Team USA limped out of the tournament in seventh place.
Jack Hughes Team USA stats
Although he might not have the same national team resume as some of his peers, Jack Hughes has a wealth of experience at the international level. His stats, at least at the junior level, largely speak for themselves.
| Year | Tournament | Games | Goals | Assists | Points |
| --- | --- | --- | --- | --- | --- |
| 2017 | U17 Hockey Challenge | 6 | 5 | 10 | 15 |
| 2018 | U18 World Championship | 7 | 5 | 7 | 12 |
| 2019 | World Juniors | 4 | 0 | 4 | 4 |
| 2019 | U18 World Championship | 7 | 9 | 11 | 20 |
| 2019 | Ice Hockey World Championship | 7 | 0 | 3 | 3 |
Jack Hughes net worth and earnings
While being a highly touted draft pick can come with a great deal of pressure, it also carries some rewards. If you want some proof, just consider Jack Hughes' financial standing.
NHL entry-level contracts exist on a scale, and, as the top pick in the 2019 draft, Hughes slotted in at the top of that spectrum. He inked a three-year, $11.35 million deal as a rookie.
That earning power was only the beginning.
In November 2021, the center agreed to an eight-year, $64 million contract extension. While that might not sound like a massive sum of money in the world of sports, it represented a decent chunk of change when you consider Hughes' youth — he'll still have time to sign another big contract after the current deal expires — and that he hadn't truly broken out when he put pen to paper. 
And while the center doesn't have the clout of a Canadian star when it comes to endorsements, he did land a deal with Gatorade shortly after entering the league. Sports Business Journal cited Chris Ryan of the Newark Star-Ledger, who, at the time, wrote that Hughes was the first New Jersey Devil to work with the beverage brand. There was no indication of the amount of money changing hands, but it's safe to assume that, as the first overall pick, he was going to earn a respectable chunk of change.
Beyond that, Hughes also worked with Chipotle in the past. While it's unclear if that relationship is still active, the forward did tweet about the chain and had his own signature bowl available in the Chipotle app. 
In total, Celebrity Net Worth pegs Hughes' fortune at approximately $3 million. That may seem a bit low, but now that he seems to have found his NHL stride, things could accelerate rather quickly.
Jack Hughes nicknames
Within the world of hockey, nicknames can be a bit formulaic: Add a "-y" or an "-er" to the end of someone's last name, and you're done.
Fortunately — or unfortunately, depending on your perspective — Jack Hughes' monikers are a bit more interesting.
When he arrived in the NHL, P.K. Subban, who was never afraid of showing his personality, dubbed Hughes "Lil Jizzy," which was presumably a play on his small stature and/or youth and the name Jack.
In 2021, however, the defenseman decided that the center had grown up. "New nickname now," Subban wrote in an Instagram story. "He ain't lil no more." At the bottom of the screen was the replacement nickname: Gentleman Jack.
And while that moniker hasn't exactly taken the NHL by storm, we do know what you shouldn't call the Devils forward.
In a 2019 feature about their new draft pick, the club asked him about the least favorite nickname he ever had. "Junior," he responded. "They called me that at my gym when I was really young because [older brother] Quinn was 'Hughes,' so I became 'Junior.'"
Jack Hughes media presence
While this will probably rub both hockey and New Jersey Devils fans the wrong way, neither the sport nor the team has the largest profile. That reality, like it or not, has affected Jack Hughes' media presence. 
By and large, the forward remains off the radar. Setting highlights aside — those don't really count — he has appeared in branded Bauer videos. He also delivered some Chipotle to some developmental players in the USA Hockey system, which was captured for a Youtube video. 
Even things that push him a bit further into the spotlight, like a 12-minute-long ESPN video feature from early 2022, are done through the lens of hockey. There were some forays away from the ice — we see the young Devil buy a sandwich, watch football, and complain about the NFL's taunting rule — but things always circled back to the NHL.
On social media, things are similarly low-key.
Hughes' Twitter account only has about 33,600 followers; he only follows one account (Michigan hockey) and has only tweeted once since the end of 2021. Things are a bit busier on Instagram, where he has 491,000 followers, but the majority of his posts are related to the Devils rather than life away from the rink.
Jack Hughes FAQs
How tall is Jack Hughes?
Jack Hughes is listed at 5-foot-11 on Hockey Reference.
How much does Jack Hughes weigh?
Jack Hughes' official weight is listed as 175 pounds by Hockey Reference.
Where was Jack Hughes born?
Jack Hughes was born in Orlando, Florida. He later moved north and ultimately ended up in Toronto, Ontario, Canada.
How old is Jack Hughes?
Jack Hughes was born on May 14, 2001. He is currently 22 years old.
Did Jack Hughes go to college?
Jack Hughes didn't attend college. Instead, he joined the United States National Team Development Program. 
What team does Jack Hughes play for?
Jack Hughes currently plays for the New Jersey Devils in the NHL.
What position does Jack Hughes play?
Jack Hughes plays center.
What number is Jack Hughes?
Jack Hughes wears No. 86 for the New Jersey Devils and has worn both Nos. 6 and 43 for Team USA.
What is Jack Hughes' net worth?
Celebrity Net Worth pegs Jack Hughes' fortune at approximately $3 million.